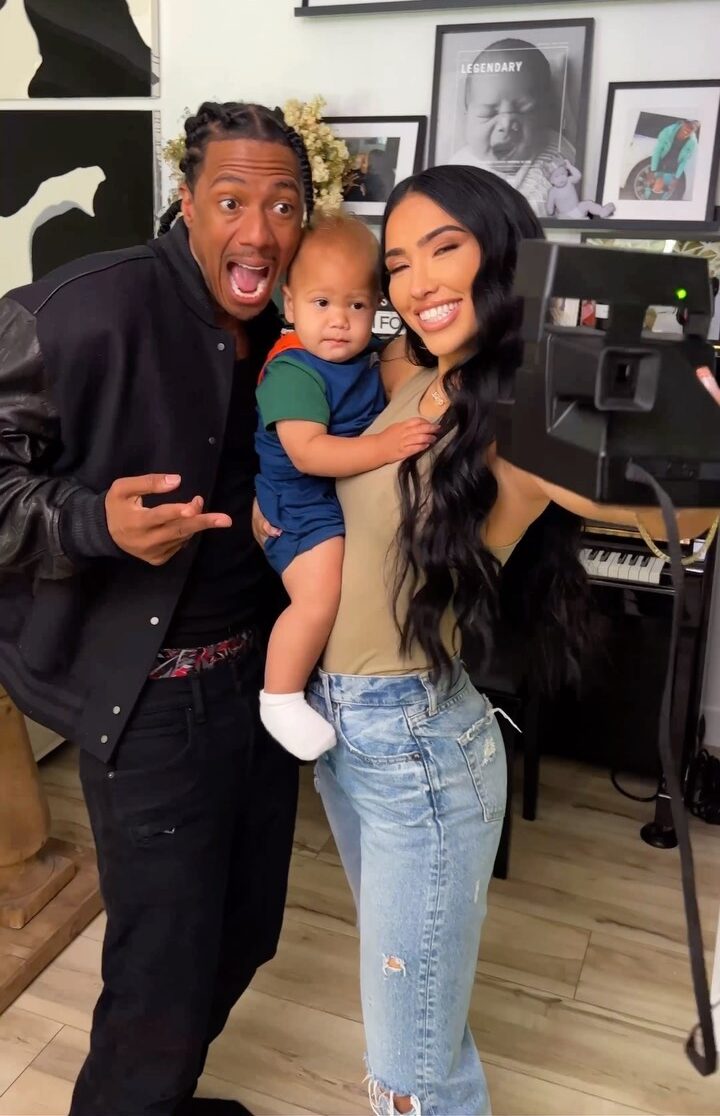 Welcome to another installment of Nick Cannon's Baby Mama Drama. For context, Nick Cannon has eleven children by six women. He has a 16-month-old son, Legendary, with Bre Tiesi. In the past, Nick has said that he won't extend financial support to any of the mothers of his children if they date other people than him. Meanwhile he continues to have relationships with multiple women. On the latest season of Selling Sunset, Bre kind of talked out of both sides of her mouth about whether or not Nick would be ok with her dating other people. At one point she makes it seem like no big deal, but then when someone asks directly if Nick would mind if she dated someone else, she says, "I don't know. Maybe." Oh, and plot twist: one of the "other people" Bre might have been seeing is Michael B Jordan!
If people hold opinions about Nick Cannon's relationships, they simply don't matter to Bre Tiesi.

The reality star, 32, opened up to several of her Selling Sunset castmates over dinner during the seventh season's first episode. Tiesi shares 16-month-old son Legendary with the former Wild N' Out host.

"I love Nick. I'm happy with my relationship, however that is, and like, if I date, I date," she explained.

When Emma Hernan asked whether Nick would mind if she dated other people, Tiesi responded simply, "I don't know. Maybe."

Her response dumbfounded Chrishell Stause.

"Wait. You've got to be kidding me. That's not fair," Stause said.

"I mean, I do what I want to do, but I still would never disrespect Nick. I just wouldn't,' Tiesi continued. "And even his situations and stuff, I've always been nothing but respectful of that. I know people don't get it, and I don't care that people don't get it."
[From People]
Here's the story about Michael B. Jordan:
The reality star, 32, confessed over a group dinner with several castmates that she once slept with Michael B. Jordan, a revelation that bowled over Emma Hernan, Chrishell Stause and Amanza Smith.

"Who would you sleep with, celebrity-wise? Who would you pick?" Stause asked the group.

"Michael B. Jordan," Smith instantly replied.

"I could do that — and I've done that," Tiesi admitted.
[From People]
First of all, if she really has slept with Michael B Jordan, good for her. He is hot. She doesn't specify when that happened. As for what she says about Nick, I watched the episode and she laughs nervously when she admits that Nick would "maybe" mind if she saw other people, which tells me that the real answer is, yes, he would be mad. That's not a good sign, Bre! Get out of there! This is such a clear case, in my opinion, of someone who hasn't healed from a certain kind of childhood wound. If you grew up with parents who were unpredictable or unreliable, or who had a tumultuous relationship with each other, you are unconsciously drawn to relationships that are vague, that lack clarity. People call them "situationships," where you never know where the two of you stand and everything is loose and undefined. You might think you're dating but he thinks you're just a booty call, etc. Bre actually draws a question mark in the air when Chrishell asks about her relationship status. I have been in that and it never ends well.
https://www.instagram.com/p/Cy1WG7ayau6/
https://www.instagram.com/p/CxLv4MMvyFk/
Photos via Instagram
Source: Read Full Article