"Where I am with Tristan has nothing to do with what I expect my family members to do," says Khloe, as she reacts to P's feelings about her ex and Kourtney addresses his "horrible decisions."
Khloe Kardashian isn't the only one wrestling with their feelings about Tristan Thompson.
On Thursday's new hour of The Kardashians, Kourtney Kardashian revealed how both she and her daughter Penelope feel about Khloe's ex, following his cheating and paternity scandals.
The subject came up as the entire family went to Palm Springs to celebrate Easter together, with Khloe and Tristan swinging by Kourtney's place for the holiday to pick up P in a golf cart. "Tristan's with them, is that okay?" Kourt asked her daughter — the first sign of tension — before she responded by saying, "Yeah, I'm fine."
"I feel like she gets it from me," Kourtney said of Penelope's feelings about Tristan. "I told her, the first day of school I was so triggered by him. I know why, but I was like, I feel like we all brush it off and are fine and I was so triggered and I was like, I just can't do it anymore."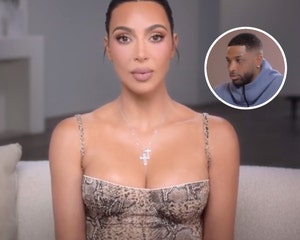 Where Kim Kardashian Stands with Tristan Thompson After Scandals: 'Gonna Hate Me for This'
"Tristan has made made horrible decisions and choices with my sister," Kourt continued in a confessional. "There's times when I'm so triggered by him I can't be around him. Then there's times I just let it go because we just want harmony. He's the father of my niece and nephew."
While Khloe said she was very "proud" of herself for allowing her ex to "be the father he wants to be" for their children, she acknowledged in her own confessional that where she stands with Tristan "has nothing to do with what I expect my family members to do."
"If Penelope has her feelings about Tristan, rightfully so, good for you girl!" Khloe continued. "I want Penelope to have these feelings and I don't want to talk her out of them, because I don't want this behavior to be something I'm validating or I'm justifying. I want her to know that how she's feeling is the right way to feel. We should not accept someone treating us like this."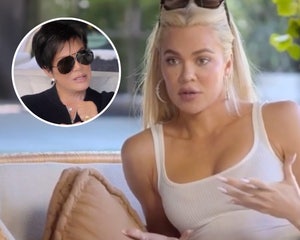 Khloe Kardashian Grills Mom Kris Jenner on Why She Cheated on Her Father Robert Kardashian
Elsewhere in the episode, Khloe opened up about her own complicated situation with Thompson, explaining that she and Tristan bought two lots together in Palm Springs back when they were actually a couple. "Many moons later," she explained, they still had them — but had different ideas on what to do about it.
"I definitely think Tristan won't give up his end of the lot. Hopefully, time will get the best of him and he'll sell me the other half," she said in a confessional, before he later made it clear he didn't want to separate the properties at all. "Tristan's hoping I'm going to forget," quipped Khloe, referring to his past actions, as he said he was continuing to work on himself. "I wish I could work on forgetting things," she hit back, "I just can't anymore."
"Right now, he is convinced that we are going to build this house and I don't know if he thinks we're going to do this together as a couple, or co-op and share this home that we build together," she later. "I don't know where his head is at, but one of us will break eventually."
Stay tuned. New episodes of The Kardashians drop Thursdays on Hulu.
Source: Read Full Article