With multiple wildfires burning across Northern and Southern California, red flag weather warnings could last into the week (and maybe even beyond that). Through the devastation and destruction, we can't help but wonder: When is fire season over in California?
Up ahead, we take a closer look at California wildfires, including how they spread and when the fire season in California is over.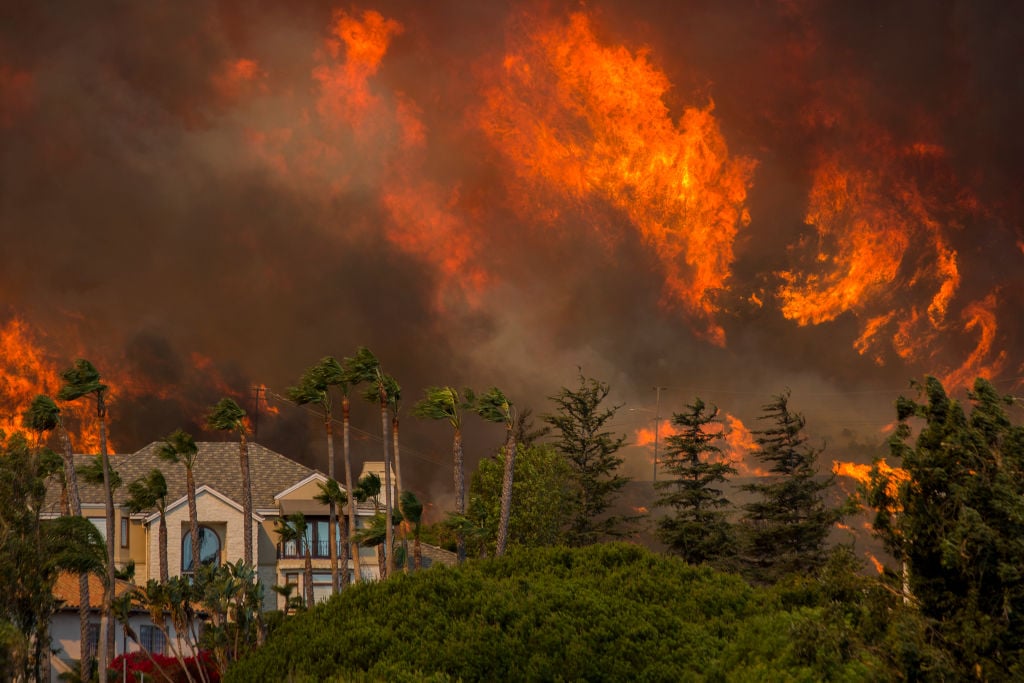 There are two different fire seasons in California. | David McNew/Getty Images
When is fire season in California?
In California, there are two specific fire seasons — one of which is caused by high temperatures and the other caused by Santa Ana winds. Wildfires caused by the summer heat can ignite anytime between June and September. Then, the Santa Ana fire season starts up in October and poses a threat to the Golden State until April.
While summer fires are serious and tend to last even longer than Santa Ana fires, they burn slower and are (for the most part) a lot less intense. Unfortunately, Santa Ana wildfires are a different story. The fires spread by gusty wind in October through April spread rapidly and, since the winds blow towards the ocean, they usually threaten more developed communities along the coastline, such as the Woolsey Fire in Los Angeles, California.
A study by the University of California Irvine, the University of California Davis, the University of California Los Angeles, and the U.S. Forest Service shows that the two types of fires are very different in how they form and the destruction they cause. The summer heat fires can occur anywhere in California. But, they usually spark in more remote areas. Areas along the coast (including, Los Angeles, San Diego, San Francisco Bay Area, Santa Barbara, and even Napa) experience the wrath of the Santa Ana winds. These winds cause fires to spread at a rapid pace and are typically economically devastating.
When is fire season over in California?
With two long fire seasons, California is at a high risk of wildfire almost every month of the year. However, fire season is over for only one month. That said, with changing weather patterns, it doesn't mean California is safe from potential fire outbreak. Studies show that California wildfires typically don't pose a threat in the month of May. However, one car fire or power line issue can change that.
California residents — especially those living near the wooded areas in Northern California and brush in Southern California — are on high alert of fire for most of the year, especially in the fall when the Santa Ana winds kick up and humidity levels drop down to lower numbers.
What causes California wildfires to spread?
California wildfires can start from a number of culprits. Some can start from power line problems (the current fire in Butte County, California was allegedly started by a PG&E power line issue) while others can start from car fires, cigarettes, and campfires. However, the rate at which they spread all depends on the weather conditions.
In the fall season, California experiences gusts of wind — known as the Santa Ana winds — and ultra dry weather conditions that can cause California wildfires to spread at a rapid pace. In addition to weather, the conditions of the land could also play a part.
Check out The Cheat Sheet on Facebook!
Source: Read Full Article