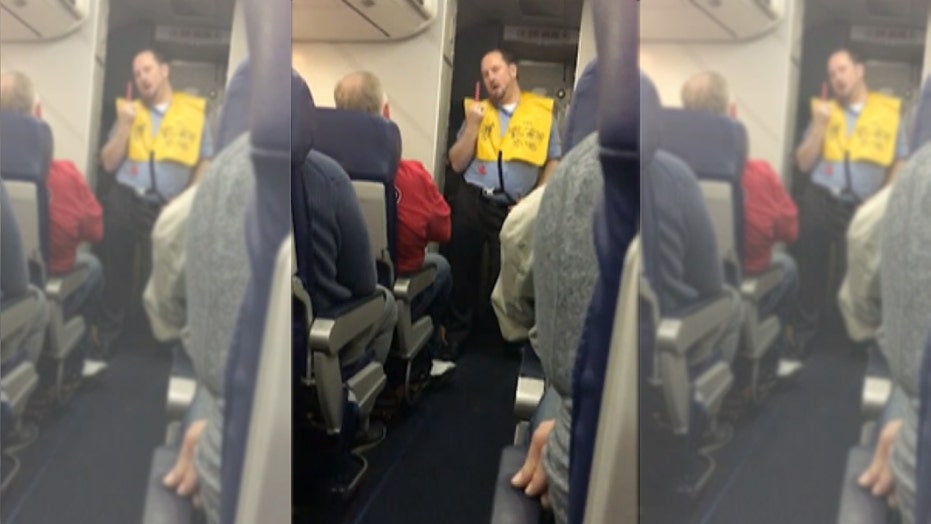 Flight attendant does striptease-like dance during safety demo
A Southwest Airlines flight attendant finds a new way to get everyone's attention during a safety demonstration…with a striptease-like rendition.
Well, that's one way to get the plane's attention.
A Southwest Airlines flight attendant spiced things up before a recent flight from Chicago to Omaha by performing a burlesque-inspired routine during the pre-flight safety routine.
Wearing a flotation device around his neck, the crew member was filmed seductively slinking down the wall, and then stomping down the aisle while another crew member relayed emergency information via the intercom.
HOTEL CHAIN NOW OFFERING 'SOCIAL MEDIA SITTERS' FOR MILLENNIALS
The tactic likely worked, too: Bethany Joy Brenes, the 20-year-old passenger who filmed the whole thing, said it was also probably the first time she paid attention to the pre-flight announcements, according to The Sun.
Southwest did not elaborate on the crew member's "delivery," but told Fox News in a statement that attendants are encouraged to have fun and be hospitable.
"While we don't have any additional details to offer regarding this individual's delivery of the safety demonstration, we can assure you that safety is always our uncompromising priority at Southwest Airlines.
"We do, however, encourage our Flight Attendants to utilize their unique, fun personalities to deliver our legendary Southwest Hospitality — as you see in the video," the airline wrote.
FOLLOW US ON FACEBOOK FOR MORE FOX LIFESTYLE NEWS
As noted by USA Today, a man who appears to be the same flight attendant performed the same "sexy" dance during a flight in 2017, after which he ended the routine by disappearing behind a cabin partition and "stripping" off his vest as passengers applauded.
Source: Read Full Article