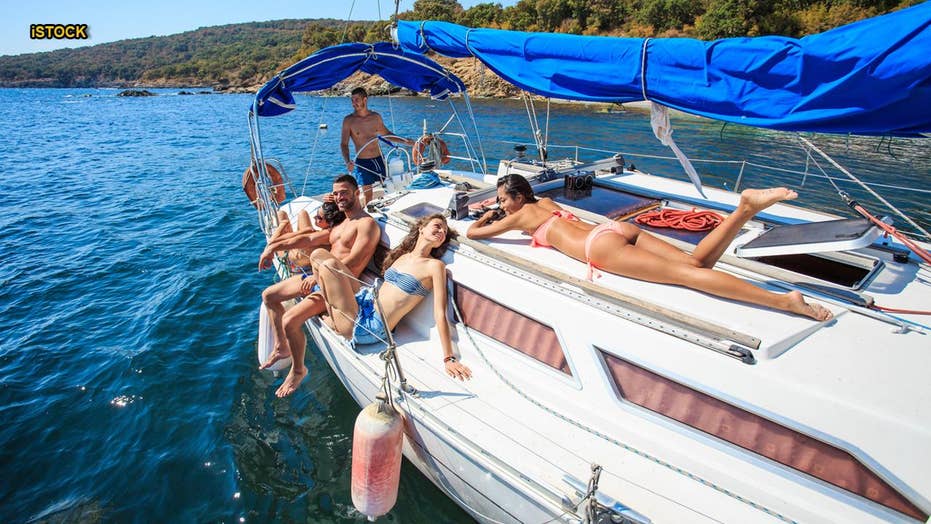 Controversial 'sex island' making a comeback
'Sex Island', an alleged drug-fueled orgy vacation offering unlimited sex with prostitutes, is making a comeback despite sparking a backlash last year. Every guest will be provided with two prostitutes, unlimited food and alcohol, and a bevy of raunchy activities to fulfill their fantasies.
The controversial drug- and prostitute-fueled Sex Island is the brainchild of five hard-partying friends in their 30s and 40s who "sort of think of themselves as Robin Hood," a representative for the event told The Post.
The quintet of men — who include a hedge-funder and a nightclub owner, both based in New York — frequently host and attend sex parties around the world and decided to make it their mission to share their idea of fun with the masses.
The result was Sex Island — an all-inclusive sexual extravaganza that was so popular, it morphed from a one-off orgy vacation into a year-round sex tourism empire now hosting its second annual event.
Private parties run throughout the year, but Sex Island is designed for the everyman who can drop $6,000 on a "golden ticket" to a private island in the Caribbean with unlimited booze, food and women ready to satisfy them at any hour of the day.
While there are drugs galore during the four-day erotic holiday, Sex Island's head of PR, identified only as Tony, said it does not directly provide any illegal substances, but rather acts as a middleman between dealers and guests.
The chaotic birth of the event, which held its inaugural sex romp last November, was slated to be held at a private island off the coast of Cartagena, Colombia, owned by one of the founders. But when Sex Island's splashy promo video showing off women at the hosting site went viral, the Colombian government did everything in its power to shut it down.
As a result, the founders were forced to relocate and put down roots on a private island in the Caribbean at a luxury hotel willing to partner with them. Both prostitution and brothels are legal in the country that hosts Sex Island, Tony assured The Post.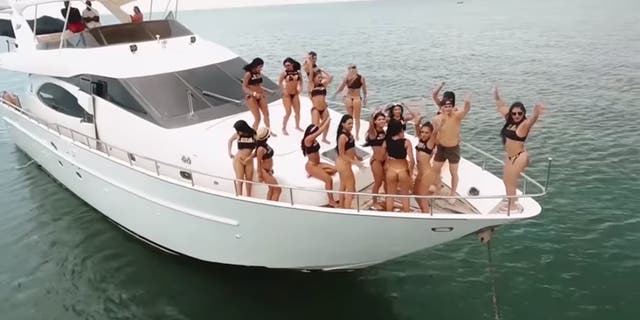 Sex Island was so popular, it morphed from a one-off orgy vacation into a year-round sex tourism empire now hosting its second annual event.
(YouTube/Sex Island)
UNIVERSITY WALKS BACK BAN ON SPORTS BRAS FOR FEMALE ATHLETES
The private island's luxe hotel has become a de facto home base for Good Girl Company, Sex Island's parent company. Over the past year, they've hosted roughly a dozen private events ranging from bachelor parties to a boys' weekend for a group from Saudi Arabia, Tony said.
Bespoke events come with their own exclusive price tag ranging from $10,000 to $15,000 per person depending on the size of the group. Smaller groups have to pay more per person because bringing groups of sex workers and renting out the hotel costs the same amount.
Sex Island's parent company bends over backward to cater to high-end clients' every wish and kink.
"One of our clients has a fetish, he really likes high heels," Tony told The Post, adding that they arranged for the footwear to be used in a sexual act.
Another client wanted to do everything in the nude, including a skydiving excursion with his hookers.
Not all of the private events go off without a hitch, though. During one of the parties, a client became enamored with a particular prostitute. "He really, really liked her," Tony said. "He was like, 'I want to keep you.'"
The only problem was that his friend also liked the same girl. However, Tony said the men came to a resolution when the amorous client gave the girl $10,000 and threw in $5,000 for his buddy.
While Sex Island's private events are targeted to the rich and famous, the five mysterious founders believe the $6,000-per-person public event for the average Joe is a small price to pay for access to their sexually deviant version of "Lifestyles of the Rich and Famous."
This year's Sex Island, which runs from Dec. 14 to 17, is bigger in almost every conceivable way, Tony said.
Last year, 30 guests were able to choose from a few dozen women when they arrived on the private island. For this year's sex-fueled bash, there are between 800 and 1,000 women on offer, with a webcam site for guests to pick out and meet their favorites before they arrive in the Caribbean.
Like last year, most of the girls hail from Colombia, Brazil, Puerto Rico and other South American countries, but a few American and Canadian women have been added to the lineup.
"We've had girls who have volunteered to come and offered not to get paid. They just want to party," Tony said, adding that all the women on the jaunt would be paid for their work. While he would not reveal exactly how much the women get paid, he did say they make roughly two to three months' worth of normal wages over the four-day weekend on Sex Island.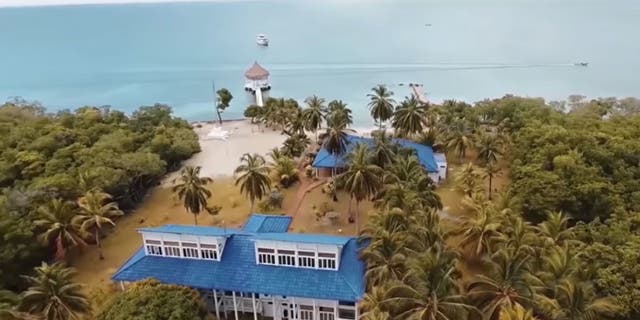 Sex Island is designed for the everyman who can drop $6,000 on a "golden ticket" to a private island in the Caribbean.<br>
(YouTube/Sex Island)
Along with the bevy of beauties, drugs will once again be readily available.
"We had a guest ask if he could bring a kilo of cocaine on an international flight and we told him that wasn't the best idea," Tony said with a laugh.
Tony explained the Sex Island crew would instead "steer guests in the right direction" toward their drugs of choice once they arrived.
Cocaine was the most popular drug at Sex Island last year, with a "toothy" pink powder that users sniff coming in a close second.
"It's a lot like cocaine but it makes you super horny," Tony explained. "The guys like sniffing it off girls' butts."
When guests need a break from the drugs and women, popular extracurricular activities like strip tennis and naked pool games are available again. New events, like a golf tournament, have been added to the mix, offering the winner a one-hour session with 10 girls.
FOLLOW US ON FACEBOOK FOR MORE FOX LIFESTYLE NEWS
The mystery Canadian rap superstar who attended last year's event will also be returning to perform a "mini concert."
"Last year was sort of an impromptu thing," Tony said. "This year it's going to be like when you see somebody perform at a club."
The final piece of the Good Girls Company's pervy marketing campaign is merchandise. Anyone who buys an item from the company's online store is automatically entered into a raffle, with the grand prize being a free ticket to Sex Island.
Airfare is included.
Source: Read Full Article