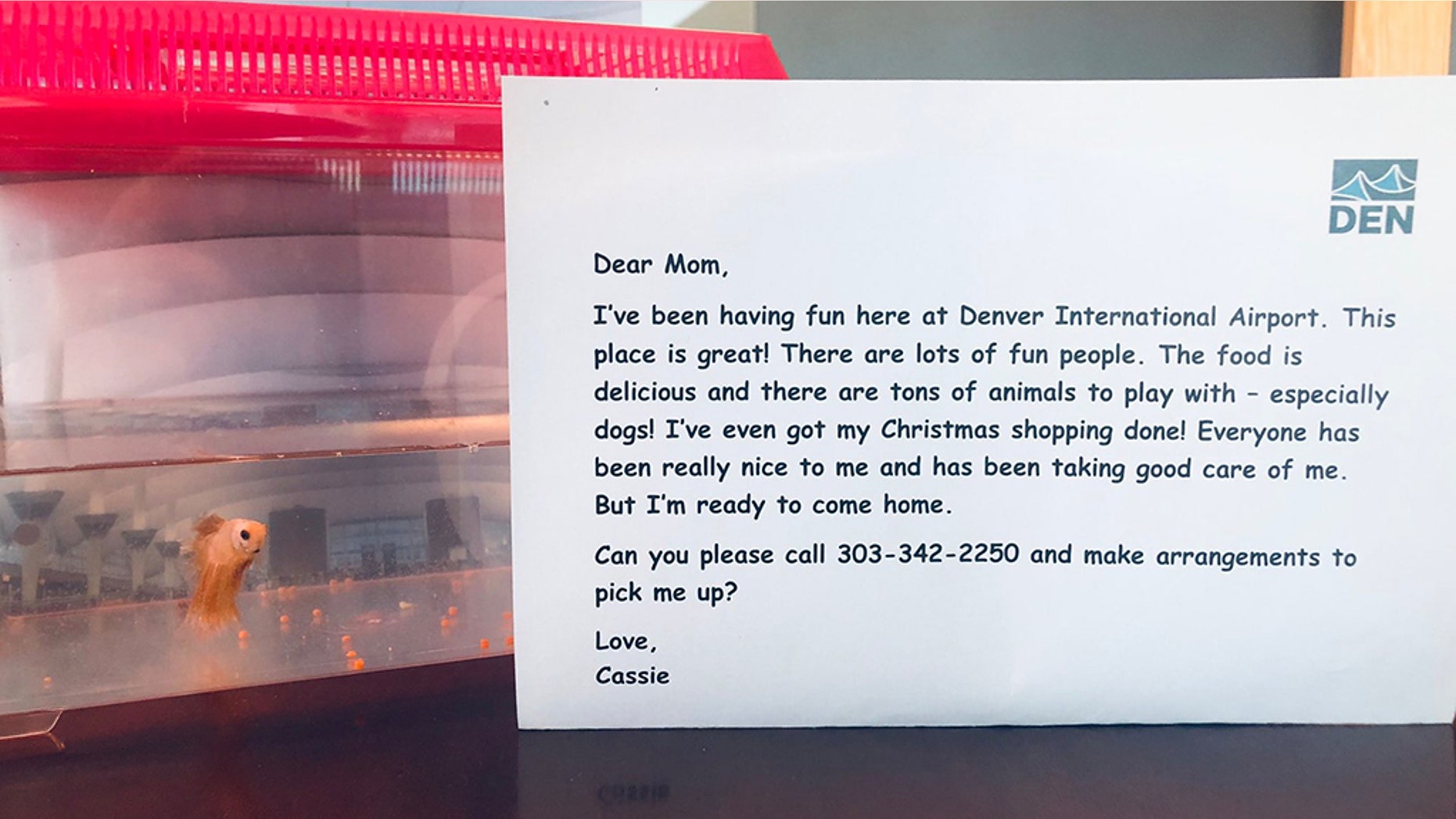 Cassie has reportedly been found and cared for by airport staff.
(Denver International Airport)
Employees at Denver International Airport found – and took care of – a fish that Southwest passenger, Lanice Powless, was forced to leave behind last week.
In a statement to Fox News, Denver International Airport said staff members discovered the fish and turned it in.
MOST CONTROVERSIAL EMOTIONAL SUPPORT ANIMAL STORIES OF 2018
"The fish was found on concourse C at the airport last week by an airport employee and turned in to an information booth (as is common with lost and found items)," the statement read.
Last week, Powless, a University of Colorado student, was flying to California from Denver International Airport when she said a Southwest Airlines employee informed her that she would not be allowed to bring her pink beta fish, Cassie, onboard with her.
Though Powless said she had brought Cassie onto flights before and was not hassled about it and, according to the TSA website, live fish are allowed on board as carry-on luggage, Southwest Airlines does not let passengers bring on animals other than small cats and dogs.
Desperate, Powless said she asked a gate agent if she could leave her fish at the counter so a friend could come pick him up in a half an hour. However, the agent allegedly denied her, leaving Powless to start asking random passengers on other airlines if they wanted to care for the beta.
DELTA AIR LINES BANS EMOTIONAL SUPPORT ANIMALS ON FLIGHTS LONGER THAN 8 HOURS
Though Powless initially said she found someone on another airline who agreed to take her fish, apparently that passenger got cold feet and left the fish in the concourse of the airport.
After the airport employee found the fish, airport staff wrote a letter on behalf of Cassie, to show Powless that her beloved fish was doing all right.
"Dear Mom,
I've been having fun here at Denver International Airport. This place is great! There are lots of fun people. The food is delicious and there are tons of animals to play with — especially dogs! I've gotten my Christmas shopping done! Everyone has been really nice to me and has been taking good care of me. But I'm ready to come home.
Can you please call 303-342-2250 and make arrangements to pick me up?
Love, Cassie"
FOLLOW US ON FACEBOOK FOR MORE FOX LIFESTYLE NEWS
Luckily, it seems Cassie's – and Powless' – wishes have been answered. The airport confirmed to Fox News that Cassie has been picked up.
"Our great customer service team took care of Cassie until we could reunite him with his owner. A friend of the owner picked up the fish on Tuesday," the statement read.
Source: Read Full Article