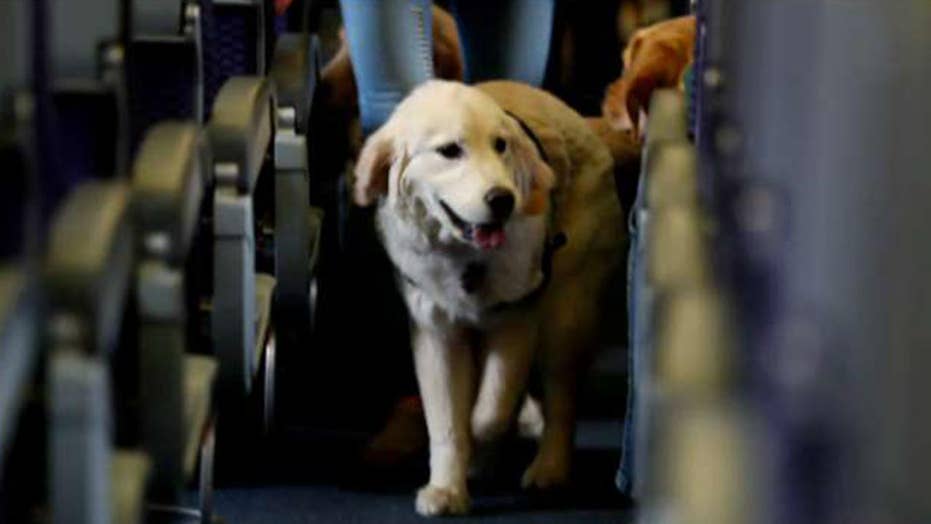 Emotional support animals posing problems for airlines
Airline lobby group releases statement about problems posed by animals on flights; Raymond Arroyo shares 'Friday follies' on 'The Ingraham Angle.'
Now that's just nasty.
Delta Air Lines has issued an apology after a male customer was left "covered" in dog feces "everywhere," after he sat in feces left behind by a service animal on a flight last week.
On Nov. 1, Matthew Meehan had already taken his seat for his Delta flight from Atlanta to Miami when he made the nauseating discovery.
"Actual feces and it was all over me. I sat in it and it was on the seat, on the floor, the seat in front. And I was literally in it," he told WXYZ.
Reps for Delta later confirmed to Fox News that the accident happened during a "previous flight with an ill service animal."
According to the Detroit Free Press, Meehan claims that when he requested assistance from the cabin crew to clean up, they gave him two paper towels and a small bottle of Bombay Sapphire gin — which didn't prove to be much of a help.
CAMPERS AT SCOTTISH BEACH LEAVING 'DISGUSTING' POOP EVERYWHERE, LOCALS FURIOUS
"I was in the bathroom cleaning feces off the back of my legs, my shoes. I was wearing loafers unfortunately, so the feces was all over my bare ankles," Meehan told WSB-TV.
Proceeding to speak with a manager, Meehan recalled that the unnamed Delta staffer dismissed his complaint.
"She said to me, 'Well, that's not my problem… If the cleaning crew didn't clean your seat, I don't have any control over that," he told the outlet.
Meehan, who told Fox News on Nov. 6 that he resides in both Miami and Michigan, further divulged that some of his fellow passengers refused to take their seats until the foul mess was cleaned up. He also took to Facebook to share images of the incident.
"It filled the entire plastic bag. Paper towels full of feces, and they wanted me to sit in that," Meehan said of the cleaning crew's actions, adding that passengers laid down blankets to further protect themselves.
"I have never in my entire life felt more dehumanized. I felt like an animal," Meehan told WSB-TV of the overall experience. "Words can't even describe how awful it was, and they had so many opportunities to make it right."
Reps for Delta returned Fox News' request for comment with a statement, saying that the airline has offered to refund his flight as well as compensate him for his soiled apparel.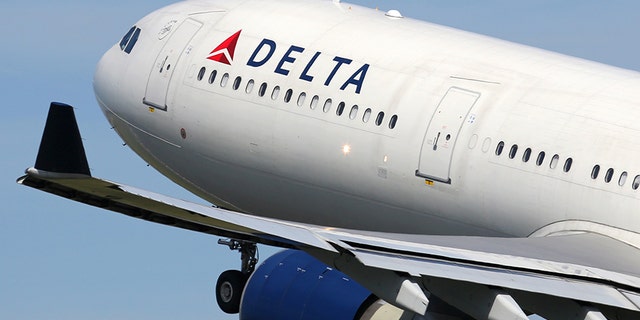 In the days since the story made headlines, Meehan says he has been contacted by "dozens of lawyers" interested in taking on the case.
(iStock)
"On Nov. 1, an aircraft operating flight 1949 from Atlanta to Miami was boarded before cleaning was completed following an incident from a previous flight with an ill service animal. Delta apologizes to customers impacted by the incident and has reached out to make it right, offering a refund and additional compensation," a spokesperson said. "The safety and health of our customers and employees is our top priority, and we are conducting a full investigation while following up with the right teams to prevent this from happening again. Upon landing in Miami, the aircraft was taken out of service to be deep cleaned and disinfected."
FOLLOW US ON FACEBOOK FOR MORE FOX LIFESTYLE NEWS
"We are in direct contact with the customer, offering to reimburse his shoes and suit, refund his flight and provide additional compensation for the inconvenience," they added.
In the days since the story made headlines, Meehan says he has been contacted by "dozens of lawyers" interested in taking on the case, WXYZ reports.
Meanwhile, he told Fox News that what he really wants from the carrier is the truth.
"I really just needed answers from Delta, and I've been told three different stories as to where [exactly] the feces came from," Meehan said,
"Feces is feces. It's full of diseases. Even after I cleaned and sanitized myself, I was still forced to sit in the seat. The feces made contact with my body, shoes, it transferred to my hands … I just need answers," he added.
"I really hope Delta takes a good, hard look at this incident… there were so many opportunities to correct this situation," he concluded. "I can't believe I had been the one to ask for cleaning supplies."
The subject of emotional support and service animals on airplanes has proven to be one of the most controversial travel topics of the year, ever since an emotional support peacock named Dexter and his owner were rejected from boarding a United Airlines flight in January. A few months later, a French bulldog died midflight after being accidentally placed into an overhead bin by a United Airlines flight attendant for the duration of the trip.
Various carriers have been tightening the leash on their respective rules regarding the transportation of both companion and service animals in the high skies.
Source: Read Full Article