Angie Mar is a household name for New York City foodies for a reason.
Mar took fine dining to another level earlier this year with the opening of her new restaurant, Les Trois Chevaux, which pays homage to the "great French restaurants of New York's eras past." With dishes such as ash-crusted pigeon breast and truffles and caviar, waitstaff uniforms custom designed by Christian Siriano, and even a dining room dress code (no sneakers, no jeans; don't forget your jacket), Les Trois Chevaux echoes the dining traditions of yore, but with a forward-thinking twist. Mar's attention to detail doesn't just exist when she's hard at work at the restaurant, however. The same ethos applies when she's hosting a get-together at home, especially during the holiday season.
"For me, entertaining at home is much like entertaining our guests at the restaurant every night—it's about the right music, the right lighting, setting a beautiful ambiance, and, of course, curating the right mix of guests so you have incredible energy," Mar tells BAZAAR.com. "[But] I always plan ahead. I don't like being the host who is never at the table because I am busy in the kitchen cooking. I like to do the majority of the prep work ahead of time so the day of our gathering, I can simply finish things in the oven and spend time with my guests."
Eliminating the stress that can surround a holiday celebration means enlisting the help of loved ones. "Because I am a chef, everyone thinks I want to cook the entire holiday meal, which is absolutely untrue," she says. "I like to make holidays at my place a potluck, but I always take care of the mains. It makes things more interesting to curate a menu with friends, and we always plan an entire meal with dishes that are complementary to each other. It's also a wonderful way to let others participate in the planning of a holiday dinner. That's truly what it's about after all."
No meal is complete without the proper company, and being reunited with loved ones is what Mar is looking most forward to this holiday season. "I think over the past two years, we have all learned not to take our loved ones for granted," she says. "I am so thrilled that we will all be able to spend time with each other and appreciate it so much more now."
Below, Mar shares one of her favorite recipes from Les Trois Chevaux: Crabe Pithiviers.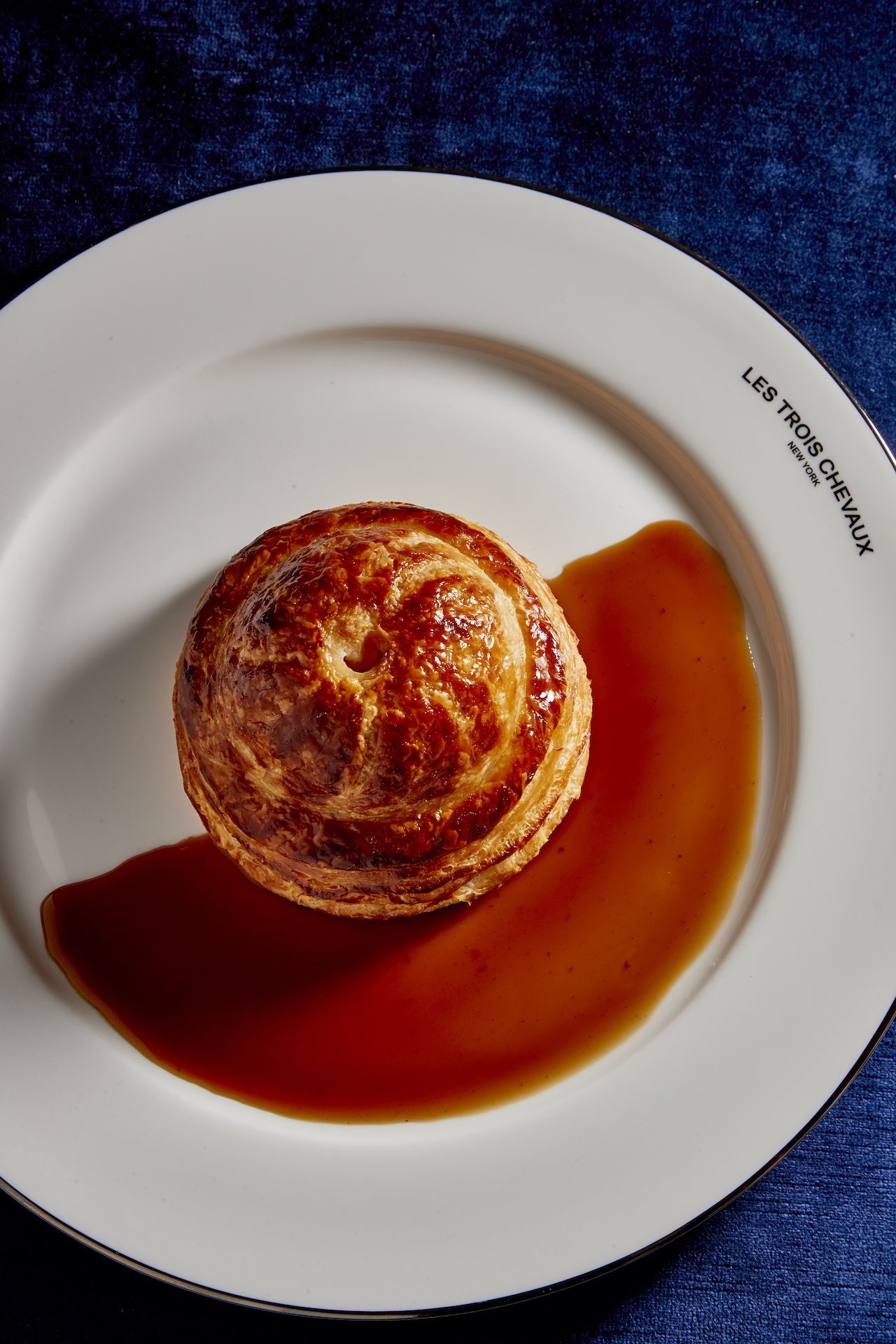 Crabe Pithiviers
(Dungeness crab, frangipane of bay scallop, oloroso sherry)
Active time: 45 minutes
Total time: 2 hours
INGREDIENTS
For the Scallop Frangipane:
For the Filling and Pastry:
For the Sauce:
INSTRUCTIONS
Pastry:
Scallop Frangipane:
Assembly & Baking:
Source: Read Full Article