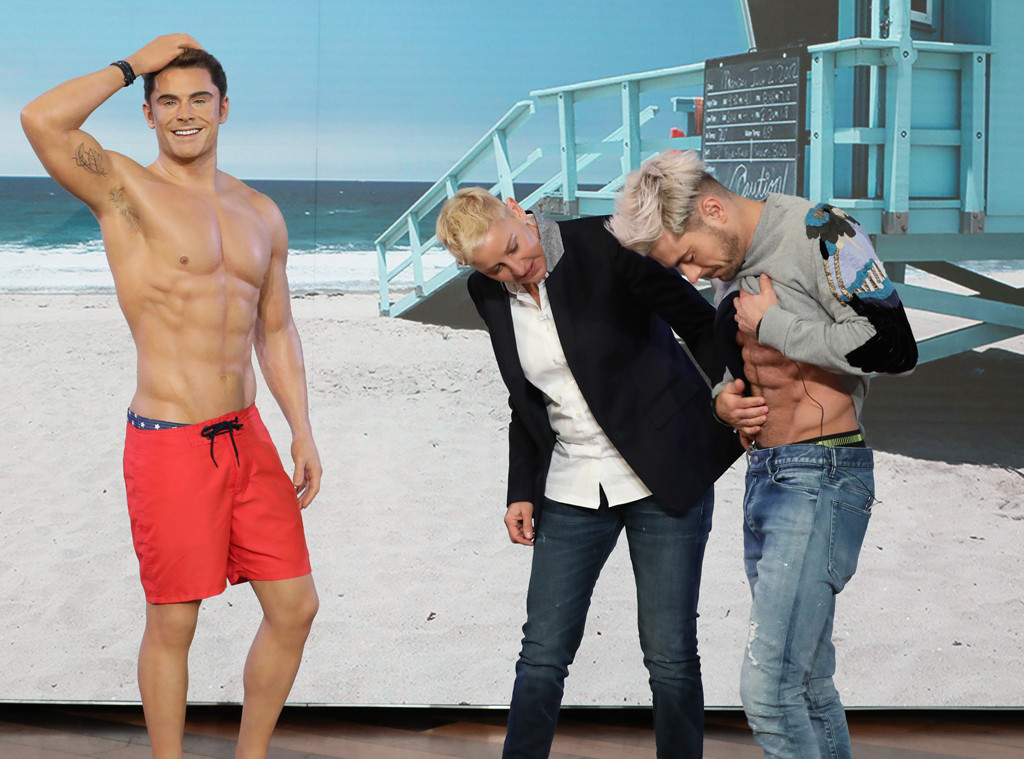 Michael Rozman/Warner Bros.
Zac Efron's body is extremely ripped, shockingly buff and strong. Well, that is, in the eye's of everyone except Zac Efron.
While sitting down with Ellen DeGeneres today, the actor was treated to a first look at his brand spanking new wax figure by Madame Tussauds. But before the big reveal, the host, 61, revisited his original, shaggy-haired statue.
"I didn't like it," Efron, 31, confessed of the figure, created during his early 2000s, toe-tapping High School Musical days. "I look terrible."
Not anymore. DeGeneres brought out his new wax figure, designed to look exactly like his muscular lifeguard from 2017's Baywatch.
"Whoever did this," said the shocked actor, "I'm very impressed and scared."
He has reason to be. The statue includes his every feature, down to the bicep tattoo, armpit hair and, yes, veins. In fact, to prove it, Efron lifted up his shirt—much to the delight of the audience—to show off his near-identical abs: "You did a good job."
Still, he wasn't exactly pleased with what he saw and delivered quite the power PSA on body image. "It's a little bigger than me," he confessed. "That's too big…for guys, that's unrealistic, I'm telling you. I got very big and buff for that movie but I don't want people to think that's the best way to be. Be your size. I don't want to glamorize this."
After all, while training for the summer caper, Efron was pushed to his limits, hitting the gym for at least an hour a day followed by 20 mile bike rides. He cut out carbs and sugar and only ate organic protein and leafy greens.
Watch the video above for the abs-olutely jaw-dropping reveal!
Source: Read Full Article