You don't need to know the difference between a three-card and a Celtic cross spread to get the most out of a tarot card reading. All you need: your Sun sign! Here's what I do: Shuffle my tarot deck and pull out the cards in order from Aries to Pisces, plus one general card for everyone so that you can get specific advice around your personality. Let's go!
A GENERAL CARD FOR EVERYONE: THREE OF WANDS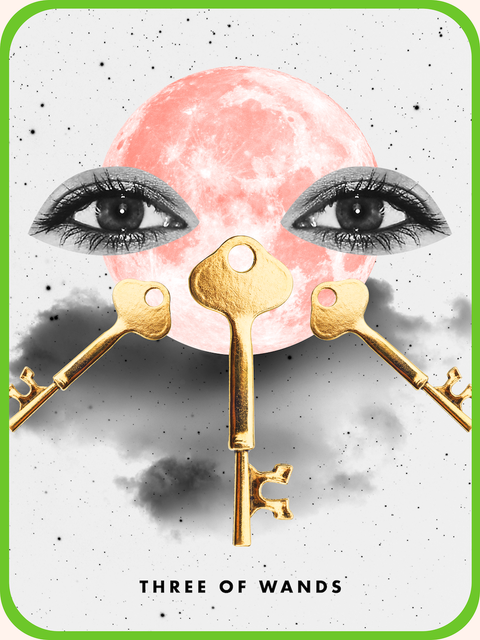 Opportunity is a fleeting, fragile, and magical thing. It can lead you anywhere, anytime. Are you ready to follow a new opportunity? I hope so, because that is exactly what the Three of Wands brings this week. The caveat: You have to be prepared to spot it. Look for openings, chances to do something new, and invitations. Stay positive. You might find yourself in a much better position by the end of the week.
ARIES: TEN OF CUPS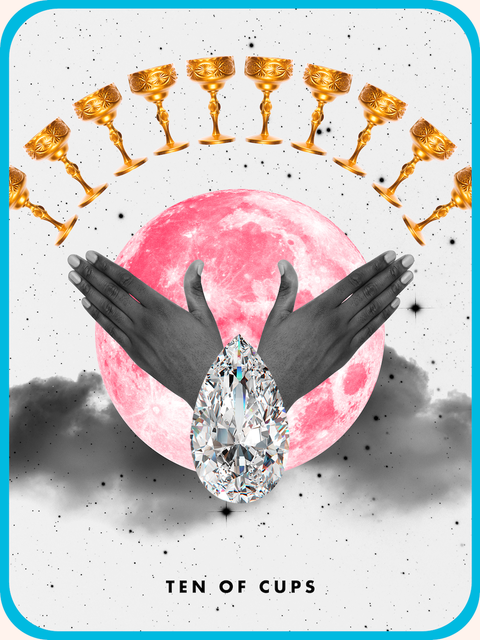 Prioritize the ones you love most, Aries. The loving Ten of Cups prompts you to make grand gestures, compliment, and praise the people closest to you. Share the love you feel! You have one of the zodiac's biggest hearts and you're capable of warming even the frostiest of people (even Capricorn and Gemini!). Open up, show your warmth, and invest in love.
TAURUS: TEN OF PENTACLES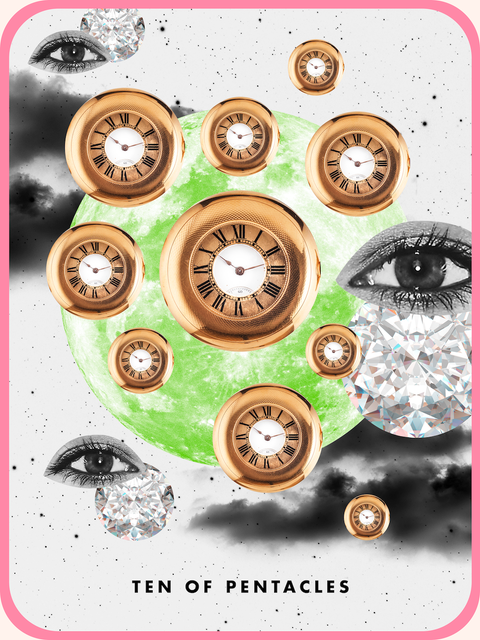 Long-term security is something you think about a lot, Taurus. Good news: This week, you're going to receive reassurance that whatever you're doing to ensure your security is working, and you should keep at it, or even step it up. The Ten of Pentacles says there is abundance and reward ahead for you, if you keep working hard. Move full steam ahead with your plans, please.
GEMINI: TEMPERANCE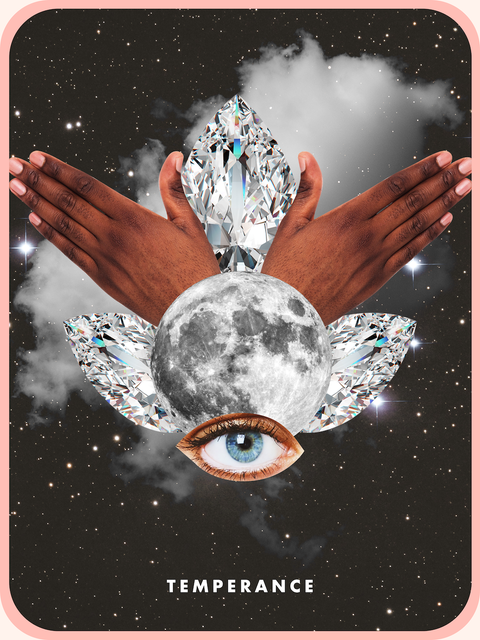 Temperance is a significant card for you, Gemini. It represents balance, moderation, and finding a new normal. This all sums up your daily life anyway! You are always re-assessing, rebalancing, and recalibrating, but this week it really matters. Something major has shaken you. It's taken time to find your footing again, but this week you will feel settled and at peace. Savor the feeling.
CANCER: PAGE OF PENTACLES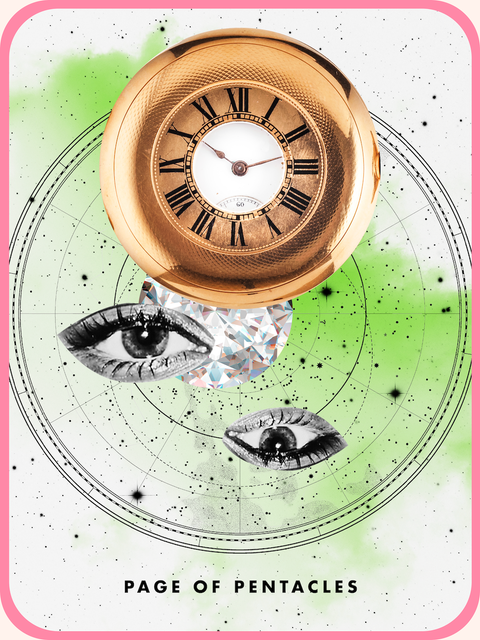 Live and learn, Cancer. You are a really wise person, always seeking to understand a situation or person before you make judgments or react. The Page of Pentacles asks you to take this empathy and understanding to a more material area of your life: Your money, work, or health. There's something there that requires more attention, but first you need to understand why it is the way it is, and what has led to this point. Once you know that, the way forward be clear.
LEO: STRENGTH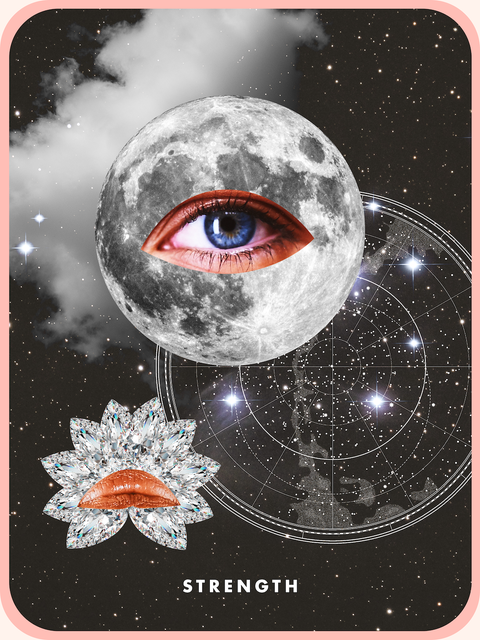 Strength is your Sun sign's tarot card, so this is a powerful week for you! Great progress and rewards are waiting, as long as you show up ready to do the work and leave your comfort zone. This is NOT a week to sit back and relax. This is a week to work hard and prove yourself. The feelings of confidence and resilience you will create are invaluable. This week could set you up for a wonderful phase of reward and success.
VIRGO: ACE OF PENTACLES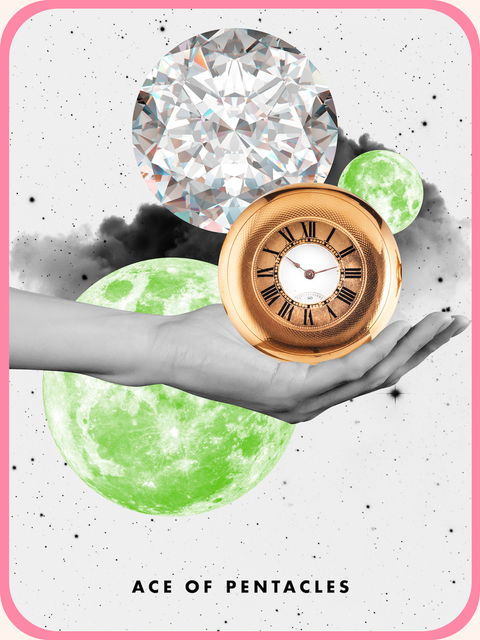 The Ace of Pentacles represents how you like to do business: steadily, cautiously, and properly. You're working on something related to your career, finances, or health. This project will take a while to come to fruition, and it requires daily activity, but you believe this will be worth it. You are absolutely right, Virgo. This is a worthwhile goal, and you should work it into your schedule. Keep at it.
LIBRA: FIVE OF WANDS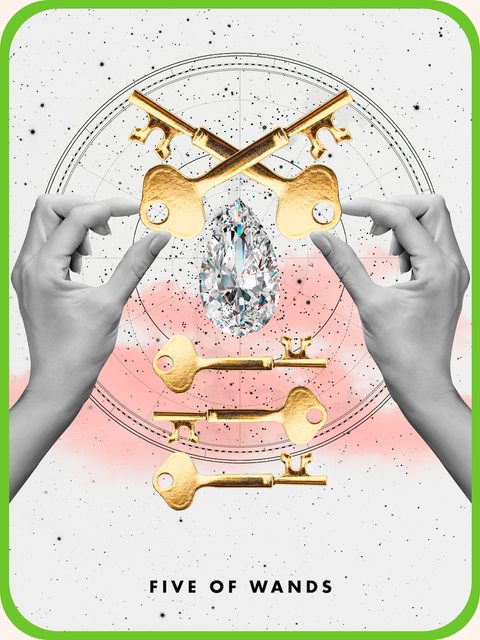 Ugh, it's one of those weeks. You feel out of sorts and at odds with others. Life just feels more difficult and challenging than usual. Libra, I know it sucks, but the Five of Wands reveals that the way through this rough patch is to notice the painful spots and do something to change your attitude. These pangs are sent to draw your attention to things you've outgrown, don't need, or should do differently. Take this annoyance as a signal. Act on it. You will feel immediately and immensely better.
SCORPIO: THE MOON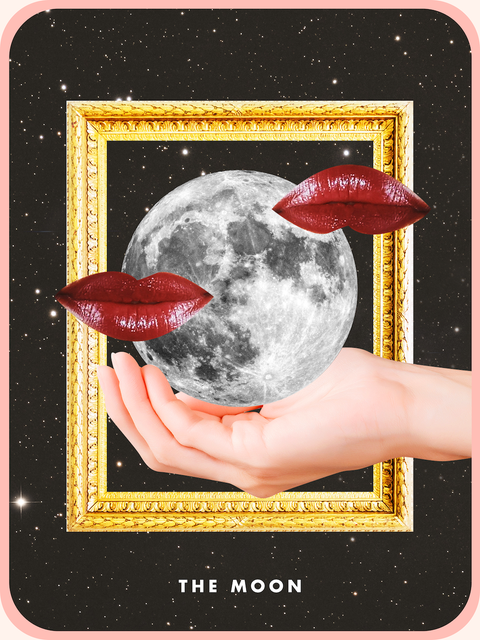 The Moon is a fitting card for you, Scorpio, because it represents secrets, illusions, and mysteries—all of which you simply can't get enough of. You could have been a wonderful spy (o maybe you already are?). This card likely means that you're going to uncover some juicy, important, and potentially game-changing tea this week. Be on alert. Notice where your ~super-spy senses~ smell a cover-up, and then investigate. This information will be important and useful to you. It's going to be one heck of an interesting week.
SAGITTARIUS: JUSTICE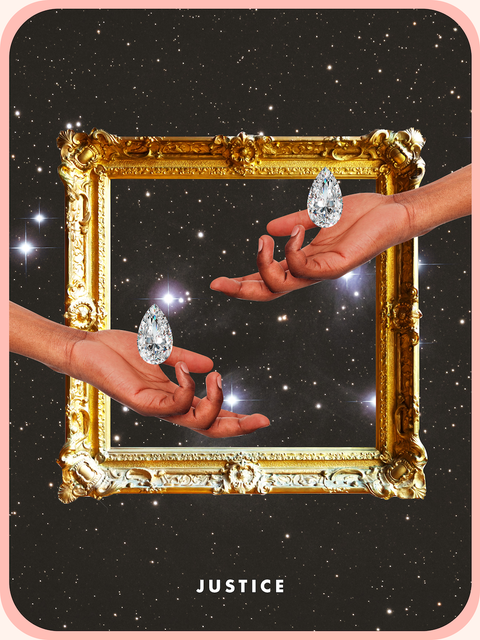 You're being provoked, Sagittarius, but don't lose your temper and make it worse. Justice asks you to take the high road and be the bigger person this week. It's not for whoever you're feuding with, it's for you. If you act right now, you can look back with pride and dignity. So keep your cool. Act like karma is watching, because she is.
CAPRICORN: THE EMPRESS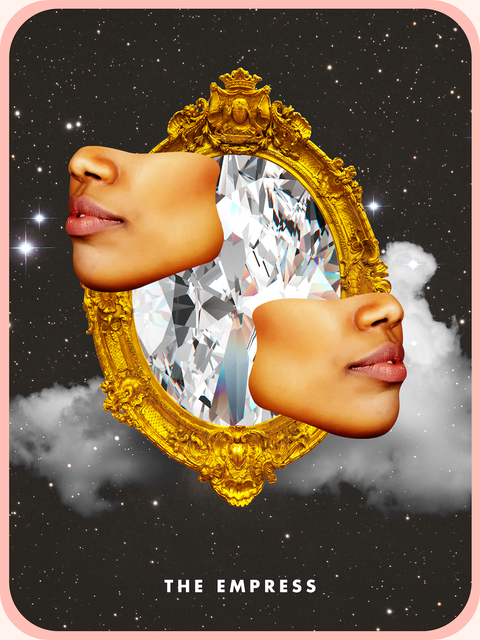 What a beautiful week ahead you're going to have, Cap, and you deserve it. The Empress brings love, peace, inspiration, and natural wonder into your world. Welcome it all by spending time with those you love and like, doing things you enjoy, and spending time in places that make you feel like your best self. This is a week to celebrate your riches. Have a magical time.
AQUARIUS: SIX OF WANDS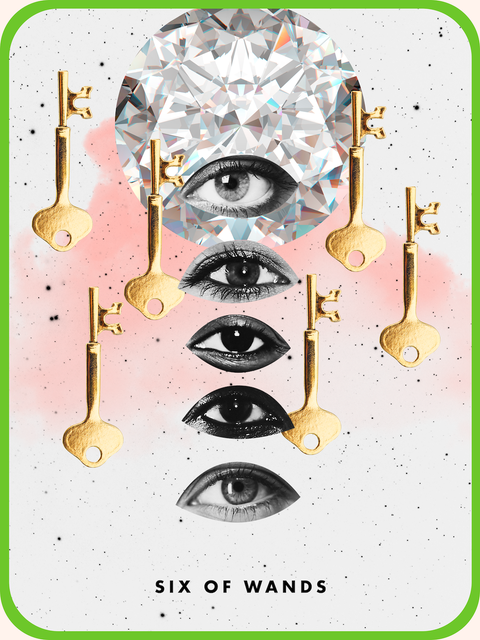 Success! Victory! Vindication! You are on fire this week, Aquarius. Everything you touch turns to gold with the successful Six of Wands. Truly, anything is possible, so put your energy into your biggest, wildest, goals. You can go further, faster than you believe to be possible. Confidence is the key. The higher you aim, the bigger the results.
PISCES: FOUR OF CUPS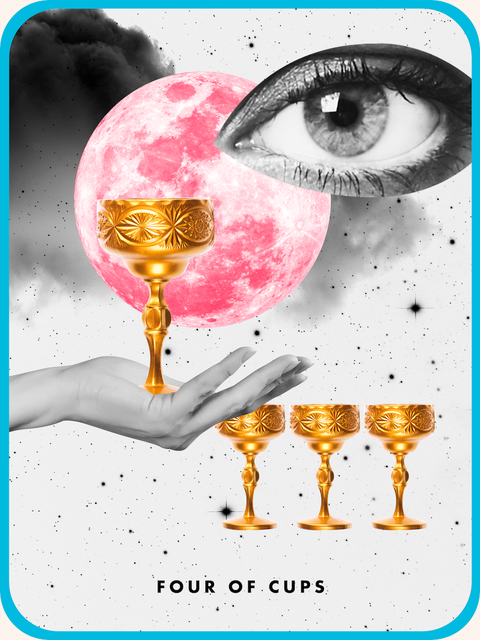 Pisces, you've got so much to be grateful for. Don't feel sad because one little thing has gone wrong. The Four of Cups is a warning not to focus on the negatives and magnify them. This is a week to refocus on everything that's going well. Practice gratitude for the good stuff, and your happy mood will soon be restored.
Tarot Shop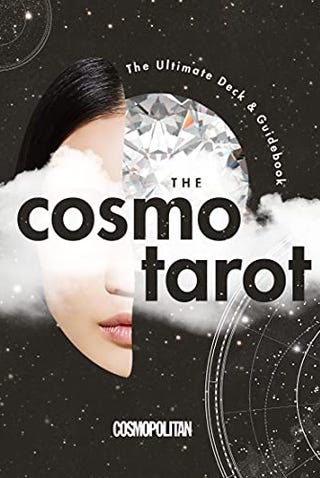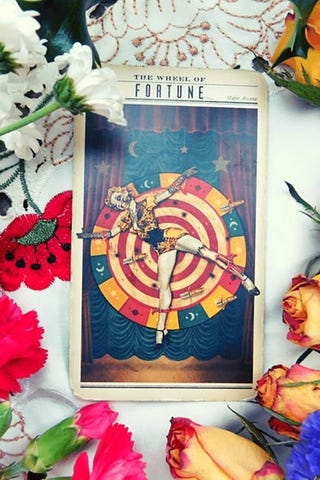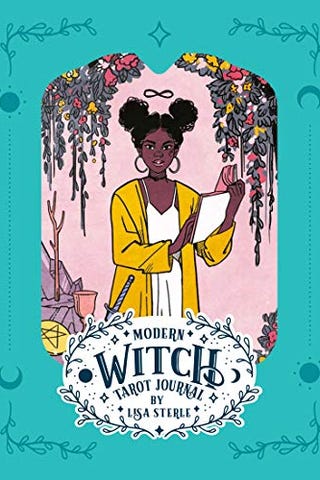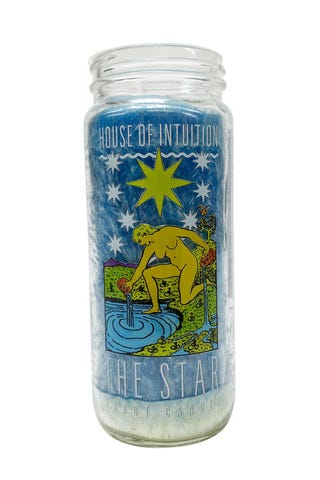 Source: Read Full Article