"I never liked Hallelujah," says Judy Collins of the Leonard Cohen song which is among the most covered of the 21st century: by cabaret and country singers, pop and pop-opera stars, on children's movie soundtracks and at hard rock concerts, by people who know every word of Cohen's catalogue and those who couldn't identify him in a lineup of one.
Keep in mind Collins, a giant of American folk and popular song, has recorded dozens of Cohen tracks – "I've always been deeply in love with every single one of them" – and released the first recordings of his songs in 1966 (Suzanne and Dress Rehearsal Rag), shortly after hearing them, when the Canadian was a 31-year-old obscure poet too scared to perform them himself.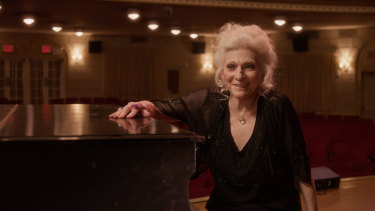 Singer Judy Collins.
And no one could question her respect for him from their initial meeting in 1966. "I tell you, there was no question in my mind … that he was a great artist," she says. "I've known a lot of great artists and he was by far the most powerfully formed, already formed, artist."
But Hallelujah? The song that begins with the triplet of "Now I've heard there was a secret chord/ That David played, and it pleased the Lord/ But you don't really care for music, do you?"? Not so much. Though why she couldn't have told you.
"There's no analysis to get into this; it's all body and soul and spirit," says Collins, 83, from a bus somewhere in Belgium as she embarks on another European tour. "When you hear a song that you want to sing, you know it's yours, you know it in the gut. You respond, 'that's for me, that's for me, that's not for me'."
As shown in a new film, Hallelujah: Leonard Cohen, A Journey, A Song, this is a song that many people have decided is definitely "for me", seduced in part by what journalist and Cohen confidante, Larry Sloman, calls its spiritual path caught "between holiness and horniness", and in part by the way it offers every singer a different way to interpret and refashion the song. "It doesn't matter which you heard/ The holy or the broken hallelujah."
Leonard Cohen performs in a scene from the documentary Hallelujah: Leonard Cohen, a Journey, a Song. Credit:Leonard Cohen Family Trust/Sony Pictures Classics
And not just because Cohen claimed to have written more than 150 verses across eight years working on it (his French photographer girlfriend at the time, Dominique Issermann, remembers seeing him each morning in Paris going from bed to first coffee to working on the song she calls "a symbolist poem"), a claim substantiated in the film by his notebooks, with their manifold revisions and additions, and contemporary interviews.
It's also because the song's gracefulness, modest range, elegant chord changes, and capacity for expansion and contraction, not to mention, as one musician puts it, the way Cohen uses "words in a sacramental way" so that the spiritual and carnal entwined, made it seem as if any one of us could try it. Should try it.
So much so that American roots singer Brandi Carlile, who explains the song helped her reconcile her sexuality and her faith, declares Hallelujah "is its own person now". And with more than 300 versions recorded, and many more performances – you would be hard-pressed to find an iteration of Britain/Australia's Got Talent, The Voice, American/wherever Idol, that doesn't have someone attempting it; it is now a regular at weddings and funerals – that seems pretty true.
As the film explores, the dark irony of Hallelujah's status is that it appeared first on an album Cohen's American label refused to release because they declared it uncommercial (1984's Various Positions, which contains at least two other Cohen classics) and that only emerged on an obscure European imprint. Barely anyone had a chance to hear it at first, though long before his life's end, Cohen was wryly commenting that "I feel I have a huge posthumous career in front of me".
The song's renaissance began with John Cale, the Welsh avant-garde musician and co-founder of The Velvet Underground, performing it on a 1991 tribute record, and then Jeff Buckley taking Cale's version, which mixed verses from Cohen's studio recording (more Biblical) and live performances (more secular) into a powerful, sensual brew on his 1994 album, Grace. The final, substantial, push over the top came in the hit animated family film, Shrek, which used Cale's version in the movie and a new take by Rufus Wainwright on the multimillion-selling soundtrack album.
After that? The deluge. Including a latecomer whose viewing of the film and the enthusiasm of its younger musical contributors – "Your faith was strong, but you needed proof" – has overcome resistance.
"I think I'm now ready to sing Hallelujah," says Judy Collins. "With [Cohen songs] I take them on and I have to wear them, inhabit them, to learn them. I will add Hallelujah to the repertoire."
Hallelujah: Leonard Cohen, A Journey, A Song screens at Ritz Cinemas, Randwick from July 14.
A cultural guide to going out and loving your city. Sign up to our Culture Fix newsletter here.
Most Viewed in Culture
From our partners
Source: Read Full Article