Since Prince Philip died on April 9 even Juliet Rieden has been taken aback by the deluge of support for a man who, as others have pointed out, frequently weathered a storm of criticism in Australia.
"I was surprised at the outpouring of emotion for the Duke of Edinburgh, and the continued outpouring still happening," says Rieden, author of The Royals In Australia, and editor-at-large of The Australian Women's Weekly, noting that readers of her magazine have been writing to her all week with memories of the duke.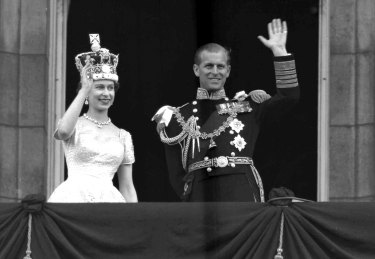 "We like to think we're casting a bit of a cynical eye over what's going on," says Australian royal expert Giselle Bastin, of Australia's long-held view of the royals, including the late Prince Philip, Duke of Edinburgh, pictured with the Queen at Buckingham Palace, following her coronation in 1953.Credit:AP
Indeed, Prince Philip's death just two months shy of 100 has generated more Australian news pieces than any "celebrity" death in the past year. And there has been nearly non-stop coverage of the late duke's 73-year-long marriage to Queen Elizabeth, from his statement on his honeymoon that "Lilibet is the only 'thing' in this world which is absolutely real to me" to his view, after leaving a distinguished career as a naval officer earlier than expected to be the Queen's consort, that he was the "fella who belongs to Mrs Queen".
And it is this enduring love story says Rieden which has now "underlined" the compassion Australians have long had for the only monarch most of them have ever known, and who said last weekend that her husband's death has left a "huge void" in her life.
"There's a lot of people thinking of the queen now, a lot of empathy," says Rieden. "[And] younger people for the first time have seen the whole Duke of Edinburgh. They just saw the trashy tabloid headlines before and all the noise about his gaffes." (Among many others, he once asked an Indigenous leader here if they still threw spears at each other) "Now," says Rieden, "[they're seeing] how devilishly handsome he was, the sacrifices he made for love and his commitment to duty, and to service."
At a time when the world is experiencing peak levels of unrest – a pandemic, American social and political disorder, and political scandals here – a focus on the Queen's steadfast marriage is inspiring a "renewed interest" in and respect for the House of Windsor in Australia, says Dr Giselle Bastin, a Flinders University associate professor.
"I think there's a real appetite for people to just be looking back and feeling nostalgic about everything at the moment because things have been so disruptive in the last 12 months, and [the last] five years," says Bastin, a British royalty specialist. "We're now realising what we've lost" – steadfastness, a selfless devotion to the greater good – "and the monarchy represents that. Looking back at Philip's life, we're looking, actually, at a world that has passed, not just the man."
This is in stark contrast, she says, to the self-centred "me, me, me" world we now live in, exemplified by Prince Harry and Meghan's decision to leave the royal family last year and live in the United States where they are pursuing media-based careers. "It does throw into sharp relief that the Elizabeths and the Philips did certainly come through a different time, and… that we're losing that older generation who were more selfless in terms of their public outlook."
And, adds Bastin, the recent outpouring of support for the royal family – "I know how the family will be feeling now, just quite numb and empty", wrote one Sydney Morning Herald reader, echoing the sentiments of many Australians – has outed, once and for all, what has long been Australians' guilty pleasure: our fascination with the royals.
"We like to think we're casting a bit of a cynical eye over what's going on [with the royals]," says Bastin. "The number of people over the last 20-odd years who have said to me, 'Oh my goodness, why on earth do you study the British royals? What a pack of losers.' And their next question is, 'Have you met her [the Queen]? What's she like?' People have always been fascinated by them, but Australians have always sort of had to cover it up, they're a bit abashed about it, a bit blushy."
But a whole new generation of Australians – represented by her students, in their late teens – are no longer abashed.
"They love the notion of the monarchy and the whole narrative around them, they find that fascinating, a bit like the Kardashians," she says. "It's all just celebrity fodder, some of it just with better jewels and bigger houses."
Millennials, too – only babies, if born at all, at the height of the royal family's infamous "annus horribilis" in the early 1990s – feel much the same, says Dr Chloe Ward, an expert on 20th century culture and politics at RMIT's Social and Global Studies Centre.
"My generation, we don't mind the monarchy, I don't think we see it as a vexatious political issue," she says, referring to periodic interest among mostly older Australians in separating from the royal family and establishing a republic, an issue which has mostly died since the matter was voted down in the 1999 referendum. "Generally, we see them as amusing, harmless," says Ward. "They give us the warm fuzzies when they have a nice wedding or wear a nice frock. But beyond that, we don't see them as a bone of contention."
Ward hopes that Prince Philip's death will prompt Australians to look past the "cloak of romance" that current coverage has thrown over the royal family and look at our current and historical reception of the duke, and what it implies about our nation in a more critical light.
"People do see it [their love of the royals] as an innocent guilty pleasure, but there is a more serious way to be thinking of that," she says. "We all found it hilarious when Tony Abbott tried to knight Prince Philip in 2015″ – Abbott, then the prime minister, did, in fact, knight the duke, in a much-derided move – "but we should probably be a bit careful in treating him as this archaic throwback [given] his record of racist remarks. Perhaps the fact that we find that amusing, rather than offensive, says something about the racism in our public life."
The duke's death will likely usher in a new era of heightened expectations of the royal family on the topic of inclusion and racism, says Dr Cindy McReery, a cultural historian and expert on the British royal family at The University of Sydney.
"It's [interest in the royals] is not just a guilty pleasure, it's also [now], I think, opening up a more public debate about racism, not just in the royal family but in our nation and in Britain and elsewhere," says McReery. "We'll have to deal with that."
The recent and explosive Oprah interview with Prince Harry and Meghan might have already, she says, put this topic "on the table".
"But I think in some ways, Philip's death, if I can put it this way, is convenient in the sense that now there can be a more open discussion," says McReery. "There is a sense of 'This is a passing of a generation and some generational views.' We no longer have to excuse or kind of cover up things he said. Now there will be higher standards expected of the royal family, and they won't be able to get away with things [they did], partly because of his age, and the deference [to him] that went along with people in his generation. That's gone now."
Get a little more outta life
Start your week with practical tips and expert advice to help you make the most of your personal health, relationships, fitness and nutrition. Sign up to our Live Well newsletter sent every Monday.
Most Viewed in Lifestyle
From our partners
Source: Read Full Article