View this post on Instagram
Kathie Lee revealed on Thursday's show when she knew she'd marry Frank. Tap our link in bio for the sweet story. ❤️ (: @photonate)
A post shared by Kathie Lee and Hoda (@klgandhoda) on
On December 11th, 2018, Kathie Lee Gifford announced that she would be leaving Today. She told fans, "I've been in this business for 120 years and never worked with a more beautiful group of people who just give, give, give every day." The talk show hasn't been in the business quite that long, but she has been on the air for several decades.
Gifford started her talk show career in 1985, co-hosting Live! With Regis and Kathie Lee alongside Regis Philbin. The pair was nominated for Outstanding Talk Show Host at the Daytime Emmy Awards for eight consecutive years. In 2000, Gifford announced that she would be leaving the show.
Gifford made her return to daytime television in 2008 when she joined the fourth hour of Today. For the past 10 years, Gifford and Hoda Kotb have co-hosted the morning show, enjoying many glasses of wine along the way. Gifford finally won an Emmy in 2010. Now that the host has announced she is leaving, there are a few people that could be considered to take her place.
Jenna Bush Hager
View this post on Instagram
@jennabhager shared a love letter to her "Gampy" on TODAY on Monday. Link in bio for more.
A post shared by TODAY (@todayshow) on
Hager is considered to be a front-runner to take the seat next to Kotb. The 43rd president's daughter has been with NBC since 2009. She has worked as a correspondent at the network and was frequently asked to sub in for other hosts, including Gifford.
The mother of two and best-selling author was brought onto the show after Executive Producer Jim Bell noticed her natural presence. Sources say she fits right in and has great chemistry with Kotb, saying she's a "hot bet to join Hoda."
Hager expressed her love for the departing host on Twitter saying, "We adore you KLG. Thanks for your love, friendship and for your hilarity. You will be dearly missed."
Savannah Guthrie
View this post on Instagram
Whether they were braving freezing temperatures to report on the Macy's Thanksgiving Day Parade or cooking at home with their loved ones, the TODAY family found beautiful ways to celebrate the day! Tap our link in bio to see more.
A post shared by TODAY (@todayshow) on
Guthrie and Kotb have worked together many times before. They are currently working together on a new Today streaming video series and previously worked together hosting the Winter Olympics. The two have a lot in common and are close personal friends. There's no denying they have chemistry. Together the pair were named as members of the 2018 Time 100 list.
Guthrie has been a part of NBC for many years. In 2011 she joined Today as a co-host for the show's third hour and the show's chief legal correspondent. She became a co-anchor a year later when she replaced Ann Curry. Along with having a close relationship with Kotb, Guthrie considers front-runner Hager as one of her closest friends. With so many close friends at the network, Guthrie is sure to be happy for whomever the network chooses.
Al Roker
View this post on Instagram
It was a fun-filled day in #Studio1A and on the #TODAYplaza. Swipe to see a couple more photos of our special day celebrating @alroker! (: @photonate) #ALiversary
A post shared by TODAY (@todayshow) on
Al Roker has been with Today for over 20 years and just celebrated his 40th anniversary with NBC. Most recently he shared the third hour of the show with Tamron Hall.
Roker joined Today in 1996 when meteorologist Willard Scott announced his "semi-retirement." The host has been a long time fan favorite. Hager jokes of her co-worker, " If you want to get recognized in the airport, travel with Al Roker. Everybody's like 'Al, Al!"' With a legion of fans and incomparable experience, we have no doubt Roker would do great.
John Cena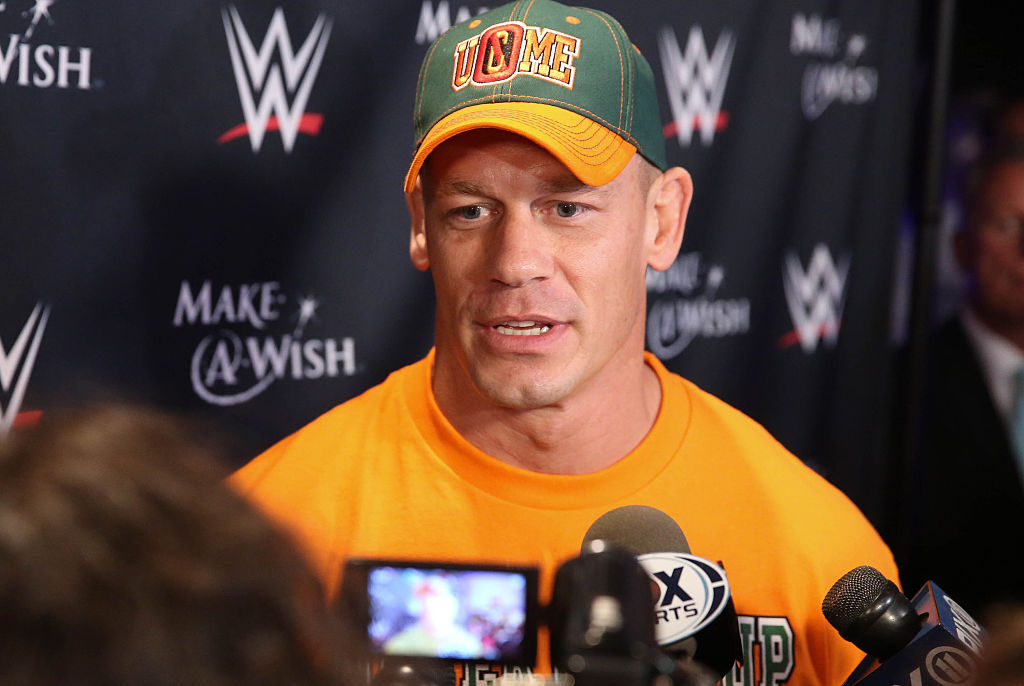 NEW YORK, NY – AUGUST 21: WWE superstar wrestler John Cena | Rob Kim/Getty Images
People Magazine thinks that John Cena might be a good replacement for Gifford. The wrestler has been a guest on the show several times and is always popular with viewers. He might even be able to bring some younger viewers to the show. But People concedes that it would likely be hard to make it work with Cena, given his busy schedule.
After making her announcement, Kathy Lee Gifford told TMZ, "Whoever Hoda wants, Hoda gets." Whether there is truth to that is yet to be seen. NBC hasn't publicly discussed potential replacements, so for now, we can only speculate.
Source: Read Full Article