When prime minister Gough Whitlam took to the steps of Old Parliament House in November 1975 to decry his dismissal, another legendary figure was standing close by.
Norman Gunston, the "little Aussie bleeder" from Wollongong, his face a mix of delight and shaving cuts, was there for ABCTV cameras as the Labor leader waved to cheering crowds.
That is how Australia's greatest constitutional and political crisis, in which then-Governor-General Sir John Kerr sacked the prime minister and commissioned opposition leader Malcolm Fraser to form a caretaker government, also entered the annals of TV comedy. All due to a fictional character created by actor Garry McDonald's subversive comic nous.
Now comes a musical comedy inspired by those memorable and controversial times. Titled The Dismissal, and created by theatre company Squabbalogic, it is an all-singing, all-dancing story, staffed by characters ranging from Whitlam, Kerr, Fraser and the treasurer of the time, Dr Jim Cairns, former minister Rex Connor, and a punk rock Queen Elizabeth II.
Guiding audiences through the catchy tunes is narrator Gunston, played by Matthew Whittet, an actor who has long revered McDonald's comic character.
"Because the show is written through his eyes, all the characters and political machinations have a filter of absurdity and ridiculousness which is Norman," he says.
Jay James-Moody, who co-wrote the musical's book and directs the production, originally conceived the idea ten years and five prime ministers ago.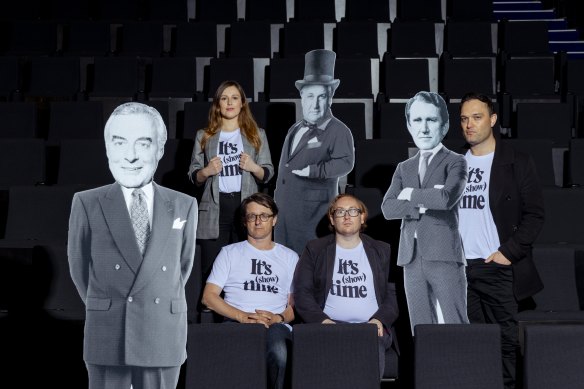 Creators, (l-r) Laura Murphy, Jay James-Moody, and Blake Erickson with actor Matthew Whittet (second left) who will be playing Norman Gunston in The Dismissal: An Extremely Serious Musical Comedy.Credit:Dominic Lorrimer
"We wanted to create something a bit more serious than Keating! and a bit funnier than Hamilton," he says. "It's a political satire and a satire of musicals themselves.
"Since we started, we've kept asking ourselves, 'Is the show still relevant?' But our leaders always need scrutiny, and comedy is the most accessible way to do that. Politics is always ripe for satire."
The show's co-writer Blake Erickson says copious research, including stints at the State Library of NSW and watching hours of news footage, helped ensure accuracy around events and portrayals of key figures.
'Our leaders always need scrutiny, and comedy is the most accessible way to do that.'
"The show is incredibly funny and entertaining but it doesn't shy away from the fact these are complicated people," he says. "They are three-dimensional people who were often painted in two dimensions."
An early showing of The Dismissal in 2019 sparked laughter and emotional reactions in audience members.
"It remains incredibly serious for some and we respect that entirely," Erickson says. "At the same time, there's something quintessentially Australian about this show where we're able to be extremely serious and laugh about it. It's a complete paradox but somehow it works."
Gough Whitlam addresses the crowd from the steps of Parliament House, Canberra, November 1975 with a young Paul Keating. Credit:Michael Raynor
Whittet says he grew up watching re-runs of The Norman Gunston Show from the 1970s.
"Garry created such an iconic character, something so complete and ahead of its time in comedy, it just felt like Norman exists in the world.
"He is an innocent wandering through events in time that are well beyond him and you can't help but love him."
The concept of a musical based on Whitlam's removal from office almost half a century ago may conjure a blank slate for some.
Writer-composer Laura Murphy, who wrote the lyrics and music, believes musical satire is a great vehicle for deciphering political history.
"Musical comedy breaks down this kind of dense, clinical content and makes it palatable for people who weren't around at the time or don't understand politics," she says.
It also allowed Murphy and collaborators to imagine less well-known characteristics of political figures.
"We had to think, 'If Gough Whitlam could sing what would he sound like?'" she says. "What is the music of Sir John Kerr? Gough is such a powerful figure there's definitely a bit of yacht rock with him."
Fraser, by contrast, bears a more seductive streak.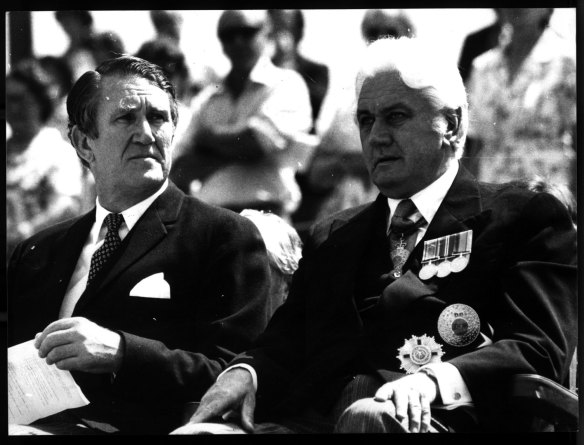 Former PM Malcolm Fraser and former gonvernor-general Sir John Kerr.Credit:Peter Wells
"People might question my political leanings but our version of Malcolm Fraser is an absolute snack," James-Moody says.
Either way, The Dismissal's creators hope audiences feel empowered about politics.
"These events showed the fragility of our democracy," Murphy says. "A huge choice was made without our say.
"It's important for us to use our voice, be involved and know what happens in our democracy."
The Dismissal opens August 26, 2023 at the Seymour Centre.
A cultural guide to going out and loving your city. Sign up to our Culture Fix newsletter here.
Most Viewed in Culture
From our partners
Source: Read Full Article