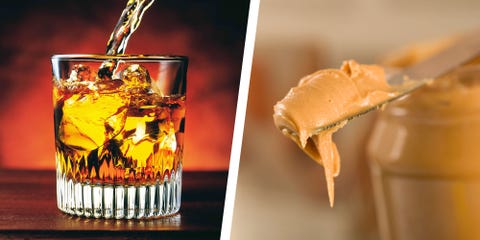 In life, you can reliably count on very few things to be good. One of those things is whiskey. Another is peanut butter.
I relied upon a new peanut butter whiskey called Skrewball to be good. I thought, two things I love, one of which got me through a decade of school lunches and another which launched me into adulthood, together! How delightful. Skrewball's marketing is aggressively hip, with cool Cali vibes and cool Cali dudes doing backflips into the ocean dominating a space normally reserved for images of grizzled cowboys and Serious Men swigging bourbon by fireplaces. It's chilled out. It's youthful. In August, it won the prize for Best Flavored Whiskey at the New York World Wine and Spirits Competition.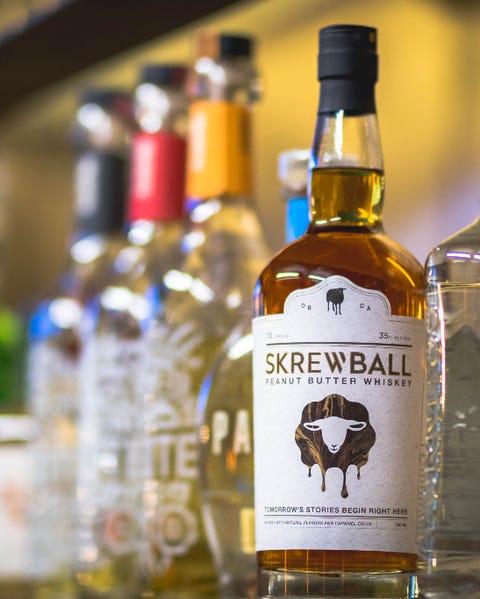 Facebook
And yet, drinking it… leaves something to be desired. It smells overwhelmingly of praline pecan caramel swirl ice cream, and tastes like it, too. It's sickly sweet in a way that attracts two of the fruit flies that perpetually haunt my kitchen. And while there's peanut butter hidden in there somewhere, it is elusive, only leaving behind a thick, saccharine coating on my tongue that is just vaguely nutty. Perhaps positively, it takes a minute for the taste of alcohol (70 proof) to register.
My heart and mind and nostalgia centers and saliva glands were so eager to love a peanut butter whiskey—an all-American booze and an all-American meal replacement, together at last. Unfortunately, it's not the drink I had hoped for.
But not all is lost. The key is simply to take a more American approach and follow that excessive sweetness all the way: drizzling it over the top of vanilla bean ice cream. I swear to you, you will not find a better ice cream topper, mainly because this topper already tastes like ice cream.
And there you have it. An alcohol buzz and a sugar buzz from a $22 bottle of Skrewball, plus the cash for a pint of dairy. Just don't drink the stuff.
From: Esquire US
Source: Read Full Article