Actress and model Brooke Shields has been known as America's sweetheart for most of her life. She began her career as a child model in New York City, and quickly gained notoriety as an actress—at just 12 years old, Brooke nabbed a leading role in the film Pretty Baby, where she played a child prostitute in New Orleans. The role catapulted her into fame, and after a few more movies and years of modeling work, she was officially a Hollywood star.
In the '80s and '90s, she began taking on lots of great television roles (remember Suddenly Susan?!), and since then, has continued to have a lucrative career. Recently, you could find her on TV guest starring in shows like Law & Order: Special Victims Unit, The Middle, and Jane the Virgin. And later this year, she'll star in a Netflix holiday movie called A Castle for Christmas.
While her list of appearances and roles in both television and movies is beyond impressive, Brooke is also known as a style icon and has basically always been seen as the epitome of all-American style. Taking a look back, her vintage looks from the '80s and '90s could easily still be worn today. And remember her "me and my Calvins" ad campaign for Calvin Klein Jeans? Legendary!
Today, Brooke is 56 years old, looking better and more youthful than ever, and still making headlines. Here's a look back at (some truly iconic) photos of Brooke Shields throughout the years.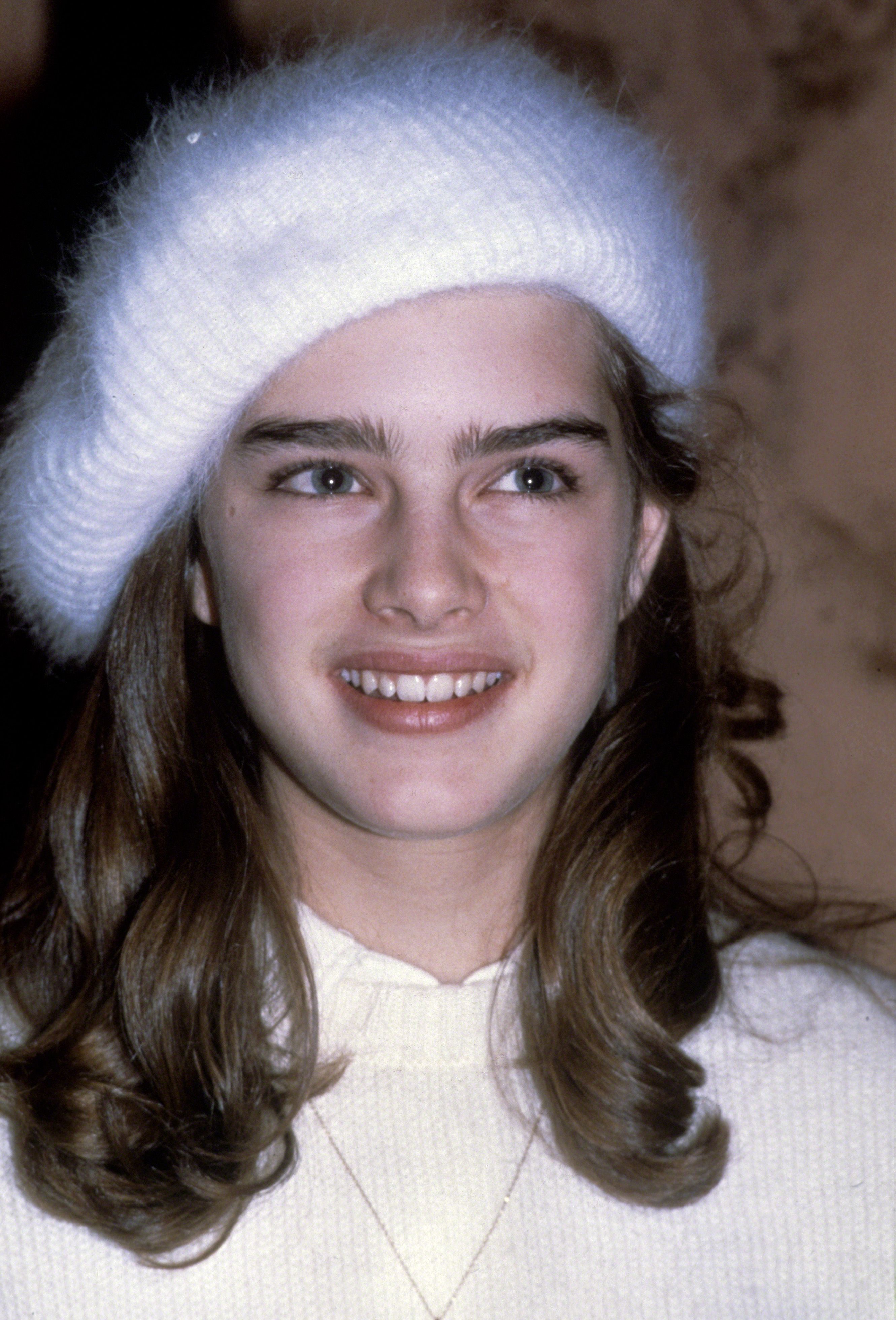 Before she started acting, Brooke worked as a child model. She started her modeling career at just 11 months old back in 1966, with a campaign for Ivory Soap. Before she got her first leading role, she had worked with Woody Allen for the 1977 film Annie Hall, but she ended up getting cut from the movie.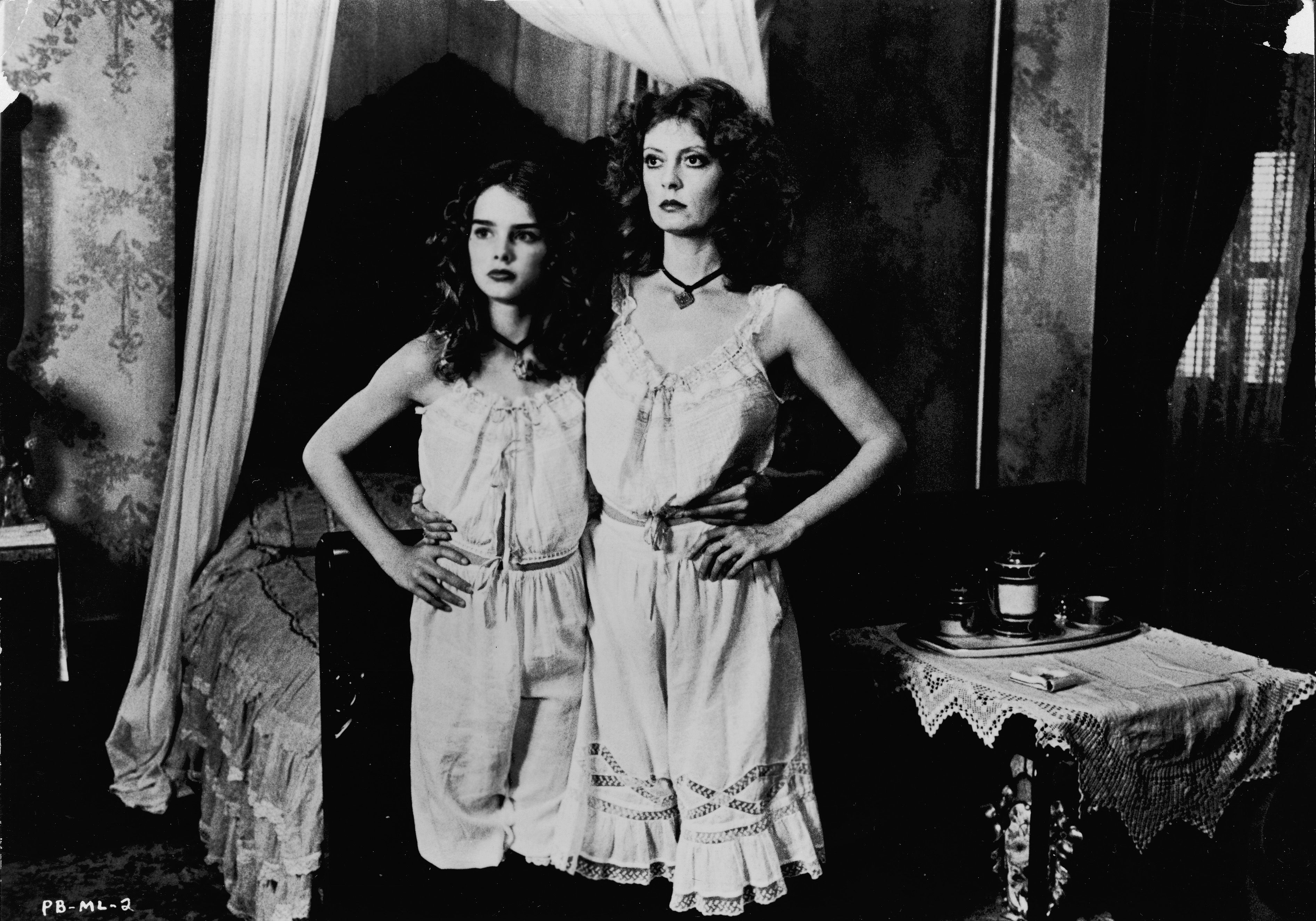 In 1978, Brooke starred in the film Pretty Baby alongside Susan Sarandon. At 12 years old, she played a child prostitute in New Orleans, a role that garnered a boatload of controversy, and a ton of criticism aimed at her mother, Teri, for allowing her to be in it. Forty years later, Brooke told Vanity Fair that she still had no regrets about the film, saying she worked with a great cast and adding, "We knew this was a labor of love. More than anything, we felt we were part of something special."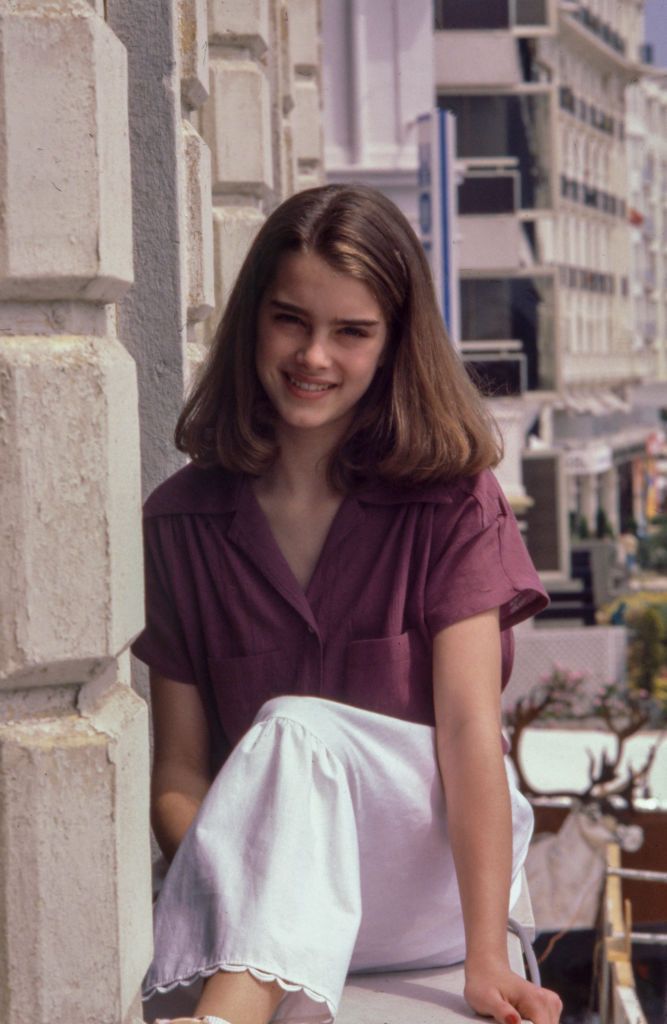 That same year, Brooke headed to the Cannes Film Festival for the first time for her role in Pretty Baby, which was nominated for the Palme d'Or. A lot of attention and controversy was focused on Brooke and the film. She later told Vanity Fair, "I hated everything about Cannes. I had never seen frenzy like that. It was so obscene but absurd. I couldn't identify with it…The magnitude of the attention was really scary."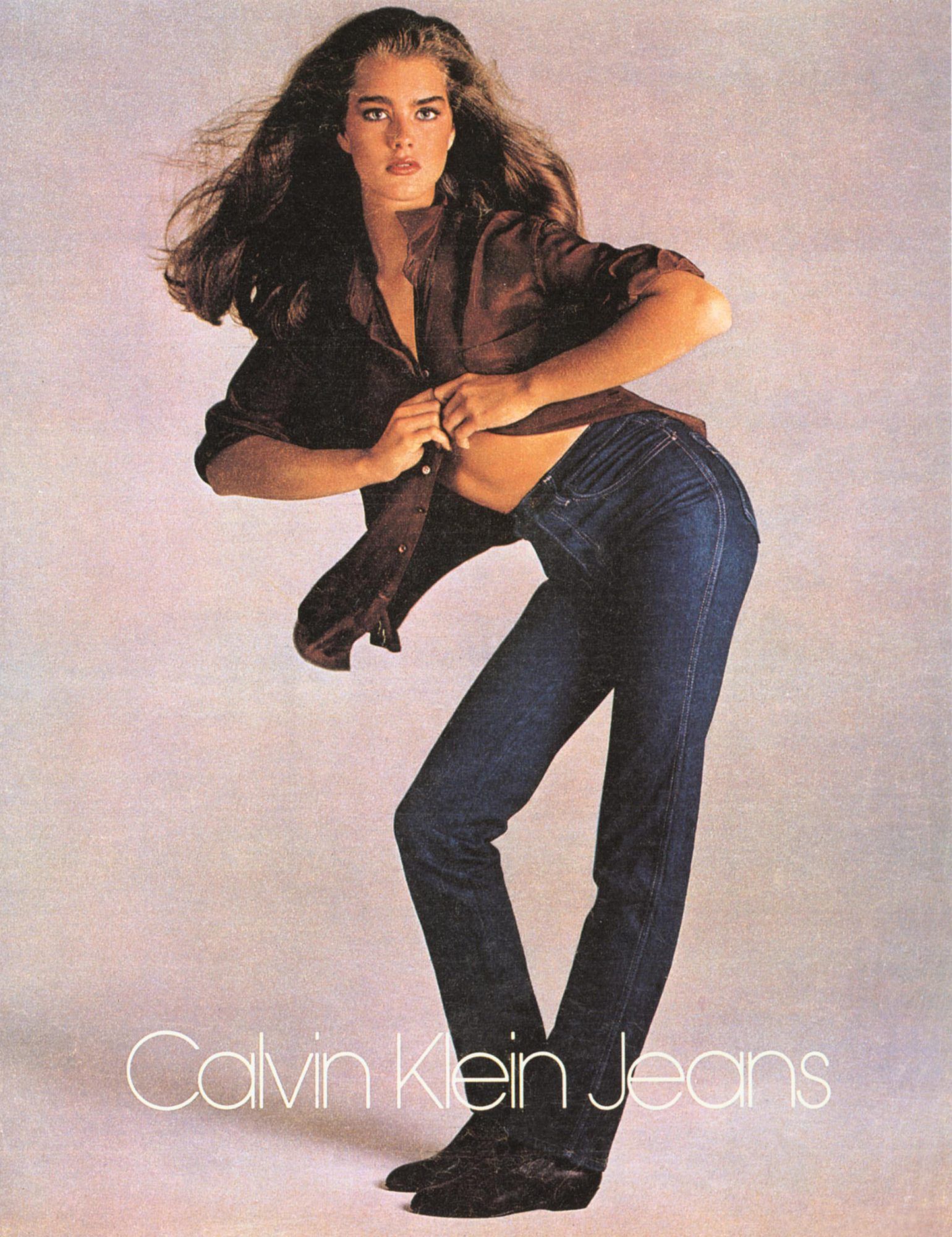 By 1980, 14-year-old Brooke was one of the biggest models in the U.S. She graced the cover of Vogue and became the youngest fashion model to do so at the time. Later that year, she garnered more controversy when she appeared in print and television ads for Calvin Klein Jeans. In the TV ad, Brooke said, "You want to know what comes between me and my Calvins? Nothing." The risque ad was banned from several networks,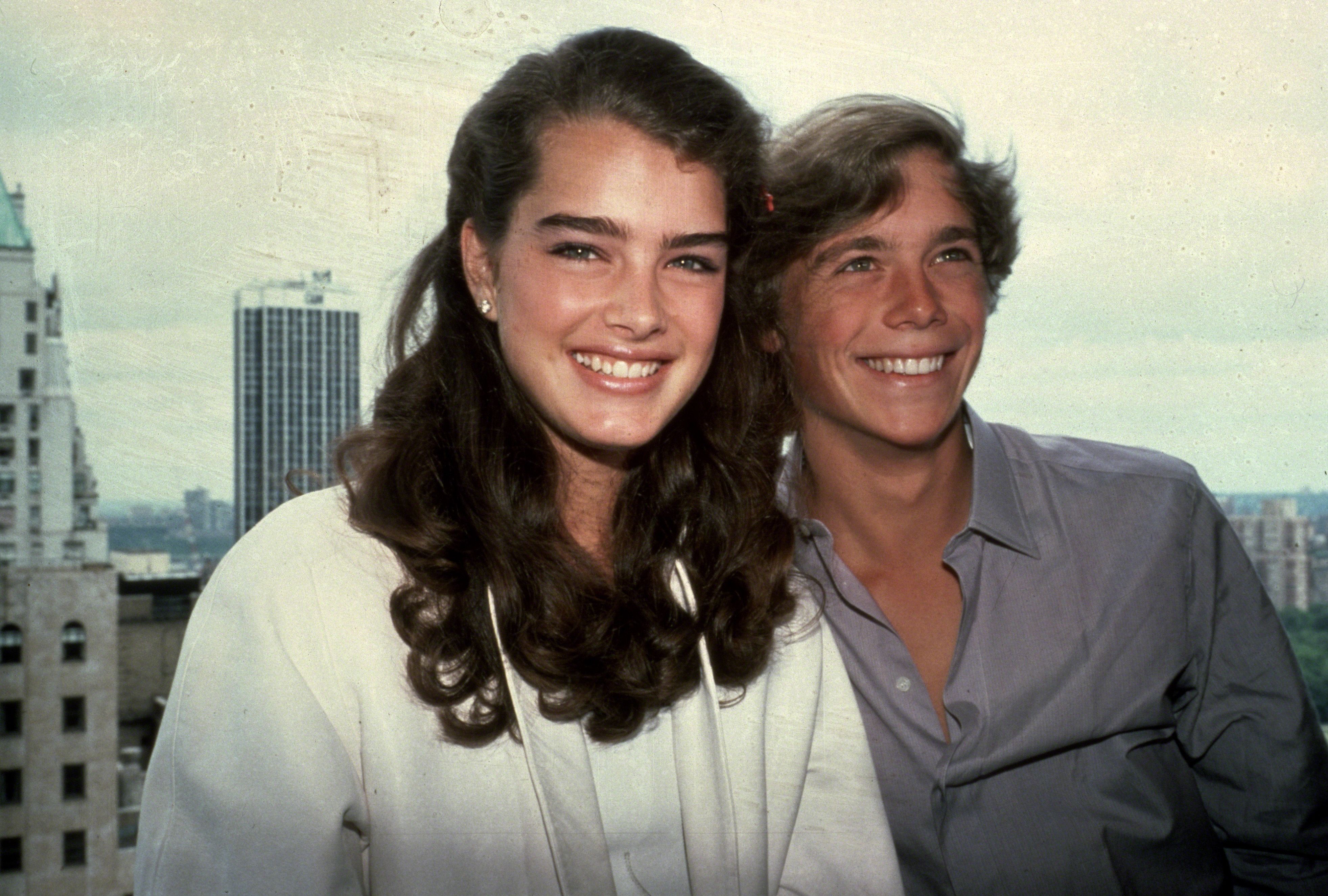 Brooke once again became the focus of controversy when she landed a leading role in the film Blue Lagoon, which was about a scandalous island romance and included nude love scenes. She later told The Guardian, "You sort of desensitize yourself to anything sexual. In Blue Lagoon, I'm using a glue gun, taping my hair, anything I can so my body doesn't show I have boobs… And I didn't realize I was doing it, because I was a kid. I was in a cocoon with my mom."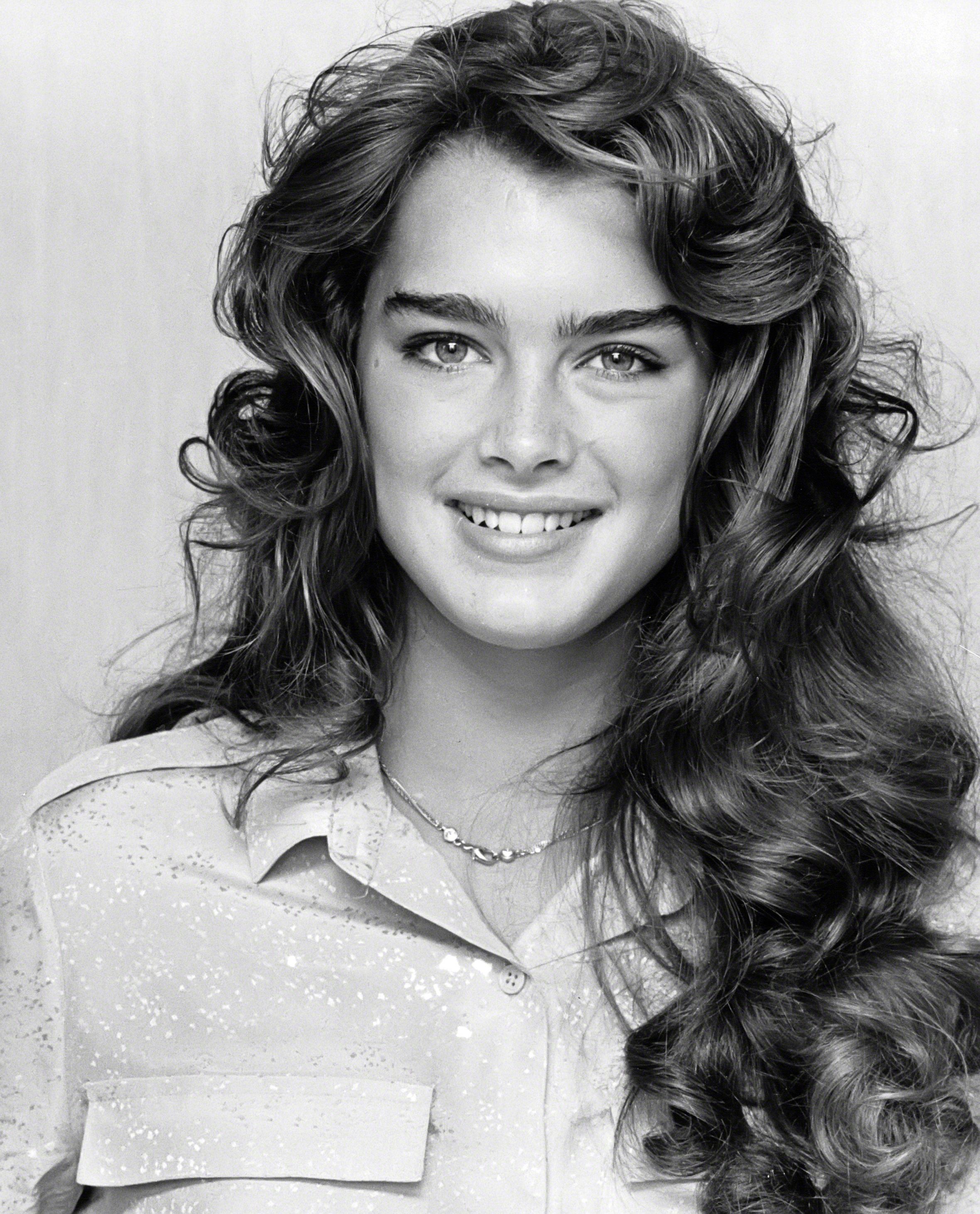 By 1981, Brooke was one of the most recognizable faces in America. That year, she also starred in Endless Love, a movie about a teen romance that had an X-rating. At the time, Shields talked about the sex scenes (most of which used a body double) to the Washington Post. She said, "None of that sex stuff is with me. I don't know what the double did. I think they should take out the scenes. I don't think these scenes are needed."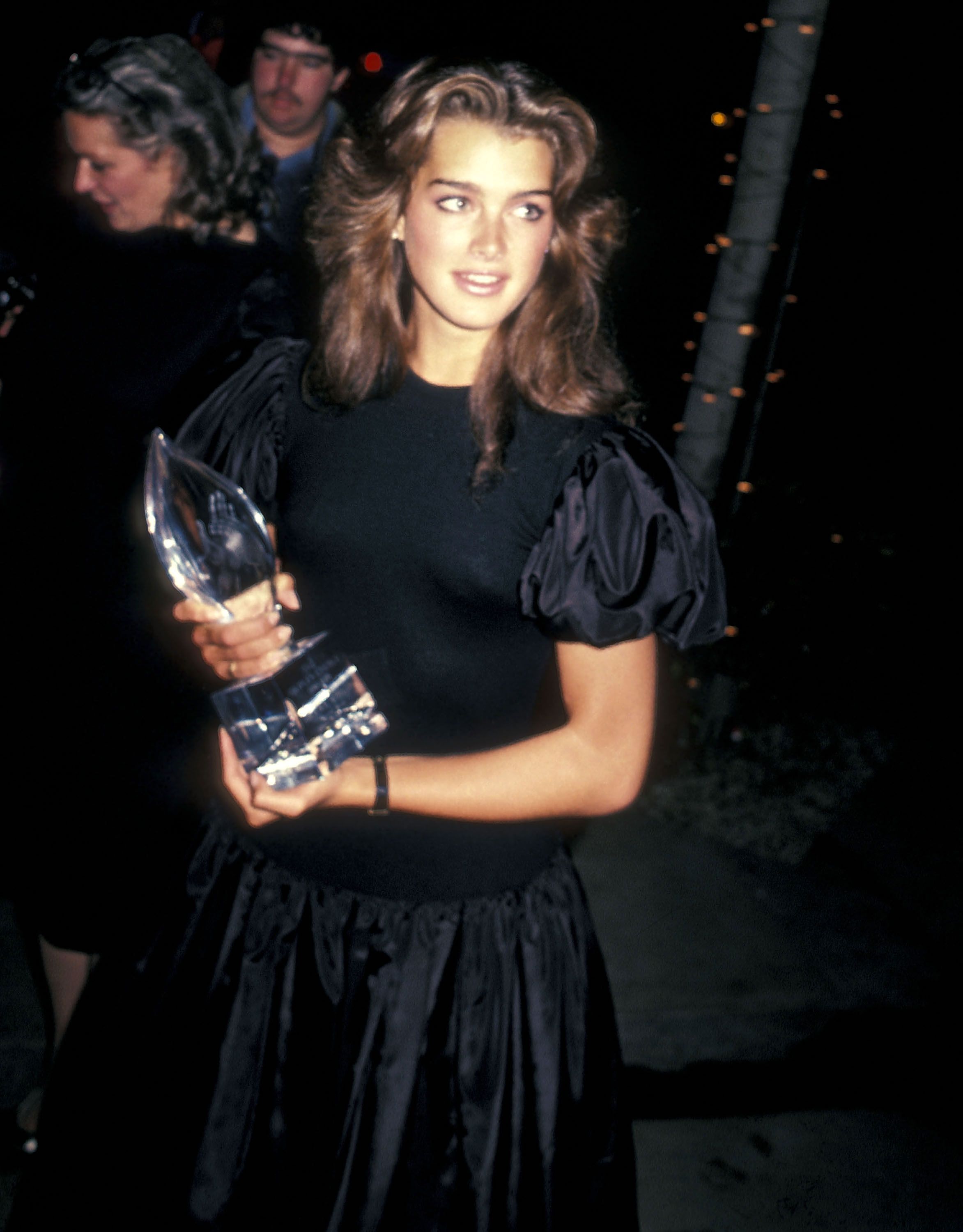 Although Brooke was a superstar in 1983, she later revealed she struggled with many body image issues. During a 2018 interview with Porter Edit, she said, "I modeled swimwear when I was 15, and even then I didn't think I had a swimsuit body. I was a cover girl, not a supermodel. I was 'neck up'—the face, the eyebrows—and I was always described as 'athletic'; 'not rail-thin'; 'not a runway model'. Those messages, they seep into your consciousness."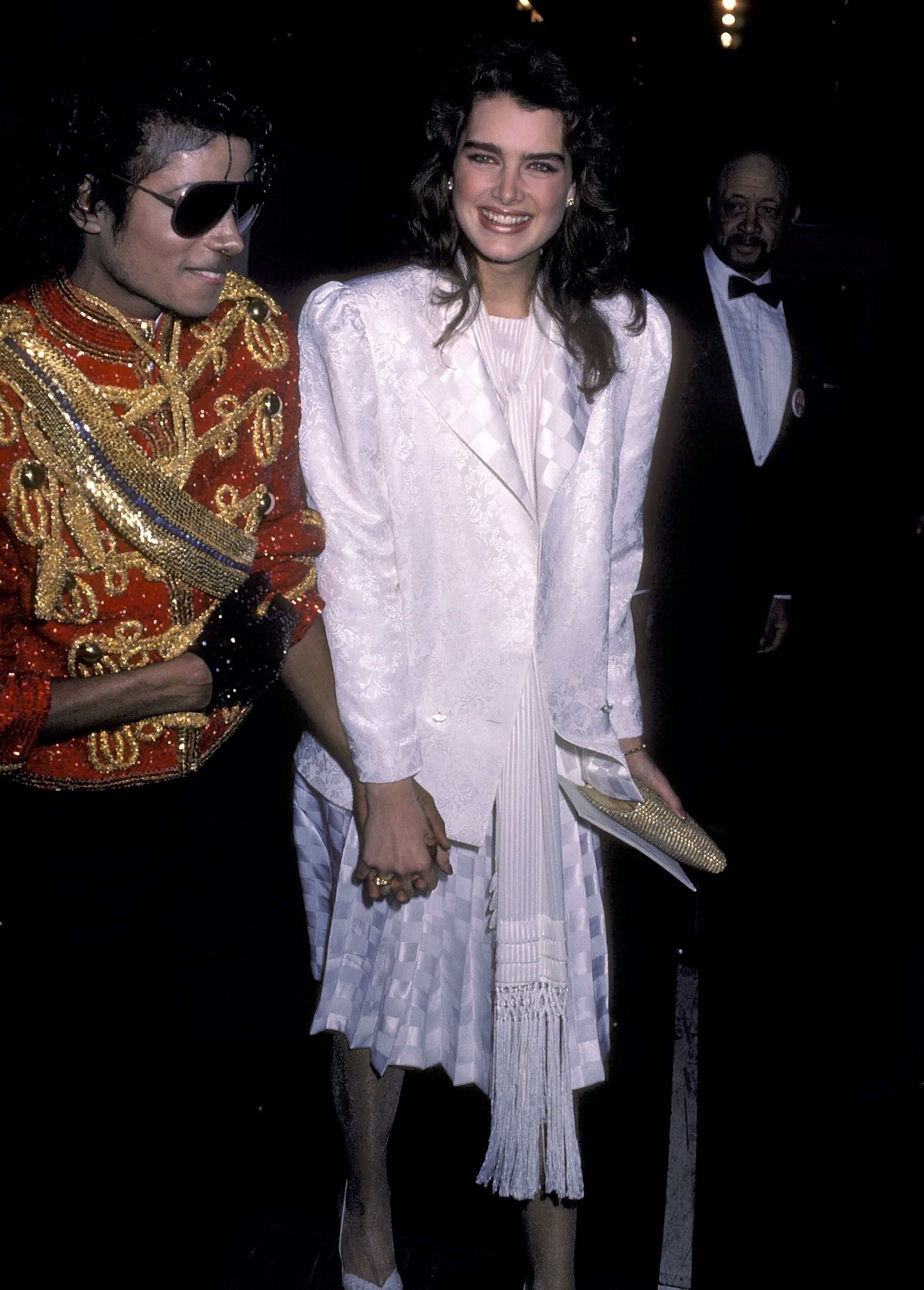 Here, Brooke is pictured at the 11th annual American Music Awards with Michael Jackson. Brooke and Michael were very good friends, and in 2009, she told Rolling Stone that although he asked her to marry him several times, they had a strictly platonic relationship. "You saw women who were more sexual, who wanted to throw themselves at him and feel like they were going to teach him. We just found each other, and we didn't have to deal with our sexuality," she said.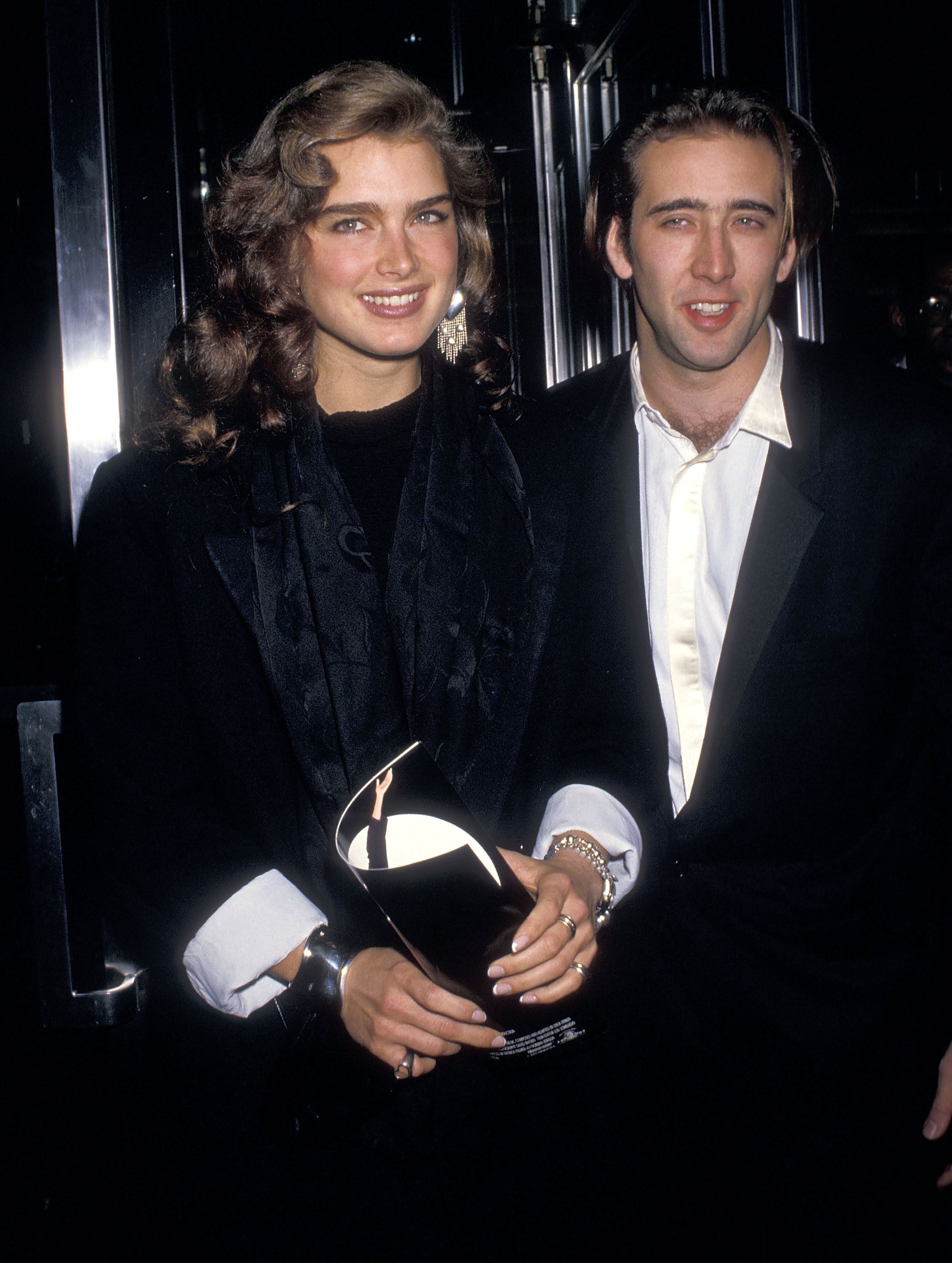 Here, Brooke is pictured with actor Nicolas Cage at the Moonstruck premiere in New York City. The two briefly dated in the '80s. Brooke has also been linked to Scott Baio, John Travolta, Dean Cain, and Liam Neeson.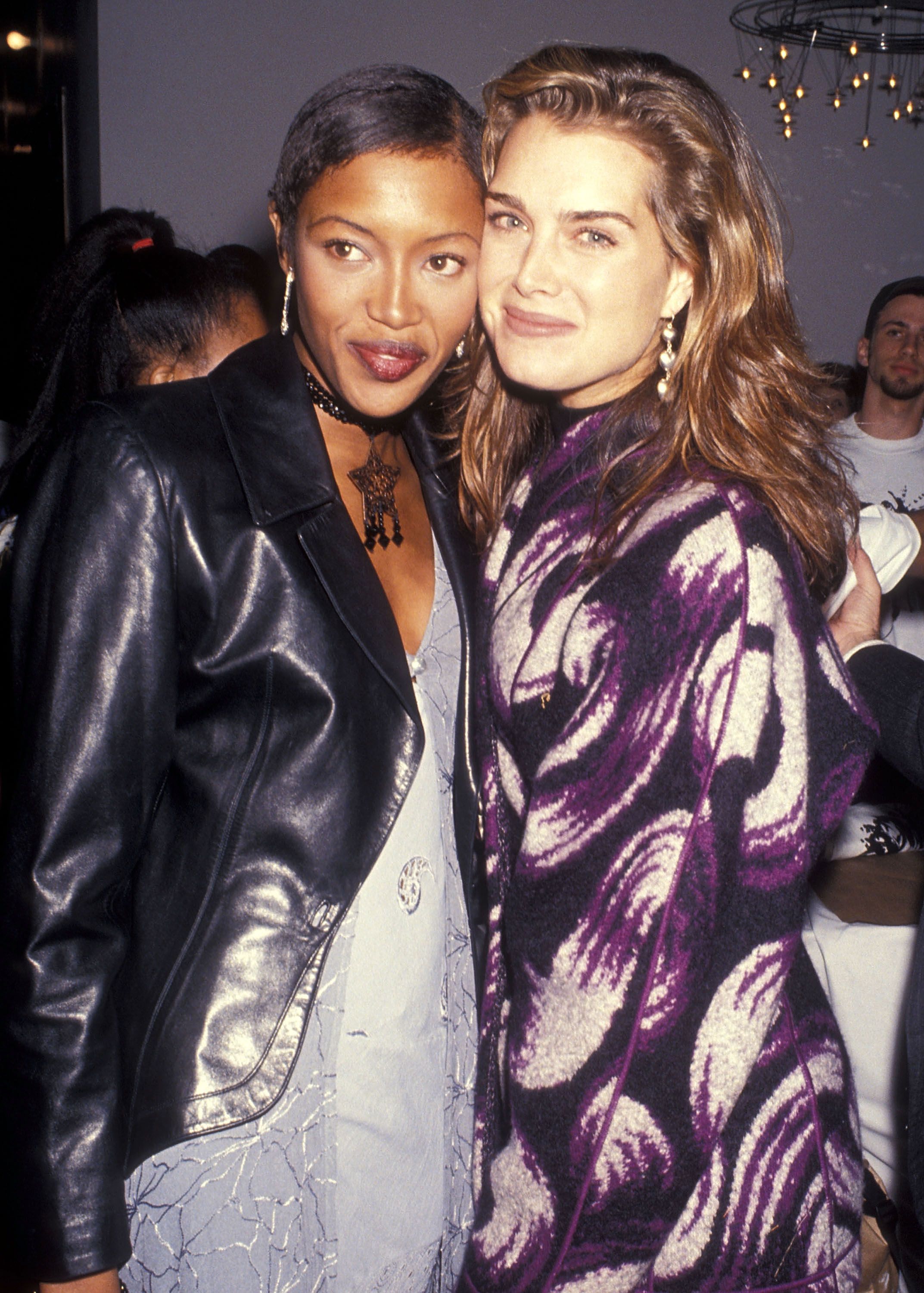 Brooke is pictured here with Naomi Campbell, back when both of their careers were extremely successful. In 1993, Brooke had appearances in TV shows including I Can Make You Love Me, The Simpsons, and Tales from the Crypt.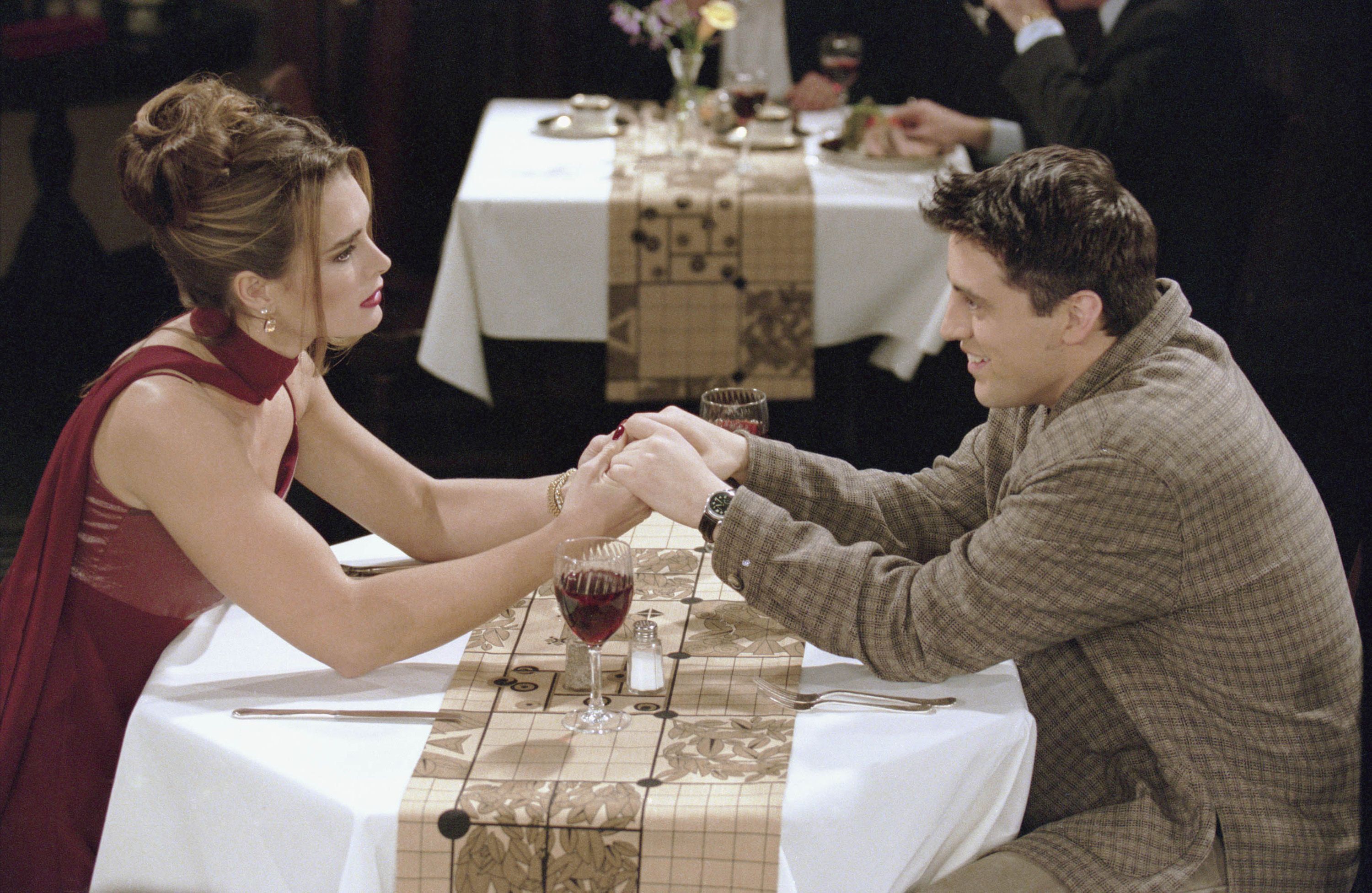 In 1996, Brooke had a small role in Friends, where she played Joey's stalker. She later talked about the appearance to The Hollywood Reporter, saying, "I was on Broadway doing Rizzo in Grease. I got a phone call and said yes before I even knew what the part was because they said, 'Would you be in the Super Bowl episode?' I was sort of obsessed with the show. There was no way I wasn't going to do it."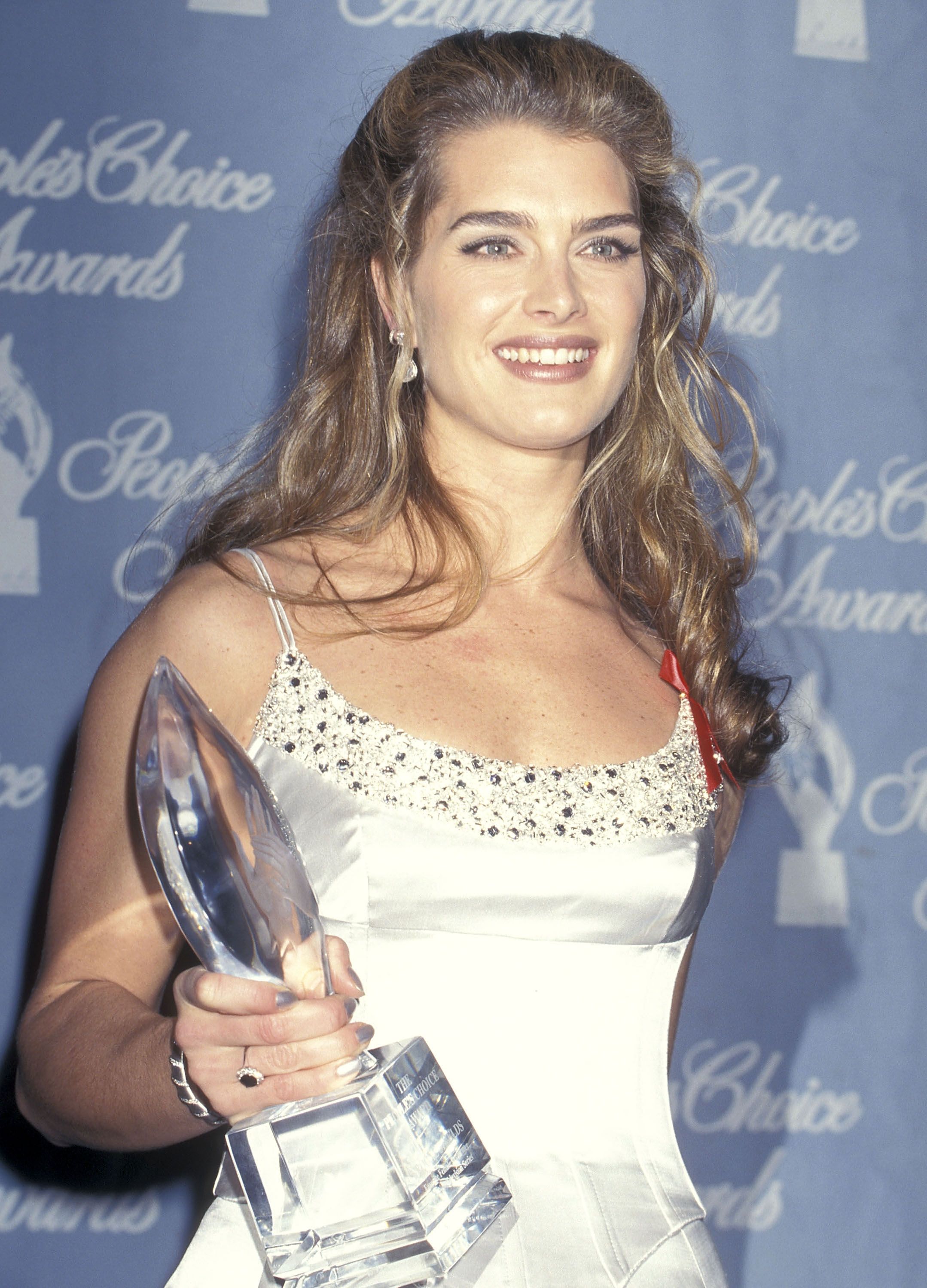 Her role in Friends led to a much bigger one: her leading role as Susan Kane in Suddenly Susan. The role garnered a lot of attention for Brooke, and she starred in the show until 2000. It also earned her a People's Choice Award for Favorite Female Performer in 1997.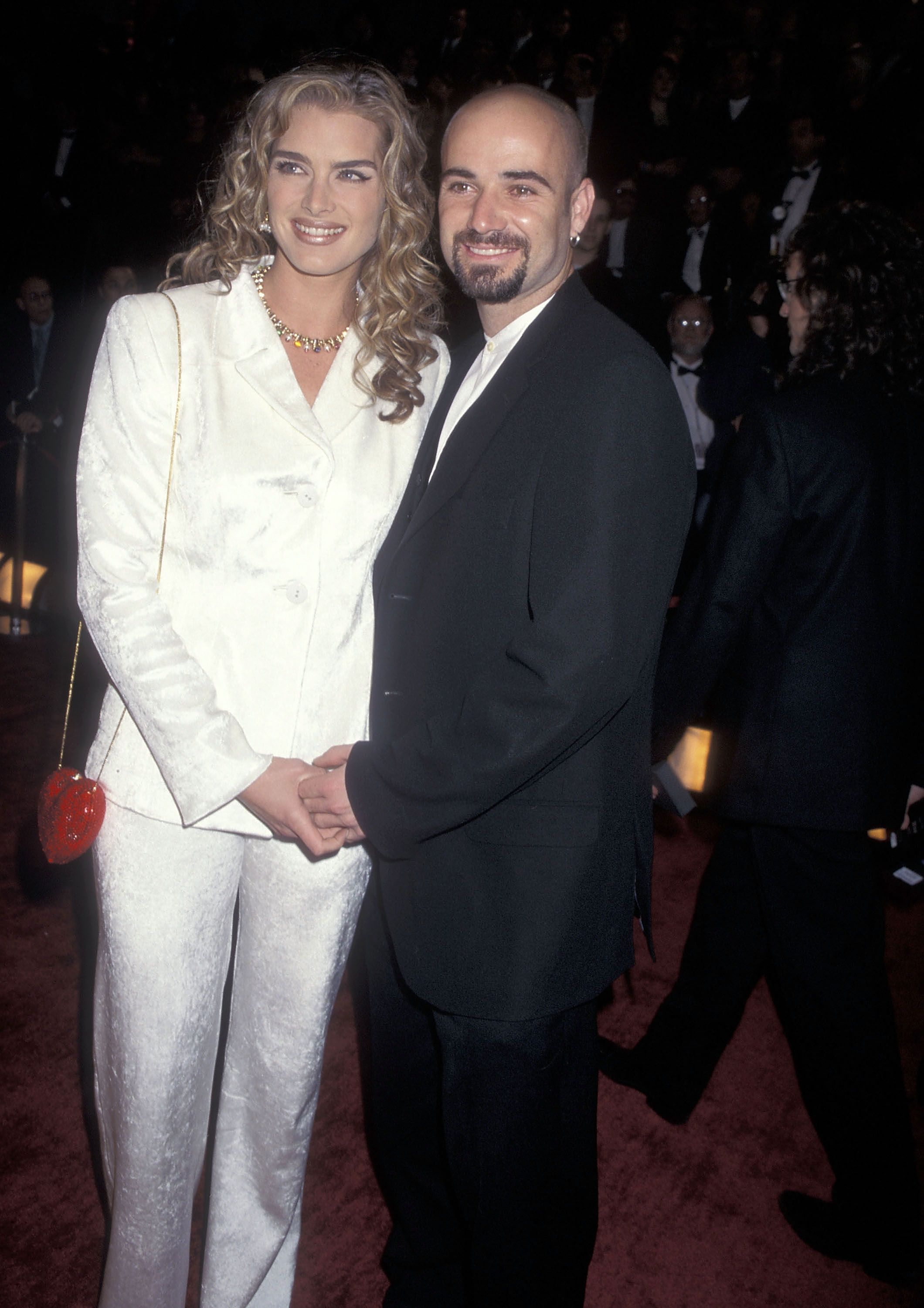 Brooke and tennis star Andre Agassi met in 1993 and fell in love while she was filming in South Africa. In 1997, the two tied the knot, although they ended the marriage in 1999. She later wrote in her memoir, There Was a Little Girl, "The whole relationship with him was so necessary.He gave me my first taste of freedom from my mom. He swept me away. You'd say something and it would happen. There would be a plane or if I said 'I can't believe I have termites,' within 24 hours, the house would be tented."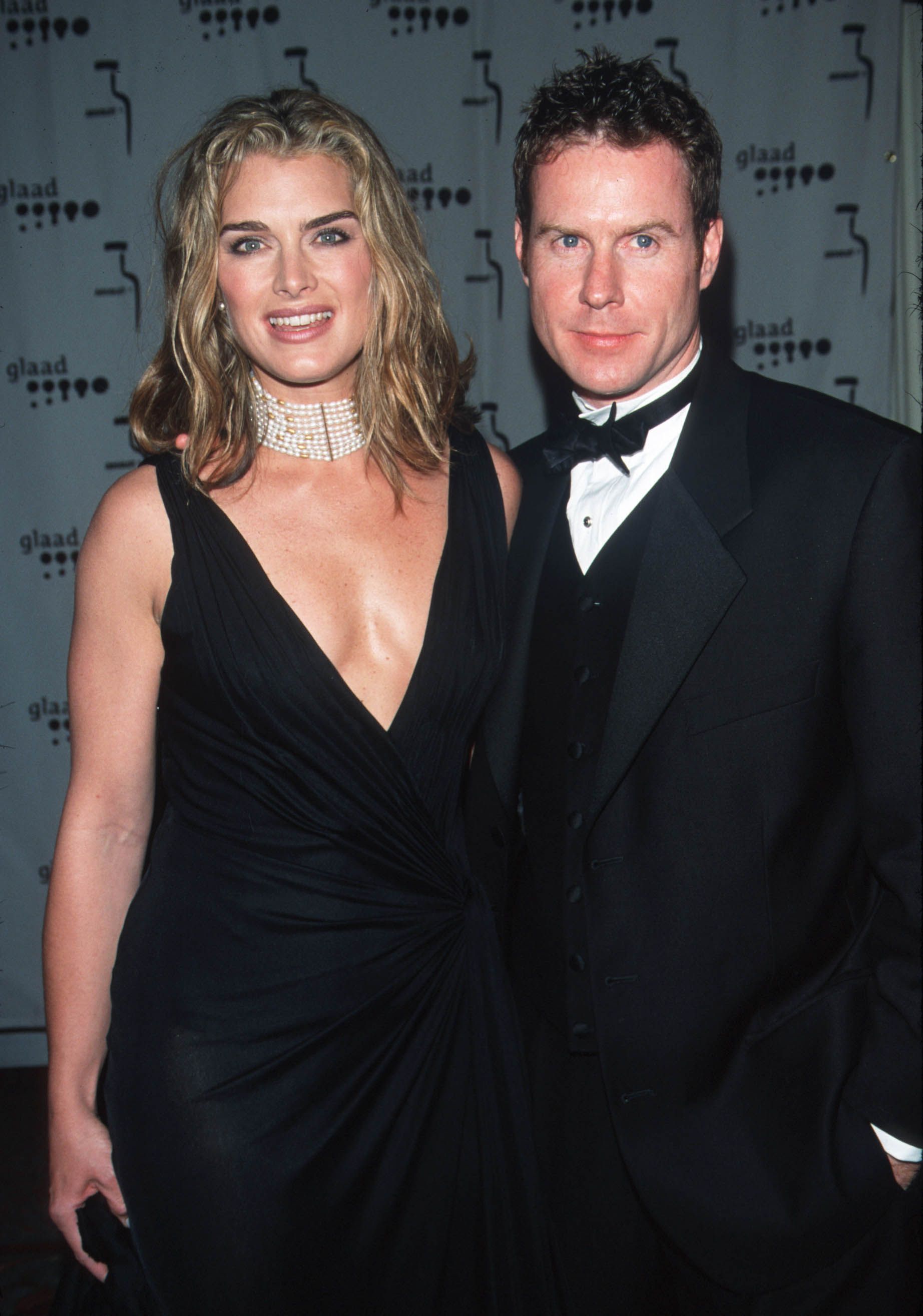 Not long after splitting from Andre, Brooke started dating Chris Henchy. The two got engaged in 2000 and were married a year later, and they're still going strong today. The pair also have two daughters together.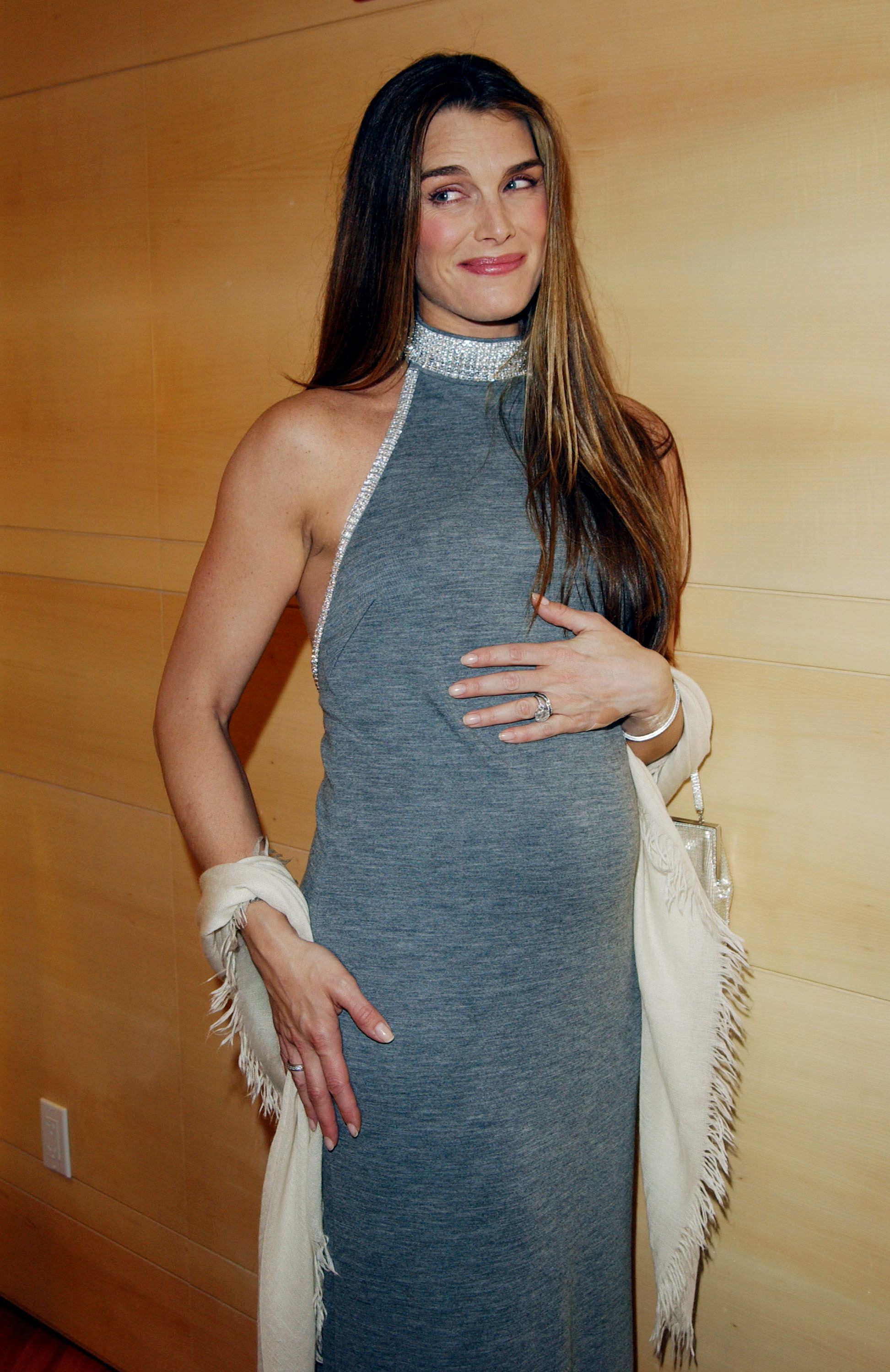 Pictured here at the Bvlgari Store in Beverly Hills, California, Brooke is pregnant with her first daughter, Rowan. Rowan, who is now 18 years old, just attended prom wearing the same red gown her mother wore to the 1998 Golden Globes. In an Instagram post, Brooke wrote, "I thought it was a special night when I was nominated for a Golden Globe and wore this dress in 1998, but nothing could have prepared me to see my daughter wearing it to her prom. Proud mama!"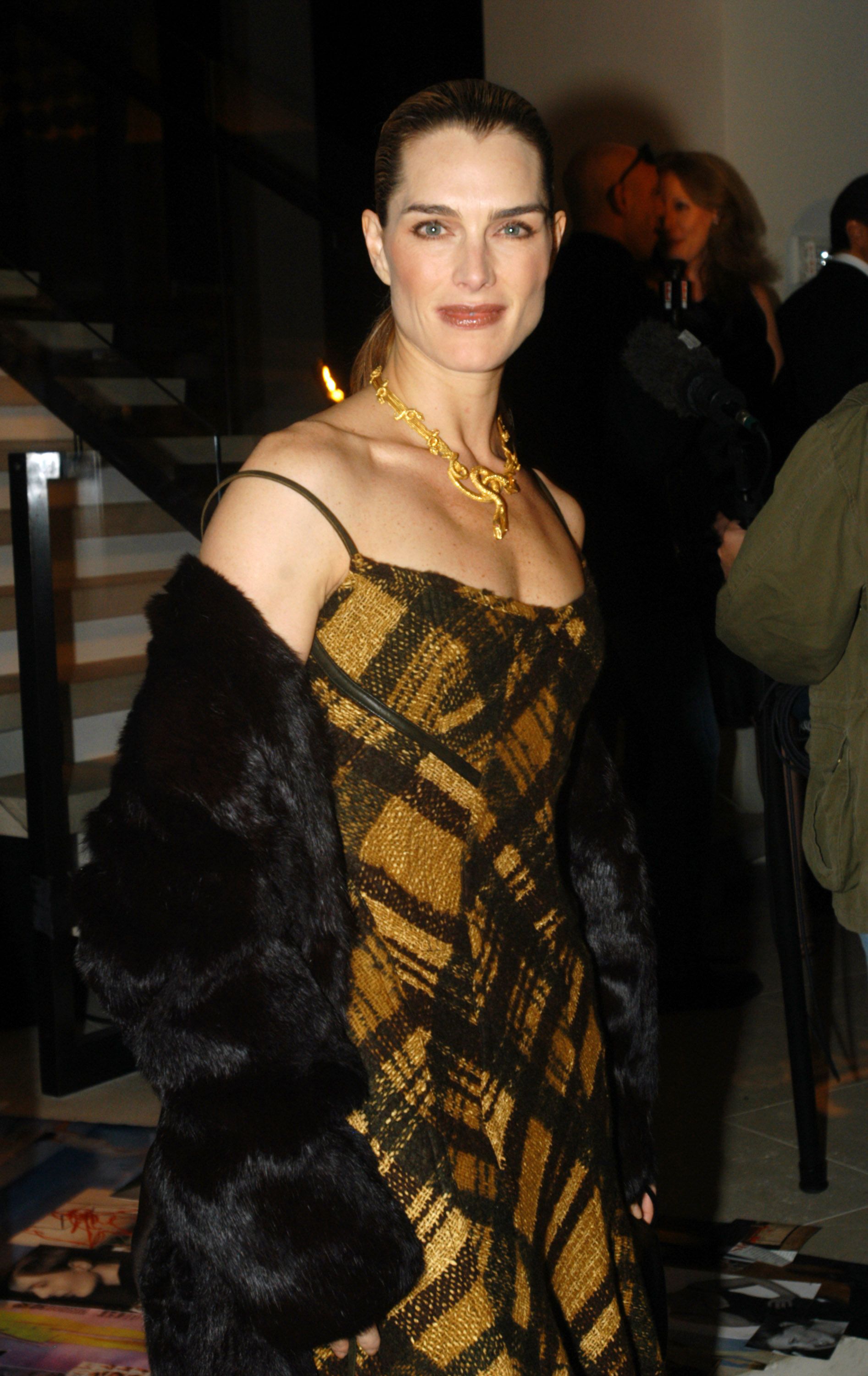 In the early 2000s, Brooke appeared in TV shows like That '70s Show,Law and Order: Criminal Intent, and Nip/Tuck. Years later, though, she revealed that she suffered from postpartum depression after the birth of her daughter. According to People, she once said that after her journey through IVF and successfully birthing her daughter, she felt suicidal. "I finally had a healthy beautiful baby girl and I couldn't look at her," she said. "I couldn't hold her and I couldn't sing to her and I couldn't smile at her … All I wanted to do was disappear and die."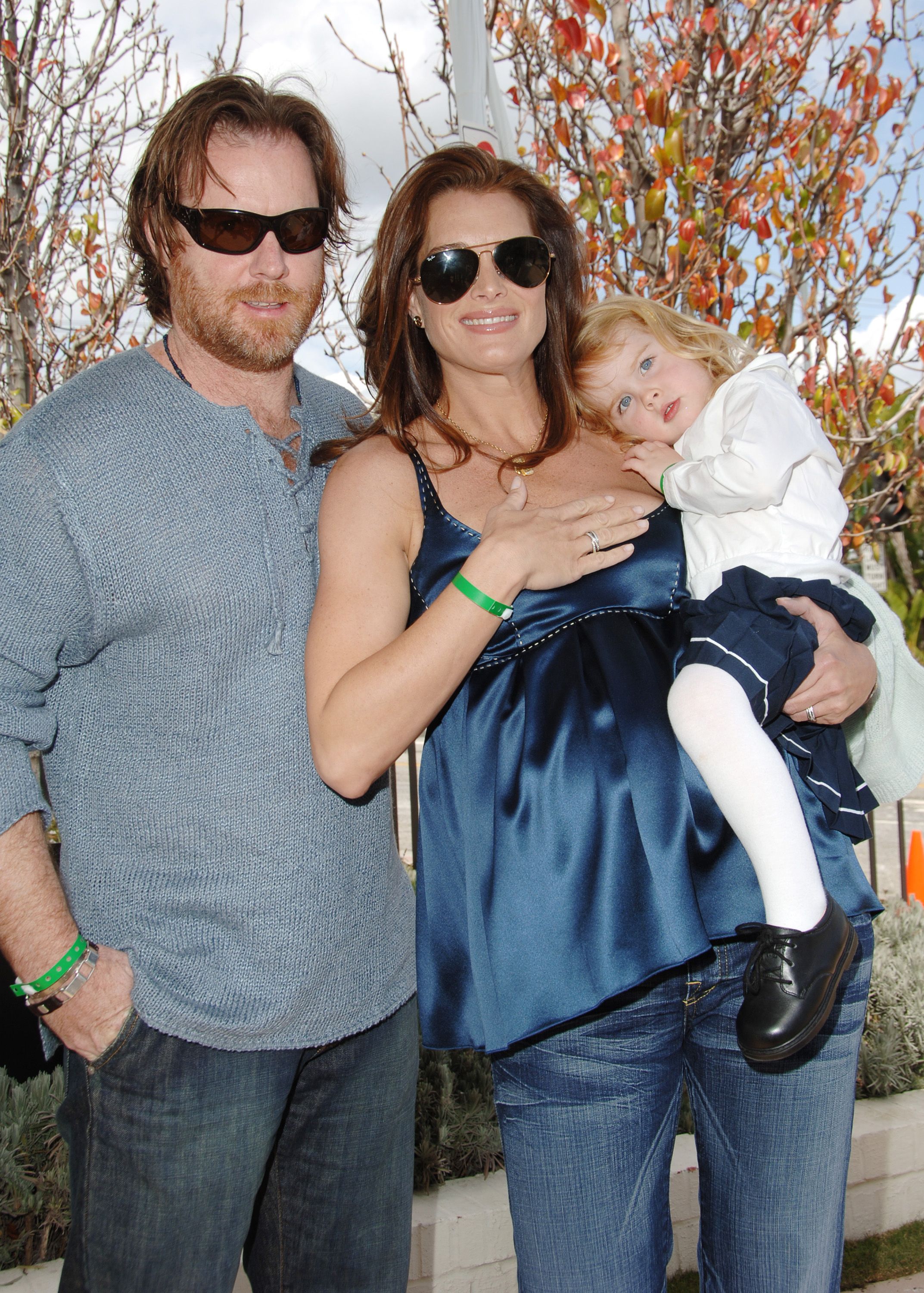 In 2006, Brooke was pregnant and then gave birth to her second daughter, Grier. In 2018, she talked about her daughters to Porter Edit, saying, "They're so much more mature than I was. So much more confident in their own bodies. They have the same stubbornness and strength that I do, but are more well-adjusted. I am jealous as all hell about that. But, of course, I created it."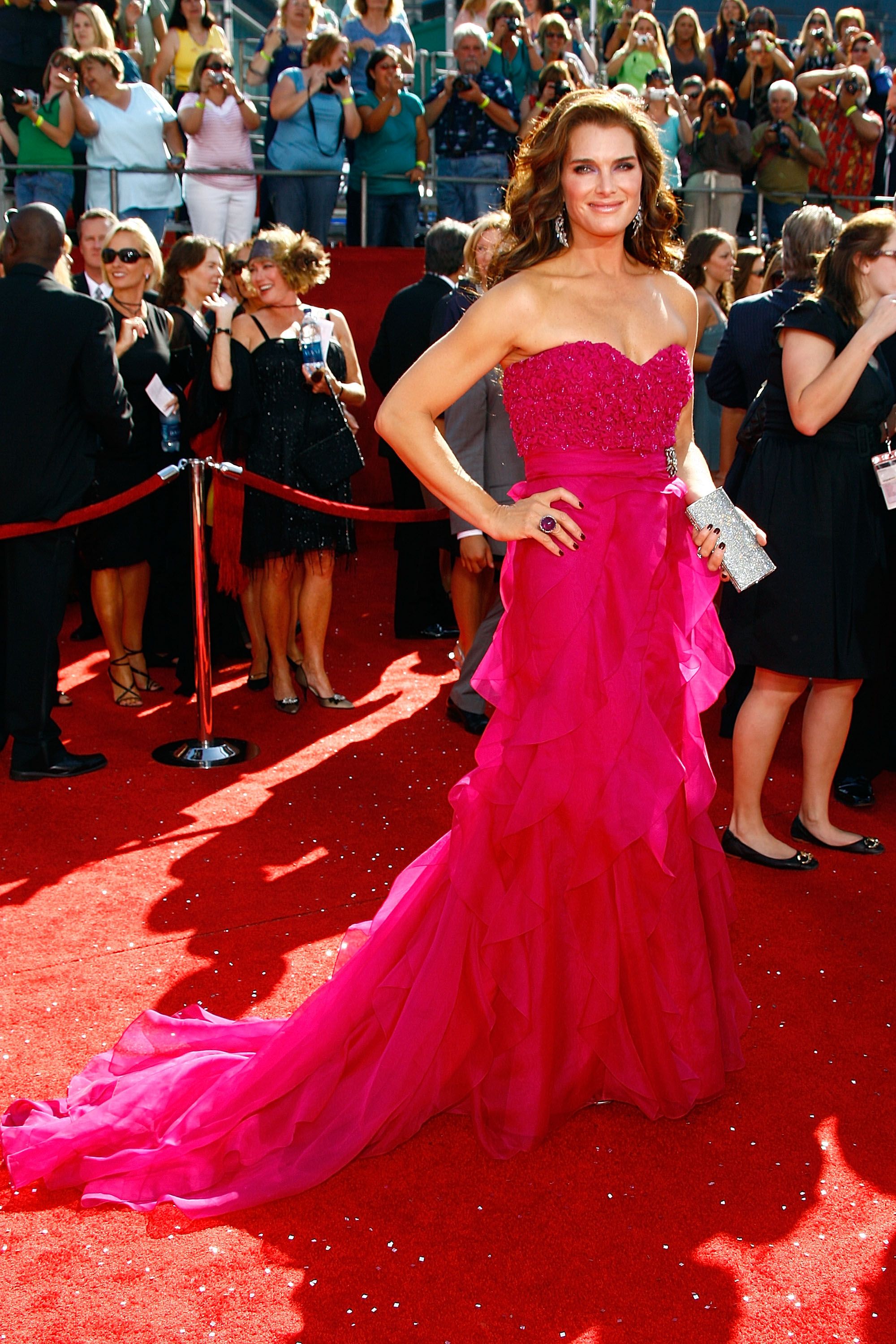 In the later 2000s, Brooke continued a successful television careers with roles in Two and a Half Men, The Batman, and Widows. She had recurring appearances in Hannah Montana and Lipstick Jungle, as well as The Middle.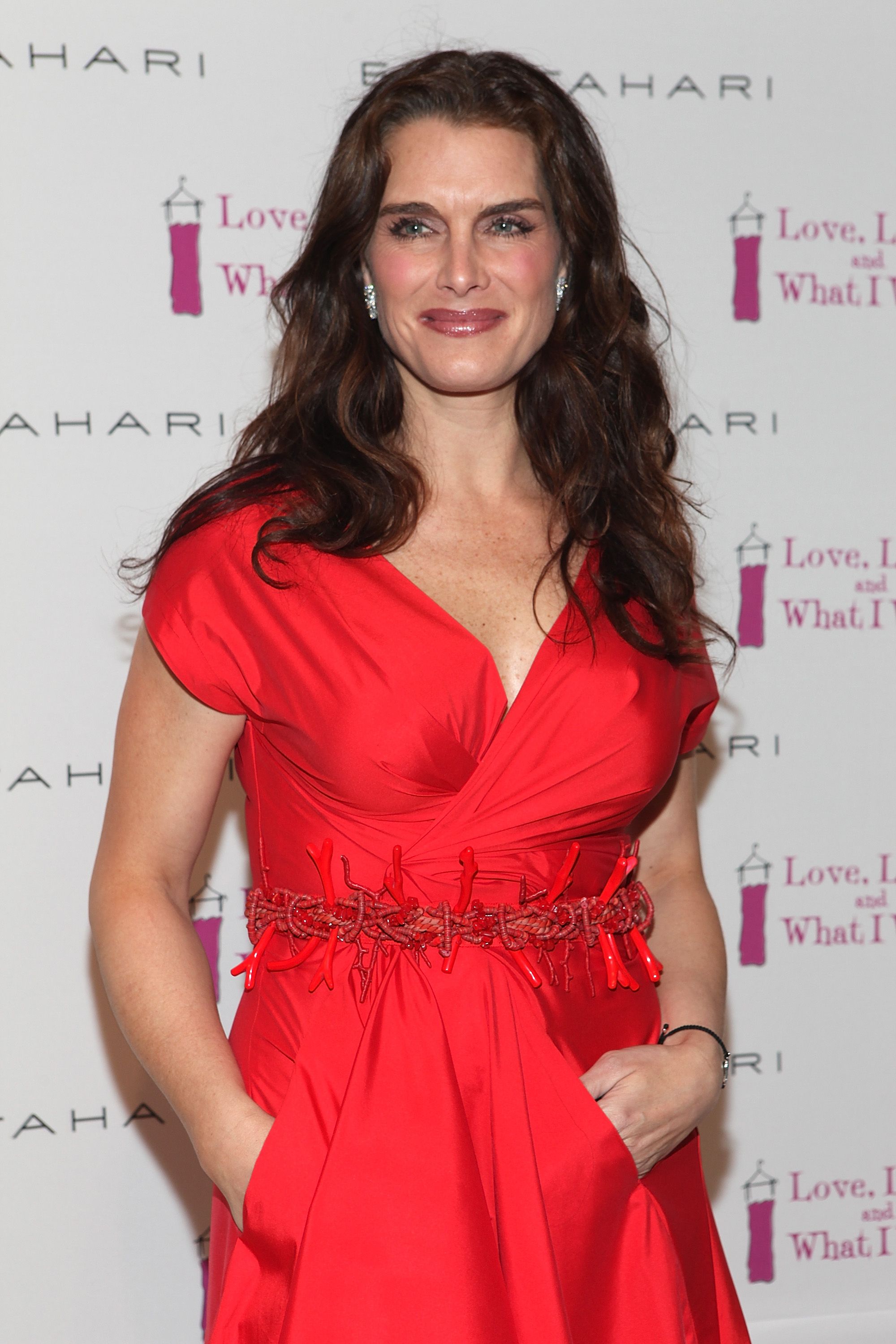 Here, Brooke is pictured at a party at Elie Tahari Boutique Soho in New York City. The star has done her best tohelp her daughters have the positive body image she didn't have growing up. In a later interview with Yahoo Lifestyle, she explained, "I'm trying to present to them the image of a whole woman, which was very different from the way I grew up. I don't want them to have any of that shame but I want them to maintain a sense that their body is their body, it's their own."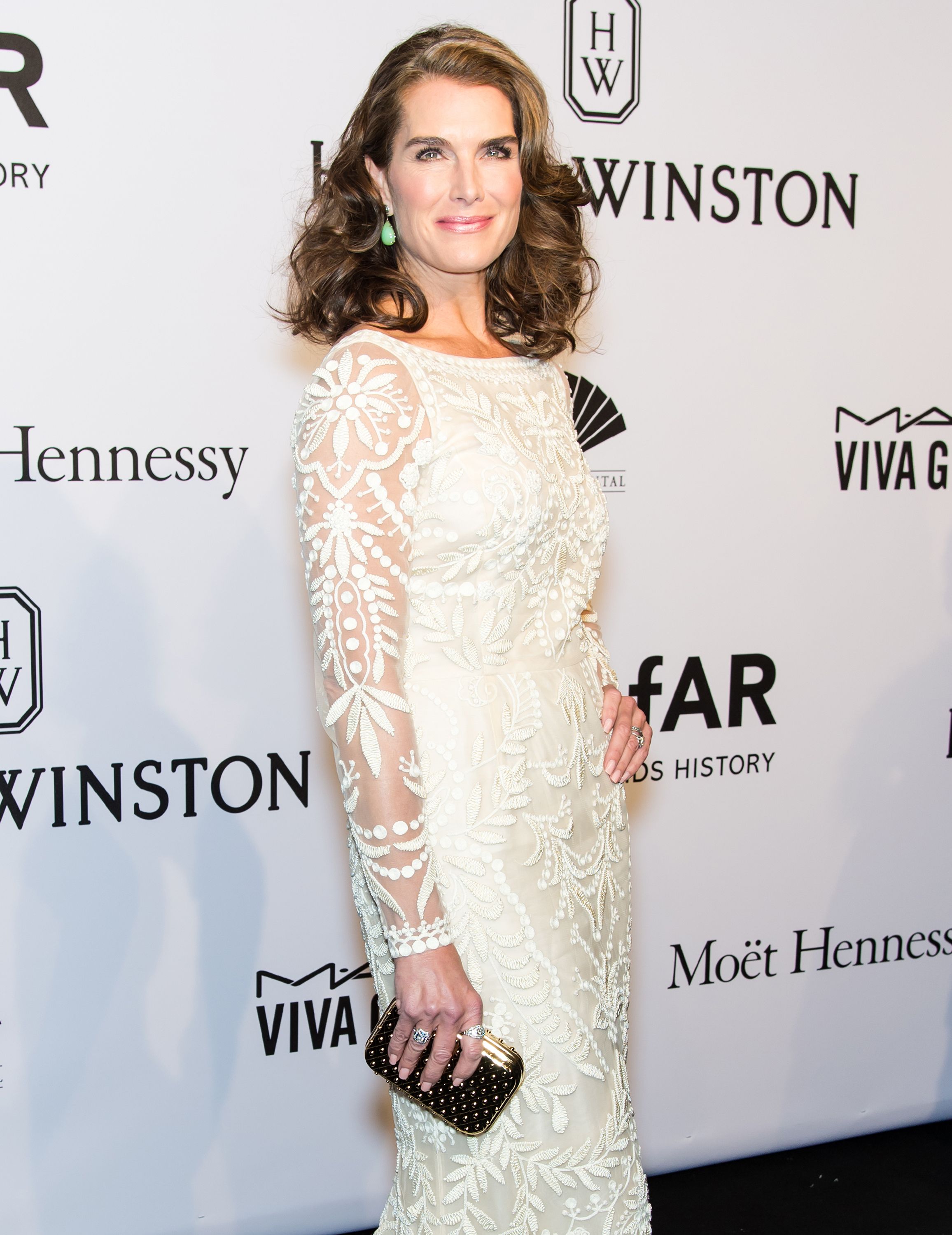 In 2015, Brooke released her memoir, There Was a Little Girl: The Real Story of My Mother and Me, which helped her tell her own version of her relationship with her mother, who had passed away a few years earlier. Brooke told Marie Claire, "She did everything she could to keep my life as normal as possible and make sure I had companions around me to make me feel like a regular kid. At her memorial, one of the lawyers who had known us forever came up and said, "It was unprecedented. Your mother would ask for three airline tickets. You couldn't get one ticket, but she was like, 'Well, I'm taking her and she needs a friend.'"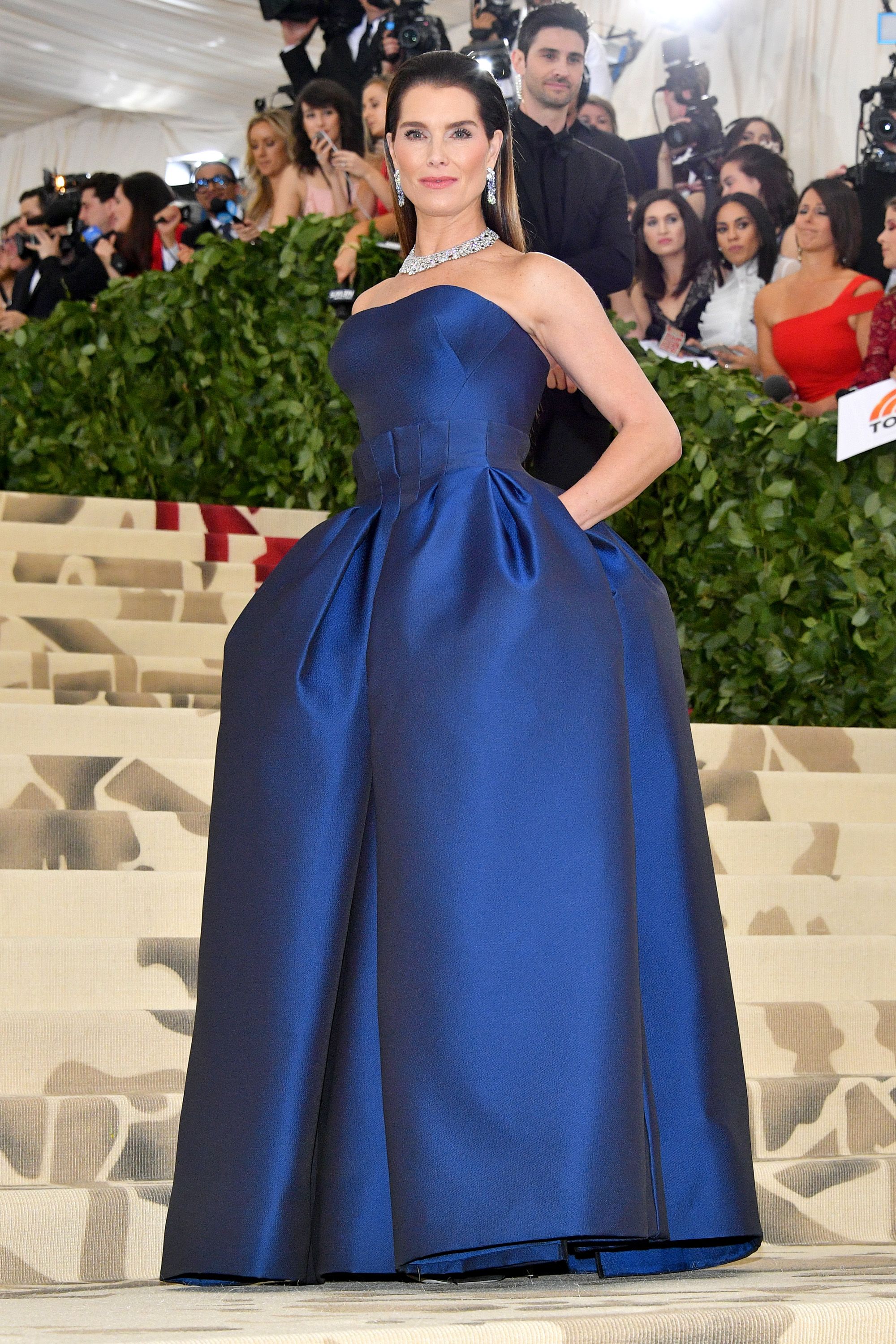 In 2017 and 2018, Brooke had a recurring role on Law & Order: Special Victims Unit, and in 2018, she had a role in a few seasons of Jane the Virgin. That same year, she talked to Porter Edit about her long career, saying, "I'm very ambitious. And I'm a perfectionist. And I hate being told I can't do something. I'm aware of my limitations, but I think before you admit your limitations, you have to shoot for the moon, because you'll inevitably come back higher. Each time I do something new, I'm surprised by how far I get."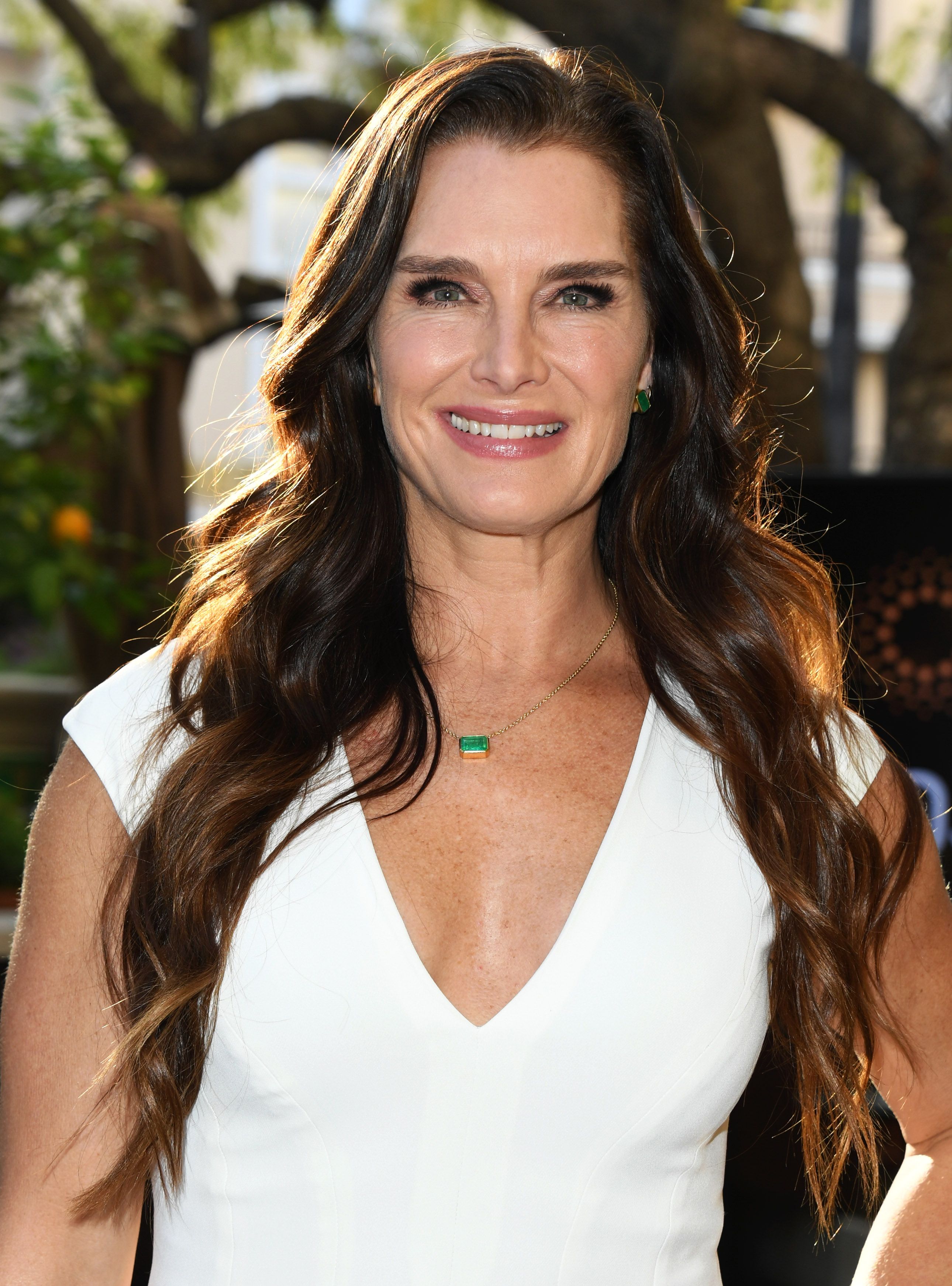 In 2019, after posting a bikini photo on Instagram and getting a lot of attention for it, Brooke explained how her daughters helped her feel more confident in herself. She told Yahoo Entertainment, "My daughters are always like, 'Mom, you work so hard. Why don't you ever post?' I'm like, 'It's weird.' If I'm in an ad, I can do that. I feel like it's a job, then I can do it, but to just post pictures of myself. … My two daughters are like, 'Mom, it's good for you to be seen like this. You look good in your bathing suit,' and they've given me such confidence to sort of be a little bit more of an exhibitionist."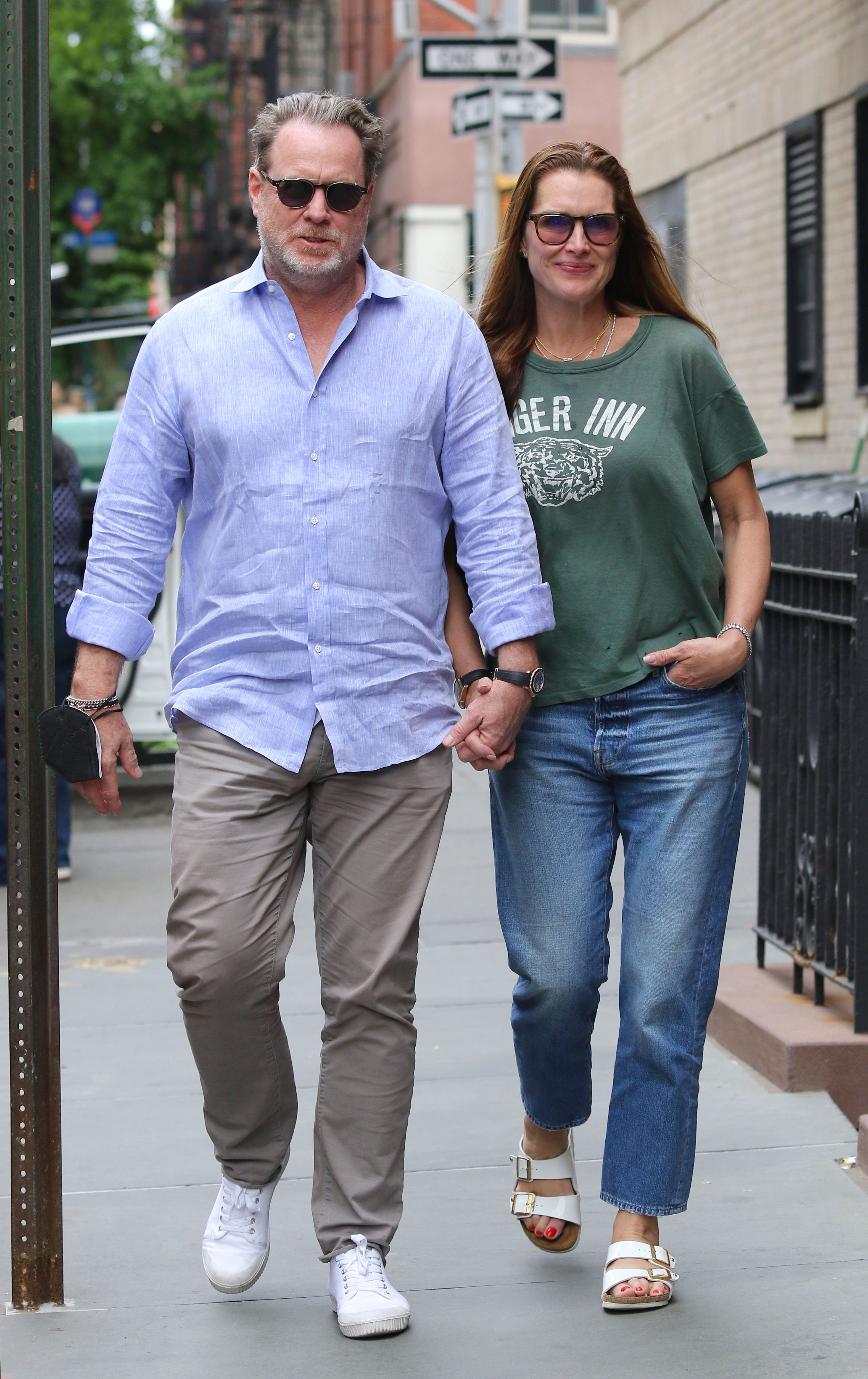 In 2021, Brooke opened up about breaking her femur in a traumatic accident that left her worried she would never work or walk again.She had to have surgery and ended up getting a severe staph infection. She told Prevention, "Once fear crept in, that's when I started to falter. I don't think I've ever been more afraid because I was helpless."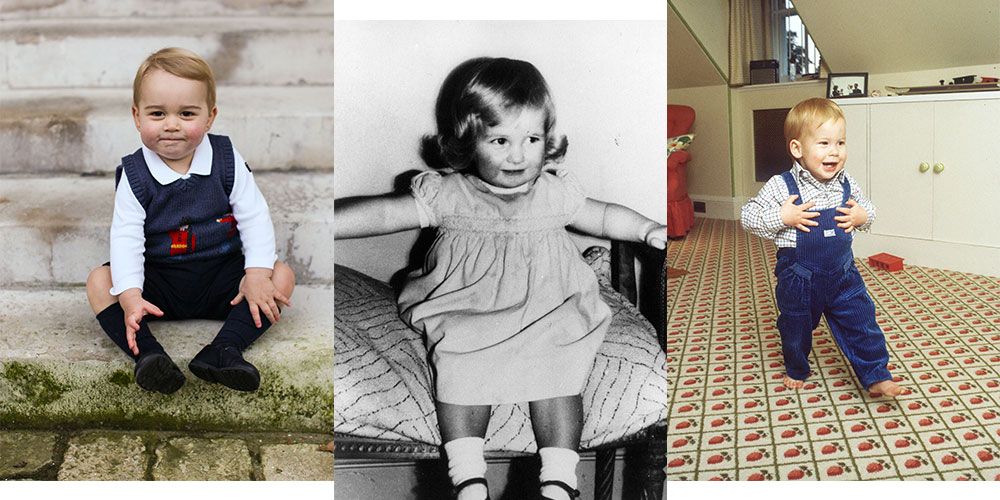 Source: Read Full Article