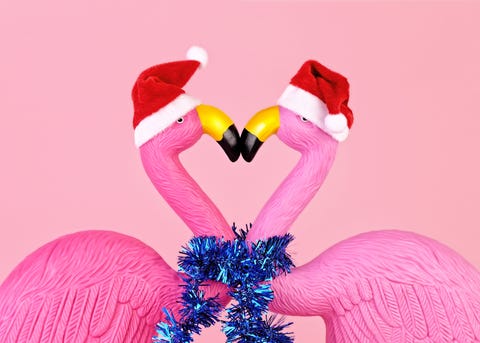 If you want to have the snazziest lawn decorations in your neighborhood this holiday season, then here's a tip: Christmas lights and snowman inflatables are yesterday's news! Flamingos are the future.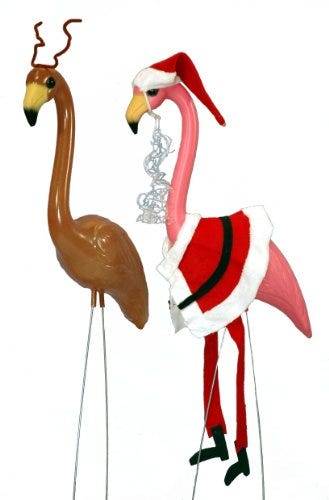 Pink Inc., the company behind an array of seasonally appropriate faux flamingos—such as the skel-a-mingo and Turkeymingo—also makes two versions for Christmas. There's a delightfully skinny-legged Santa Claus, complete with a full suit and beard, as well as brown flamingo "reindeer," topped with pipe-cleaner antlers. You're going to need a second to take this in.
The flamingos stand about 33 inches tall, but make no mistake—they're every bit as eye-catching as that 6-foot-tall inflatable your neighbor puts up the day after Thanksgiving. You can find both versions on Amazon: One sold as a two-pack (one Santa, one reindeer), and one epic four-pack, so you can recreate your own truncated, tropical version of Santa's sleigh.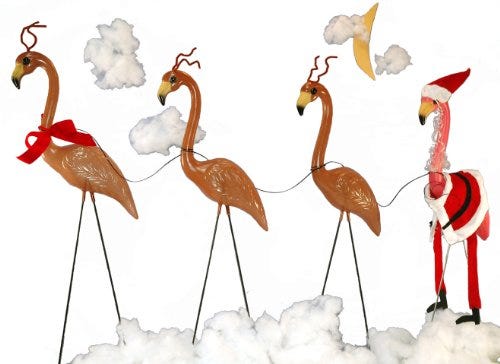 Just be prepared that not everyone may agree with your, uh, coastal style. But that may make you love them all the more fiercely, as one reviewer noted:
"My neighbor hates them with a passion. She grumbles about them all the time, and her hatred fuels the flames of my adoration," wrote Tammy, a verified buyer who said her flamingos survived Hurricane Sandy back in 2012. "As such, they have been proudly displayed in my yard since I received them."
Your neighbor can keep grumbling. It's your yard—you do you.
From: House Beautiful US
Source: Read Full Article