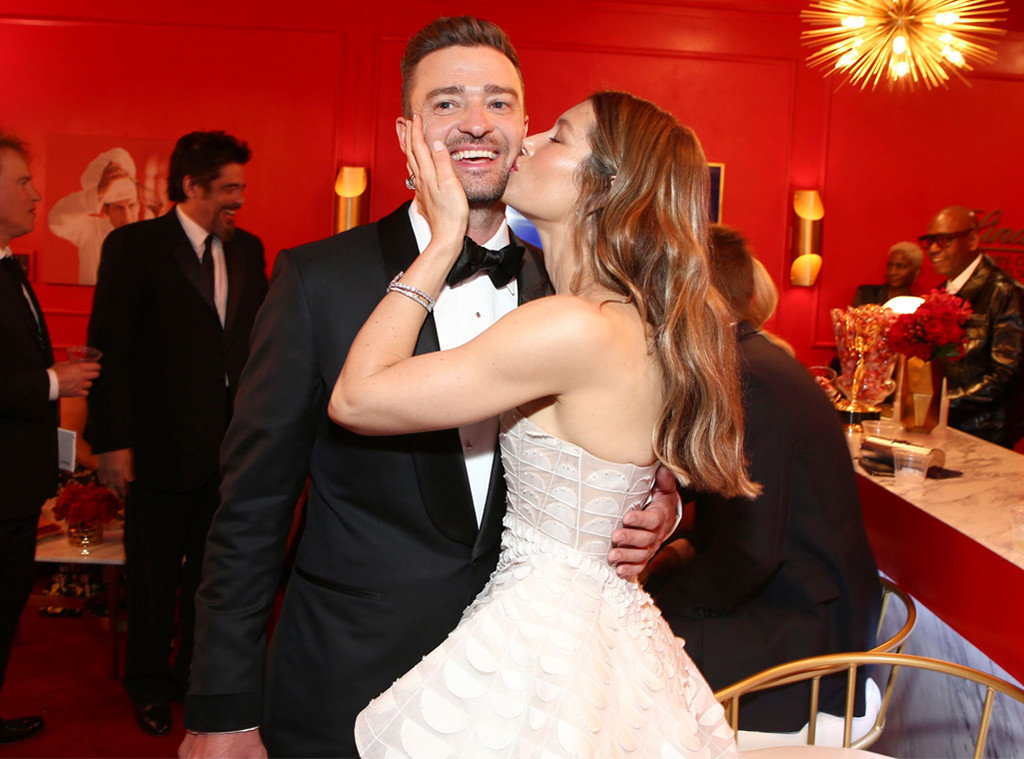 John Salangsang/Invision/AP/REX/Shutterstock
It wasn't looking good for Justin Timberlake and Jessica Biel.
The tabloid-magnet couple had broken up after almost four years of dating, and J.T. was ruminating on whether forever-relationships were possible because people may not be the same six months later, let alone 10 years later.
"We talked a little about marriage," Timberlake told a cousin and a friend in the presence of Vanity Fair in 2011, a few months after the breakup went public. "I said that I think the mistake is that people commit to who that person is right then and not the person they're going to become. That's the art of staying together, is changing together."
"When you say it like that, it seems damn near impossible, right?"
Presenting, Mr. and Mrs. Evolution.
TimberBiel first formed in the days of 24/7 paparazzi scrutiny, which, while it hasn't gone away, has relinquished its place on the information superhighway to social media, where the celebrities themselves can get ahead of the narrative, post their engagement rings and baby photos. Or, in some cases, their joint breakup statements.
Justin and Jessica's earliest years together, as told by headlines, were riddled with cheating rumors and other wild speculation about why or why not they were close to splitting up. Until they actually did. They attempted to be quite professional about it, releasing a statement to confirm that they had parted ways as friends, but the quest for answers still ran its natural course, with or without input from Biel or Timberlake.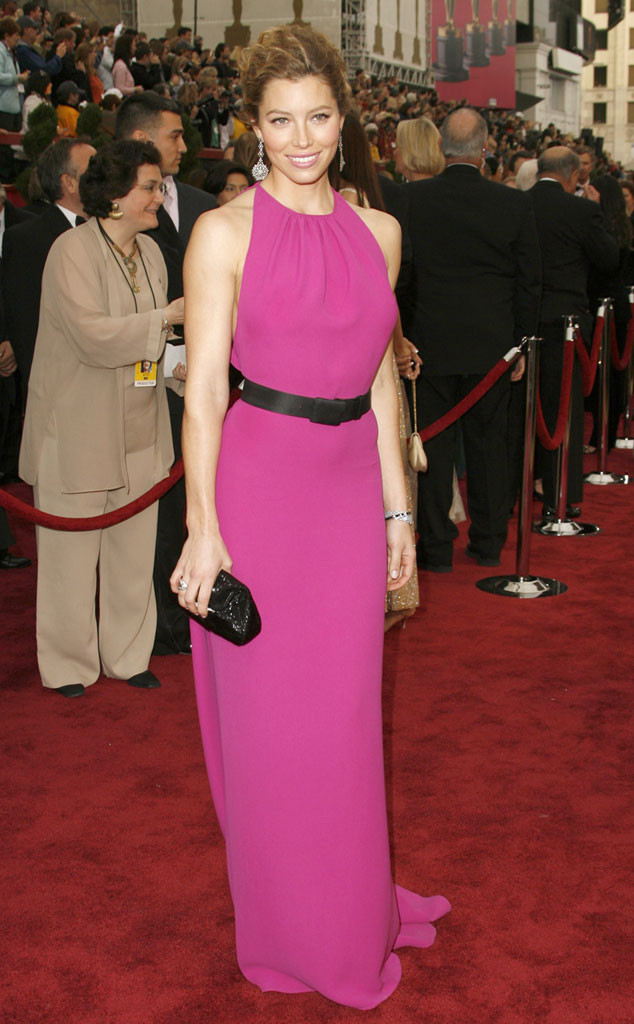 Jeff Vespa/WireImage
"I don't like to comment on my personal life anymore," Justin, then 19, politely told Rolling Stone in 2000. "Everything gets blown out of proportion. I've been in the tabloids, and I don't enjoy it. If I do decide to have a personal relationship with someone, I think it's best to keep it that—personal."
He first met Biel, whom Esquire named "Sexiest Woman Alive" in 2005, at a surprise party in Hollywood—a tidbit he revealed in his new memoir, Hindsight & All the Things I Can't See in Front of Me, Timberlake having chosen to package at least some of the personal for public consumption. He and the missus are so beyond that now, anyway, why not share how their ultimately extremely successful love story got its real start?
Justin cracked a dry joke, Jessica was the only one who laughed. They danced to Madonna's "Lucky Star." And then off she went into the night.
"It wasn't time" to ask for her number, Timberlake recalled.
Then in January 2007, Biel went to the first show of his FutureSex/LoveSounds Tour in San Diego, Calif., with friends and they all went backstage afterward. Timberlake was on his way north to Anaheim and asked the group if they wanted a ride back to Los Angeles. They accepted, he and Biel talked the whole time and then he got her number.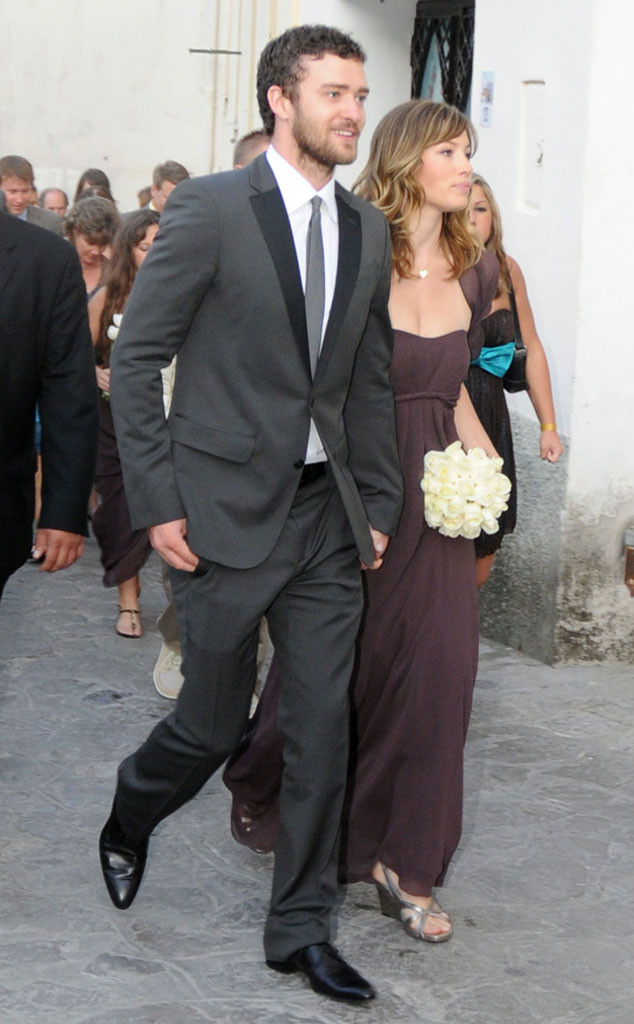 Renato Sarmiento/Splash News
"We were both still seeing other people, keeping ourselves safe from getting hurt, from really putting ourselves out there," Timberlake recalls in the book. "It took a bit for both of us to admit to ourselves that were were really, really that into each other. When I came back from tour, we spent a month together. After that, I said, 'I really want to be exclusive.' And, somehow, she said, 'So do I.'"
"We didn't kiss for a very long time because he was on tour, and we were talking on the phone," Biel said on The Late Late Show With James Corden last year. But she still optimistically told her producing partner Michelle Purple in an email that she was going to marry him. She doesn't remember what he did to deserve such an endorsement that day, but she still has the email.
And so they settled into a comfortable routine of togetherness, taking trips, attending Met Galas and doing the domestic thing at their various home bases.
When long-term relationships don't work out for whatever reason, the go-to assumption is often that one or the other—but usually the woman—wanted to get married, and the other couldn't oblige. That of course is what was implied about Biel down the road, but the 7th Heaven star certainly didn't seem to be in any rush early on.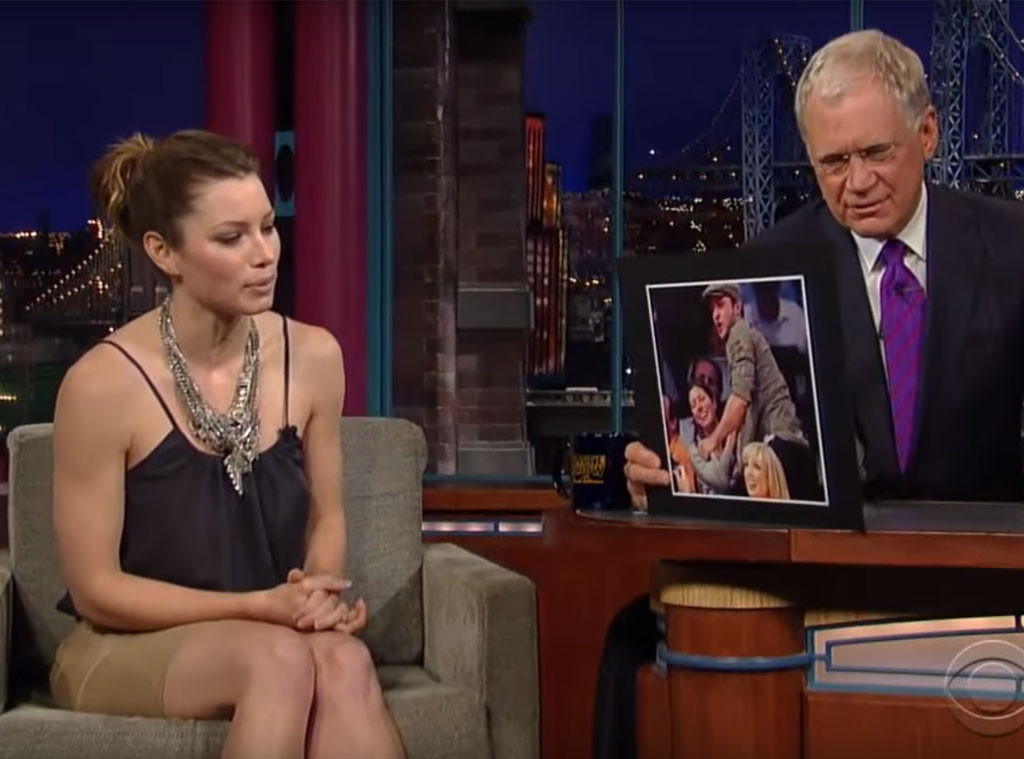 CBS
2009 is when the adventurous couple got turned onto heli-boarding. Biel—who had previously skydived with ex Chris Evans—explained during a June appearance on The Late Show With David Letterman what they were looking at when Dave showed an aerial photo taken of her maiden voyage in Telluride, Colo. (They repeated the feat on a trip to Iceland last year.)
The next photo she was asked to explain was mainly of Timberlake leaning in for an over-the-top hug and kiss at a Lakers game. "Are you in there somewhere?" Dave quipped.
"That's my boyfriend and they put us up on the 'Kiss Me Cam'…I mean, he's such a ham…" Biel said laughing, as the next photo showed how Timberlake then tried to climb into her lap. "Who doesn't want to be mounted in front of 18,000 people?" she concluded.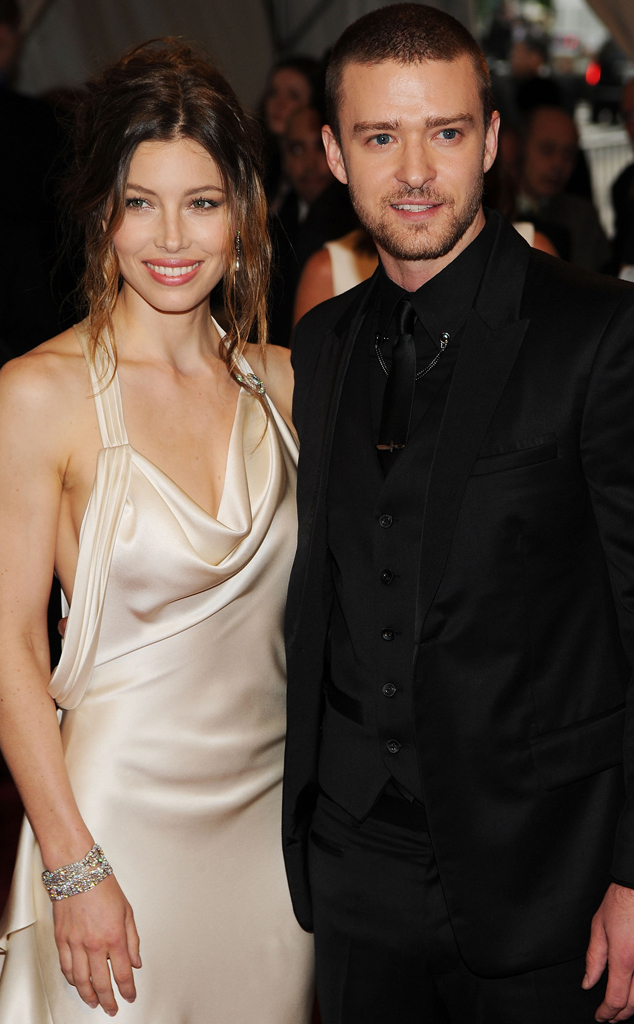 Dimitrios Kambouris/FilmMagic
In May 2010 they attended their second straight Met Gala and then Timberlake dove into promoting The Social Network, in which he played Napster co-founder Sean Parker. Also that year he had Yogi Bear, featuring him as the voice of Boo Boo come out, and he was making Friends With Benefits with Mila Kunis, In Time with Amanda Seyfriedand Olivia Wild and Bad Teacher with Diaz.
Biel also had two movies out in 2010, The A-Team and Garry Marshall's ensemble rom-com Valentine's Day, then she reunited with Marshall to make New Year's Eve and started lining up movies left and right.
All the makings of a strain on a relationship.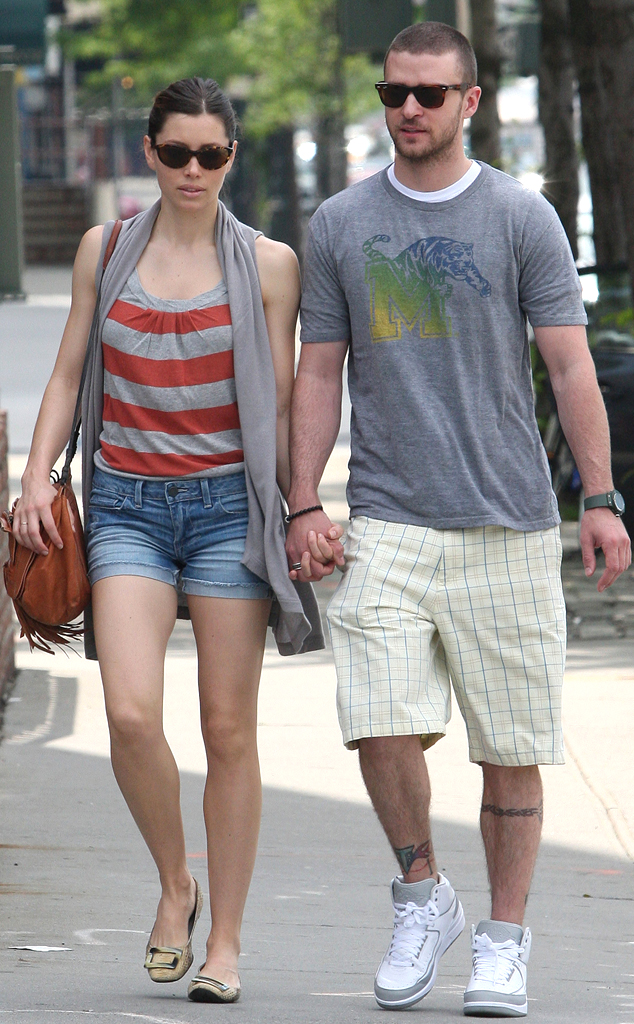 Humberto Carreno/startraksphoto.com
In March 2011, reps for the pair released a joint statement confirming that they had broken up.
"Addressing the media speculation regarding Jessica Biel and Justin Timberlake's relationship, we are confirming that they mutually have decided to part ways," the statement read. "The two remain friends and continue to hold the highest level of love and respect for each other."
Cue the postmortem.
Source: Read Full Article