Just as fall TV is winding down, Netflix is picking up the winter lull with tons of new, original series. Dogs of Berlin, premiering on Dec. 7, is sadly not another incredible show about dogs, but it is the streaming service's latest foreign-language crime show —and a potential escape from the current holiday movie takeover. It's not yet clear if Dogs of Berlin will return for Season 2, but it's certainly possible considering that the show isn't billed as a limited series. And, Netflix's first German series, Dark, was a successful venture that scored a second season, so perhaps Dogs of Berlin will also resonate with German viewers.
Per Netflix, the drama follows officers Erol Birkan and Kurt Grimmer as they investigate the murder of Orkan Erdem, a famous Turkish-German soccer star. As expected, there are a ton of suspects, but things get even more complicated when one officer uses his underground connections to solve the case. The Dogs of Berlin trailer has all the action and intrigue that fans of gritty cop series love, including loads of gunfire, car chases, and explosions, plus hand-to-hand combat and intense dialogue. The clip opens with Grimmer approaching the scene of Erdem's murder and reporting back to a man who is presumably his boss.
When he's paired with Birkan on the case, he isn't happy, but he puts his feelings aside to get the job done. It's later revealed that Erdem has several enemies and his death could lead to a massive race war between Turkish clan members and Berlin Neo-Nazis. This is hinted at with a snippet of people throwing fire bombs at police cars before being hosed down by law enforcement. The cop duo laments that when "it rains, it pours" and, for them, it's just the beginning of of dark and twist-filled drama that will certainly feature plenty of bloodshed.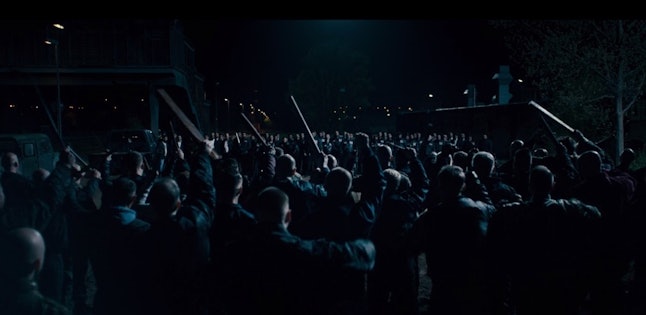 Grimmer's negative reputation and Birkan's willingness to step across the thin line between the lawful and illegal seem to be the driving forces that lead them both down a scary rabbit hole for the remainder of the trailer, putting both their lives and their loved ones in major danger.
The clip ends with both officers bloodied and bruised, so it's clear that this case is going to push them to the brink of death before it's all over. It seems like this will be a controversial project with the inclusion of Neo-Nazis, but it's completely on brand for Netflix to deliver a show that make people uncomfortable. Based on the trailer, it seems like the group will not be painted in a kind light.
The responses to Dogs of Berlin have yet to be revealed, but perhaps it will be successful enough to come back for another round. It has all the trappings of a successful crime show – murder, mayhem, and mafia ties wrapped up in shocking plot twists – so fans who love a good mystery are going to have to give it a shot over the holidays.
Source: Read Full Article