Anyone who caught the premiere episode of Bravo's new series Dirty John was probably a little surprised and left with more than a few questions. First, how is star Connie Britton so talented? And second… who would ever fall for a con man like John Meehan?
The most surprising part of all is that Meehan isn't a fictional character at all – he's a real-life professional con man who managed to sweet talk smart, accomplished women out of money. Not only that, he pretty much ruined their lives using nothing but his natural charisma and powers of deception. So who was this criminal mastermind?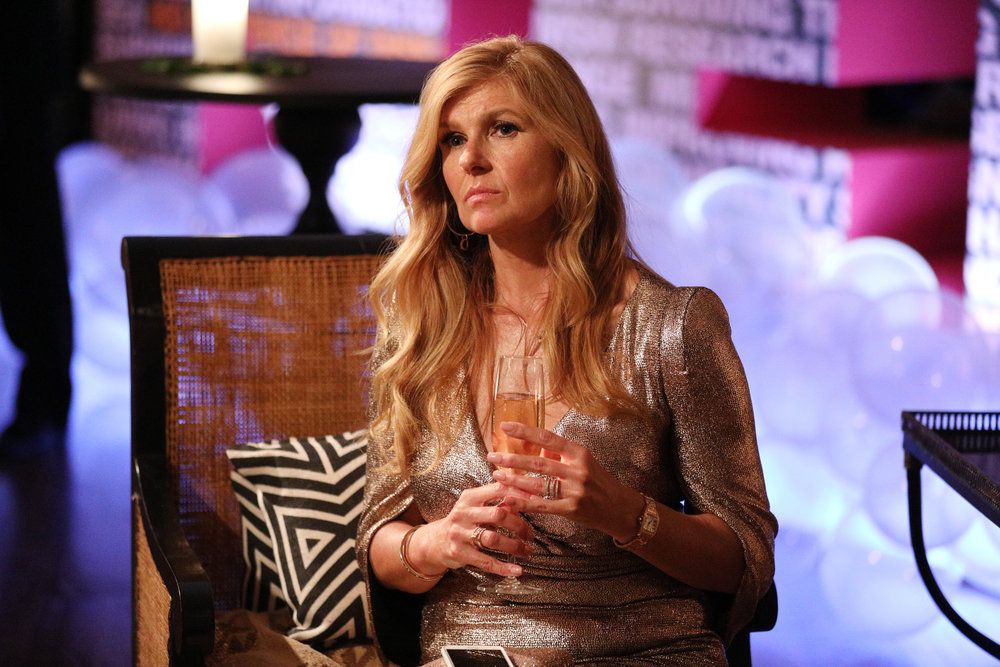 DIRTY JOHN — "Approachable Dreams" Episode 101 — Pictured: Connie Britton as Debra Newell | Photo by Jordin Althaus/Bravo
Who was the real John Meehan?
Eric Bana plays the character of John Meehan on the show and does an excellent job depicting the mix of sweet and bizarre behavior. Meanwhile, the Connie Britton plays Debra Newell, a real-life interior designer who became one of Meehan's targets. The show makes you question how someone so obviously smart and successful could fall prey to his trickery – especially with his erratic behavior. How did he get away with it?
As Los Angeles Times reporter Chris Goffard explains in a press release, "Many women were terrified. John Meehan was a serial predator. He went from victim to victim."
Part of the reasons he was so successful is that he looked and acted like a regular guy. People assume that con men look nefarious, but the most successful ones disguise themselves as totally normal.
"One of the lessons," Goffard says, "is monsters don't always look like monsters."
Meehan learned from family
John Meehan's father, a casino owner, taught him how to cash in on fake insurance claims and lawsuits even from a young age. That's the main reason Meehan grew up to run cons for a living – the behavior ran in the family. His sister said their father instructed him on "how to lie" and "how to deceive."
It helped that John was naturally athletic and good-looking. He was a popular student at Prospect High School in Saratoga, California. The LA Times reported that John was a "magnet for girls, an A student who swaggered with a sense of his superior intelligence. He learned that his gifts provided shortcuts."
John became known as "Dirty John" while he was a student at Dayton Law School because slept around so much. One former classmate says he never trusted him. "He was basically this strange, lone-wolf guy that did all kinds of scandalous-type things, and it wasn't just with women," Kevin Horan told The Los Angeles Times. "I'm like, 'That guy, you can't trust him for nothing. He's rotten top to bottom.'"
He was the worst type of human
John Meehan got married to Tonia Sells in 1990. She was a nurse anesthetist and helped him go through nursing school. The pair had two children and were married for ten years before they divorced.
Things took an evil turn shortly after. John's ex-wife discovered stolen hospital drugs hidden in their home and reported the theft to the police, even though John was threatening to kill her for doing so. He had even stolen Demerol from a surgical patient he was pretending to give it to (a painful scene depicted brilliantly in Bravo's new show).
Eventually, Meehan lost his job at the hospital and pled guilty to felony drug theft. He was sentenced to 17 months in prison. On his first night out of jail, he created a Match.com profile and the game was on.
Becoming Dirty John's victim
Debra Newell went on a date with John and everything escalated quickly from there. He professed his love by their third date and within eight weeks, they were married and living in a $6,500 per month apartment despite the objections of Debra's daughters. They saw right through him.
Newell eventually figured out the truth about her new husband and left him, but he didn't go without a fight. He harassed her, threatened her, send nude photos to her nephew, and even lit her car on fire. The nightmare culminated in a horrifying incident when John attacked Debra's daughter Terra in a parking lot. He tried pushing her into the trunk of a car while brandishing a knife.
Luckily, Terra's survival instincts kicked in and she bit and kicked her way free, turned the knife on John, and stabbed him. He died from his injuries a few days later.
'Dirty John' has an important purpose
Newell was just one of John Meehan's victims. But she wants to spread the word on him and his type.
"This isn't for me right now, it's more so for others," she told Variety about creating the show. "It was really important to me to get through to other women what could happen for them, and for the ones that it has happened to, to let them know that they're not alone."
Source: Read Full Article