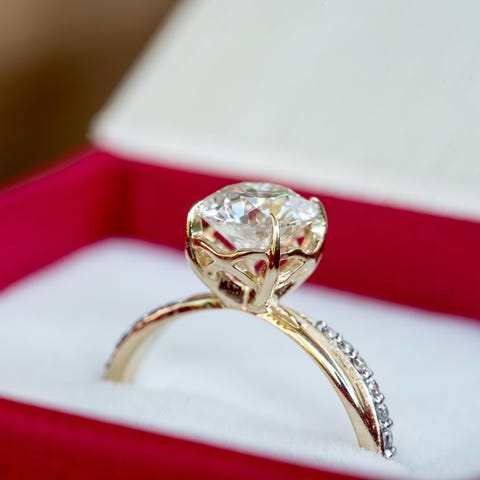 We've all seen marriage proposals go horribly awry (for the love of all that is holy, do not propose in a damn shopping mall food court). For this British man, though, things didn't go off the rails until after his future wife said yes. But unlike the many, many doomed jumbotron proposals, this story has a happy ending.
John Drennan popped the big question to his girlfriend, Daniella Anthony, in Central Park last Friday, but the ring was apparently a bit too big for her finger…and fell off and into grate in Times Square a few hours after the proposal, when they were walking back to their hotel. With the help of police, they searched for the ring for two hours, but could not retrieve the ring and left without giving their names to police, they told the BBC.
When the New York Police Department finally recovered the rock the next day, they asked for help finding the couple, who returned to the United Kingdom on Sunday.
"WANTED for dropping his fiancee's ring in [Times Square]," the NYPD tweeted Saturday, along with security footage of the man and woman looking down through the grate at the fallen band. "Help us find them?"
WANTED for dropping his fiancée's ring in @TimesSquareNYC!
She said Yes – but he was so excited that he dropped the ring in a grate. Our @NYPDSpecialops officers rescued it & would like to return it to the happy couple. Help us find them? 💍 call 800-577-TIPS @NYPDTIPS @NYPDMTN pic.twitter.com/tPWg8OE0MQ
A social media manhunt ensued. The footage of the couple looking down through the grate at the fallen band went viral, racking up nearly 30,000 retweets and more than 50,000 likes on Twitter, and making headlines around the world.
Though the couple told the BBC they don't use Twitter, a friend alerted them to the social media search, and they were able to arrange to get the ring back.
On Sunday, the NYPD announced that the case had been closed, with the ring set to be returned to Drennan and Anthony.
Thank you, Twitter. Case closed!
Love,
John, Daniella, and the NYPD. pic.twitter.com/G7eB1Ds7vP
Anthony confirmed the unlikely recovery, tweeting her gratitude to the department and the social media sleuths who helped track them down.
"Thought was gone forever!" she tweeted of the ring.
Thank you so much @NYPDnews and everyone for sharing and reuniting me with my ring! Proposal was in Central Park and fell off over the drain! Thought was gone forever! Can't thank officers enough!❤️
"We are so happy," the couple told the BBC. "We can't believe it."
Guys, there are a lot of important lessons here. One is to listen to your significant other when she says the ring you bought her is "too big" to wear. The other is to never, ever go to Times Square.
Source: Read Full Article