It doesn't seem like there can be all that much difference between toiletry kits, right? They're something you pull out when you're headed on a trip, toss all of your products into, and pray to god don't leak. How different can these little bags actually be? Well, the truth is that toiletry kits vary drastically, depending on what you're looking for. So if you're in the market for a new one, it's high time you were introduced to the best toiletry kits for travel.
Finding the toiletry kit that's best for you depends on two things: your travel style and your personal preferences. If you're highly organized and care most about easy access, go with a hanging option. If your toiletries tend to leak all over the place, you should definitely invest in something waterproof. Then, there are varying sizes, depending on whether you typically bring along TSA-friendly bottles or lug around full-sized products. Some options come with extras, like removable pouches, while others are much more basic. And below, you'll even find a pre-stocked kit from a cult-favorite Japanese beauty brand.
Ahead, find five of the best toiletry bags for travel. Packing may not be the most enjoyable part of a trip, but these kits make the process that much more streamlined.
1

The Overall Best Toiletry Kit For Travel: A Hanging, Water-Resistant Bag With A Ton Of Pockets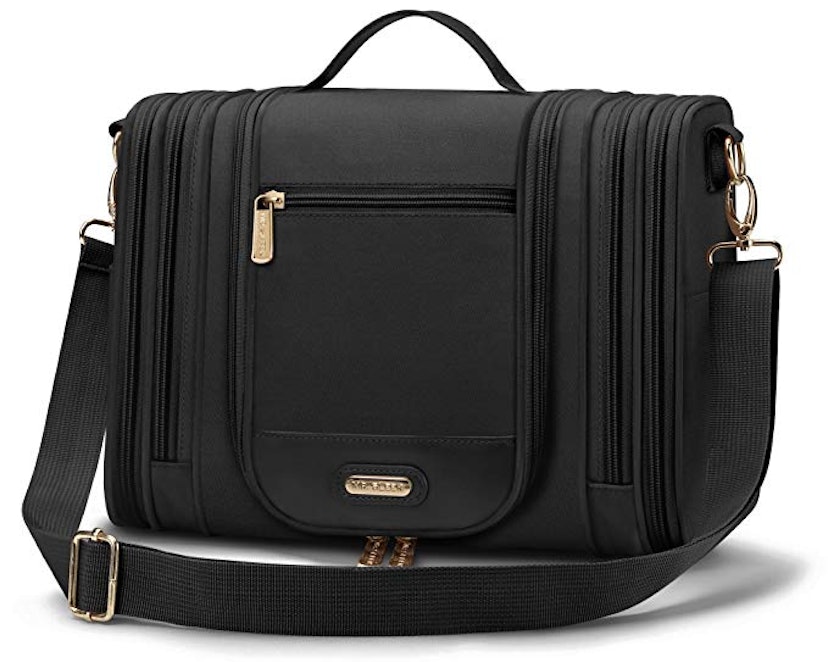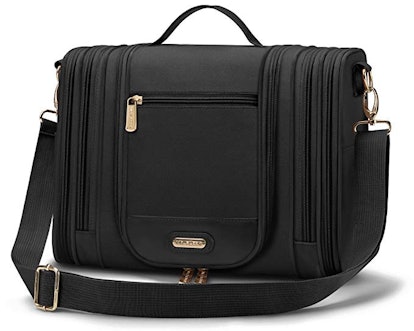 Mr. Sleek Water Resistant Hanging Travel Toiletry Kit
$33
Amazon
All about convenience? Then this hanging toiletry kit from Mr. Sleek is for you. It's absolutely massive, with six side pockets, 27 total pockets, a hook for hanging, and a long strap for you to carry it around easily. The mesh pockets are breathable, which means you don't have to worry about bacteria growth, and it comes with a clear, TSA-approved that you can stow in your carry-on. Since it's made of polyester, it's easy to wipe clean, and it also has a waterproof coating to prevent damage. It comes in two colors: black and gray.
2

Best Budget Pick: A No-Frills Drawstring Bag That Can Fit Full-Sized Products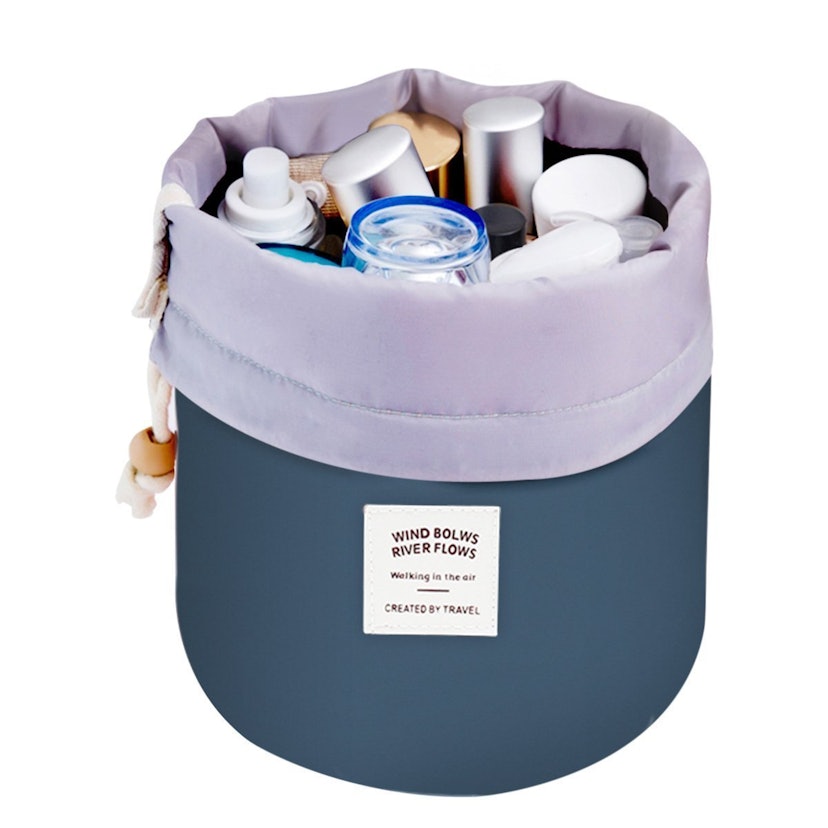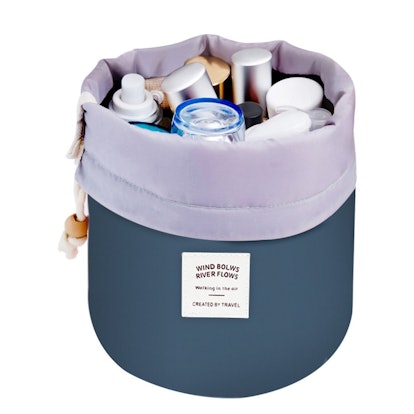 Mermaid Travel Cosmetic Bag
$9
Amazon
If you're someone who prefers to travel with full-sized products, you'll love this bucket-style cosmetics bag. It's wrapped in waterproof material (inside and out) and has a mesh inner lining with three pockets to prevent bacteria growth. As a bonus, it comes with two separate pouches — a small plastic one for makeup brushes, and a zip-up clutch for loose things like bobby pins and hair ties. It's also waterproof and machine-washable, so even if things get messy, it's incredibly easy to clean. Choose from three cute colors: blue, light pink, and mint green.
3

Best For Over-Packers: A Sleek, Sturdy Train Case With Room For Both Makeup & Skin Care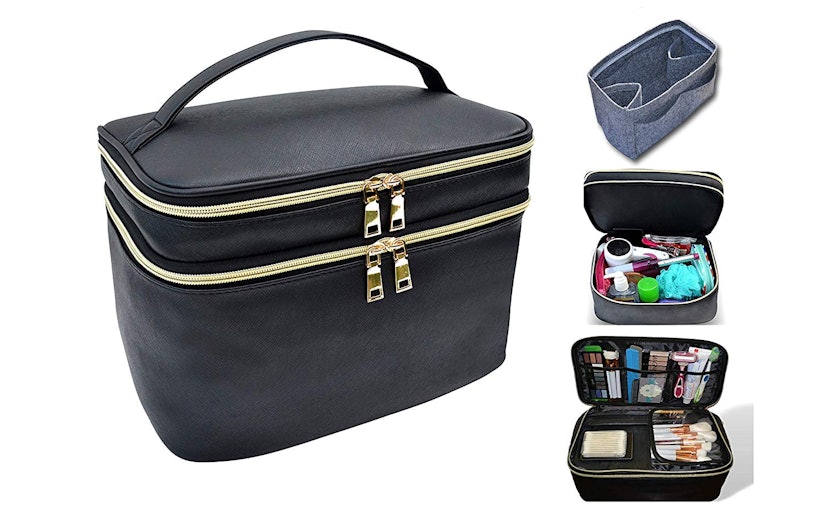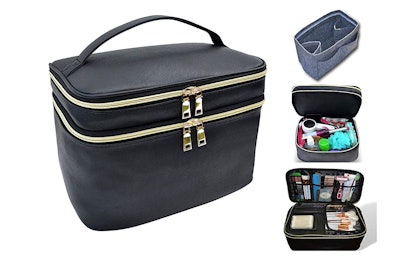 Adee Joy Extra Large Capacity Makeup And Toiletry Bag
$44
Amazon
Can't bear to leave any of your toiletries at home? Then you need this sleek, extra-large train case from Adee Joy. With two massive upper/lower compartments, three clear pockets, and slots for makeup brushes, it'll fit everything you could ever need — from skin care products to hair tools. The bottom compartment is large enough to hold a small to medium-sized blow dryer, and it even comes with a removable felt organizer for easy access (which you can also use in your purse!) Other features include a sturdy top handle, strong gold-coated zippers, and an easy-to-clean outer material that only requires soap and water. Plus, it's pretty darn chic looking!
4

A Great Mid-Sized Pick That Comes In 4 Styles — Including Transparent & Leather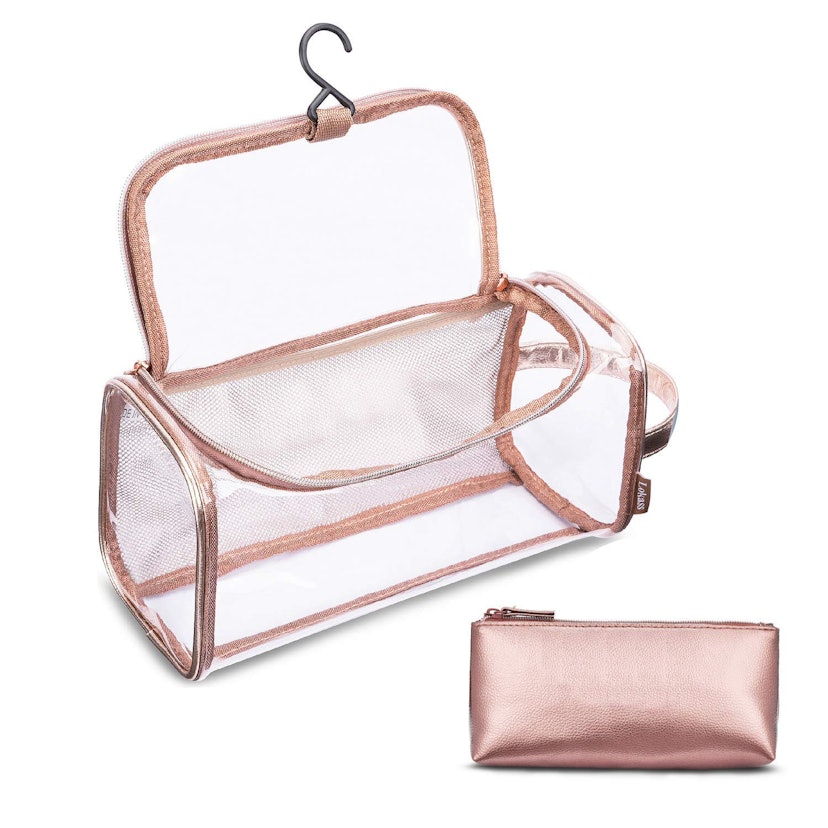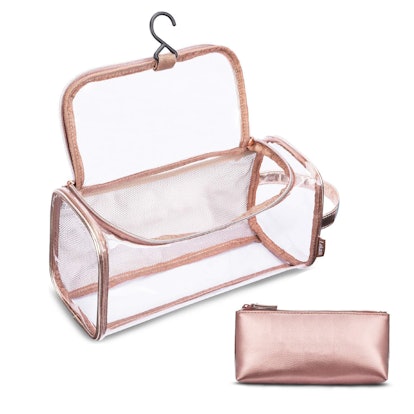 Amzbag Leather Toiletry Bag
$22
Amazon
This mid-sized toiletry bag is just right — it's neither too big nor too small, comes with a removable pouch, and is offered in three styles: transparent (choose from black or pink lining), leather, and metallic rose gold. The included clutch is perfect for stashing brushes or jewelry, and it has an inner mesh pocket, as well as a hook for hanging. If you go with the transparent design, it makes getting through TSA a breeze, while the vintage leather and rose gold have a couple extra pockets.
5

A Pre-Stocked Kit That You Can Just Toss In Your Bag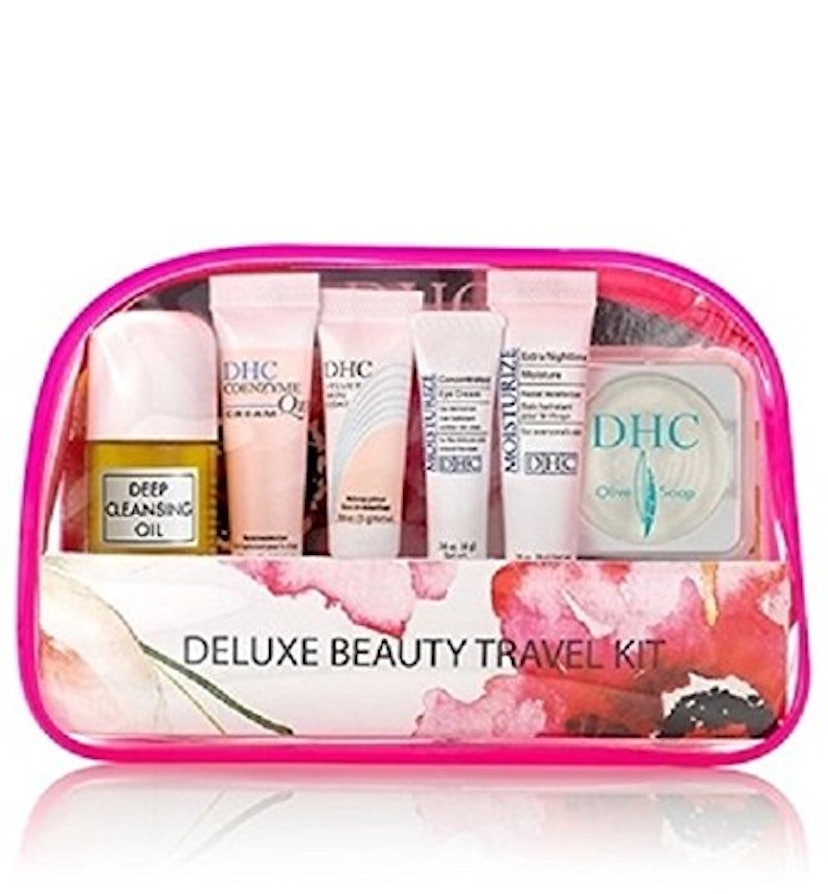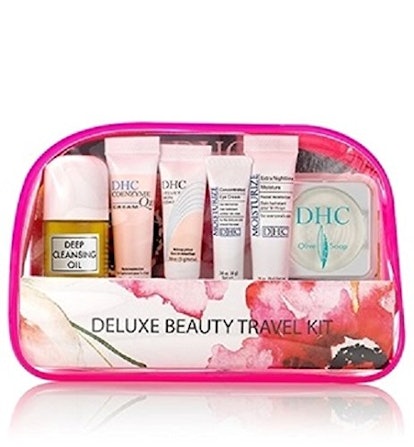 DHC Deluxe Beauty 6-Piece Travel Set
$30
Amazon
If you'd like to have grab and go option pre-stocked with all the skin care essentials you could ever need, get this travel set from cult-favorite Japanese beauty brand DHC. It's packed with six of their best-selling products, including their beloved cleansing oil, as well as soap, night cream, day cream, eye cream, and body lotion. It's got everything you need to keep your skin in tip-top shape without having to put too much thought or effort into packing. And once the products are used up, you can still use the cute transparent pouch for your makeup. Plus, it's an opportunity to try some seriously awesome products at a great price.
Elite Daily may receive a portion of sales from products purchased from this article, which was created independently from Elite Daily's editorial and sales departments.
Source: Read Full Article