video
Business owners, residents in Seattle's CHOP have grounds to sue the city: Former prosecutor
Former federal prosecutor on Seattle's CHOP zone 
The City of Seattle agreed to settle a lawsuit with business owners and residents over the city's 2020 handling of the so-called autonomous zone protests originally dubbed the Capitol Hill Occupied Protest (CHOP). 
Businesses and residents of Seattle's Capitol Hill "will now be compensated for the City's mishandling of CHOP that resulted in a significant increase in crime and even loss of life," attorney Angelo Calfo said in a statement, according to The Seattle Times. 
More than a dozen business owners and residents in the Capitol Hill neighborhood filed a lawsuit against the city over the city's policies that "effectively authorized the actions of the CHOP participants," according to the suit. 
The city announced the settlement totals $3.65 million, which includes $600,000 in penalties for the deletion of thousands of texts by city leaders, including former Mayor Jenny Durkan, The Seattle Times reported. 
SEATTLE HOMICIDES ROSE PRECIPITOUSLY IN 2020 AS LIBERAL LEADERS DEMANDED POLICE BE DEFUNDED
Cement and wood barricades bear the name CHOP June 16, 2020, inside what has been named the Capitol Hill Occupied Protest zone in Seattle.  (AP Photo/Ted S. Warren / AP Newsroom)

Protesters converged on the area in June of 2020, took over the police department's east precinct and prevented law enforcement officers from entering the area. The incident came about as protests and riots formed in cities across the country following the killing of George Floyd in Minneapolis, which ushered in renewed calls from activists to defund police departments. 

Known as CHOP or CHAZ — Capitol Hill Autonomous Zone — the protest camp became a national focal point of that summer as fatal shootings unfolded, including the killing of a 16-year-old boy. Rioters in the zone issued a list of demands for the city, including cutting the police budget by 50% in 2020, abolishing imprisonment and releasing inmates put in prison for marijuana-related offenses. 

SEATTLE'S CHOP HAS SEEN SHOOTINGS, VANDALISM, OTHER CRIMES AS OFFICIALS VOW TO DISMANTLE IT

The protest zone ended July 1, 2020, when police cleared the area. 
A protester stands on a barricade with his fist raised June 26, 2020, at the CHOP zone in Seattle as trucks from the Seattle Department of Transportation are staged behind him.  (AP Photo/Ted S. Warren / AP Newsroom)

Amid the rioting in the city, Durkan infamously declared Seattle was seeing a "summer of love," before walking back the comments. As 2020 came to a close, Seattle data showed a precipitous rise in homicides.

In 2019, Seattle recorded 31 homicides. That number skyrocketed by 61% the following year to 50 homicides, the highest number recorded in 26 years. 

SMALL BUSINESSES PAY ULTIMATE PRICE AS CRIME WAVE CONTINUES BATTERING COMMUNITIES ACROSS THE NATION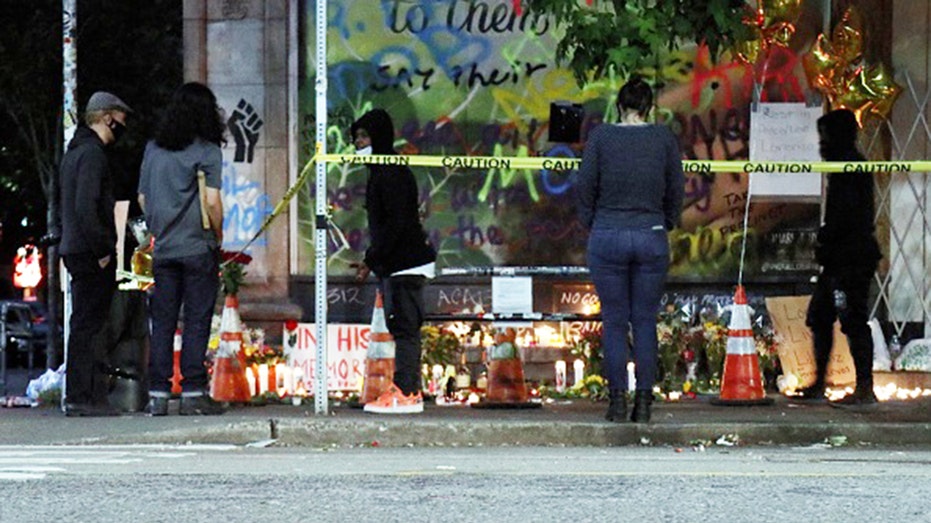 People stand at a makeshift memorial to one of the victims of a shooting in Seattle's so-called Capitol Hill Autonomous Zone, or CHAZ, an area protesters took over after police withdrew in June 2020. (Toby Scott/SOPA Images/LightRocket via Getty Images / Getty Images)

The businesses that joined the suit said they wanted to hold the city accountable for the destruction and violence the CHOP zone caused, KING 5 reported. 

High-ranking officials in the city, ranging from former Mayor Durkan to former Police Chief Carmen Best, deleted thousands of text messages that were likely related to the zone. A judge recently sanctioned the city over the deleted texts and found that Best alone deleted more than 27,000 texts by hand. 

"As the federal court judge found, our clients' lawsuit exposed the cover-up of its highest-ranking officials who destroyed their text communications with each other," Calfo said.

GET FOX BUSINESS ON THE GO BY CLICKING HERE

City Attorney Anne Davison said in a statement that she is "pleased that we were able to resolve this matter and turn a page from a difficult period in the city's history."

Source: Read Full Article