"They can cry in a Ferrari," she said when asked what her non-existent kids might think about her job one day.
OnlyFans star Elle Brooke — who is apparently in the top .01% of creators on the adult website — has won serious praise online for how she handled herself during a recent on-air interview with Piers Morgan.
The NSFW star appeared on "Piers Morgan Uncensored" earlier this week for a segment on whether sex work like OnlyFans could also be considered act of feminism. According to Brooke, she now pulls in 6-7 figures a month by posting videos to the platform, after dropping out of college where she was studying to be a lawyer.
"I dropped out to do OnlyFans because I was making a lot of money. Turns out, I'm pretty good at gettin' my clothes off and I was like, 'This is the career for me,'" she explained to Morgan, who struggled to understand her choices.
Unable to render YouTube Video.
"I have nothing against you, I'm not taking a moral view here. I'm just disappointed, someone like you has a great brain, training to be a law student at university, decides to pack it all in to take your clothes off for perfect strangers on OnlyFans. Why?" he asked.
"I wouldn't have made loads of money as a solicitor anyway. I would have earned money, yes, but I earn that in two weeks now," she said, before teasing her income by asking Morgan, "How much do you make? Maybe double that."
Her sassy responses kept coming after Morgan wondered what her family thought of her profession. "They must be incredibly disappointed you backed out of a potentially really successful career as a lawyer to do this," he said.
"My dad is dead and my mom is on my payroll. My family is fine," she bluntly replied.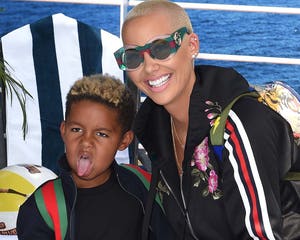 Amber Rose Overheard 9-Year-Old Son Defending OnlyFans Creators
After he then said she was "effectively an online stripper," Brooke took pride in telling him she was "way worse" than that — proclaiming, "I do things that are way more grotesque" and "I absolutely love it and I'm good at it." She added, "I could be a good lawyer, yes, but also am I good at doing other things on video and camera? Yes."
The interview moment going viral online, however, came when Morgan asked Brooke how she thinks her children — which she does not currently have, but Piers speculated she'd "probably" want someday — would react to career. "Are you gonna be proud you have your little ones and they go, 'Didn't you want to be a lawyer, mommy, what happened?' And you go, 'Yeah, but look at all my stuff?'"
Her quotable response: "They can cry in a Ferrari."
Even Morgan looked momentarily stunned by her comment, before acknowledging that many people watching the show would probably be "cheering" her on. He then pointed out there would be many others also calling her "awful" and "grotesque."
As the segment came to an end, he asked her whether she was "proud" of her life. She said that she was, pointing out that her popularity on OnlyFans has led to a boxing career, as well as her "big social presence." She added, "OnlyFans was my gateway to become this influencer I am now."
Morgan ended the discussion by telling her he finds "all influencers pretty shallow people," before saying her he bet that if he were to interview her again in 15 years she would tell him, "You know what Piers, you were right."
Getting the last laugh, she quipped, "I'll pick you up in my Bugatti."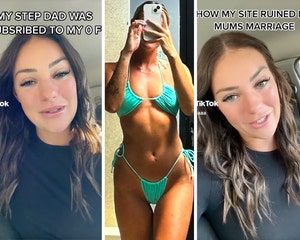 OnlyFans Model Says She 'Ruined Mom's Marriage' Exposing Stepdad As Top Subscriber
After the Ferrari moment went viral on Twitter — and has since racked up more than 14 million views — Morgan tweeted that there "ain't no shaming the shameless."
He followed that up with another tweet saying, "if ever an interview summed up the current state of our 'influencer' society, it's this."
Brooke, meanwhile, responded to one of the show's posts by writing, "Iconic if I do say so myself." She also tweeted that she wanted to be "careful not to completely glamourise [sex work] for the younger generation," saying that she she is "very happy with my choice, it's not always bells and roses, so it's important that you educate yourself on the risks and long term impacts before becoming a SWer."
And then there's this:
Source: Read Full Article