Get ready to feel extremely uncomfortable, because Offset just made a very public and dramatic romantic gesture to get Cardi B back, and she was…less than thrilled.
ICYMI, Offset and Cardi recently announced that they were getting a divorce, and right after some cheating accusations against Offset surfaced. But apparently Offset isn't too into this whole divorce situation, because not only has he been posting on Instagram about how much he misses Cardi, but last night he also thought it would be a great idea to hop on stage at one of her performances and ask for her to take him back.
So during Cardi's set at Rolling Loud in Los Angeles last night, Offset hopped on stage and rolled out signs that said "Take Me Back Cardi." Cardi wasn't having it though, and even looked kind of pissed about the whole situation—but you be the judge:
Offset is displaying manipulative and abusive behavior towards Cardi B. He's doing this in front of a crowd and gaslighting the reasons she made her decision to leave bc of HIS behavior. My goodness. pic.twitter.com/CdrL0pR9Uj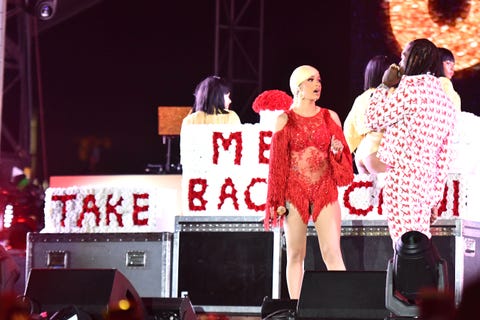 Afterwards, Cardi posted a video on Insta addressing her drama with Offset, saying "I just want things to die down, I just need time so we can see eye to eye…I can't predict the future." Cardi also implored her fans to stop bashing Offset online, saying "at the end of the day, that's still family" and that "the whole coming at my baby father doesn't make me feel any better."
View this post on Instagram
I appreciate all the love! But what I need most right now from my fans is support and respect.
A post shared by CARDIVENOM (@iamcardib) on
She thanked her fans for the support and love, and then a few hours later posted another video saying that she wasn't defending Offset because they're going to get back together—rather, she said "I know how painful it is when you have millions of people bashing you every single day" and that she didn't want Offset to have to deal with those "nasty" feelings.
View this post on Instagram
A post shared by CARDIVENOM (@iamcardib) on
So basically, even after being interrupted onstage by Offset—which some might call him disrespecting her and her work—and maybe being cheated on by him, Cardi is still out here being considerate of his feelings. That is one strong and classy woman.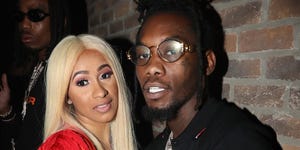 Source: Read Full Article