A Friday press release from Penguin Random House revealed that Becoming by Michelle Obama is the best-selling book of 2018. The former First Lady's memoir sold more than 2,000,000 units in the U.S. and Canada in the 15 days since its Nov. 13 release. According to NPD Bookscan — formerly known as Nielsen Bookscan — Becoming by Michelle Obama has sold more copies than any other book released in 2018, and it's only been out for two weeks, y'all!
This isn't the first time Michelle Obama's memoir has made headlines for its sales figures. The book moved 725,000 copies during its first day on store shelves, which amounted to "the largest single-day sales total for any book published in 2018 by Penguin Random House," according to a Nov. 16 press release. Becoming doubled those numbers for its first week of sales, which totalled 1,400,000 units.
Being the best-selling book of 2018 means that Becoming has outsold other notable, fast-moving releases. The best-selling book during the first half of the year was another political release: Michael Wolff's Fire and Fury: Inside the Trump White House. But even that book, which became "the fastest selling title in Henry Holt & Co.'s history" ahead of its Jan. 9 release date, could not do in 11 months what Michelle Obama's memoir has done in two weeks.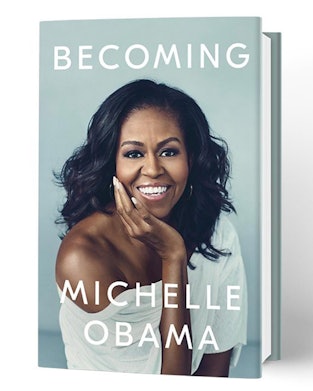 "Becoming" by Michelle Obama
$19
Amazon
The best-selling book of 2018.
In truth, it's no real wonder that Michelle Obama's memoir has sold so many copies so quickly. Becoming is the highly anticipated first part of a two-book deal the Obamas signed last year, and it received a much talked-about endorsement from Oprah Winfrey, who declared it to be her next book club pick, just before its release on Nov. 13. And of course, it's difficult to deny the selling power of a book by Michelle freakin' Obama, who many (including me) would argue is the coolest living FLOTUS.
As a memoir, Becoming naturally contains a lot of touching anecdotes from the former FLOTUS, but it also delves into her anger with the current administration. In addition to revealing how Barack Obama and proposed and that she had a miscarriage before her daughters were born, and that she conceived Sasha and Malia through IVF treatment, Obama also expresses her disdain for Donald Trump, whom she says she will "never forgive" for the way he endangered her family through birtherism.
Becoming by Michelle Obama is available today from your favorite bookseller.
Source: Read Full Article