Not only did they not guess either of tonight's unmasked celebrities on "The Masked Singer," the panel never even threw out either of their names at any point this season — was it Gargoyle, Mantis or Medusa who stayed alive to move into next week's quarterfinals?
After taking a breather last week to regroup and prepare for these final four episodes, "The Masked Singer" returned with all the masks saved by the Ding-Dong-Keep-It-On Bell this season.
Medusa made it three weeks before falling to California Roll just shy of being crowned the first champion of the season. Gargoyle scored a save the very next week simply by impressing the panel, who didn't want to lose him after he fell to Squirrel, who was unmasked the very next week.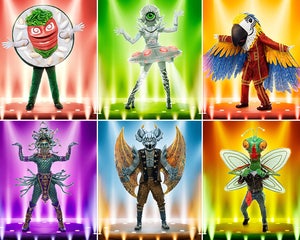 Masked Singer Recap: Final Six Drop New Clues, Performances — Plus, Our Final Guesses
It wasn't until Week 8 that Robin opted to save Mantis after he performed a song that meant something personally to the "Blurred Lines" singer. He'd lost to Dandelion, who would turn around and lose to UFO the following week.
Now, it's UFO, Macaw, and California Roll waiting in the wings to see which of these three saved contestants will join them in the quarterfinals. And in a feat that's not nearly as impressive as you might think, the judges pulled off quite a coup for themselves.
Not only did they not guess the right person for either of tonight's unmasked celebrities, they never even guessed these people at all during the entire season — so they were way off! Congratulations?
Let's jump right in with this week's masks. And don't worry, before we get to the shocking unmasking(s), we're going to make you power through the terrible (and occasionally good) guesses made by our illustrious panel of Robin Thicke, Jenny McCarthy, Ken Jeong and Nicole Scherzinger first. We do this because we love … to torture you.
Along with the panel's guesses, we'll be sharing some internet speculation, too, so if you don't want to be potentially spoiled (because they are very good at this), you may want to skip past the guesses sections.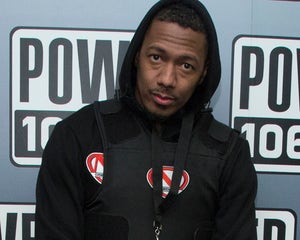 Nick Cannon Explains Why He Doesn't Try to Bring All His Children Together at Once
MEDUSA
Unable to render YouTube Video.
("Mercy," Shawn Mendes) Medusa really poured everything she had in this performance and we felt it through the mask and through our television screens. That signature growl of hers was on display, but we also got a softer side. We could hear the ache in her voice, and she displayed this gorgeous, smooth tone that's also in her arsenal. This was a tour de force in so many ways and her best performance by a mile.
Guesses: This week, Medusa talked about how she's always felt like an underdog and how she had to prove herself often in her career. New images included a record with the "Masked Singer" logo on it and one of the Men in Black wearing LeeAnn Rimes' Sun mask. Is there a LeeAnn connection?
Previously, she described herself as a "dancer in the dark" who grew up far away from the spotlight. There was images of a giant chess board, a heart tattoo with the words "True Love," a picture of Buckingham Palace on balancing scales, and hints of the Super Bowl.
She said she learned to embrace her oddities, and the weirdness of this stage is what drew her to the show. But the most tantalizing clue was when she said she'd "technically" been here before, only now she was here to compete.
Her "swag bag" clue was a DVD of a fake movie, "Medusa: Snakes on the Astral Plane." It also touted $340 million sold! "Sometimes success comes in the grayest of places," Medusa responded to this clue. Last week's clues threw in "Piano" and "Dragon" and "Prize."
The newest clue, brought out by a centurion-garbed man in black, was the word "Alias." Medusa explained, "Here, I'm known as Medusa and at home known by name, but to the world, I go by something completely different." In other words, she has a famous stage name different from her real one.
The new clue only further cemented Nicole's guess that this is Lorde (real name Ella Marija Lani Yelich-O'Connor). She tied the sun to her "Solar Power" album. Ken again wasted everyone's time by guessing Susan Boyle. That one got Medusa giving the booing crowd a thumbs up, and we were right there with them. Susan Boyle's real name is not Davina Weasley.
Robin Thicke was wondering if the Sun was referencing the fact that LeeAnn Rimes sang one of their songs on the stage. He added that they'd performed with Chris Martin to land on Kesha, which is an interesting choice. For the alias, he leaned into the dollar sign Kesha used to have in her name (as Kesha is her given name).
Fergie has been a popular guess online, and she certainly has pipes similar to what Medusa has displayed, but the strongest guess remains Bishop Briggs. She was born Sarah Grace McLaughlin, so the alias clue works (though Fergie is Stacy Ann Ferguson, so it fits her, too).
For Bishop, the chess pieces could be as obvious as the bishop piece, while "the grayest of places" could refer to her song that featured on "Fifty Shades Freed," which grossed … you guessed it, $340 million. As for ties to the big game, Bishop's "Wild Horses" (another chess piece) was used in a 2016 ad.
Later clues included a shot of Coldplay's Chris Martin, who Bishop has toured with, and a ticket to Tokyo, which could refer to her family moving there. Her mention of ties to this stage could refer to when Queen of Hearts (Jewel) sang her song "River" back in Season 6 on her way to winning the crown. Could Medusa follow suit with a win of her own? She made a huge statement just now.
Abby De La Rosa Reveals Whether She's 'Jealous' of Moms of Nick Cannon's Other Children
GARGOYLE
Unable to render YouTube Video.
("DJ Got Us Fallin' in Love," Usher f. Pitbull) Gargoyle continues to prove he's a very talented non-pro singer as he had some breath management issues on this uptempo piece. But he's also got such a smooth tone, if he had shifted focus to his voice, it's possible he could have found a career in this lane. This was a little too mellow through a lot of it, and his stage presence is still a little nervous and lacking, but he's definitely got a talent there.
Guesses: This week continued with the athlete-focused clues, with him talking about being in squads that have had to prove themselves and being an underdog. He also said he's performed in front of millions in massive venues, but never on a stage like this, suggesting he's a pro athlete, at that.
His latest visual clues included a salute with a man in black in a captain's hat and a giant, gold gummi bear pool float. The centurion-in-black brought out a massive coin with Ken Jeong as Ceasar on one side and Gargoyle on the other with the word "Pregame." Gargoyle added, "Whether I'm listening to one of my own tracks or one of the greats, music always gets me in the zone."
In previous packages, he'd talked about how his peers "seemed to fly" while he was "stuck on the sidelines" earlier in his life, but later became the guy they passed to. He also spoke of his father telling him, "Don't ever let anyone tell you you can't do something."
The advice came while papa was holding a video game controller and wearing a "World's Greatest Dad" t-shirt. That clue package was filled with images, including a jukebox, an "I [Heart] LA" bumper sticker, a taco and hot sauce being held by a guy with a classic barbershop quartet hat and fake mustache, as well as an express charge card. Last week, he made a comment that Nick was in "charge," with a strong emphasis on that last word.
He also mentioned he loves video games, referencing "Kool Aliens" and "Tic Tac Toe," with him noting the latter would require him to find his "Player 2." His on-stage clue his first time out was the phrase "Record Maker," to which Gargoyle added, "I'm keen on making waves in the field, but being a part of history is the best bonus I could ask for."
Right away, Robin started thinking all these football clues were referencing an NFL player who also records music. He considered DeSean Jackson, a record-breaking wide receiver. He tied the gold bear to the University of California Berkeley.
Jenny, though, dismissed Robin connecting the credit card to the LA Chargers because if the most recent Chicago Bear she can think of is William "Refrigerator" Perry — she's not going to pick an athlete. Instead, she went actor to Michael B. Jordan, who does credit card ads.
Ken yelled at the crowd for booing her guess and got pre-booed for his terrible Anthony Mackie guess, tying the captain's hat to Captain America and the voice to his time at Julliard. Nick even threw him an assist that Anthony played Tupac on the big screen. He's got some musical chops.
But we're with Twitter wondering if Gargoyle's clue that he's part of history could be because he was the NFL Comeback Player of the Year in 2017? Or the fact he was the first player to have 10 or more catches, 100 or more receiving yards, and at least one touchdown in three consecutive games, which happened that same year.
Is Gargoyle LA Chargers wide receiver Keenan Allen? Fans who follow him online know he's got the pipes and there was that charge card Robin noted. This guess would also explain the "I [Heart] LA" sticker. He was also "stuck on the sidelines" for four seasons with injuries, before definitely becoming the guy they passed to as a receiver.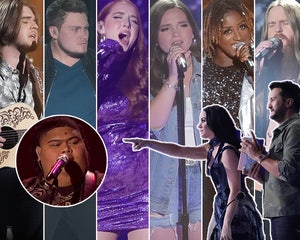 American Idol 5th Judge: Ten Artists Fight for Two Spots as Top 12 Is Revealed — Plus, a Fly Steals the Show
MANTIS
Unable to render YouTube Video.
("You Really Got Me," The Kinks) Mantis didn't do himself any favors with this song choice, but he came and rocked out. It was a fun performance, but a vocal that didn't offer much range or really any dynamic moments. It was competent and the overall performance was fun — if a little corny — but this isn't what you do to try and win a competition with singing at its heart.
Guesses: This week, Mantis came right out and said he's not known as a singer. He also noted that he's been "outside the box" for most of his career, as he's not the "classic" leading man type. In fact, he said he's rarely every felt like people's first choice, in general.
New visual clues this week included a Secret Agent Mantis badge with a white fingerprint on an orange background. Below that, the badge read, "Top Secret Level Security Clearance. But the bigger clue was a baseball diamond. His on-stage clue came in the form of a sword labeled "Movie Maverick." He added, "I've won awards for my independent spirit, but the real reward is having more movie credits than Ken."
In a previous clue package, Mantis said he was looking to show another side of himself, but he wasn't talking about singing. Instead, it was comedy. His clue package further said that Mantis is best known for his brooding persona.
When he said he was finally ready to show how good he is at comedy, he suggested he almost won an Emmy for it. Imagery through his clue package included cowboy boots, poker chips and all kinds of action movie cliches, including a gasoline can, a chopper, and Mantis walking in slow motion away from an explosion.
He also said he's done Shakespeare, appeared on Broadway and is a published author. Dropping the line" dance with the wolves." "Representing a legend was instrumental to my success and it was an honor to do so," Mantis said to explain his "True Story" pair of sunglasses. This week he added "Radioactive Insects II" and "Eyes on the Crown" as "box office" clues.
Ken just took a big swing (and a miss) with his Brendan Fraser guess. "I respect you as a doctor and a father, but not as a guesser," Robin shot back after that guess. Nicole's guess was definitely someone who's not a typical leading man, but could it be Steve Buscemi? She thought she was hearing his tone, but the clues don't really make sense.
Robin was thinking it might be a more comedic actor, with Jenny throwing out "Reno 911," but that's definitely not Tom Lennon's voice, so that's a terrible guess. They also didn't bother to try and connect their guesses with any of the clues, which is why we're pretty sure they're way off.
The most likely candidate for all these clues and this talent is Lou Diamond Phillips, who starred as Ritchie Valens in the 1987 "true story" film "La Bamba." His hint about possibly winning an Emmy for comedy would be his 2016 nod for "The Crossroads of History."
He has published a book, and is well-known as a great poker player. As for "dances with wolves," he wasn't in that movie, but he did star in "Wolf Lake" for television. He was also up for a Tony Award — giving the Broadway connection — for his work in "The King and I."
With these new clues — well, the diamond is an obvious reference to his name. Then there's the fact that he was named after US Marine Leland "Lou" Diamond, with Phillips added after he was adopted. That ties into that captain's hat.
He has also played government agents on shows like "24" and "Numb3rs" and hosted "An Officer and a Movie" for The Military Channel, which only adds to that. Throw in the fact he won an Independent Spirit Award, which he basically said on the stage, for his work in "Stand and Deliver," and this feels like a lock to us.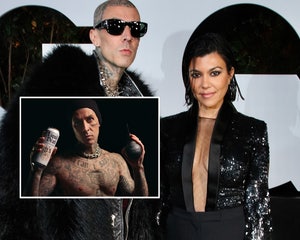 Travis Barker Calls Enemas the 'Secret' to Marrying 'Woman of My Dreams' Kourtney Kardashian
UNMASKING 16
So we weren't feeling super confident about who should advance from this trio because Medusa had been slipping for us in her initial run on the competition, but she did not come to play around tonight and we really think she slayed this competition.
On the opposite side, it seemed pretty obvious that Mantis was a sentimental save for Robin and he was outmatched and outclassed at every level. The studio audience and panel agreed, sending Mantis to be the first "Wild Card" contender unmasked, falling just short of singing in the quarterfinals.
Robin Thicke: Dennis Quaid
Jenny McCarthy: Kevin Bacon
Ken Jeong: Brendan Fraser
Nicole Scherzinger: Steve Buscemi
Unable to render YouTube Video.
We weren't feeling good about any of their guesses as we were feeling super-confident that the baseball diamond wasn't about a movie; it was about a name. That's what it proved to be, as it was indeed Lou Diamond Phillips. Robin was beside himself as he was absolutely in love with Lou's films growing up. Meanwhile, Jenny said she and husband Donnie Wahlberg had just been talking about him last week, as he'd been a guest on "Blue Bloods."
When asked what drew him to the show, Lou said it was all because of his daughter Indigo, who watches the show "religiously" with her friend, Fluffy. "You guys have had such wonderful, surprising, ridiculous guests," he said with a smile. He then broke into "La Bamba" and brought back all the nostalgic feels.
BATTLE ROYALE
[[battle royale video not yet available]]
("Centuries," Fallout Boy) Gargoyle had an R&B sound on this, but his voice sounded a little thin and he didn't bring that energy or anything really artistic to his rendition. Even when the piece kicked to another level, Gargoyle didn't really follow. Medusa, meanwhile, was interpreting the lyrics from the start, almost giving a heartbroken opening few lines. She was practically crying herself before she got into the bigger part and started belting. The song didn't quite fit her sound in this part, but we applaud that she poured so much heart into this performance — and held that final note longer than possibly any "Masked Singer" contestant before her.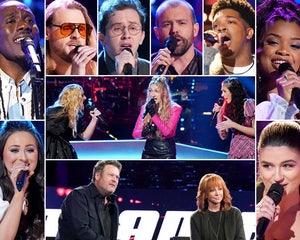 The Voice 5th Judge: Blake Shelton Uses His Last-Ever Steal as Top 20 Are Revealed
UNMASKING 17
Once again, we got a sense of what can happen when Medusa is on a song that doesn't quite fit her. She was emoting almost too much, though we definitely felt the passion, and then there was a bit of a disconnect at the chorus.
But it was still more than what Gargoyle was giving throughout. His was just a pleasant cover, which isn't going to cut it at this stage, and certainly not in the quarter-finals with the three champions. The panel clearly agreed, as Gargoyle was knocked out of the competition.
Robin Thicke: Joey Bosa
Jenny McCarthy: Michael B. Jordan
Ken Jeong: Anthony Mackie
Nicole Scherzinger: Marshawn Lynch
Unable to render YouTube Video.
Ken and Robin are usually pretty good at guessing when it's an athlete, with Ken definitely stronger on basketball players. Regardless, despite finally committing to the credit card meaning the LA Chargers, Robin still fell just short of the right guess. It wasn't right, though, as it was indeed wide receiver Keenan Allen beneath that mask.
Nick asked Keenan about this whole vocal side of him that's been on the sidelines of his pro football career. He explained that it started when he was young and his mom would put him in the choir. Now, he enjoys singing for the "homies" and "the ladies, of course."
It's the quarterfinals on "The Masked Singer," next Wednesday at 8 p.m. ET on Fox.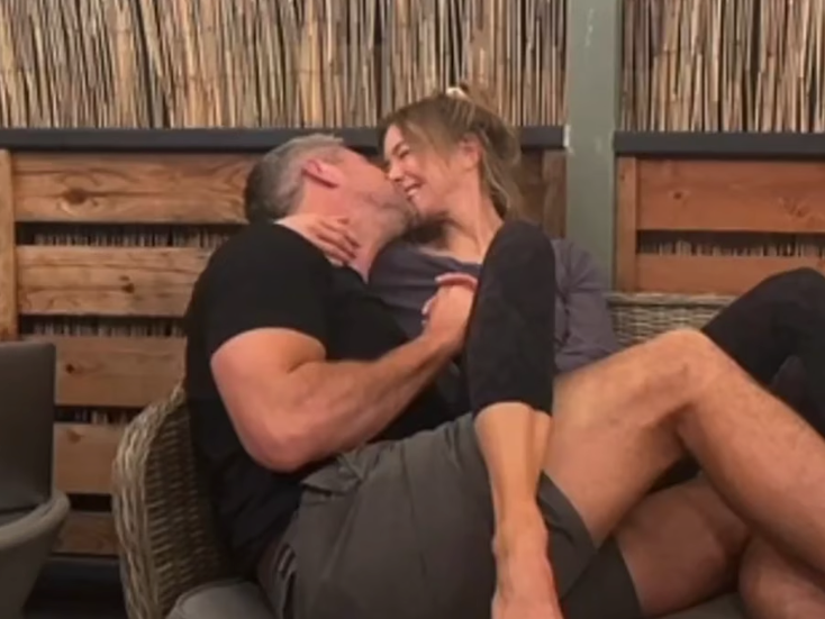 Source: Read Full Article