Have you ever looked in your fridge or pantry after a long day and resorted to ordering takeout because you thought you didn't have the ingredients to make a meal?
Well, now you can make just about any meal you want with a few items you may already have in your kitchen!
Self-trained home cook and "Fit Men Cook" creator Kevin Curry has learned that you don't need a whole lot to create a delicious and healthy meal.
Simple things like his must-have pantry items — marinara sauce, chicken broth and coconut milk — can help you easily make any meal with minimal ingredients.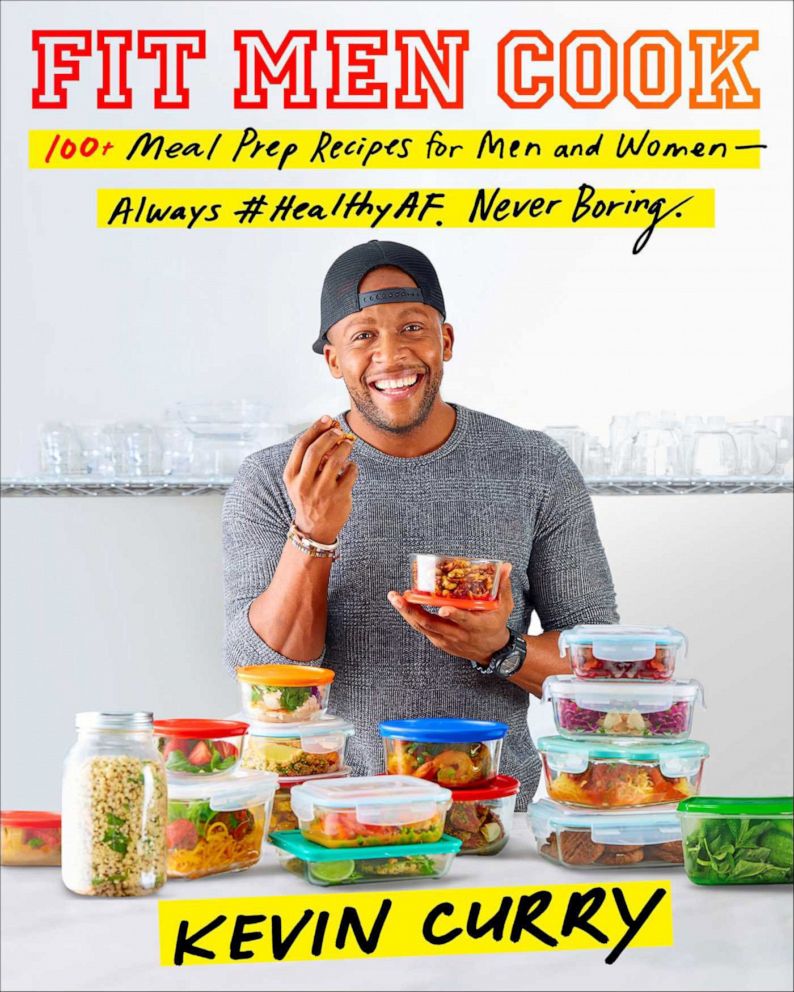 To prove it, Curry showed "Good Morning America" how to make two different recipes using only five ingredients for those lazy weeknights.
5-ingredient rotisserie chicken fried rice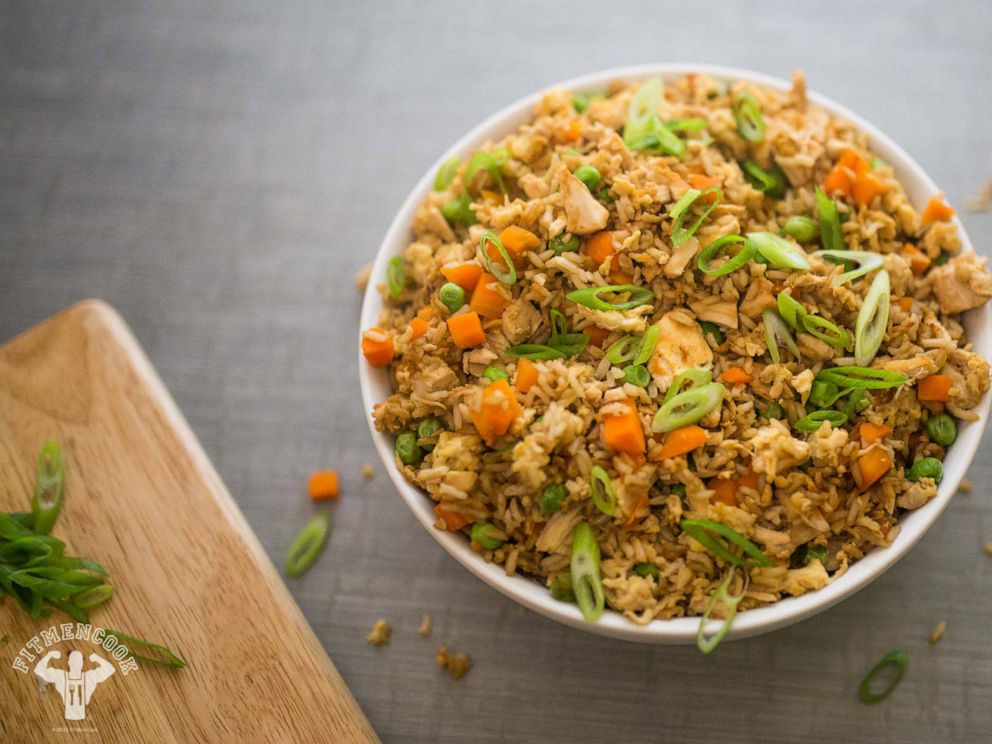 Ingredients for four hearty servings:
Spray olive oil (or cooking spray)
1lb skinless Rotisserie chicken meat, chopped
3 cups cooked and cooled (Instant) brown rice
2 eggs
1 cup frozen peas and carrots
3 tablespoons lite soy sauce (or more/less to taste)
Fresh green onion
Toasted sesame seeds
Instructions:
Place the instant brown rice in the microwave and cook according to instructions given.
Remove the skin from rotisserie chicken, pull the meat from the bone, then chop it into pieces, about 1/2-inch to 1-inch in size.
Set a nonstick skillet on medium high heat. When it's hot, spray with a little olive oil, then toss in the chicken and cooked rice. Mix it around in the skillet for about two minutes (enough to get a very light sear on the chicken), then make a hole in the middle of the skillet.
Beat two eggs together in a small bowl then pour them in the middle of the skillet.
Let the eggs bubble for a brief second, then immediately begin chopping the eggs up with a spatula and fold them into the chicken and rice. There should be no large, visible chunks of egg.
Fold in frozen peas and carrots, then add the soy sauce. Continue stirring for about one minute.
The heat of the skillet and the food will quickly thaw the peas and carrots, so be careful not to overcook.
Remove from the heat, and if desired, garnish with fresh chopped green onion and toasted sesame seeds.
Bonus tips:
Caramelize garlic and chopped green onion in olive oil before adding the chicken and rice.
Add fresh ginger & red pepper for a spicy kick.
Drizzle 2 teaspoons of sesame oil at the end to enhance flavors.
Reduce carbs by adding only half the brown rice and substitute the remaining with steamed cauliflower rice.
For leftovers, substitute chicken with leftover shrimp cocktail or leftover veggies such as mushrooms and zucchini, and swap leftover brown rice for leftover quinoa (or other grain).
5-ingredient cheese steak and avocado quesadilla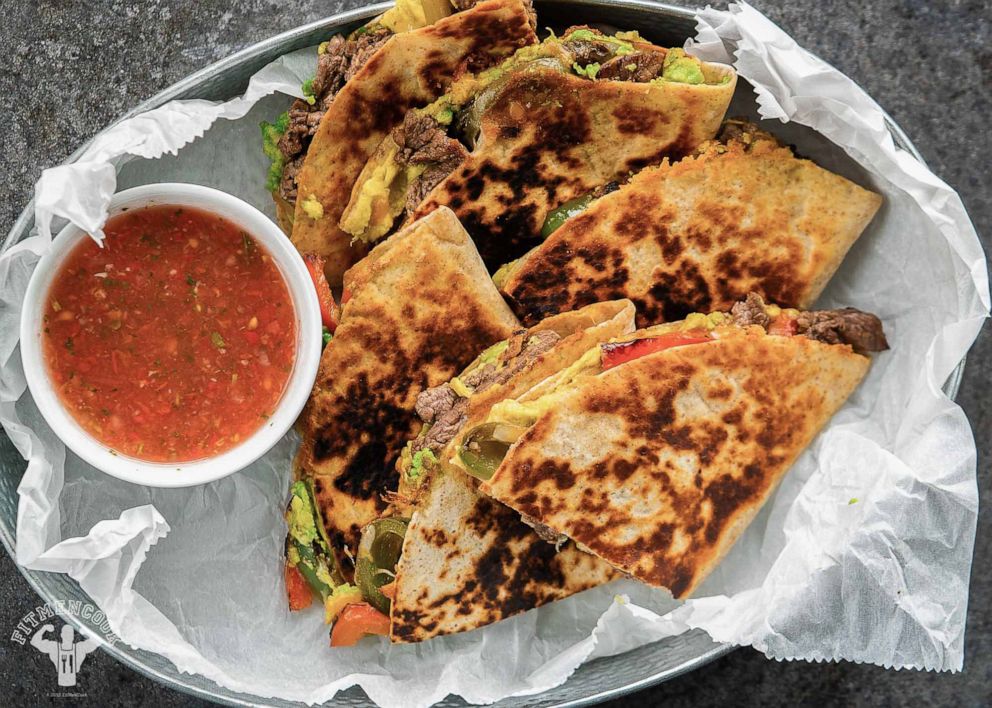 Ingredients for 6 quesadillas
Olive oil spray
2 medium bell peppers, sliced (I used one red and one green.)
Juice from 1/2 lime
1 lb lean flank steak, thinly sliced
1 teaspoon garlic powder
Pinch of sea salt and pepper
3 small (~330g) ripe avocados
6 low-carb wheat tortillas
1 1/2 cup shredded cheese (I used Monterrey jack and cheddar blend.)
Instructions:
Set a nonstick skillet on high heat. Once hot, spray with olive oil and toss in bell peppers.
Sear and cook the bell pepper slices until the outside is charred and they are crisp-tender (a bit softer) — about four to six minutes.
As the bell peppers cook, squeeze in lime juice to caramelize and soften them.
Toss in thinly cut flank steak and continue cooking together in the skillet. As the steak cooks with the bell peppers, sprinkle in garlic, sea salt and pepper. Cook for about 5 minutes or until your desired readiness.
Spread 1/2 of small avocado on half of the tortilla. Add cheese and a serving of the steak mixture. Fold the quesadilla in half. Repeat.
Set a nonstick skillet on medium-high heat and once hot, spray with olive oil and add the quesadilla. Cook on each side for one to two minutes to melt the cheese and toast the outside of the tortilla. Repeat.
Enjoy the quesadillas with fresh salsa, yogurt or Greek yogurt instead of sour cream or even low-calorie BBQ sauce.
Bonus tips:
Swap beef with grilled portobello for an easy vegetarian swap.
Cut the calories by using less cheese (about 1/4 cup) and by also substituting it with a ripe avocado. It makes the quesadilla rich and creamy just like ones with cheese, but with heart-healthy fats instead.
Swap beef for chicken or shrimp.
This dish is great for meal prep. You can enjoy these hot or cold the following day.
Recipes reprinted with permission courtesy of Kevin Curry and Fit Men Cook.
Source: Read Full Article