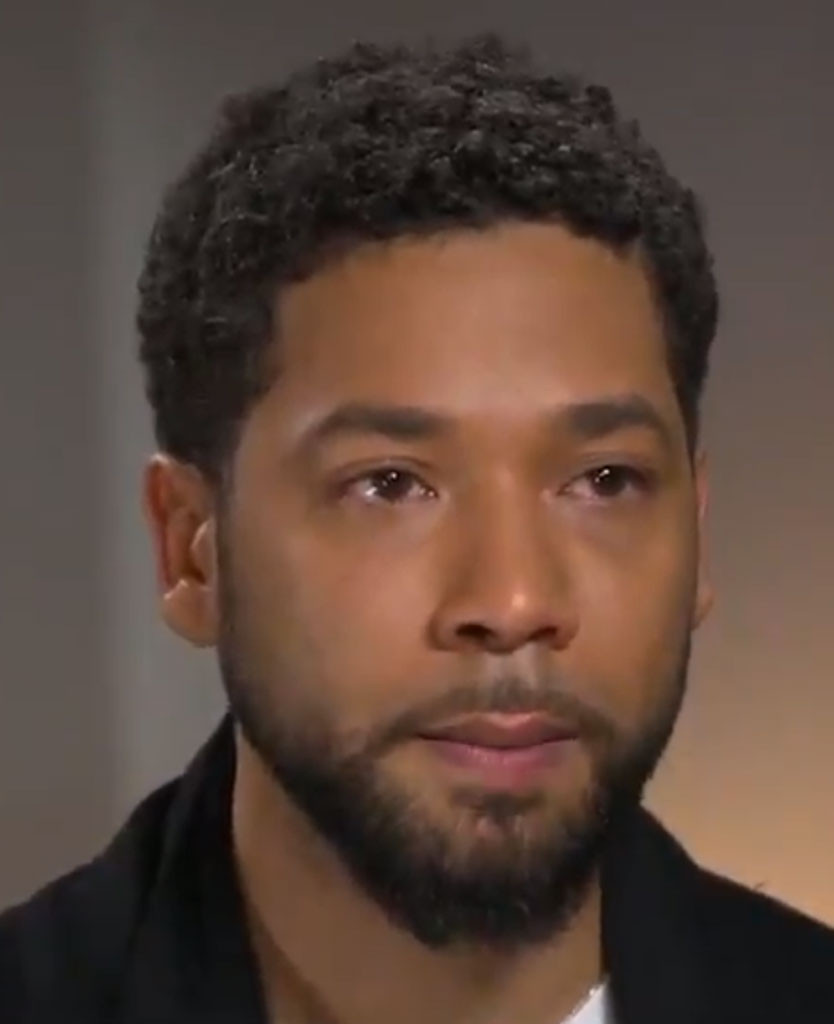 ABC
Jussie Smollett is opening up about the homophobic, racist attack that led to his hospitalization.
Shortly after arriving in Chicago from New York in the early hours of Jan. 29, Smollett was walking when two unknown offenders approached him and gained his attention by yelling out racial and homophobic slurs towards him. The offenders began to batter Smollett with their hands about the face and poured an unknown chemical substance on him.
During the attack, one of the offenders wrapped a rope around Smollett's neck. The offenders later fled the scene and Smollett was self-transported to Northwestern Hospital.
Smollett told the police in an interview that his assailants yelled "MAGA country" during the attack. The Chicago Police Department confirmed this information and told E! News in a statement, "In the initial reports there was no mention of MAGA. When detectives followed up with [Smollett] later in the day, he recalled the offenders making those comments and detectives completed a supplemental report."
On Good Morning America on Thursday, Smollett sat down with Robin Roberts for his first interview since the attack.
"I'm pissed off," Smollett told Roberts, talking about the criticism he has received from doubters of the attack. "It's the attackers, but it's also the attacks. You know, at first it was a thing of, if I tell the truth, that's it, because it's the truth. Then it became a thing of like, oh, how can you doubt that? How do you not believe that? It's the truth. And then it became a thing of, oh, it's not necessarily that you don't believe that this is the truth, you don't even want to see the truth."
Smollett then took Roberts through the attack, describing how he went out to get food after returning home from New York because he didn't have anything to eat at his place.
When asked why he hesitated to call the police after the attack, Smollett teared up as he told Roberts, "There's a level of pride there. We live in a society where, as a gay man, you are considered somehow, to be weak, and I'm not weak. I am not weak. And we, as a people, are not weak."
Smollett also talked to Roberts about the image that was released of two people of interest.
When asked if he believes the two people in the image could be his attackers, Smollett said, "I do…'cause I was there. For me when that was released, I was like OK, we are getting somewhere. I don't have any doubt in my mind that that's them. I never did."
In response to Smollett's interview, GLAAD President and CEO Sarah Kate Ellis released a statement, saying, "Jussie Smollett was victimized first in a hate-motivated and violent attack in Chicago and has since been doubly victimized as the subject of speculation by the media industry and broader culture. Jussie is rising above hate, racism, homophobia, and doubt surrounding the attack and instead using his voice and talent to fight back against the rising rates of violence against Black and LGBTQ people, as well as those who live at the intersection of those identities."
"GLAAD joined with Color of Change to condemn the racism and homophobia that fueled the physical violence against Jussie and today we double down on that stance, while also calling out a culture where LGBTQ people of color are too often the last to be believed," the statement concludes. "Jussie's experience is sadly not unique in today's America and we all must lock arms to change that."
Source: Read Full Article