Being a new Bravo Housewife isn't easy, but you know what? Being new at anything is really hard. And it's especially hard to meet new friends as an adult, as evidenced by Jennifer Aydin on the Real Housewives Of New Jersey. She's the new gal (well, one of the new gals, along with Jackie), and by the looks of how she acted on the girls' trip to Oklahoma, Jennifer is trying very hard to make friends on Real Housewives Of New Jersey — and failing miserably so far.
Margaret, being the lovely, obliging girl that she is, took all of the Housewives to her friend Polly's house in Oklahoma for a long weekend of cowboys, trailers, shooting, and, of course, drama. The drama's always a given. Most of it came from Teresa and Melissa and their ongoing feud about how much time Melissa's husband, Joe, spends with their father. But Jennifer? Jennifer picked it all up at the end. Throughout the entire trip, Jennifer was the one-upper to every point or shared story that the other Housewives — including Polly — made.
For example, Polly pointed out the amazing sunsets she sees on her ranch, and Jennifer had to talk about how she can see Manhattan from her house and also amazing, fiery sunsets that are better than this sunset, of course. She refused to stop talking about her 16 bathrooms back in North Jersey. She refused to go near the trailer that one of the women — Dolores is always game for anything — had to sleep in. And she hated the music and the drinks at the party that Polly threw for their final night, and told her host as much. Jennifer's vibe the whole trip was "I'm above it all" and it was hard to watch.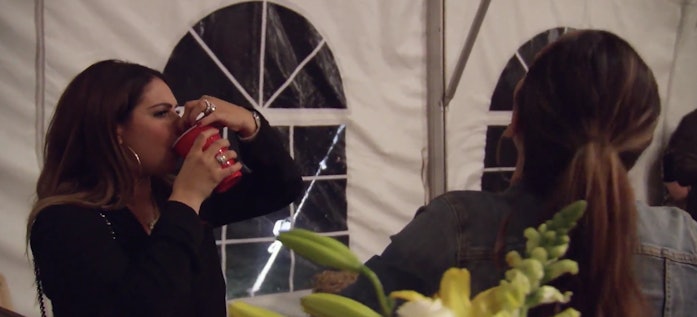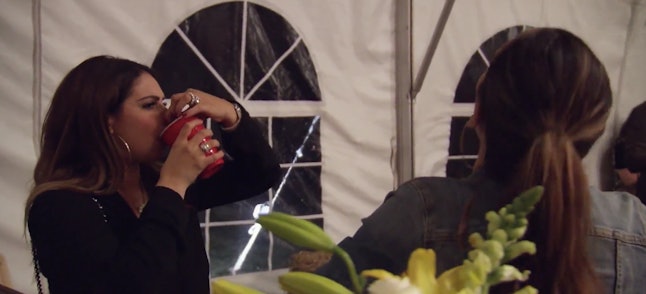 Jackie, Melissa, and Margaret tried to give her the benefit of the doubt during a pre-breakfast conversation. Maybe Jennifer is just trying really hard to fit in, Melissa opined, and all of the talk is just to make her seem better or more interesting to the rest of the group. Which is a fair thing to do — many people feel like they have to offer something other than their lovely selves to make new friends.
And this group is tough! Two of the women on Real Housewives Of New Jersey are literal family and the rest have known each other for basically decades, which makes it really intimidating to crack the group dynamic. Once Jennifer gets to know the ladies better and relaxes more, this peacocking will go away. Or at least that's what Melissa hopes.
But things got worse before they got better, with Jennifer being truly insulting to Polly and the amazing hospitality she provided to the women. Jennifer said that once you're at the top, you can never go back, and boy, was that the wrong thing to say. As if New Jersey had all that more to offer than Oklahoma? It was a little tone deaf, no question. Margaret and Polly both sat Jackie down and tried to explain to her that her manners were a little off, but she only doubled down on her opinions, making it seem like she just didn't get what was so rude about telling a person who put you up in their home that their home was "not the Four Seasons." Yikes.
However, assuming that Jennifer is just trying to make her mark on a show that swallows new cast members like Ramona Singer slugs pinot grigio, it's worth noting that, even when you're on a reality show, it's difficult to make friends as a grownup. And friends that aren't coworkers or somehow related to your kids or school? It's impossible.
It's easy to dismiss Jennifer as rude, and hey — maybe she is. She could be. But it's too early to say if what we're seeing is her personality or just a front for the cameras. Viewers, like Melissa and Jackie, should give her the benefit of the doubt, simply because this is a highly stressful situation, and it's a new one, too. Jennifer is on her first girls' trip since before she had children, with a group of women she doesn't know, and, oh yeah, it's all going to be on television. Let's hope that she softens as she settles in, but for now, let's feel empathy for a situation most of us have been in. Minus the cameras and eye rolling at some barbecue, probably.
Source: Read Full Article