It's been 40 years since the original movie in the decades-spanning franchise slashed its way into theaters and turned sex at camp into a deadly pastime—and there's so much you didn't know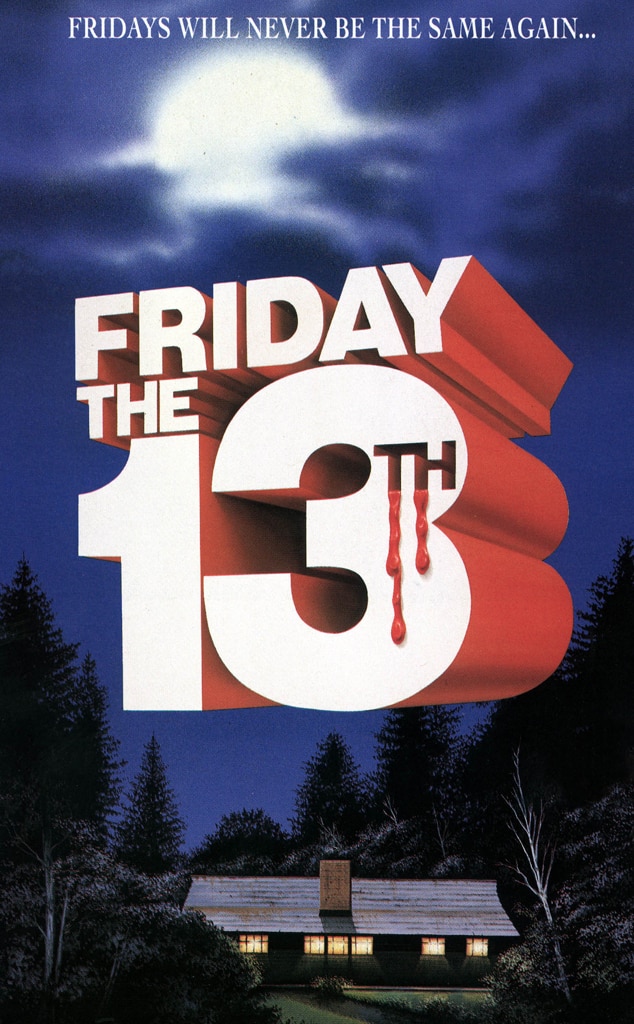 Kids, if you've ever wondered why it's a bad idea to have sex at your picturesque lakeside summer camp, look no further.
While it didn't invent the idea of punishing teenagers for getting rowdy with an over-the-top death, the Friday the 13th film franchise—which first littered littered a campsite with bodies in 1980—certainly hammered (and stabbed, and sawed, and impaled) the point home.
Hailed as a fresh take on the stalker-killer trope with its twist ending, the first movie in what so far is a 12-film franchise (counting Freddy vs. Jason and the 2009 reboot) is an unequivocal horror classic that has inspired numerous imitators, modern reinventions (AHS: 1984, anybody?) and more than a few nightmares. As for what came after the identity of the first homicidal maniac was revealed…
Well, that's up for critics to roll their eyes at, but the series has made more than $821 million at the box office (adjusted for 2018 inflation), enough to make it the sixth-highest-grossing horror franchise of all time, according to Forbes (so long as you count the No. 1 Alien movies as horror, not sci-fi).
In honor of today's date, which inspired the original fright fest, we've compiled some chilling behind-the-scenes secrets. But before you head into those woods, beware that there will be spoilers and a few disturbing images, but we tried to take it easy on the blood:
Sean S. Cunningham produced his pal Wes Craven's 1972 terrorsploitation fest The Last House on the Left, which remains notorious for its graphic, low-budget depictions of truly horrible things. He pivoted to directing a couple of kid-friendly films, and while spit-balling titles for a soccer movie he was making (eventually Manny's Orphans), "Friday the 13th" popped into his head.
"Wait, what if It takes place in a summer camp before it opens?'" Cunningham, talking to Famous Monsters TV in 2017, remembered arriving at that idea with co-producer Steve Miner, "like a light bulb just went on."
Before a single scene had been shot, an ad was placed in Variety that touted it as "the most terrifying film ever made!" and showed the title, Friday the 13th, in big block letters crashing through a mirror. They were trying to drum up interest among possible financiers—and it worked.
But they needed an actual story. Victor Miller, who had also written the soccer movie, devised the plot about a crazy mom, devastated over the drowning death of her son at camp, going on a killing spree in the same place decades later.
The script wasn't finished when they started shooting, or at least it kept getting tweaked. Adrienne King, who played Alice Hardy, revealed that they would get new pages practically every day—so the actors, perhaps unintentionally, didn't know what was coming around the corner, either.
The movie was shot "completely below the radar," Cunningham recalled, in Blairtown, N.J. "Camp No-Be-Bo-Sco"—short for North Bergen Boy Scouts—was the setting for the haunted Camp Crystal Lake. It's still there to this day and in normal times offers walking tours and sleepovers for the most intrepid of Friday the 13th fans.
Sole survivor Alice made Adrienne King an iconic scream queen forever after. "Every actor and actress that was under 21 was trying to get an audition," King recalled years later. "I was trying to make the break from commercials into television into film," and she was up for anything, including dancing for four weeks as an extra in Saturday Night Fever. "For me to actually get this without a theatrical agent was pretty amazing," she said. "These things just don't happen! I was a Burger King girl before."
Harry Crosby III—Alice's love interest Bill, who almost makes it out of Crystal Lake alive—is the fifth son of late crooner Bing Crosby. After acting, he became an investment banker and philanthropist.
There's one in every crowd, and Kevin Bacon was the future big star to emerge from Friday the 13th (though his character Jack was brutally dispatched in the movie). He was not entirely unknown though, having already made his film debut in Animal House, but he still definitely considered himself a struggling actor at the time. In fact, he was already back waiting tables when Animal House came out in 1978 and needed to ask for the night off to attend the premiere.
"There was no transportation," Bacon recalled to GQ about the Friday the 13th set. "I think they would drop me off on the way back at a bus stop, and I would have to get the bus stop and try to get back to Manhattan"—where he was doing a play at night downtown, while he was spending days shooting out in New Jersey.
"I had the classic horror movie death in that because I had sex and then smoked a joint—and as soon as that happens to somebody in a horror movie," Bacon snapped his fingers, "especially if they're a young person… [that's it]. I would say the number one photograph that's shoved in front of me from fans to sign is one of me dead." He smiled. "And that's always been a little strange to me."
Jeannine Taylor's sexually active Marcie and Laurie Bartram's Brenda met cruel fates, one after the other. Taylor has remained available on the convention circuit, but her only other acting role came in, of all things, the 1982 TV movie The Royal Romance of Charles and Diana. Bartram, who died in 2007, called it a career right after Friday the 13th, and focused on raising five kids with her husband Greg.
Betsy Palmer, who played Pamela Vorhees, was known as a squeaky-clean morning TV host when she was cast in Friday the 13th, Cunningham's thought being that audiences would see her and think, "Oh, it's Betsy Palmer! There's nothing to worry about there."
The investors insisted on some sort of "jump at the end," Cunningham recalled, which in turn led to Alice, thinking her troubles are behind her once she had beheaded Pamela, languidly drifting in a canoe on the lake, only to be pulled into the water by Jason's restive corpse.
They had to shoot that scene a few times, much to the opposite of Adrienne King's delight. It was "cold and freezing," she recalled, but they had heaters set up and towels waiting after every take.
Ari Lehman, who was 15 when he played the first-ever Jason, later fronted a punk band called First Jason.
Special makeup effects artist Tom Savini—the man behind Jason's deformities and all that blood and gore—had previously worked on special effects for George Romero's Dawn of the Dead, but was still an up-and-comer when Cunningham hired him. His later projects included Creep Show, Day of the Dead and Friday the 13th: The Final Chapter (part 4). He's also an actor whose credits include Grindhouse, Machete and Django Unchained, because of course Quentin Tarantino would be a fan.
In a terrifying turn of events, King was preyed upon in real life by an obsessed fan, leading her to realize she "just didn't want to be in front of the camera that much, that my life was going to be so affected—and it was." Eventually her stalker was apprehended and she tried to move on with her life, which included attending London's Royal Academy of Arts. After, however, she was cast on All My Children but ended up having an anxiety attack before she was supposed to shoot her first scene—a sign that she didn't really want to be there. So, she got out of her contract and focused on family life, voiceover work and painting—until she was invited to attend her first convention, and since then, Friday the 13th has been a constant in her life again.
King settled down in Oregon with her husband and got into the wine business, starting her own label of affordable vintages, Crystal Lake Wines, for Valley View Winery. "They are a far scream from a novelty," she assured Dread Central in 2011. "We are so proud of the recognition we have been receiving. Even just recently our Survivor's Syrah was chosen by the Oregonian and hailed by the critics as one of their spring sleeper wines, which is an amazing honor."
King was always proud of being both Friday the 13th's "final girl"—and that the killer turned out to be Jason's mom, turning slasher movie convention on its head. "In terms of women not being victims, or a woman being the killer, it hadn't really been done before," she told Daily Dead in 2016. "And sometimes I think about if it was accidentally empowering women, or if they just wanted to do something that had a twist. And who would have ever guessed that the killer could have been a woman? A sweet lady, too, Betsy Palmer. No one saw that coming."
Adjusted for inflation, the original Friday the 13th remains the highest-grossing movie out of all 12.
King returned for the sequel, in which a traumatized Alice—who wakes up in the hospital at the end of the original and is told there was no sign of anyone or anything else at the lake—is picked off (literally, with an ice pick) right away. "I actually said to them that I would do whatever they needed for the sequel, I was theirs," she said in a Q&A at the Nite Owl Theater in 2018. "And I was very happy—and I never got a script. Didn't even get a script. Then there was a car that picked me up, and little did I know, but I get up there and the crew's almost gone. Everybody had gone. I didn't realize, but they had actually filmed the movie already."
It was one and done originally for Sean Cunningham, who didn't want to do the 1981 sequel, featuring grown-up Jason as the killer (as he/it would be in all the other movies to come as well). But associate producer Steve Miner seized the opportunity to direct Friday the 13th Part II—and Part III in 1982. (A prolific TV and film director, Miner also directed Halloween H20: 20 Years Later in 1998.)
Amy Steel's Ginny is the "final girl" in Part II, during which she, riddled with nerves from the frenetic shoot, accidentally slammed a machete down on stuntman Steve Daskewisz's finger. "And I was so horrified," Steel recalled to The Line Up. "We went to the emergency room, and he's dressed as Jason, and I was mortified. And he just said, 'Are you kidding this is great! Another scar!'"
Like King, she too had to film her climactic scene, in which Jason grabs Ginny and they crash through a window, multiple times. "I was thinking this is the worst moment of my life, and they had to do a lot of re-sets because they had to put the window back together," Steel said. "So it would be an hour, hour and a half between takes. I think we did it at least three times. When the director came back a week later and told me we had to do it again, I was so upset."
She passed on Part III, both because she was exhausted and wanted to be taken seriously as an actress—and so far, there had only been one Jamie Lee Curtis. But Steel called not being in it "one of my biggest regrets."
Steel continued acting but gave it up in the early 2000s and became a family therapist. Asked to share the appeal of horror movies from a psychologist's perspective, she said, "I think the fear takes you out of your own life, your own problems. It's an escape. When you're watching a scary movie, you're grasping on to the person next to you. I think they bring people together."
Warrington Gillette had one scene as the unmasked Jason at the end of Friday the 13th: Part II, but throughout the film the masked killer is police officer turned stuntman and actor Steve Daskewisz, who died in 2018. He's credited as "stuntman" throughout, but really did all of the heavy lifting.
Richard Brooker, a British stuntman and former trapeze artist, played Jason in Part III. He later turned to directing and won an Emmy in 2006 for Outstanding Achievement in Engineering Development. Brooker died in April 2013, just a month after what turned out to be his final convention appearance, made alongside all of his fellow Jasons.
Over 30 years, 11 men have played Jason Voorhees (movies 5 and 6 had two apiece), while another three kids have played a younger Jason. Kane Hodder has played him more times than anybody else, with four turns behind the mask over 12 years, starting with Part VII: New Blood in 1988 and finishing with Jason X in 2002.
Ted White, Jason in Friday the 13th: The Final Chapter (part 4), is also a stuntman (now in his 90s and retired) who over the course of a long career doubled for the likes of John Wayne and Clark Gable.
For the most part, the first 10 Friday the 13th films are a who's-who of who's-that, with the occasional exception: a 13-year-old Corey Feldman played Tommy Jarvis (the boy who lives!) in 1984's Friday the 13th: The Final Chapter.
That one also features Crispin Glover as Jimmy (a boy who doesn't live).
Tony Goldwyn took a turn as ill-fated camp counselor Darren in 1986's Friday the 13th Part VI: Jason Lives, just a few years before the Hollywood mogul scion and future TV president would play the hell-bound villain Carl in Ghost.
Not even this franchise was going to hurt a dog. Friday the 13th: Jason Takes Manhattan has a surprisingly heartwarming ending, with Rennie and Sean (Jensen Daggett and Scott Reeves) reuniting with Sean's dog, Toby, in Times Square.
Cunningham did return as a producer on No. 9, Jason Goes to Hell: The Final Friday (psych), but he had an ulterior motive. The series had been "slowing down," he told Monsters TV, and had become very "predictable, and as a producer I said 'Freddy versus Jason! That sounds like a grudge match in Las Vegas.' I thought that that would really be a good thing to sell and could invigorate the franchise. Lucky for me, Paramount was willing to let the franchise go [to Nightmare on Elm Street home New Line Cinema]."
I only it were that easy. "There started almost 10 years of development," Cunningham said, before his vision featuring two of the most iconic horror villains of all time battling it out for top slasher status finally came to fruition in 2003.
So, Jason Goes to Hell and, nine years later, 2002's Jason X ("I know, how about Jason in space?!") were admittedly filler while they tried to get the other movie together.  
After Cunningham finally got his grudge match, "then the question becomes, what do you do next? You going to bring in Michael Myers, gonna bring in Pinhead, what are we gonna do? We really didn't see a way to make it grow…" Enter Michael Bay's Platinum Dunes, which had been on a real remake kick (21st century versions of The Amityville Horror, The Texas Chainsaw Massacre and The Hitcher), which brought Friday the 13th back to life in 2009 (and would do the same for A Nightmare on Elm Street in 2010).
The smooth-headed Derek Mears, who played Jason in the 2009 remake, has alopecia (which causes hair loss) and he shared with IGN that when as a kid he first saw Corey Feldman as Tommy in The Final Chapter, dressed as young Jason and wearing a bald cap with a few strands of hair poking out, "that's what I looked like at the time…like a young Jason. So it's kind of ironic, now as a grown adult, getting to play Jason, so [my dream] has kind of come true."
The 2009 movie needed some star power, so they brought on Supernatural star Jared Padalecki, Amanda Righetti, Danielle Panabaker, Willa Ford, Ryan Hansen, and Ben Feldman.
Seeing Mears in character in Jason couldn't help but be creepy but still really exciting, Righetti added. And "because it is a cult classic, we felt a little bit of pressure because people respond so strongly to it. There's a lot of detail in this movie that makes it a great experience for everyone."
It turns out horribly for all of them except Padalecki's Clay, though the fate of Righetti's Whitney, Clay's girlfriend, is technically open-ended.
"I'm still dealing with injuries from it," Righetti, who wasn't born when the original came out in 1980, told Evertt, Wash.'s HeraldNet. "I'm dealing with knee injuries. My neck hurts from falling so much."
On the bright side, "I'm wearing more clothes than most [of her predecessors] in the same situation."
Trending Stories
Grey's Anatomy Just Ended With a Huge, Jaw-Dropping Surprise
Jenelle Evans Reacts to Chelsea Houska Leaving Teen Mom 2
Nikki Bella Weighs in on Artem & Carrie Ann Inaba's DWTS Drama
And so here were are, and the makers of Friday the 13th aren't going to stop at… 12 movies, are they?
Enter the modern-day suspense twist: a dispute over the rights to the original story.
Creator Sean Cunningham has maintained that Victor Miller wrote the original script as an employee of his production company and therefore didn't own the copyright, but Miller won in court in 2018. Cunningham appealed and, as of April 2019, that's where their legal battle stood. According to The Hollywood Reporter, a hearing before the Second Circuit Court of Appeals took place on Feb. 13, but as of September no ruling had been made. (Ironically, the very real nightmare that is the ongoing COVID-19 pandemic could be what's prolonging the saga at this point.)
Meanwhile…look out behind you! In 2018, LeBron James' Springhill Entertainment expressed interest in producing the next Friday the 13th movie, and there are supposedly at least two Jason scripts out there from different writers: one, a prequel called Friday the 13th: The Beginning; and, the other, Jason Never Dies—described as a direct sequel to 1986's Friday the 13th Part VI: Jason Lives that would do away with anything that had happened onscreen in the interim.
"It's not an unusual situation," Cunningham told Famous Monsters TV. "There has to be a solution. I mean, there just has to be a solution. So I'm very optimistic, and I would say, we're going to make another theatrical movie, first chance we get."
Because you can only keep a good villain down at the bottom of a lake for so long.
(Originally published May 9, 2020, at 7 a.m. PT)
Source: Read Full Article