The average American has a coffee budget of $1,100 a year – about $3 a day. Much of that money probably flows to Starbucks, which rakes in $22 billion every year worldwide by feeding our collective addiction for caffeine and sweet and frothy drinks.
For those looking to trim their spending, quitting the daily coffee habit is one of the most obvious things to eliminate. But if you're not willing to cut out your daily Starbucks run entirely, there are other ways to make your cup of joe more affordable. One is joining the Starbucks Rewards program, which offers perks to frequent customers. Here's how the Starbucks Rewards program works, and what you need to do to earn a free Starbucks drink.
Starbucks Rewards 101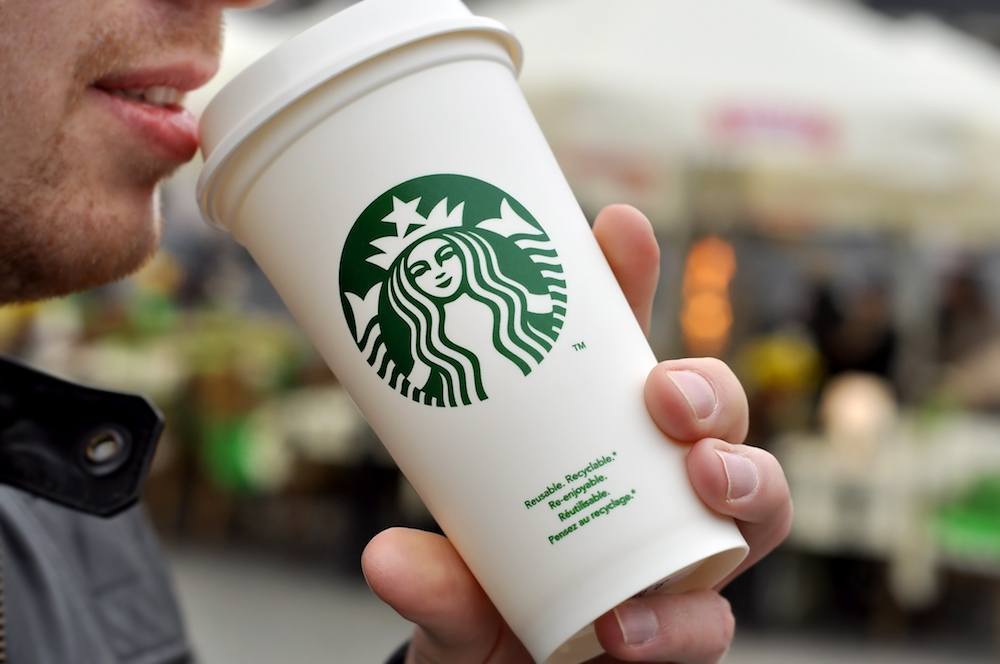 A man holding a cup from Starbucks | AlxeyPnferov/ iStock Editorial/ Getty Images Plus
Starbucks Rewards lets you earn stars with every purchase that can be redeemed for free drinks or food. You'll need either a physical Starbucks gift card or an e-gift card to sign up. Then, download the Starbucks app or visit the Starbucks website to create an account.
Once you have an account, you'll earn stars every time you make a purchase through the app or with your registered Starbucks card. You'll get 2 stars for every $1 you spend on most purchases. (Some purchases, like alcohol, taxes, and tips don't earn stars.)
How many stars do I need to get a free Starbucks drink?
You need to earn 125 stars to get a free Starbucks drink. But there's a catch. Only those who are at the Gold level in the rewards program qualify for the freebies. Everyone who signs up for Starbucks Rewards starts at the Green level. To get to Gold, you need to earn 300 points in a 12-month period. In other words, you'll need to spend at least $150 a year at Starbucks to start earning free beverages.
Once you reach the elite Gold level, you'll get a free beverage or food item for every $62.50 your spend. So, if you typically spend $5 every time you visit the coffee chain, you'd need to make 13 visits to earn a reward.
If you're at the Green level, your stars expire after 12 months if you don't reach Gold status. If you're at the Gold level, your stars expire after 6 months.
How to get to the Gold level
A Starbucks store | Philippe Lopez/Getty Images
Getting to Gold status isn't easy unless you're a big Starbucks spender. However, there are ways to earn extra stars, which gets you closer to those sweet rewards.
You can earn more stars by buying Starbucks-branded products like ground coffee and K-cups at the grocery store. (You can see a list of qualifying products here.) Starbucks also periodically sends emails to alert you to opportunities to earn bonus stars. You can also earn points if you have a Starbucks credit card. (Once you reach Gold status, you'll also $4 stars per $1 spent on once-a-month on Double-Star days.)
Periodically, Starbucks also has instant Gold level promotions. On these days, you can score Gold status with a single purchase.
Other Starbucks Rewards perks
In addition to earning stars for free drinks, joining Starbucks Rewards comes with some other perks.
At the Green level, you'll get a free drink on your birthday, free in-store refills, and the ability to order ahead and pay through the app. Once you reach the Gold level, you get all Green level benefits, plus the free drink for every 125 stars, monthly Double-Star days, and a personalized gold card.
Is the Starbucks Rewards program worth it?
If you're already spending a lot of money on Starbucks, then joining the rewards program probably makes sense. If you only occasionally visit the store, you might not spend enough to get to the Gold level and earn free drinks. However, you'll still get the free birthday drink and free in-store refills, which might be enough to make the program worth it, since it costs nothing to join.
Check out The Cheat Sheet on Facebook!
Source: Read Full Article