Shhh, can you hear that? It's the sound of Thomas Markle not talking. It wasn't long ago that Meghan Markle's father was giving interviews to the press like it was his job, but Thomas has been unusually quiet for the past few months—and it's no coincidence that his silence comes right as Meghan and Prince Harry are preparing to welcome their first child into the world.
So, is Thomas trying to stay on his best behavior in the hopes of reuniting with Meghan and meeting his grandchild? According to royal expert and author of Harry & Meghan: Life, Loss, and Love Katie Nicholl, that's a real possibility.
"It's a correct observation, we haven't seen an interview from Thomas Markle, we haven't heard a word from him, which—given his tendency tp speak to to the press—is unusual," she tells Cosmopolitan.com. "I'm sure it's been very welcomed at Kensington Palace."
As for whether Thomas' silence is working in his favor…that remains to be seen.
"I do know from the inside that the interviews Thomas has given, the leaking of that letter to a newspaper written to him by his daughter was very hurtful to Meghan, it's been a very difficult time for her," Katie continues. "And I was also told that way back, and after the royal wedding, Meghan did reach out to her father and said to him 'If you can just keep quiet, if you can stop using the press as a medium, prove to us that we can trust you can keep quiet,' then there was—as far as she was concerned—a chance of a rapprochement. She was prepared to give him a second chance. So, yes one wonders if perhaps he has learned the error of his ways and realized that if he wants any relationship with his daughter and his grandchild he's going to have to prove that he can keep his mouth shut."
Thomas seems to be proving just that, but do you think Meghan should let him back into her life after…well, everything?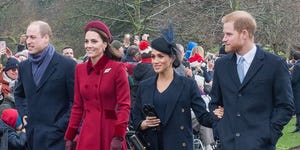 Source: Read Full Article