Melburnians meandering through the city on Friday afternoon were gifted two surprise pop-up gigs performed by none other than rock icon Jimmy Barnes of Cold Chisel.
Throngs of passersby and those who got wind of the secret gigs via social media crooned along to Flame Trees and Working Class Man at Evan Walker Bridge and later, Bourke Street Mall.
Jimmy Barnes sings on the streets of Melbourne.Credit:Luis Ascui
Fresh out of a few days in hotel quarantine awaiting the results of a COVID-19 test after flying from regional NSW, Barnes said the impromptu gigs reminded him of a simpler time in his early career.
"We all started doing stuff like this … playing outside bloody coffee shops and stuff so it's just nice to sort of reconnect and play a couple of songs for free for everybody," he said.
The pop-up gigs were part of the Music in the City initiative by Melbourne City Council to revitalise the CBD after the prolonged coronavirus lockdowns of 2020.
"[We're] doing this thing to help sort of give live music a shot in the arm," he said.
"It's a beautiful day – a good reason to sing."
Barnes made a cheeky jibe at tennis players in hotel quarantine earlier this week on social media, posting photos of himself and his wife Jane Mahoney in their hotel accommodation with the caption: "I don't know what those tennis players are complaining about".
On Friday, he said he did feel for the players stuck in their rooms for up to 14 days.
"They're getting a hard time, we were only there for a night, we were easy," he laughed.
Jimmy Barnes is performing two ticketed gigs in Melbourne this weekend.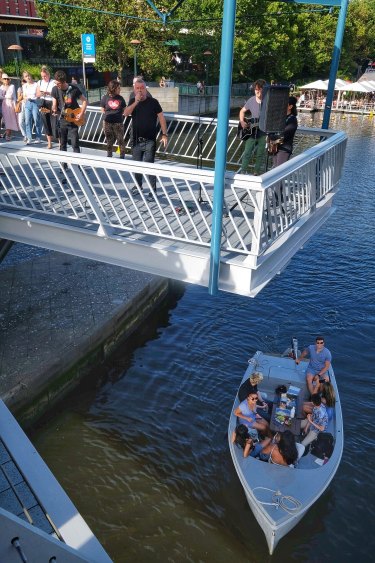 Barnes' surprise performance in Melbourne.Credit:Luis Ascui
Most Viewed in Culture
Source: Read Full Article