Kevin McHale is dancing his way back into our hearts. The former Glee actor and singer recently made his solo music debut with his single "Help Me Now" in March, and now POPSUGAR has the exclusive first look at the music video. The video starts with a cameo from Modern Family actor Nolan Gould as he puts on a virtual reality headset and finds himself immersed in a fun-filled musical message from McHale, singing and dancing in all.
Image Source: Blake Ballard
"We wanted something that was not taking itself seriously," the 30-year-old told me about the concept for the video ahead of its release. "I'm not supposed to be dancing necessarily that well. It's more like desperation. We want it to be funny and sort of me just trying a little too hard because that's what the songs about and what the lyrics reflect."
McHale added that the juxtaposition between the vulnerable lyrics and the upbeat tempo in the song was something he really wanted to portray in the video. "It makes it easier or more palatable at least for me and my personal life when you can do that where it's like, 'OK. This is not a fun conversation. I'm not proud of myself for having these thoughts. But here they are and we should talk about them. Let's just do it.' The desperation is unflattering. And I think when you put it in a house with a bunch of bright colors and some goofy dancing, that makes it a little better."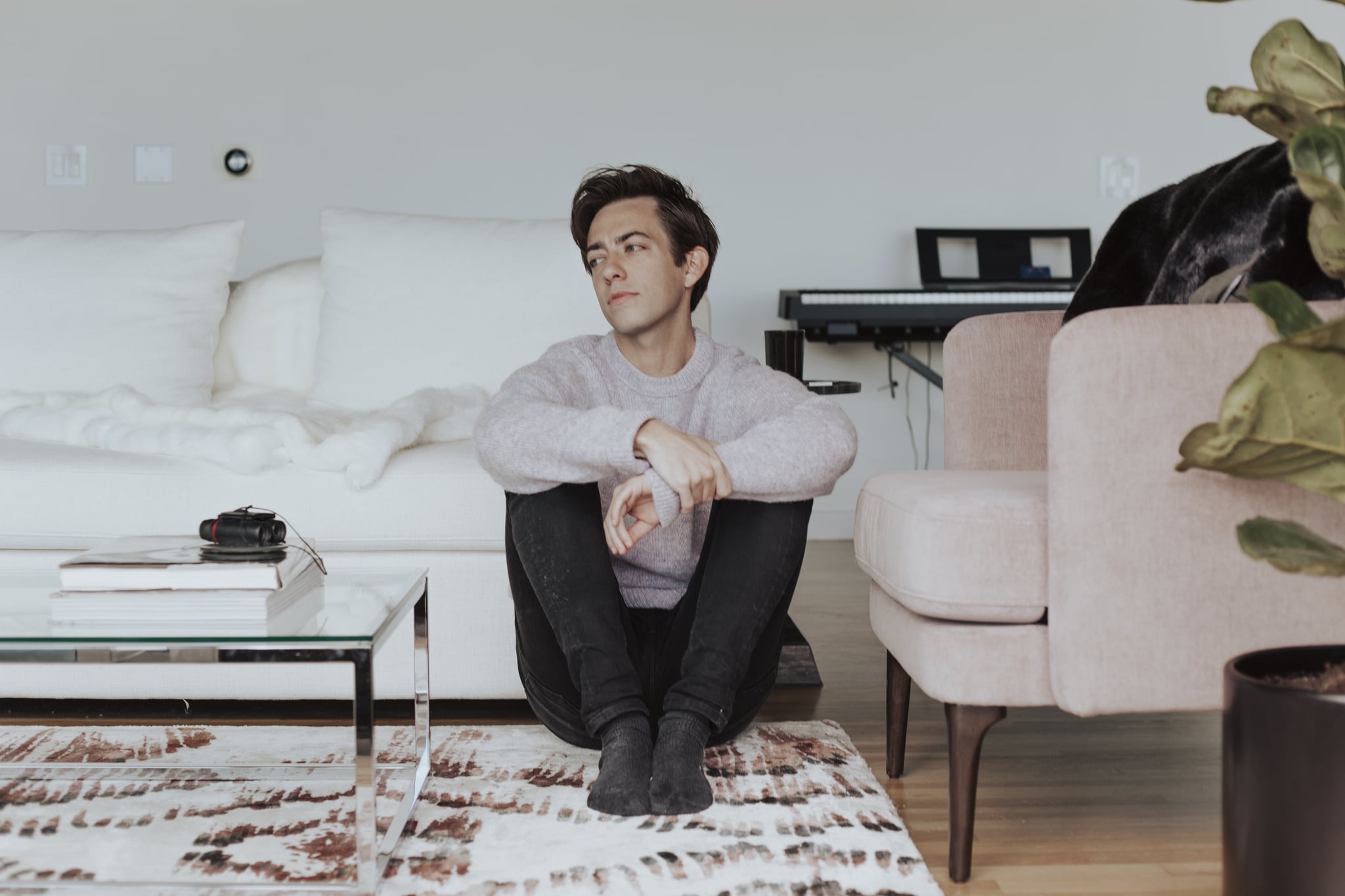 Image Source: Demi Ward
The new song is part of McHale's upcoming EP, Boy, which will be released in May. When deciding on the title for the EP, McHale explained that he really reflected on the transition from his 20s to his early 30s. "Lyrically [all the songs] are about me growing up in a weird way, like emotionally growing up in a weird way. It was sort of the break between my 20s where nobody really knows what they're doing. It's fun to reflect upon that and dive in deeper and dissect those things. The title Boy reflected me feeling like I was a boy then and I'm finally now starting to grow up or be an adult, as much as I hate that."
While the first glimpse of McHale's solo music has been fun and upbeat, the singer added that the EP is mix of everything. "There are two slower songs and the other two songs are more upbeat. I'd say they're more chill, where they're me sort of pretending to be more confident than I actually am. You can do that in a song, and in real life I can still be a blubbering idiot. That's the fun part. It's like an experiment. Like here's what I would say if I had the confidence to actually go up to somebody and say this. And then the other songs are like, oh no, here's what I actually did say and all my insecurities."
Though McHale has already established a strong fan base with his new music, the EP is also giving him the opportunity to reintroduce himself to people who best know him as Artie from Glee. "It's obviously a big leap from the character I played on Glee. So that may be jarring for people, but I haven't really thought about that because you can't really change that." That being said, McHale added that being a part of the hit Fox show really shaped him as an artist and has made him a lot "freer" musically.
"We had to do so much music on that show," he explained. "That show pushed us out of our comfort zone every single episode, whether it was a scene about a controversial topic or doing a song that was in a genre I wouldn't ever think I would perform. I think that just helps you build a stronger faith or sense of self as an artist, where it's like, 'OK, I've done this so now I know what I'm capable of and I know if I push myself to do something I didn't think I could do, I'll be all right on the other side of it.'"
Source: Read Full Article