Superheroes usually always win in the end, but that hasn't been the case for the Marvel vigilantes on Netflix. On Thursday, the streaming service announced that Daredevil has been canceled after three seasons. The first-ever Marvel-Netflix collaboration premiered back in 2015 and just released Season 3 on Oct. 19. But like Iron Fist and Luke Cage before it, Daredevil has now been canceled. However, there may be a chance that Matt Murdock's Devil of Hell's Kitchen could rise again.
On Nov. 29, Deadline reported the news that Daredevil was no more. "Marvel's Daredevil will not return for a fourth season on Netflix," the streaming company said in a statement to Deadline. "We are tremendously proud of the show's last and final season and although it's painful for the fans, we feel it best to close this chapter on a high note."
After a slightly lackluster Season 2 that helped to set up the events of the Netflix Marvel crossover event The Defenders, Season 3 re-established the show as one worthy of critical acclaim. (On Rotten Tomatoes, Seasons 1 and 3 are 99 and 94 percent fresh, respectively, while Season 2 is at 78 percent.) But even with a comeback season helmed by a new showrunner, featuring a compelling story — with Charlie Cox's Matt Murdock back in fighting form and facing off against Vincent D'Onofrio's Kingpin — it wasn't enough to save the series.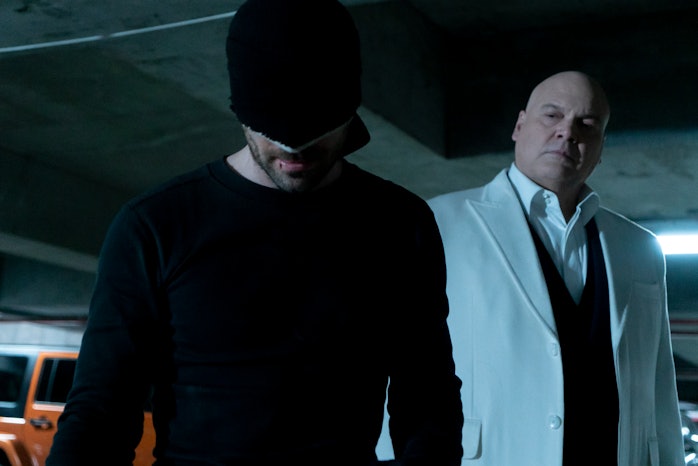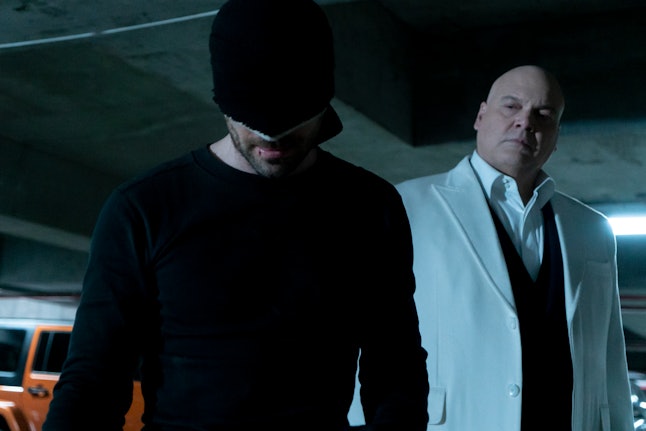 "We're thankful to our partners at Marvel, showrunner Erik Oleson, the show's writers, stellar crew, and incredible cast including Charlie Cox as Daredevil himself, and we're grateful to the fans who have supported the show over the years," Netflix's statement to Deadline continued.
As The Hollywood Reporter noted, Oleson had pitched Season 4 to Netflix only two weeks ago. Oleson, who was also a part of The CW's DC show Arrow, tweeted on Nov. 16, "Just pitched @netflix #Daredevil Season 4. Fingers crossed!" The new showrunner helped to revitalize Daredevil by creating an engaging villain in Bullseye (Wilson Bethel) and focusing on the dynamic between Matt, Karen Page (Deborah Ann Woll), and Foggy Nelson (Elden Henson). Executive producer Sam Ernst also tweeted that Season 4 had "many moments we wanted the fans to see."
Needless to say, Netflix's gratitude wasn't enough to appease fans who were excited about Season 4 and very angry about the cancelation.
The cancelation of Daredevil comes after both Iron Fist and Luke Cage were cut from the streaming service's lineup in October following their second seasons. That leaves Jessica Jones and The Punisher, which in itself is a spinoff from Daredevil, as the only Marvel Netflix shows to survive.
Even though no premiere dates have been announced, Deadline cited sources claiming that Jessica Jones Season 3 and The Punisher Season 2 should still be airing on Netflix. According to a post from Punisher actor Jason R. Moore, The Punisher finished filming its second season back in August. Meanwhile, Jessica Jones reportedly started filming Season 3 in June and, according to Krysten Ritter's Instagram, is still in production. So it does seem like a foregone conclusion that Frank Castle and Jessica Jones will each get one more season on Netflix, even if their fates after that don't look so good.
Even with this sad news, there may be a reason to hope that Daredevil could return on another network. "While the series on Netflix has ended, the three existing seasons will remain on the service for years to come, while the Daredevil character will live on in future projects for Marvel," Netflix added in its statement.
These "future projects for Marvel" weren't specified, but Daredevil could possibly join the Disney+ streaming service. A Loki show starring Tom Hiddleston has already been announced and Elizabeth Olsen's Scarlet Witch is also rumored to be getting a Disney+ show. So Daredevil fans may want to start budgeting for another streaming service. Because, as the Twitter page for Daredevil noted, "Justice Never Stops" for Nelson, Murdock, and Page.
But for now, the future of Daredevil is grim. And even optimistic tweets can't change that fact. (After all, the Twitter pages for Iron Fist and Luke Cage were equally as hopeful following their cancelations.) And without Daredevil protecting the streets of Hell's Kitchen, Marvel's version of New York City — and Netflix itself — will never feel as safe again.
Source: Read Full Article