There are lots of things I've been forced to come to terms with in life. For example, I'm probably never going to rub shoulders with any members of the British royal family (sad, I know). But that doesn't mean I don't still catch myself fantasizing about what I'd do if the opportunity arose. I'd like to say I'd be proper and cool about it. But, realistically, I would do no such thing. In fact, one Love Actually star just perfectly embodied how un-cool I would play it. In a legendary act of un-cool, Emma Thompson asked to kiss Prince William when she received the honor of Dame Commander of the British Empire at Buckingham Palace today.
Yes, that's right. E! reports that the 59-year-old actress said she suppressed a laugh when Prince William presented her with her new honor and even asked if she could give him a kiss.
"I love Prince William," she gushed to reporters on the scene, according to E!. "I've known him since he was little, and we just sniggered at each other. I said, 'I can't kiss you, can I?' And he said, 'No don't!'"
You guys. I think Emma Thompson is my new idol. She asked Prince William for a kiss and got rejected. If that's not the coolest fun fact you've ever heard about someone then I don't know what to tell you.
In case you were wondering, Thompson isn't taking Prince William's denial of her kiss too personally. Because, duh, she's the coolest woman alive. "If you're first up, you have to be more formal on such an occasion, but he's looking wonderful and doing so well," she told the reporters, according to E!. "He said, 'This day isn't about me, it's about you'.'"
Ugh, she's so cool that even Prince William decided to let her be the center of attention!
Of course, it has to be acknowledged that Thompson is no ordinary person rubbing shoulders with the royals. No, she's actually pretty tight with them and she has been tight with them for a while now.
"It's really lovely because I've always loved the boys, and I've always been a long-term correspondent with their dad," she told the on-scene reporters, according to E!. "It's a very lovely feeling."
Harper's Bazaar reports Thompson attended the event with her husband, Greg Wise, and their kids, Gaia and Tindyebwa Agaba.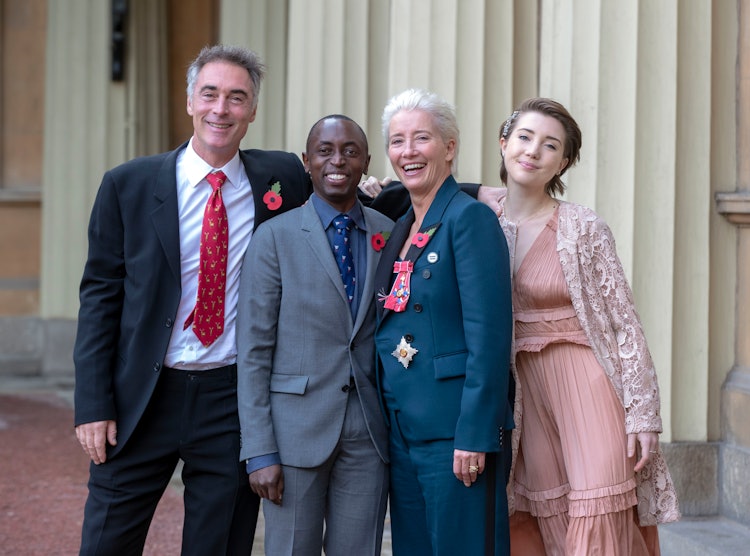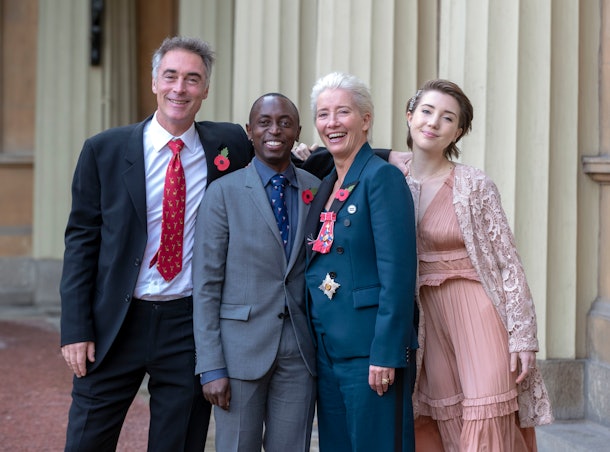 In addition to breaking royal tradition by, you know, asking for a kiss, Harper's Bazaar reports she also went against their dress code by wearing sneakers. Oh, and, just when you thought she couldn't get any better, she also sported an "Equal Pay" pin on her oversized navy suit.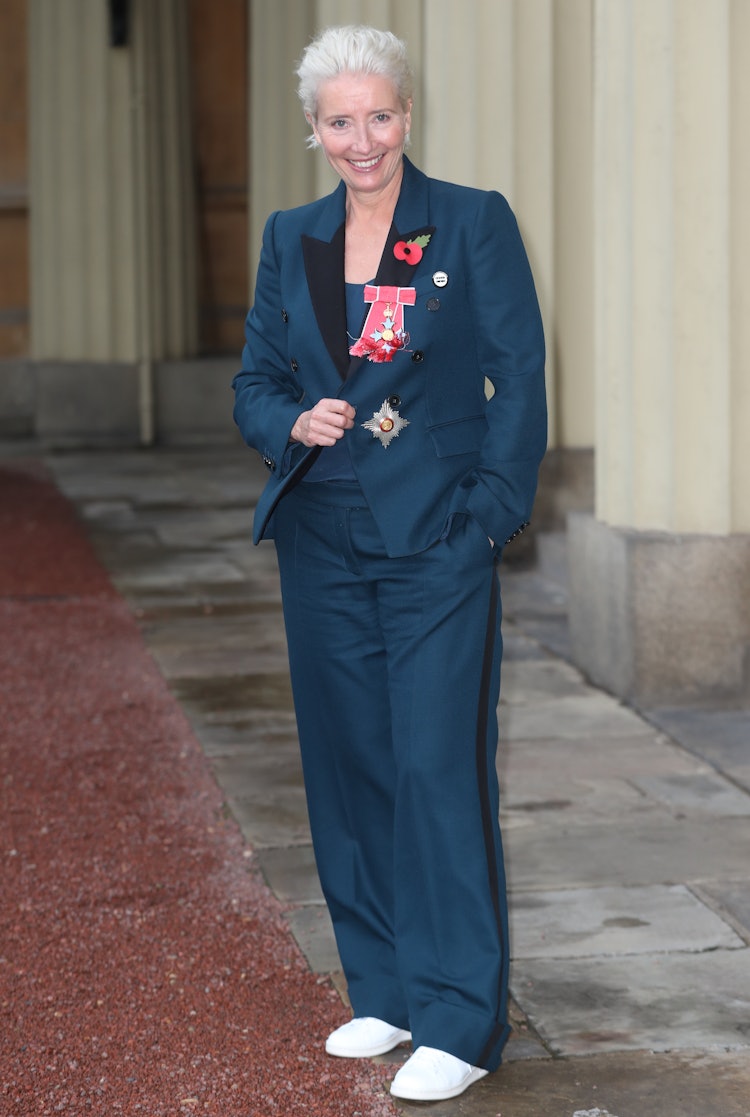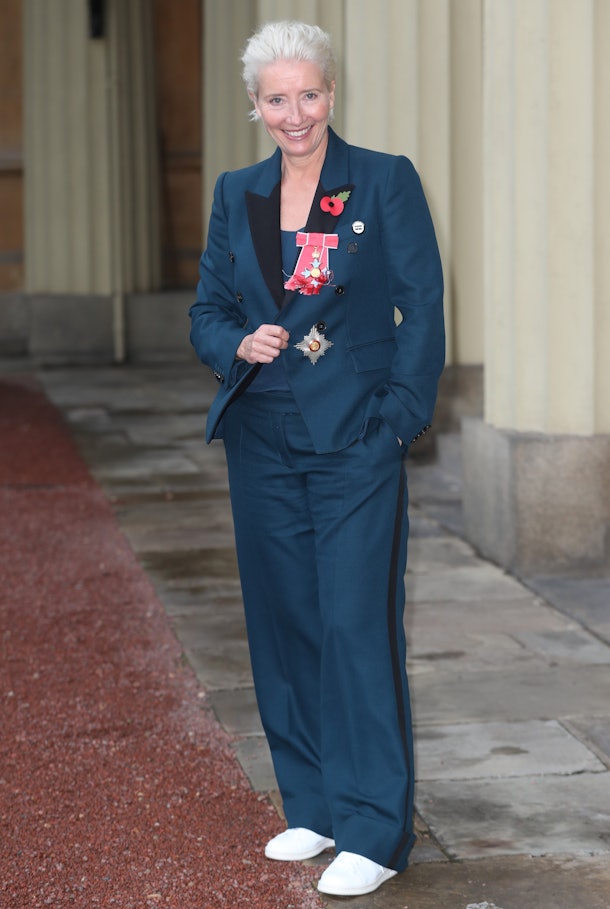 Thompson had previously joked about the silliness of becoming a dame on The Seth Meyers Show. "It's quite interesting because they send you a letter saying 'Will you accept it?' but you can choose not to," she explained to Meyers. "You can choose to say, 'Well, of course, we don't have an empire anymore, thank God, because it was ghastly, colonial, racist, dreadful, dreadful undertaking on every level,' and actually have some moral principle about it. Or, you can be like me, and think, 'Hmm, it's gonna be a really nice badge!'"
Thompson may not be a royal but she's definitely got a pretty enviable resume. The actress has won two Academy Awards and Golden Globes. She's also been featured in popular films including but not limited to Love Actually, Sense and Sensibility and Saving Mr. Banks.
So, yeah, I think "Dame Commander of the British Empire" is just icing on the cake on her already-fabulous resume.
Source: Read Full Article