Summer of the Scammer Part 2 has ARRIVED, and it's only barely spring. As you're probably aware, Full House actress Lori Loughlin and Desperate Housewives star Felicity Huffman have been accused of ~doing crimes~ to get their kids into prestigious universities. It's a cheating scandal of epic proportion and the internet just can't get enough.
So I've gone ahead and laid out a timeline for ya of what has to be 2019's most WTF story yet. Check back for the most recent updates, and scroll all the way down if you wanna go back, back to the beginning.
April 15, 2019
Lori Loughlin and her husband Mossimo Giannulli have officially pleaded not guilty to fraud and money laundering conspiracy charges.
Court documents say they waved their right to appear in court again, which is why there aren't more pics of Lori signing autographs her fans.
April 14, 2019
Good news (but not for Lori Loughlin)! Hallmark just renewed Loughlin's old show, When Calls the Heart, for another season, despite Lori being let go by the network.
The company announced the news on Instagram, strategically neglecting to mention Lori.
April 13, 2019
Despite everything that's happened, Lori Loughlin is reportedly still having trouble believing anything she did was wrong.
A source close to the actress told People, "It's just taking some time for it to sink in that what she was allegedly doing could be considered illegal. To her, it wasn't egregious behavior. Was it entitled and perhaps selfish? Perhaps. But she didn't see it as being a legal violation."
April 9, 2019
Lori Loughlin was just charged with even more crimes. She was initially charged with conspiracy to commit mail and wire fraud and honest services mail and wire fraud, but a new charge—money laundering—was added because of payments she made to William "Rick" Singer's fake charity.
The money sent to Singer was allegedly used to bribe athletic coaches and pay off university officials and exam proctors. It was then allegedly written off on tax forms because it was reported as a charitable donation. The original charge and this new charge both cary a maximum sentence of 20 years, so Lori could be facing up to 40 years in prison.
April 8, 2019
8:44 p.m.
USC is fully preventing Lori Loughlin's daughters from dropping out. It was previously reported that Olivia Jade and Bella wouldn't return to USC, but they're not technically allowed to drop out yet 😬. In an update to their "USC Information on College Admissions Issue" statement, the school made it clear that no one involved in the scandal is allowed to withdraw until the case is settled.
The school is treating each student individually, so Olivia Jade and Bella's statuses will be determined by the outcome of their parents' case.
"Among many factors investigators could consider in reviewing each case are any developments in the criminal cases, including plea deals by parents," the statement reads. "Following these case-by-case reviews, we will take the proper action related to each student's status, up to revoking admission or expulsion."
3:12 p.m.
A month after being charged with conspiracy to commit mail and honest services fraud, Felicity Huffman pleaded guilty. In a statement obtained by People, she apologized and took responsibility for her actions but asserted that her daughter had no idea about what went on. The statement reads:
April 5, 2019
Olivia Jade is apparently still in seclusion (and still pissed). "Olivia is still distraught and embarrassed," a source told People. "She hasn't been home much. She is very angry with her parents. She would have never gone along with it if she thought this would happen. Her thing is that she trusted her parents."
At the moment, Olivia's basically just trying to figure out WTF to do with her "brand."
"She didn't care if she got into USC. She just wanted to focus on her business," the source added. "She feels that she worked very hard for something that she loves, and she has no idea what will happen with her business in the future."
April 3, 2019
The day has finally come. Lori, Felicity, and eight other parents arrived at the Boston federal courthouse to appear before U.S. District Magistrate Judge M. Page Kelley.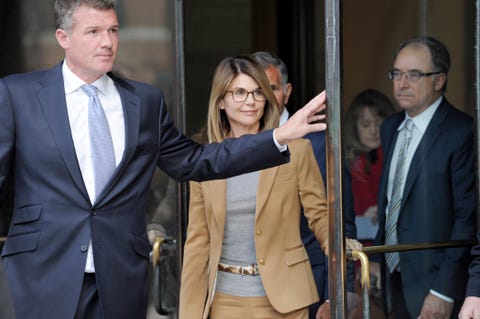 The judge spoke to the parents one by one to lay out the charges and make sure they understood the penalties for those charges. Again, Lori seemed weirdly nonchalant about the whole thing. Videos show her smiling as she walked into the courthouse, and she waved at some fans who were screaming her name. Once inside the courthouse, she even went over to greet the prosecutors and shake their hands. *insert "THIS IS FINE" meme here.*
Sidenote: These girls are my heroes.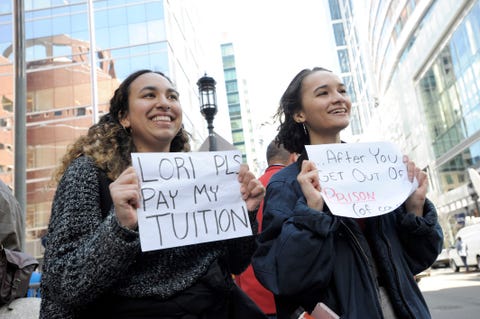 April 2, 2019
Lori and Mossimo landed in Boston ahead of their court hearing. When they arrived at their hotel, a crowd was waiting. A source told People that Lori "was chatty and willing to sign autographs" and also "posed for photos" with fans.
For someone who might be heading to prison, she was acting pretty damn calm.
March 20, 2019
Olivia Jade got caught complaining about school again. In a 2017 video titled "First Day of Senior Year," she went on a roundabout rant about how she appreciates school…but also hates it.
Watch the awkwardness for yourself here:
March 19, 2019
A report was released that alleges Olivia Jade didn't even fill out her own college application. According to the affidavit, Lori emailed William "Rick" Singer (the guy in charge of this whole scam) and asked for guidance on how to fill out the USC application. He then ordered an employee to fill it out and send it in for her.
March 18, 2019
1:02 p.m. ET
Lori Loughlin and Felicity Huffman were hit with a *$500 billion* lawsuit. Jennifer Kay Toy, an Oakland school teacher, filed a lawsuit against them and dozens of others involved in the scam because she believes her son, Joshua, was put at a disadvantage. In court documents, she stated, "Joshua applied to some of the colleges where the cheating took place and did not get in. Joshua and I believed that he'd had a fair chance just like all other applicants but did not make the cut for some undisclosed reason."
8:19 a.m. ET
These Olivia Jade videos are really aging badly. In 2017, she filmed a video with her mom in which she tried to teach Lori about slang. She explains the "England is my city" meme, to which Lori responds, "If you would've said 'England is my city,' I would say, 'Why did I pay all this money for your education?'" CRINGE CITY.
March 16, 2019
Another Olivia Jade YouTube video was discovered in which she admits she barely went to class. In her vlog titled "My Last Day of High School," she says, "I'm literally never at school. I think my class doesn't even—maybe they forget I go there…just kidding!"
March 15, 2019
12:27 p.m. ET
Lori Loughlin is reportedly being fired from Fuller House because of the cheating scandal.
It's not official-official yet, but a Deadline source said, "She's toast, it's over." A TMZ insider added, "Lori is a guest star and was during the previous four seasons, and there are currently no plans for her to return to the fifth season."
10:15 a.m. ET
Welp, just like Lori Loughlin, Felicity Huffman has deleted all her social media accounts.
In the days she left it live after the college scandal broke, many mocked Felicity's old tweets, including one that ironically asked, "What are your best hacks for the back-to-school season?"
March 14, 2019
6:03 p.m. ET
According to TMZ, Lori Loughlin's daughters Olivia Jade and Isabella will not be returning to USC after all, despite the fact that the school hasn't made any formal public decisions about their enrollment post-admissions scandal.
The outlet says Olivia and Isabella made the call themselves—with support from mom and dad—because they're worried they'd be "viciously bullied" otherwise.
TMZ's sources added that they never really wanted to go to USC in the first place, but even so, Olivia "is a mess, despondent, and feeling like it's the end of the world."

5:00 p.m. ET
The Hallmark Channel announced that it'll stop working with Lori Loughlin, who was a frequent star in the company's TV movies and the series When Calls the Heart.
"We are saddened by the recent news surrounding the college admissions allegations," the company said in a statement. "We are no longer working with Lori Loughlin and have stopped development of all productions that air on the Crown Media Family Network channels involving Lori Loughlin, including Garage Sale Mysteries, an independent third-party production."
3:11 p.m. ET
Sephora announced that the company is scrapping Olivia Jade's makeup products in light of the scandal.
In a statement, the company said, "After careful review of recent developments, we have made the decision to end the Sephora Collection partnership with Olivia Jade, effective immediately."
March 13, 2019
8:45 p.m. ET
TMZ reports that Olivia Jade was on a yacht with her friends when the scandal broke. But it wasn't just any yacht—it was the one owned by Rick Caruso, the Chairman of USC's Board of Trustees. Yeah…not a good look. Once she heard the news, Olivia decided to end her spring break early and return home.
6:09 p.m. ET
According to a staff writer for the San Gabriel Valley Tribune, Lori Loughlin has been released on a $1 million bond. She's allowed to travel back to Canada to finish her "film projects," but she has to surrender her U.S. passport in December. Yikes!
BREAKING: Lori Loughlin was released on $1 million bond. Judge permitted her to travel to British Columbia, where she has filiming projects in Vancouver. Loughlin is on contract to film projects until November. She must surrender her U.S. passport in December.
12:09 p.m. ET
Loughlin is officially in FBI custody. A FBI spokeswoman told ET that Loughlin will be booked at the Metropolitan Detention Center in L.A. The actress is expected to appear before a federal magistrate (aka a JUDGE) sometime this afternoon. Yikes!
March 12, 2019
8:28 p.m ET
TMZ reports that Lori Loughlin is in Vancouver and making her way back to the U.S. FYI, her husband Mossimo had already been arrested at this point and was released on a $1 million bond.
8:09 p.m ET
TMZ reports that Felicity Huffman has been released on a $250K bond following her morning arrest (scroll down for more on that yikes-y moment). She apparently had to hand over her passport to authorities.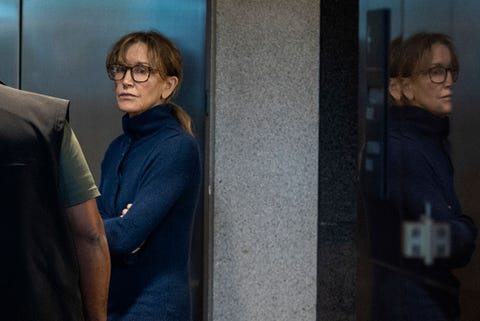 5:34 p.m. ET
James Van Der Beek tweets the perfect response after learning that the FBI named their operation "Operation Varsity Blues."
If only there was a succinct turn of phrase these kids could have used to inform their parents they were not desirous of their life path… https://t.co/cxOTDI5J1B
Circa 4:00 p.m. ET
The internet realizes that Lori has deleted her Instagram: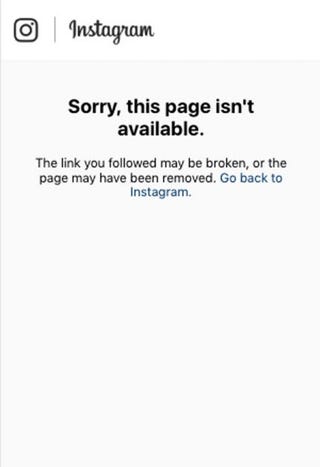 12:39 p.m ET
People unearths footage of Lori's influencer daughter Olivia Jade saying she doesn't care about going to class, which, woof, is not a great look:
Olivia later apologized, saying, "I said something super ignorant and stupid, basically. And it totally came across that I'm not grateful for college—I'm going to a really nice school. And it just kind of made it seem like I don't care, I just want to brush it off. I'm just gonna be successful at YouTube and not have to worry about school. I watch it back and I read the comments, and I'm just really disappointed in myself."
10:13 a.m ET
NBC and The Hollywood Reporter report that Lori Loughlin and Felicity Huffman are among 40 people charged with conspiracy to commit mail and honest services fraud thanks to allegedly scheming to get their kids into university.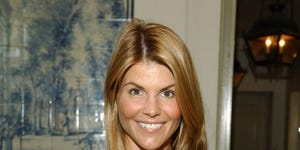 The scam involved paying millions of dollars to a man in California who runs a "business" helping students cheat on standardized tests and get falsely recruited as athletes. Huffman used the service for her eldest daughter, and TMZ reports that she made a "charitable contribution of $15,000 to participate in a college entrance exam cheating scheme," which ensured her daughter was given "twice the amount of time to take the SAT as other students and the paid proctor agreed to secretly correct her answers afterward."
Meanwhile, Loughlin and her husband allegedly "agreed to pay bribes totaling $500,000 in exchange for having their two daughters designated as recruits to the USC crew team—despite the fact that they did not participate in crew—thereby facilitating their admission to USC."
9:00 a.m. ET
Felicity Huffman is arrested at her Hollywood Hills home after 7 FBI agents—according to TMZ—"show up at her door Tuesday morning with guns drawn."
Felicity, her husband William H. Macy, and their two daughters were sleeping at the time (it was only 6 a.m. on the West Coast), but here they are awake and on the red carpet in 2014 before Felicity was an alleged criminal!!!!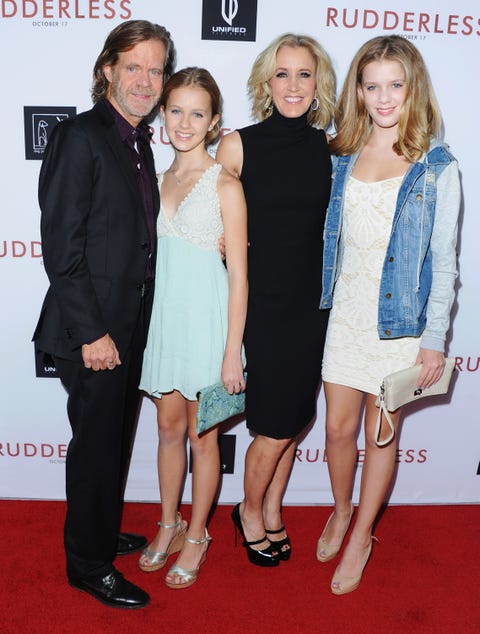 August 24, 2016
Felicity Huffman posts the below tweet. Let's just say it'll come back to haunt her.
Source: Read Full Article