If you're a Cole Sprouse fan, you're probably hype and happily making plans to go see Five Feet Apart next Friday — waterproof mascara and tissues, nonetheless, in hand. You're probably also lit that Sprouse and his Riverdale co-star and girlfriend, Lili Reinhart, rolled up to the film's red carpet last night looking sharp. However, if you take a closer look, you'll see that Cole Sprouse and Lili Reinhart's Five Feet Apart premiere body language was a bit mismatched and a tad bit strained. The film premiere outing is a rare treat. As you probably know, Reinhart and Sprouse are extremely private about their relationship. Apart from the odd birthday or Valentine's Day post on Instagram, the only pictures we really have of these two as an IRL couple are Reinhart and Sprouse at the Met Gala in May 2018.
For Bughead shippers, the premiere was a big moment. But it might not be as cute and perfect as it seems on first glance. Examining photos of Reinhart and Sprouse, body language experts Traci Brown and Patti Wood pick up on the fact that yes, these two are clearly into each other. But there's some apprehension woven throughout this red carpet appearance. "In all these poses, there's tension," Wood says.
Asymmetrical expressions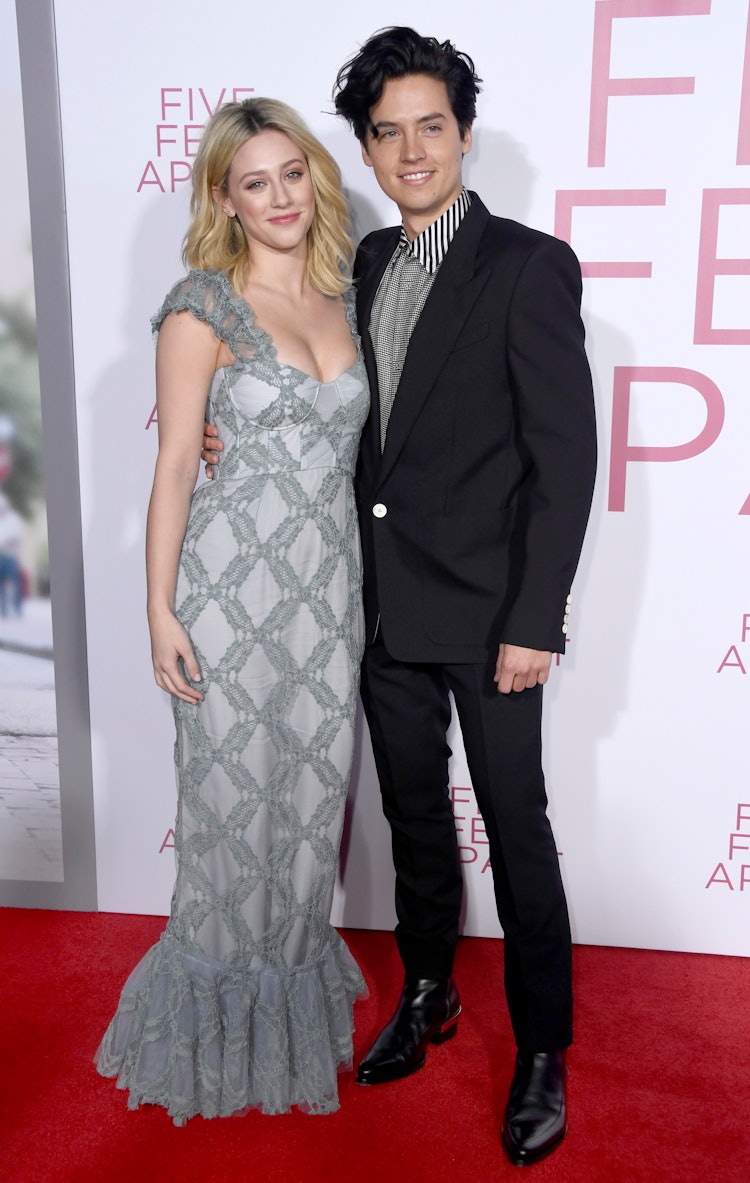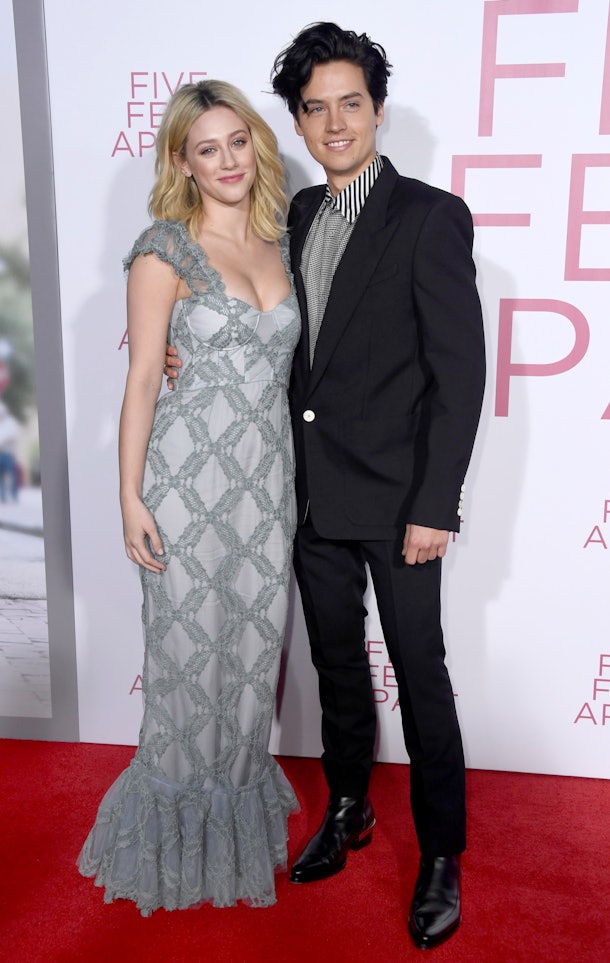 Looking at this photo, Brown says, "Their shoulders are pointed toward each other, so clearly they're into each other. But notice how her facial expressions aren't really symmetrical." As she points out, Reinhart's eyebrow is raised and so is one corner of her smile. "So there may be some conflicting emotions, or this could be her version of a smirk — which says she's superior to whoever is watching.
Wood says, yes, this is a generally nice couple pose. But like Brown, she picks up on body language differences between Reinhart and Sprouse. "See how his head is relaxed, tilted in? And hers is tilted back and she's got that tight smile?" Wood says. "It may just be, 'I'm not really comfortable outing this relationship.' Rather than a problem with the relationship." But overall, according to Wood, Reinhart isn't fully relaxed in this moment.
The Arm-Heart Block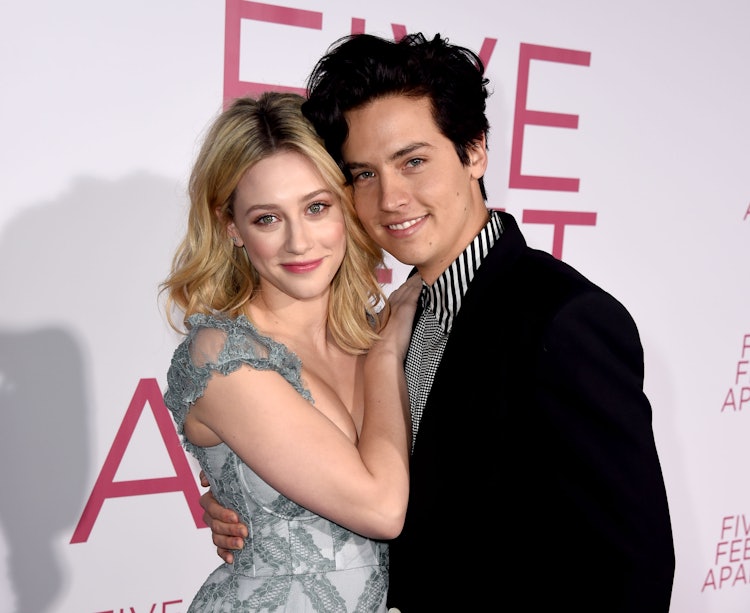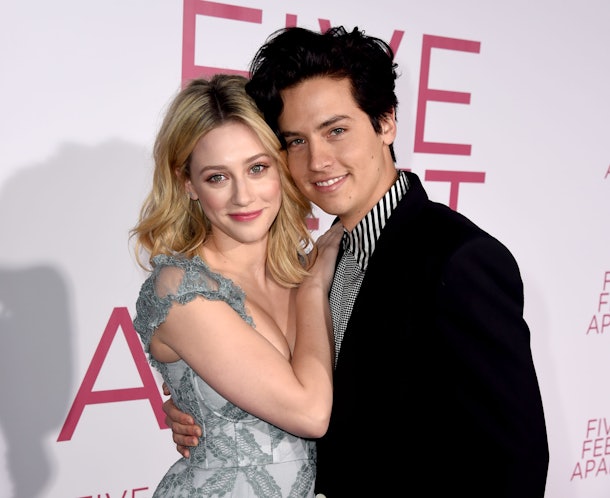 Brown notes that the "asymmetrical smile" is present on Reinhart's face here again. "But this time, as she's appearing to put her hand on his chest in a loving way, she's really putting a barrier between them." Wood recognized these two elements of Reinhart's body language as well. "You see how the smile is slightly torqued? Not even? She's thinking one thing and having to be another. It shows some discomfort," Wood says. "Whether it's discomfort in the relationship [or] discomfort with revealing the relationship. There's a mismatch what's happening and how she really feels."
As for Reinhart's forearm and hand, it's "highly unusual," Wood says. "What it's doing is that it's blocking her heart from him. It's called an 'arm block,'" Wood explains. "But it's an arm-heart block, between her and him. It's saying, 'OK, we're together, but there's a part of us that aren't fully together.' Or, 'I don't want the media to know we're together; I'm blocking his heart from me.'" Given the fact that Reinhart and Sprouse are so private about their relationship — Reinhart was vocal about this in her April 2018 Seventeen interview as well as her July 2018 Harper's Bazaar one — this actually makes a lot of sense.
What Wood sees here, too, is that Sprouse is very much relaxed — which is partially why Reinhart's uneasy body language is so noticeable. "All of his facial features are softer and he's very much in the moment with her. That bodes well," Wood says. Also, so does the fact that Sprouse is so tender. "Both his head positioning and his hand positioning show a gentle touch."
A sweet, conflicting moment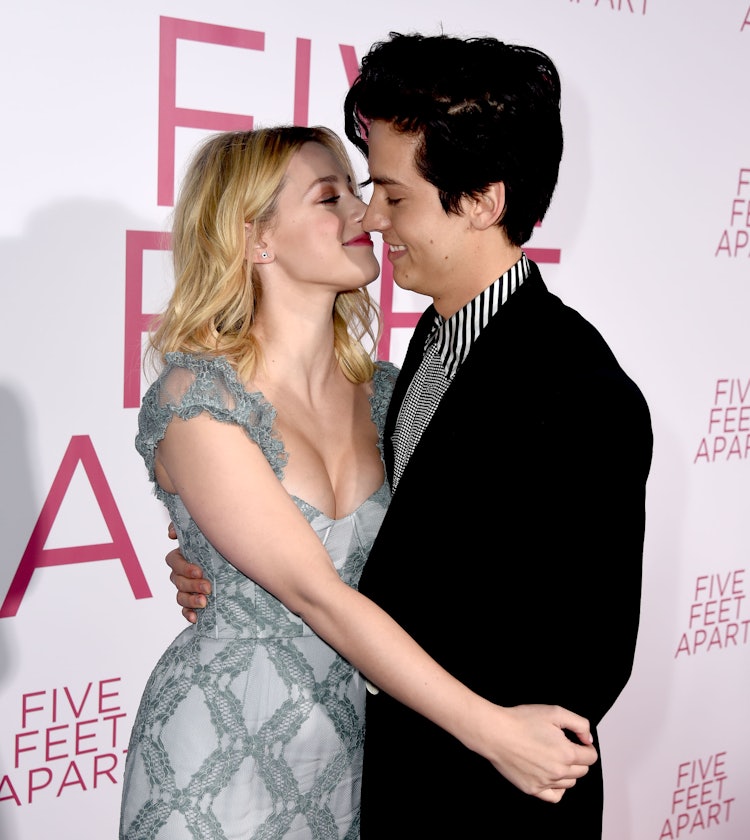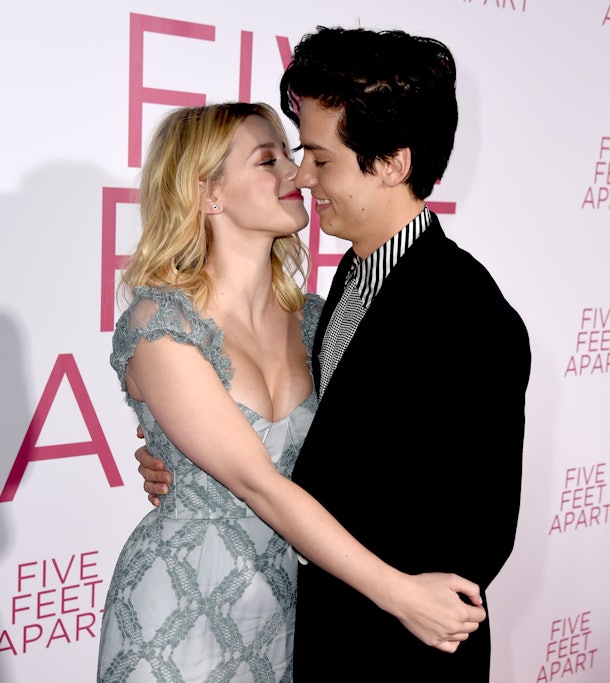 In this photo, Brown sees that Reinhart and Sprouse are on the same page and seem to be enjoying the moment. Generally, Brown says, "Seems OK to me. There's lots that speaks positively about their relationship — only a couple of things to question."
Wood says Reinhart's smile is playful, but notices that her smile is tight-lipped. She also notes that Sprouse isn't going in for the kiss. There's hesitation. "In this case, she's slightly pulled back in the upper chest and so is he," Wood says. And that might not be worth noticing if it wasn't for Reinhart's arm. That's definitely worth questioning. "If you look at her arm: It's straight, pulled out. Not wrapped around in any way. It's not softened. It's not curved around," Wood says. "Again, showing some tension, some reticence."
Mismatched energy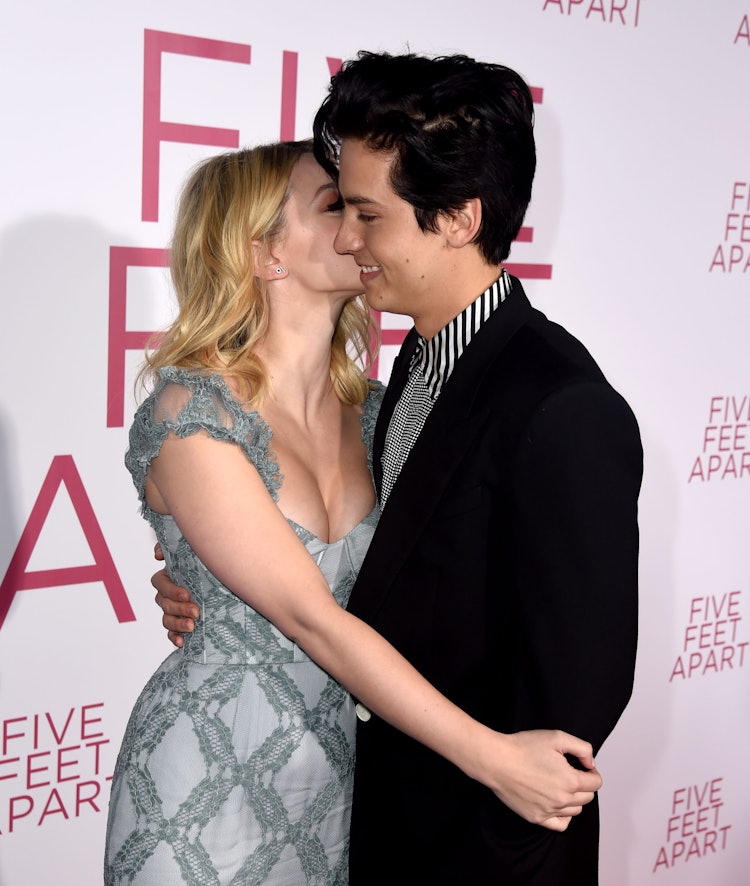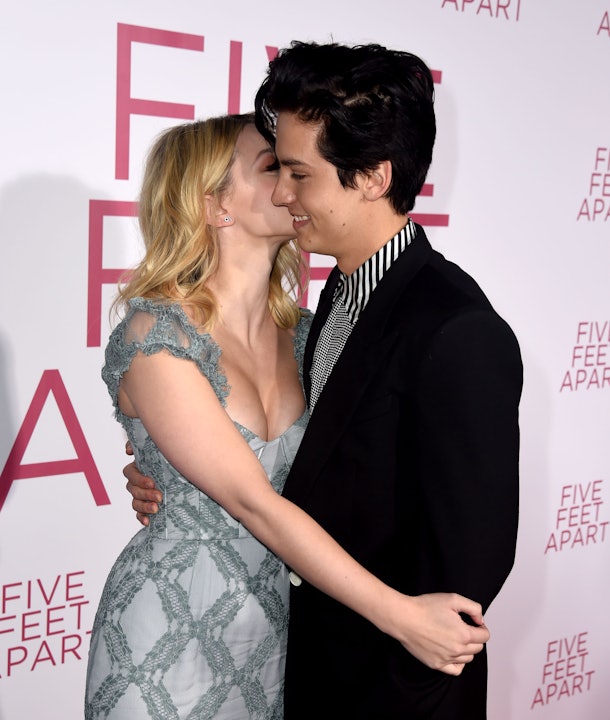 This photo could be that much sweeter because Reinhart is giving Sprouse a kiss. "Here they're having a private moment in public as she draws him close. It's sweet," Brown says. Wood agrees that it should be a sweet moment. "Their faces are overlapping, which typically shows tenderness," Wood says. But the stiff arm still stands out. "When you see couple photos, you're looking for roundness. You're looking for curving in. You're looking for enveloping cues," Wood explains. "And this is a mismatch between what should be there and what's not there."
Yes, we've been waiting awhile for a red carpet moment from Reinhart and Sprouse. And the mix of tenderness and tension that Woods and Brown have picked up on may be disappointing or awkward to look at. But the good news is that the tension is probably just situational. Reinhart and Sprouse have a solid relationship, and just happen to be the kind of celebrity couple that keeps their love life on the DL. If anything, the discomfort in these photos probably just stems from the two not being in the spotlight as a couple very often.
Source: Read Full Article