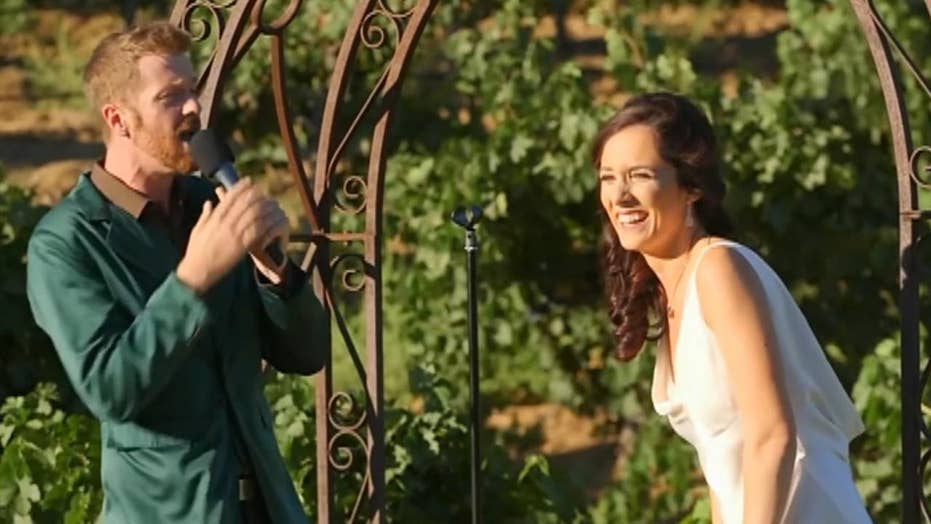 Bride and groom perform wedding vows as epic rap battle
Raw video: Will and Meg Jones surprise wedding guests by performing their vows as a rap battle in Los Angeles.
It isn't unusual for people to write their own wedding vows, but one couple took it a step further and surprised guests with a rap battle at the altar.
William and Meg Jones, who met online in 2010, recently tied the knot at an outdoor venue in California. In the middle of the ceremony before exchanging rings, the couple grabbed microphones and shared their true feelings with each other, set to a remixed version of Pachelbel's Canon in D.
"Meg, there's a long road behind us that led us here and a longer list of oaths that I thought could be said here. It's a big day I think you'll understand that if I shed tears it's only because I'm so excited that I finally get to wed here," William raps.
GWYNETH PALTROW TROLLS GOOP FANS WITH 'RIDICULOUS' GIFT GUIDE
He continues his rap for several more verses before ending with: "I'm your man, I'll stand with you for worse and always better."
Meg then takes her turn, rapping: "You're not the kind of man who wants to relax on the beach. You're the type of man who wants to see the sharks breach. So buckle up for the big adventure of your life, 'cause this girl loves you and she wants to be your wife."
The couple each go another round before kissing and finishing the ceremony.
William told The Daily Mail they had decided they wanted to rap their vows before they even got engaged. Once the big day was approaching, they spent a few months writing them and practicing for the big moment, which no one was expecting.
William shared the video from their wedding on YouTube, writing: "Will and Meg got married. It was beautiful. Everyone looked their best, the vines were in full bloom. But beneath the surface lurked a secret. A terrible, musical secret."
He continued, "For you see, the groom had suggested that the two of them perform their wedding vows as a rap battle. Monster that she is, the bride agreed. For months, they wrote lyrics. They produced a beat based on the most beloved of all wedding songs, Pachelbel's Canon in D.
FOLLOW US ON FACEBOOK FOR MORE FOX LIFESTYLE NEWS
"They practiced, all in secret. Not even their parents or closest friends knew what was about to happen. Their DJ, officiant, and wedding planner were made party to this secret against their will, forced to aid in setting up the grisly performance. When the time finally came, no one was prepared."
Since being posted on Nov. 14, the video has received nearly 2,000 views.
Source: Read Full Article