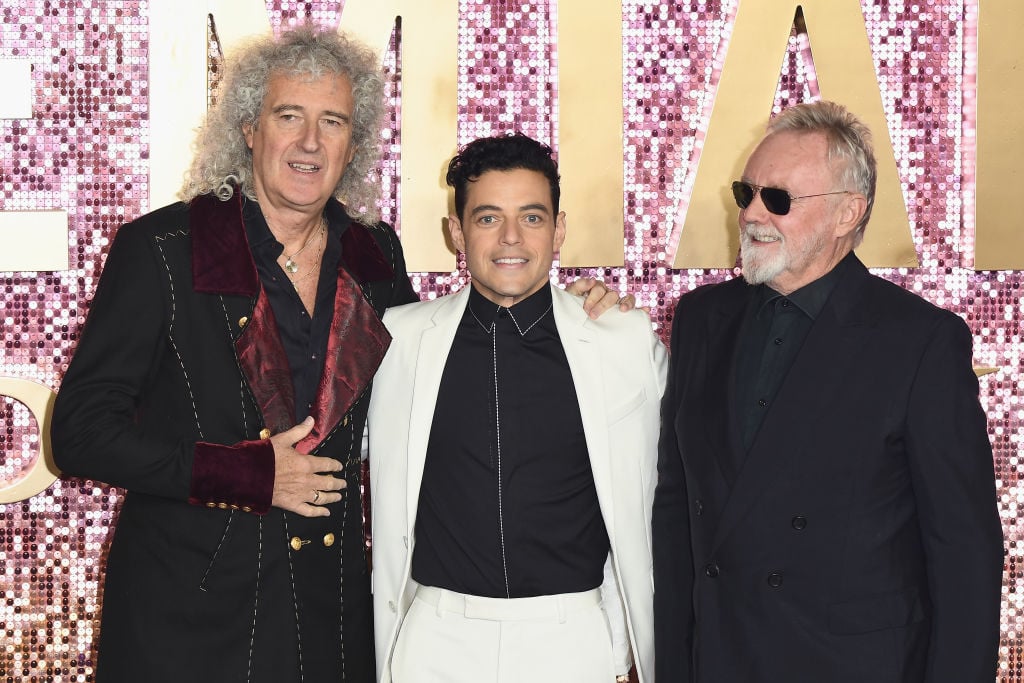 Bohemian Rhapsody world premiere | Jeff Spicer/Getty Images
If you are one of the tens of thousands of viewers who flocked to see Bohemian Rhapsody on opening night, you may be wondering why the 2018 movie hasn't received better reviews. The Brian Singer-produced film took many years to pull off, but critics still aren't buying it despite that it's the highest-grossing biopic to date.
Casting concerns
In Bohemian Rhapsody, Freddie Mercury is almost perfectly portrayed by Los Angeles native, Rami Malek. Born well after the heyday of Queen, Malek and his prosthetic overbite did a decent job of recreating the stage bravado of the AIDS-doomed rockstar. Nonetheless, Malik's starring role was panned for numerous reasons. An early review in The Guardian noted Malek revealed much about Mercury the showman but fell short of showing who Freddie was when not onstage.
In Variety magazine, chief film critic Owen Gleiberman said Malek nailed it, as far as Freddie Mercury's "liquid dark eyes," suave nerviness, and signature honcho mustache were concerned. Gleiberman's biggest problems with Malek as Mercury were the fake teeth he used to reasonably resemble the singer along with Malek is neither as tall nor as serpentine as the late frontman of Queen.
It could have been Borat
Interestingly, Malek was not the director's first choice to play Freddie in Bohemian Rhapsody. That dubious honor goes to Borat actor, Sacha Baron Cohen. As reported in The Guardian, Cohen jumped at the chance to portray the late singer but eventually told co-producers, Brian May and Roger Taylor, he couldn't stay on board with a movie that killed off Mercury halfway through the story. Fortunately, the movie plot was changed, but by that time, Cohen had been replaced.
Another problem some critics have with Bohemian Rhapsody is the way the movie gives the mistaken impression that Mercury was the main talent in the group. In fact, Freddie was not the sole songwriter. Brian May composed the stadium staple, "We Will Rock You," and "Another One Bites the Dust" were written by Queen bassist, John Deacon.
Who played who in 'Bohemian Rhapsody'
Guitar god Brian May was aptly portrayed by May look-alike Gwylim Lee. Born in 1983, Lee is an English actor who's been seen in better-received movies, including 2010's The Tourist and Fresh Meat in 2011.
Roger Taylor, who still plays drums with Queen, was portrayed in the 2018 movie by X-Men Apocalypse actor, Ben Hardy. The part of Leicester-born John Deacon, who played bass with Queen from 1971 through 1997, was portrayed none too deftly by native New Yorker, Joseph Mazzello. Mercury's lifelong friend and erstwhile girlfriend, Mary Austin, was portrayed in an adequate manner by another New York native, Lucy Boynton.
What the critics had to say
Reviewers at MovieRant magazine described the film as a "paint-by-number portrait" that was "embarrassingly unprepared" to deliver the life story of Freddie Mercury. They even went so far as to call the two-hour and 14-minute movie a jumbled take on a musical legend that is "squawky, sexless, and shallow."
Variety used terms including "middle of the road," "cut-and-dried," and "rather fuddy duddy" to describe Bohemian Rhapsody.
Despite rotten reviews, 'Bohemian Rhapsody' is a massive moneymaker
According to Forbes, no movie premiere ever earned more. Raking in more than $50 million on opening night in the U.S. and exceeding $141 million worldwide, the Bohemian Rhapsody premiere goes to show that moviegoers like what they like and don't necessarily follow the advice of self-styled movie critics.
Source: Read Full Article