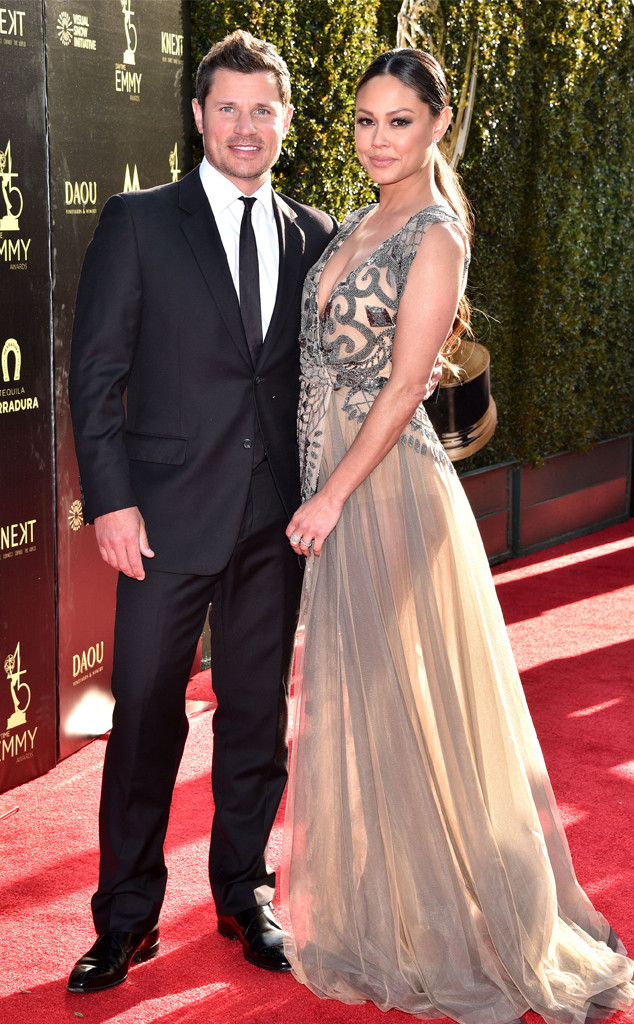 REX/Shutterstock
There is no easy path to lasting love. For the unlucky few, it can remain entirely elusive. But for most, it is often winding, littered with obstacles and full of false starts.
No one knows this more than Nick and Vanessa Lachey.
Though the happy couple, both celebrating their birthday on November 9, have seven successful years of marriage under their belt and a brood of three children at home, getting there and making it stick was a battle.
When their paths first crossed in any substantial capacity—Nick had met Vanessa many times over the years on TRL, which she hosted between 2003 and 2007, but only in passing—it was as the hunky singer was nursing a broken heart, coming out of a three-year exceptionally public marriage to Jessica Simpson. And the experience of losing love—and having it documented for the world to see via MTV's Newlyweds—had left him guarded and wondering whether he would ever find love again.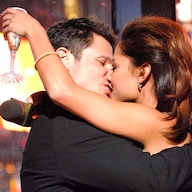 Photos
Nick and Vanessa Lachey Romance Rewind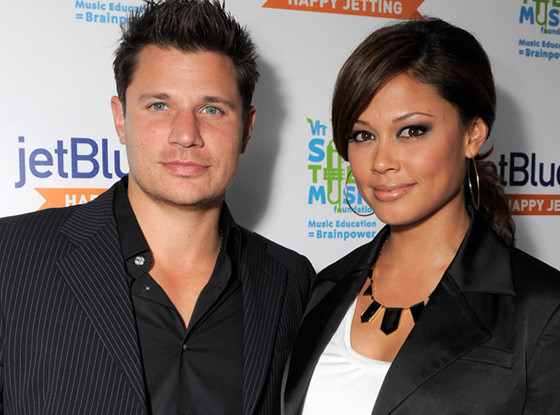 Todd Williamson/Getty Images
"I certainly hope I'm not gonna be the jerk-uncle-bachelor the rest of my life," he admitted in his 2006 What's Left of Me docu-special. "That's not what I envisioned for myself."
And as he was figuring out what was next for him, he was unpacking his heartache through his work. As he set to work on his second solo album, he channeled the pain of the divorce into tracks like "What's Left of Me," "I Can't Hate You Anymore," and "Outside Looking In." Clearly, the dude was working through some stuff. So when Vanessa, just out of an off-on relationship with baseball player Derek Jeter, wound up being cast in the music video for "What's Left of Me," it might not have seemed like the perfect time for Nick to start something serious. His divorce wasn't even final yet, after all.
But it was clear from the Making the Video special that aired on MTV in April of 2006 that there was something between the two. As they acted out a narrative that called back to Nick's crumbled coupling with Jessica, their chemistry was palpable. "Nick is awesome," Vanessa tells the camera in the special. "He's a gem. Mini crush."
While the spark was growing behind closed doors, there were still a few wrinkles to iron out. One: The contentious divorce proceedings to a marriage that famously had no pre-nup were still carrying on. And two: Vanessa was also working as an Entertainment Tonight correspondent at the time, which meant that her job literally required her to publicly weigh in on the singer's life, as she did at least one instance, praising Nick for "dealing with his own heartache by talking about it and being so open and honest." Usually it's a no-no for journalists to become part of the story they're reporting on.
Read
Why Vanessa Lachey Finds Nick Lachey Sexiest When He's Changing Dirty Diapers
But the heart wants what it wants. And as Nick's divorce was finalized in June, he began being spotted out with Vanessa, as prying eyes began telling tales of their burgeoning relationship, despite the cool and detached manner in which they treated one another when he made an appearance on TRL that July. But they slowly grew more comfortable with being all the way public, hitting red carpets together and cuddling up at events.
A new bump in the road arose when the couple traveled to Mexico to celebrate their first anniversary, where they were photographed during what they believed to be a private moment in a hot tub. The photographs were published in a tabloid magazine and the pair went on the attack as their lawyers worked to prevent even more intrusive photos from seeing the light of day.
"This is the girl that I love," Nick told OK! in July 2007. "It's tough to see someone you care about be unfairly judged. It's hard for me as a man to see my girl go through that. Everybody said it was a scandal. Where's the scandal? I was in Mexico with my girlfriend of a year, celebrating our anniversary on a private vacation. It's not like I was caught with a Mexican hooker."
"It was embarrassing. But we have done nothing wrong," Vanessa added.
They weathered the ordeal and came out stronger, but weren't looking to get too serious just yet. "The 'M' word has been mischief lately! No, we're enjoying each other's company and we're very happy, but we're not looking too far ahead. The future will be what it will be. We'll see where it goes," he told the magazine.
The relationship progressed into year two and three and something curious happened: Someone got cold feet. After months of rumors that they were on the outs, a rep for Vanessa confirmed to E! News in June 2009 that she and Nick had "amicably split but remain good friends who still greatly care for one another." They spent the summer apart, with Nick going on safari with his dad and brothers and Vanessa leaning on her gal pals, but the absence only seemed to make the heart grow fonder and by summer's end, they were back on, making out in clubs for everyone to see.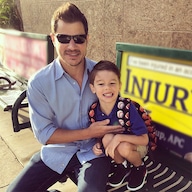 Read
Nick Lachey Jokes Son's First Day of Kindergarten Is Their "Last Day for Public Kisses"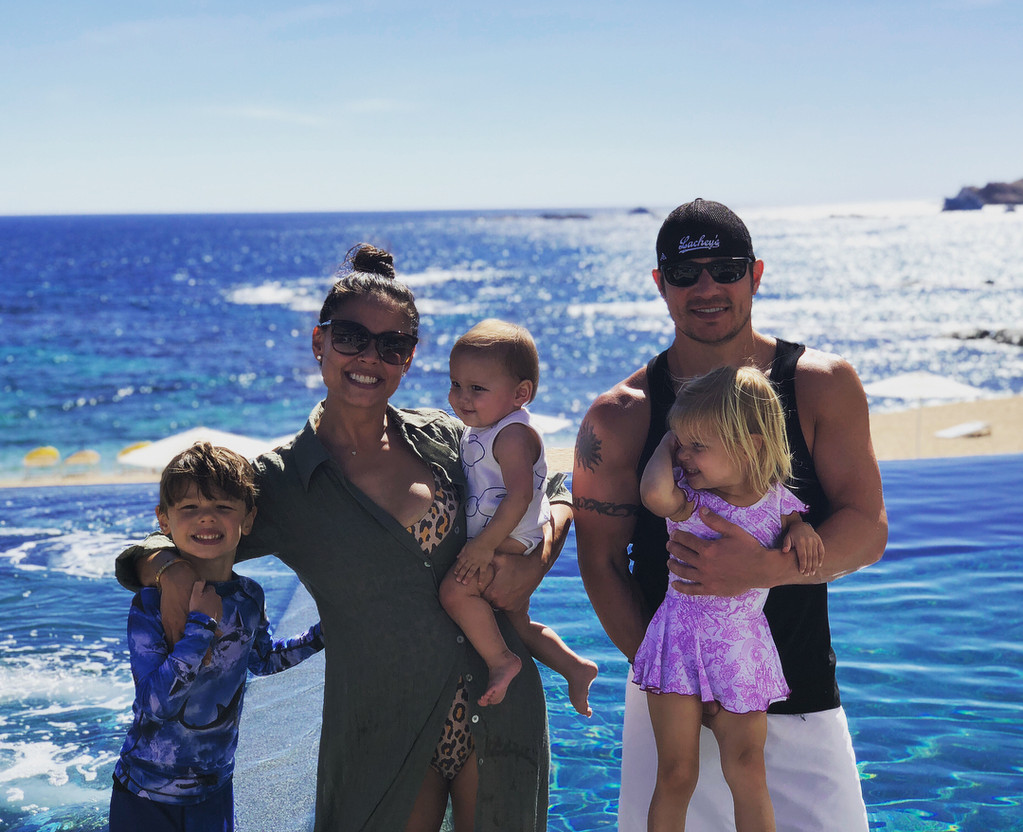 Instagram
"We're trying to figure things out," Nick told Us Weekly that September. "I don't pretend to know what the future holds, but everything's good. Vanessa's a good girl, and I care about her a lot."
A month later, he confirmed their reunion's official capacity with an appearance on Good Day Philadelphia. "I am happy in a relationship. I was single for a minute there, and then we've kind of patched things up," he revealed, adding that Vanessa is "a very smart girl. She's far smarter than I."
He was smart enough, though, to realize that he didn't want to let her go again and by November of the following year, they were engaged. "We're excited and incredibly happy about our engagement and we look forward to a wonderful future together," they said in a statement.
They were married on July 15, 2011, on Richard Branson's Necker Island in front of family and friends who weren't all the way aware of the fact that they were attending a wedding then they received their invites. "Our wedding invitations were in the form of a plane ticket. We told them they were going away and the attire was island chic. It was all very vague," Nick told People. And despite being burned by mixing reality TV and romance in the past, the wedding was televised on a TLC special later that month.
As they've grown their family with the arrivals of son Camden in 2012, daughter Brooklyn in 2015 and son Phoenix in 2016 and kept on their respective career paths, even competing against one another on Dancing With the Stars in 2017, the couple have been honest about the fact that maintaining a successful marriage can be as much work as it takes to get one off the ground in the first place.
"Any marriage is challenging — it's certainly not a walk in the park, but we're very committed to each other and to working through those challenges and I'm very confident there's nothing we can't get past," Nick told ET on their seven-year anniversary this summer. "I don't know if there's any truth in the seven-year itch. We've always found a way to keep it interesting. We've been together 12 years, have a beautiful family and are very blessed, and there's just never a dull moment around this house."
"Things that were important to me and that I loved and let Nick know about when we first started dating are different now," Vanessa added. "My priorities and life have changed, so things that I would seek in our relationship are different now, and how is he supposed to assume that? There's some truth to the whole Men Are From Mars, Women Are From Venus, so I don't expect him to be a mind reader. I constantly keep him abreast of everything and vice versa."
After all, when a love story is as hard-fought as theirs was, it would be a shame to stop fighting or start taking it for granted now.
Happy birthday, you two!
Source: Read Full Article