Flu season is officially upon us, and if you've come this far without a single sniffle or cough to your name, congratulations. But for those who might be reading this under mountains of blankets with a warm mug of tea in one hand and a scrunched-up Kleenex in the other while you scroll, I'm so sorry. The most wonderful time of the year is also the germiest, so don't be surprised if you catch a hint of the flu. 'Tis the season, after all. Of course, coping with influenza isn't exactly merry or bright, but essential oils for the flu can ease the symptoms that make you feel the most rotten. Worse comes to worst, you might be sick for the holidays, but at least you'll be less of a Grinch about it, right?
If you can recall, the 2017-2018 flu season was kind of a nightmare, to say the least. According to The Poughkeepsie Journal, a record-breaking hospitalization rate of 107 per every 100,000 people spread across the United States last year. And even though the Centers for Disease Control and Prevention (CDC) stated in a Nov. 17, 2018 edition of its weekly influenza report that flu activity remains pretty low in the U.S., the health agency is still encouraging you to get your flu shot ASAP, if you haven't already done so.
Technically, the CDC recommends that everyone get their flu shot before flu season, somewhere between the beginning of September and the end of October. However, the 13th annual National Influenza Vaccination Week will take place starting Dec. 2 and continue through Dec. 8, 2018, to stress the importance of getting vaccinated throughout the holiday season and into the winter months. So if you haven't gotten the shot, even if you've already had the flu this season, it's highly recommended that you make an appointment with your doctor, or stop by a medical center or your local pharmacy to do so.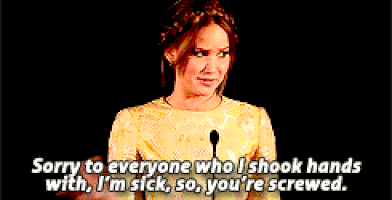 Unfortunately, though, the flu shot isn't 100 percent effective, and if you do come down with the flu, the recovery process can still be pretty brutal. Bowls of chicken noodle soup, meds prescribed by your doctor, and a lot of rest will help speed things along, but if you're looking for some additional soothing to ease your germ-infested aches, consider giving essential oils a fair shot.
Now, of course, holistic remedies aren't for everyone, but that doesn't mean you can't experiment with them. Personally, I love massaging a peppermint essential oil rollerball along my lower abdominals when I'm experiencing an upset stomach, and I know tons of people who swear by the powers of lavender when they struggle to fall asleep.
So, what are the best essential oils to comfort your body through a bout of the flu? I asked a few experts to weigh in on the varieties you'll want to try — here's what you need to know.
Peppermint Stimulates White Blood Cells To Help Fight Disease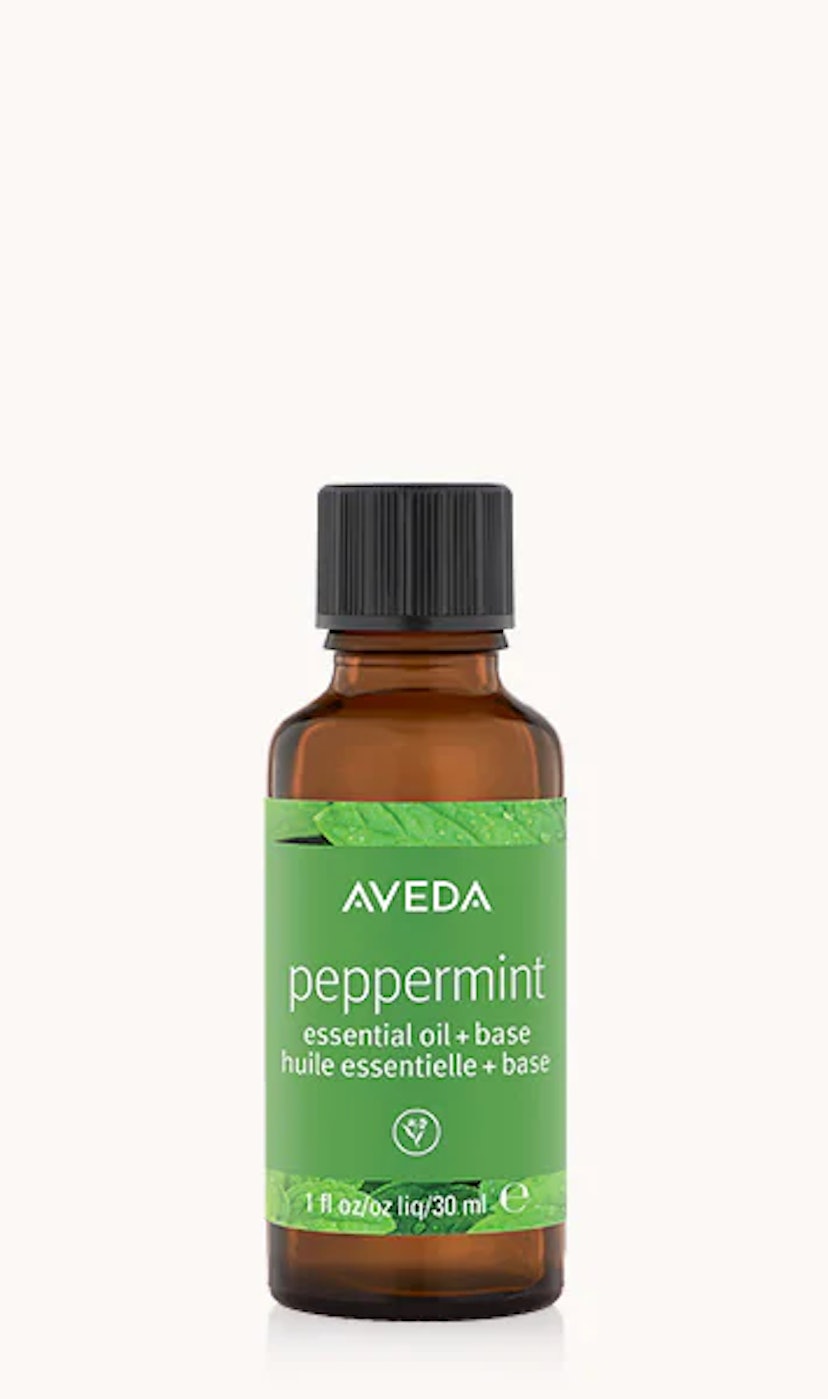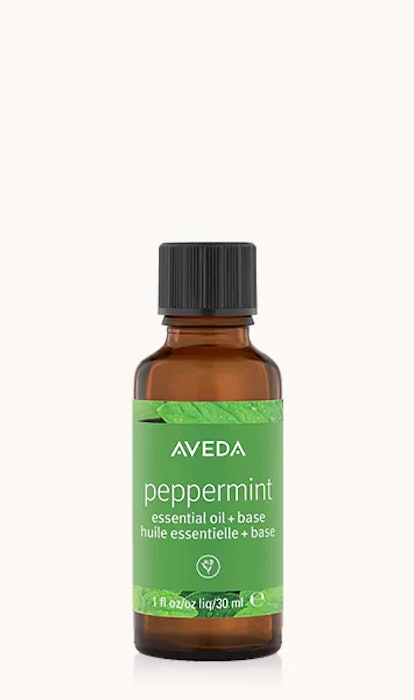 Aveda Peppermint Essential Oil + Base
$14
Aveda
Peppermint is my absolute favorite essential oil by far, and according to Andrea Barone, founder of the skincare company Crystal Hills, it's one that you'll want in your collection come cold and flu season.
Peppermint is packed with antibacterial, antimicrobial, and anti-inflammatory properties, Barone tells Elite Daily, so it's "very beneficial for easing cold [and flu] symptoms," she explains. A few drops, she says, can help stimulate the circulation of germ-fighting white blood cells in the body, which can help ward off the flu and other yucky viruses.
Rosemary Is Said To Ease Body Aches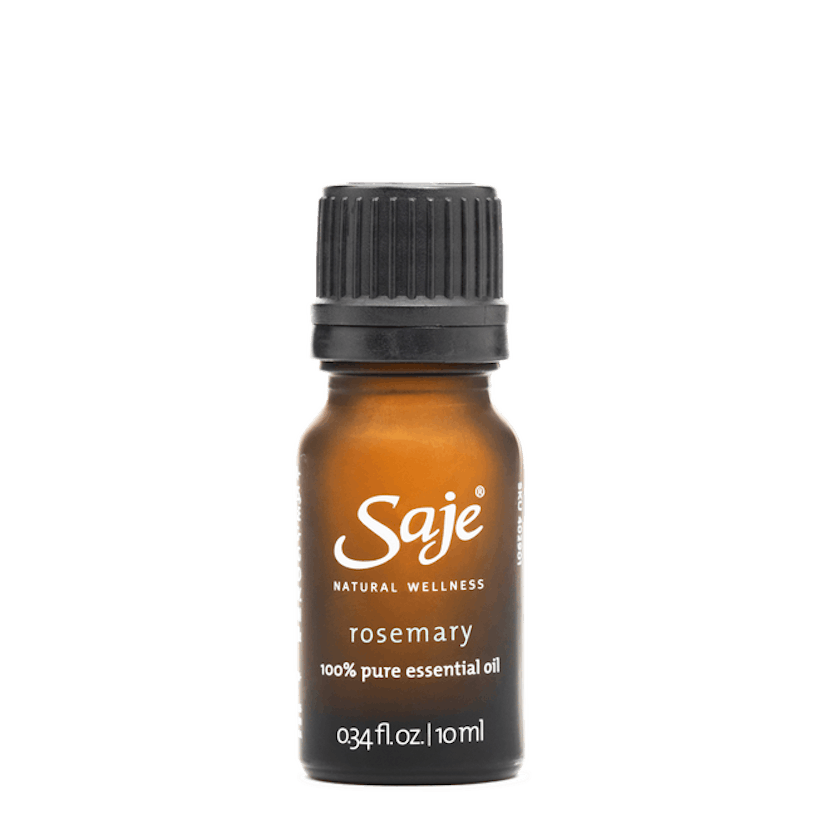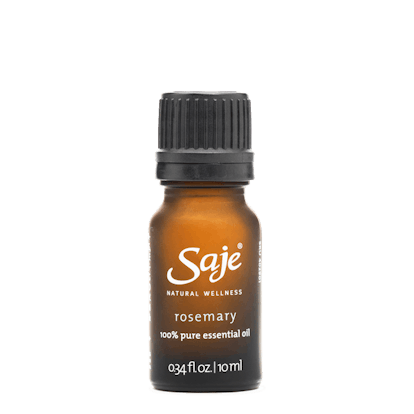 Saje Rosemary 100% Pure Essential Oil
$15.95
Saje
According to Healthline, body aches are one of the most common signs of the flu, but this kind of discomfort isn't just inconvenient; it can feel flat-out agonizing, which is why you might want to purchase a vial of rosemary to help ease the pain.
Because rosemary has both antimicrobial and antibacterial properties, Barone tells Elite Daily, it's often used to treat headaches, general body pain, bronchitis, asthma, and other respiratory ailments.
You could just add a few drops of the stuff to an essential oil diffuser, but Barone suggests concocting your own disinfectant spray by "adding a few drops of rosemary to water and putting into a spray bottle." Spritz around the room, and take a deep, expansive breath to let the rosemary work its magic.
Menthol Can Help Control A Messy Cough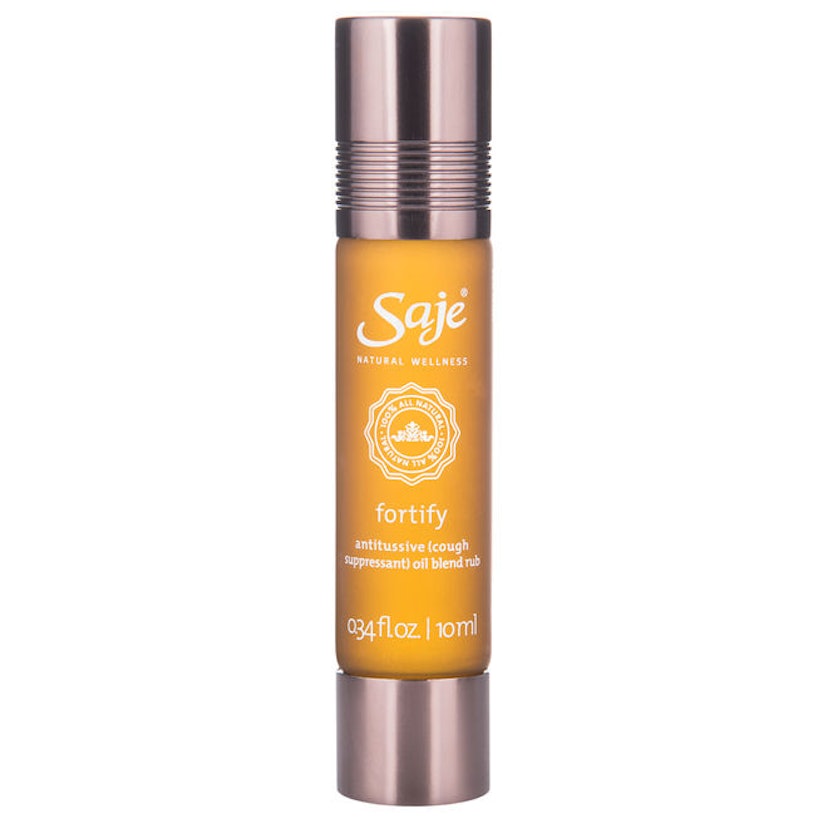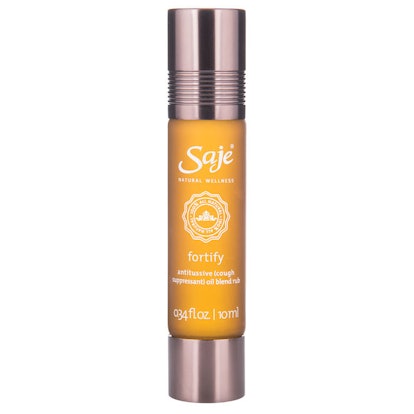 Saje Fortify Antitussive (Cough Suppressant) Oil Blend Rub
$22.95
Saje
One of the earliest signs of the flu, as per Healthline, is a nasty cough that sounds almost like wheezing, which can cause tightness in the chest. And if that doesn't sound like a jolly picnic of a time, that's because it's not.
The second you start noticing that tickling sensation in your throat and/or a tightness in your chest, Linette Carriere, product and culture trainer at Saje Natural Wellness, suggests Saje's Fortify Antitussive Cough Suppressant Oil Blend Rub, which she says is specifically formulated to control coughing. "Menthol temporarily calms cough due to minor throat and bronchial irritation associated with a cold or inhaled irritants," Carriere tells Elite Daily.
The rollerball can be applied to the neck, under the nose, and over the palms so you can inhale the fragrance and reap its benefits. A tutorial can be found here, for reference.
Saje's Echinacea And Licorice Spray Can Soothe A Sore Throat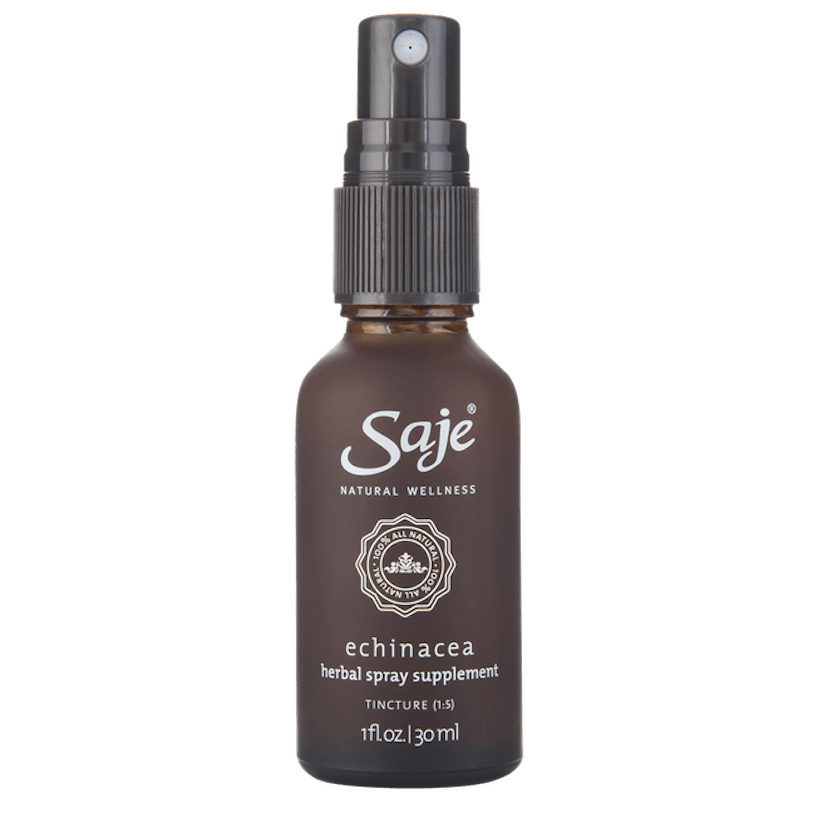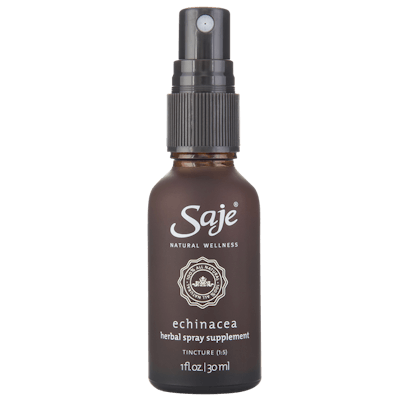 Saje Echinacea Herbal Spray Supplement
$19.95
Saje
Personally, I've never associated essential oils with edible supplements (which is silly of me, considering I drink things like lavender and chamomile tea on the regular, but I digress), but this herbal spray from Saje is actually pretty genius.
A combination of echinacea (a type of plant) and licorice, the mist can be sprayed directly into the mouth up to six days in a row to soothe a sore throat, Carriere tells Elite Daily. The echinacea will have a soothing effect over the sensitive area, she explains, while the licorice will offer a bearable taste.
Eucalyptus Loosens Congestion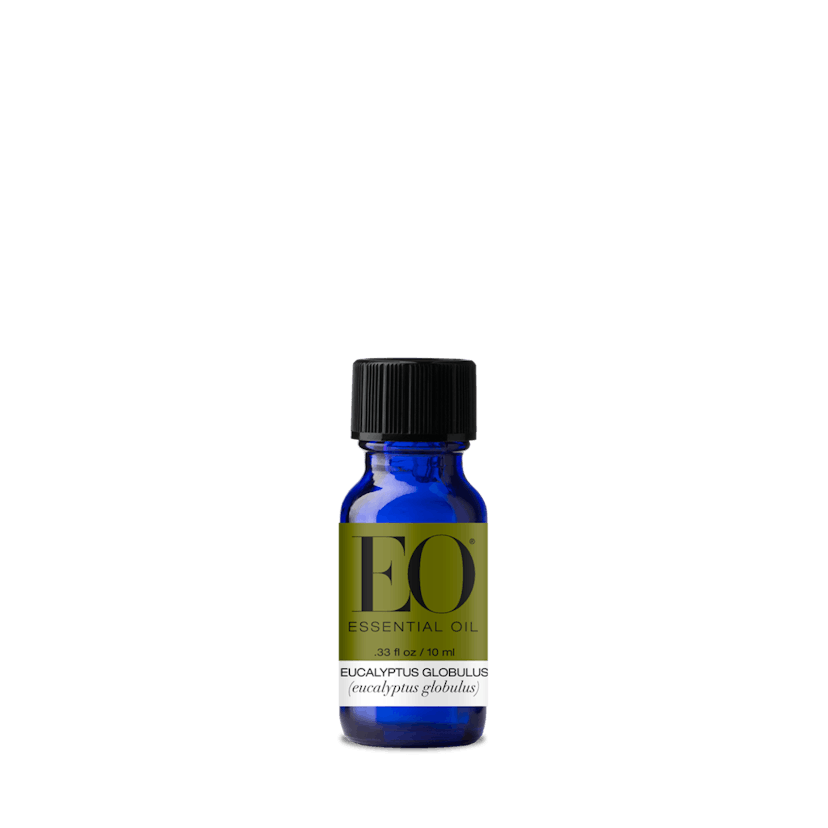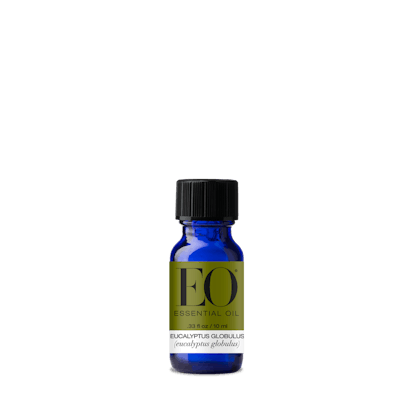 EO Products Pure Essential Oil Eucalyptus
$7.99
EO Products
Arguably one of, if not the worst part of catching the flu is not being able to breathe properly for weeks. Luckily, Susan Griffin-Black, co-founder of EO Products, says there's an essential oil for that, too.
"To clear the air when you're dealing with congestion," Griffin-Black tells Elite Daily, "add two or three drops of eucalyptus essential oil on your shower floor, turn on the hot water for a few minutes, and you have an instant steam room." Inhale the delicious aroma of eucalyptus, and let the steam loosen up any of the tightness you feel in your nose and chest.
A Combo Of Ginger, Juniper, And Lavender Can Warm The Chill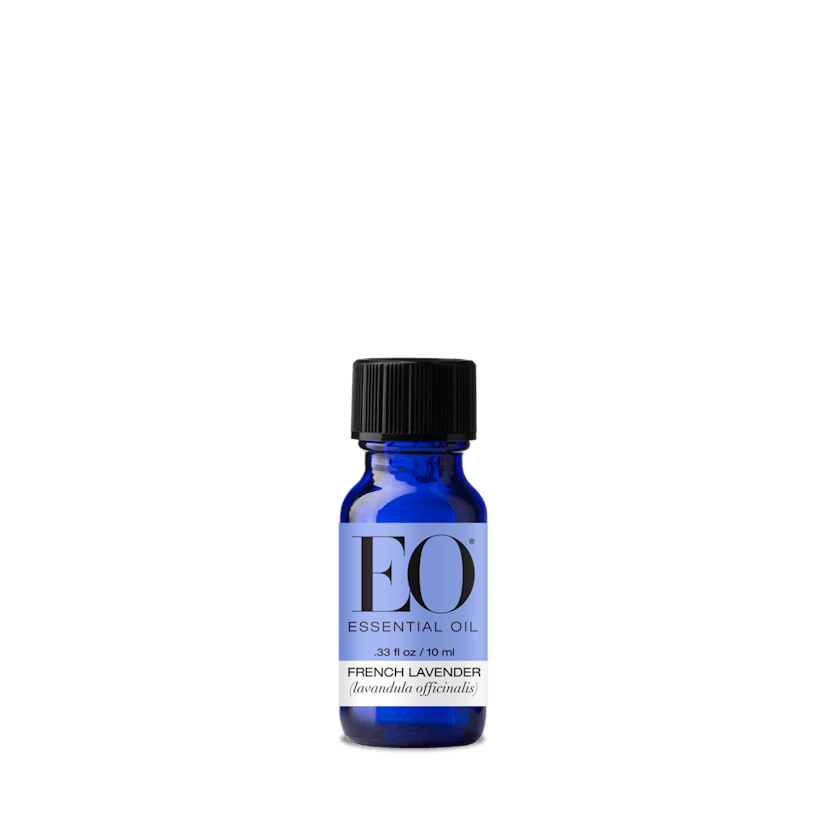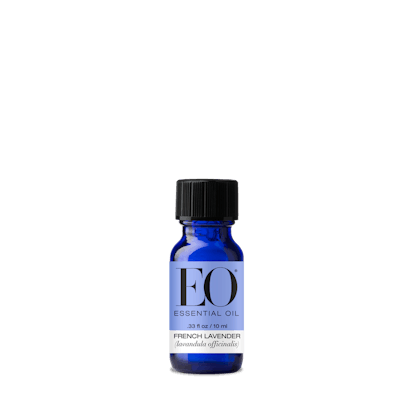 EO Products Pure Essential Oil French Lavender
$9.99
EO Products
Trust me, I totally understand if you don't even want to move, let alone exist when you're battling a heinous bout of the flu. However, baths are your friend during a time like this, and Griffin-Black swears by soaking in this warming combination to shake the shakes.
"A warm (not hot) bath is my go-to when I can't seem to shake the chills," she tells Elite Daily. "I use five drops of ginger, five drops of juniper, and 10 drops of lavender. This is a warming and relaxing combination good for keeping warm in the winter."
If you're feeling extra fancy, Griffin-Black tells me she also drinks a cup of chamomile and ginger tea while she soaks. Pinkies up, ladies.
Source: Read Full Article