BY NOW you've had an entire winter's worth of chili.
So why not take that same chili pot and fill it instead with a stew swimming with chunks of fish and shellfish?
Served with a rib-sticking side dish, the chef-crafted Italian stew (called cioppino) that follows will deliver 30 grams of muscle-building protein and 10 grams of stomach-filling fiber.
And, speaking of protein, when it comes to muscle-building, chicken breast isn't the only lean protein. Seafood is a smart low-calorie, high-protein option, too.
In the following recipe, created by Douglass Williams, executive chef of MIDA in Boston, just one six-ounce serving of any of the fish or shellfish contains at least 23 grams of protein and, at most, 291 calories. Plus, they have way more flavor than chicken breast.
One note before you head to the grocery store: You can get the whitefish and scallops fresh or frozen, but always purchase clams and mussels fresh and in their shells. It's a matter not only of flavor (fresh shellfish is alive when you buy it) but of texture as well: Frozen shellfish can cook up too chewy.
And you can also experiment. If you're not a fan of mussels, double-up on the clams. or skip both and triple the whitefish.
Whatever you do, just make sure that you pick up a loaf of crusty bread to go with the stew. You're going to need it to sop up every last bit of the broth.
Seafood Stew
What You'll Need:
4 medium tomatoes, cored and halved
1/2 cup olive oil
5 garlic cloves, sliced
10 peperoncini, chopped
2 medium onion, quartered
2 medium carrots, cut into inch-long pieces
1/2 cup vegetable oil
4 oz tomato paste
1 (750 ml) bottle white wine
1 head of celery, cut into inch-long pieces
1/2 lb whitefish (such as haddock, pollack, or cod), cut into inch-long pieces
1 lb sea scallops, quartered
2 lb littleneck clams, scrubbed
2 lb mussels, scrubbed and debearded
Torn herbs, such as parsley or chives, and grilled sourdough bread, for serving
How to Make It:
1) Preheat the broiler to high. Place the tomatoes,cut side up, on a foil-lined baking sheet. Season with salt and pepper. Transfer to the oven and broil till moderately charred, about 5 minutes. Remove and set aside.
2) In a large pan, add the olive oil, garlic, and peperoncini. Turn the heat to medium high and cook till the garlic is aromatic, 1 to 2 minutes. Add the tomatoes and some pepper and stir. Turn the heat to medium low and cook until the mixture begins to stick to the pan, about 35 minutes. Transfer the mixture to a blender and pulse till smooth. Set aside.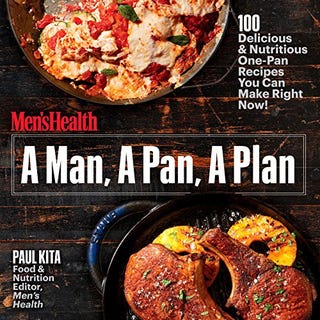 3. In a large pot over medium-high heat, cook the onions and carrots, stirring occasionally, until charred, about 2 minutes. Add the oil and saute until the onions turn translucent, about 2 minutes. Add the tomato paste, stir well, and cook until aromatic, about 2 minutes. Add the white wine, bring it to a boil, and then reduce the wine by half, about 10 to 15 minutes. Add 3 quarts water and the celery, and cook until reduced by half, about 35 to 40 minutes. Strain and reserve the broth. Season to taste.
4. Add the tomato puree to the broth, bring to a boil, add the seafood, and cook until the clams open, 5 to 10 minutes. Top with the herbs and serve with the bread. Feeds 8
Nutrition per serving (with 1 slice of bread): 837 calories, 52g protein, 64g carbs (5g fiber), 34g fat
The High-Fiber Sides!
Either of these sides, combined with the stew, will net you the 10 grams of fiber you need to stay full until your next 30/10 meal.
Garlicky Charred Escarole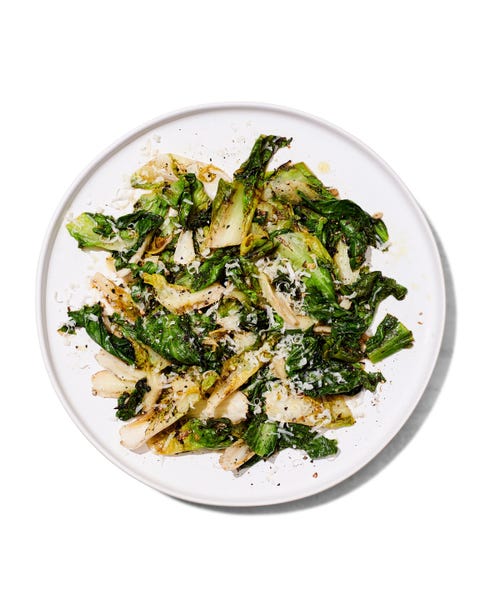 In a large cast-iron pan over medium high, add 2 heads of escarole (torn into large pieces). Cook till charred in spots, 2 to 3 minutes. Season the greens and push to the side of the pan. Add 2 Tbsp vegetable oil and 1 large garlic clove (chopped) and cook till golden, about 1 minute. Add 1 cup white wine and cook till evaporated, about 8 minutes. Add 1 cup chicken stock and cook until nearly evaporated, about 5 minutes. Serve with 1/4 cup grated Parmesan. Feeds 4
Nutrition per serving: 196 cals, 7g protein, 13g carbs (8g fiber), 10g fat
Roasted Carrots with Yogurt Sauce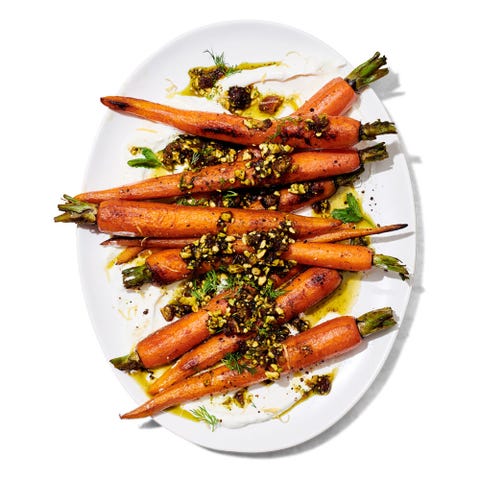 Preheat the oven to 375°F. In a large oven-safe pan over medium high, add 1 Tbsp each vegetable oil and butter. Add 1 lb medium-sized carrots (peeled) and 1 tsp kosher salt. Saute till lightly browned, about 5 minutes. Put the pan in the oven and roast until tender, 6 to 8 minutes. Mix 1 cup plain Greek yogurt with the zest and juice from 1 lemon. In a food processor, pulse 1/2 cup pitted dates, 1/2 cup unsalted pistachios (shelled), 1/4 cup dill, and 1/4 cup mint. Blend, slowly adding 1/4 cup olive oil. Season to taste. Smear the yogurt sauce on a big plate, add the carrots, spoon on the nut-date mix, and squeeze 1/2 lemon over all. Feeds 4
Nutrition per serving: 458 cals, 9g protein, 35g carbs (7g fiber), 33g fat
Source: Read Full Article