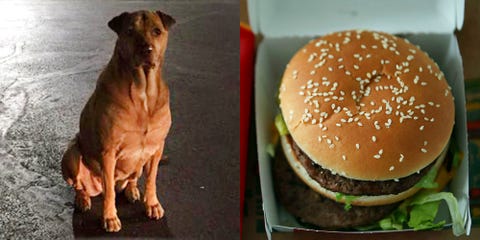 In the middle of yet another terrible news week, here's something that will make you laugh…and further convince you dogs are the only people creatures you need to hang out with: There's a smart and sneaky pup named Princess who lives in Oklahoma City with her owner Betsy Reyes. Like many of us, Princess likes burgers, and she's found out a way to get them fed to her whenever she pleases. Thankfully for everyone on the internet in need of a laugh, her mom is calling her the EFF out.
Betsy posted a hilarious photo of her dog sitting outside a McDonald's, seemingly waiting for someone to give her some scraps. The caption is so great, I must post it:
"If you see my dog @ the McDonald's on shields, quit feeding her…bc she don't know how to act & be leaving the house all the time to go walking to McDonald's at night. She's not even a stray dog. She's just…acting like she's a stray so people will feel bad for her & feed her burgers."
The next day, in the BEST follow up, Betsy posted videos of the dog getting caught in the act, and then recognizing her owner. Princess jumps on the car before awkwardly walking away as if nothing happened, similar to the move a little kid makes when caught swiping cookies. If I leave, maybe no one will notice I was here?!
More than 277,000 people shared the post on Facebook, and close to 30,000 commented on it. A few relatable samples:
Keep doing you, Princess.
From: Delish
Source: Read Full Article