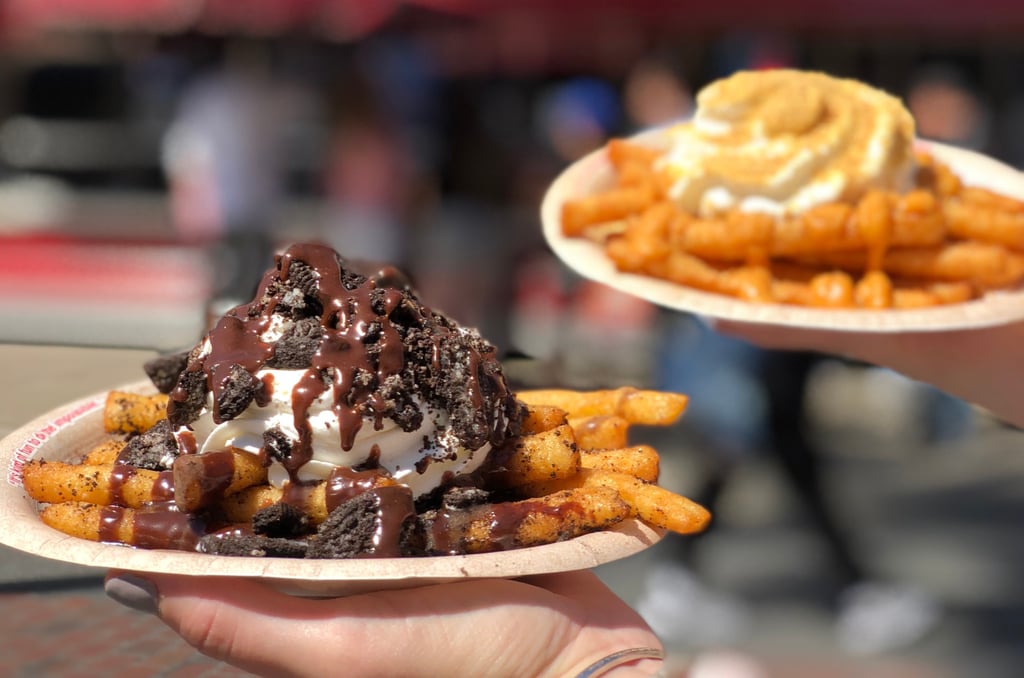 There Are 2 New Kinds of Funnel Cake Fries at Disneyland, So BRB While We Stuff Our Faces

First Disneyland had us fawning over its Fruity Pebbles funnel cake fries, and now there is not one but two new Fall flavors to lose your Mickey-loving mind over. Over at the epically named Award Wieners eatery in Disney California Adventure Park, you can now find seasonal twists on the popular fried fair treat: pumpkin spice funnel cake fries and cookies and cream funnel cake fries. The pumpkin spice funnel cake fries are dusted with sparkly pumpkin spice sugar then drizzled with a pumpkin spice sauce and topped with a heaping pile of pumpkin spice whipped cream. The cookies and cream funnel cake fries are topped with crushed Oreo cookies and whipped cream and then drizzled with chocolate sauce.
So are they as tasty as they look? We tried them so you don't have to (except in this case, you WILL want to), and here's what we think:
The fries are a little chewy, which is probably so they hold up under all the toppings and sauces, but I had hoped they would have a more light and airy texture like a true fair funnel cake. That said, they were still good and addictive. I'm not a huge pumpkin spice fan (I know, I know), so I preferred the cookies and cream, which were a chocolate-lover's dream. The pumpkin spice fries were more on the sweet than spicy side, but the sauce did have a distinct pumpkin pie flavor, and my friend who is a fan of pumpkin spice thought they were quite good. So you can't go wrong!
Source: Read Full Article