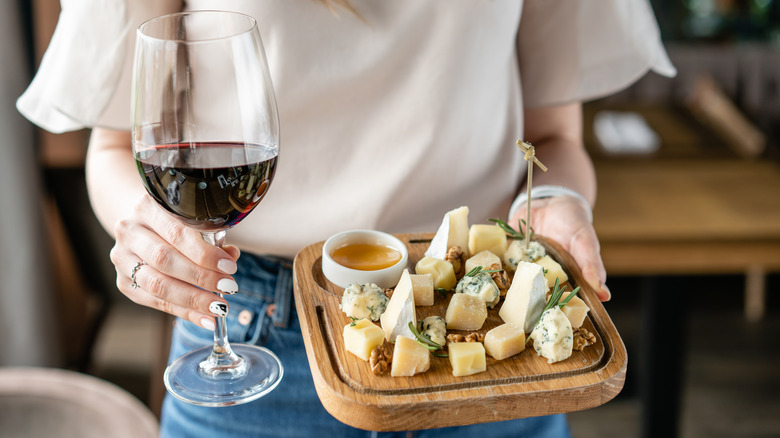 Fusionstudio/Shutterstock
By Lex Gabrielle/Sept. 8, 2021 5:57 pm EDT
As we get older, we're more likely to host a nice, intimate dinner party than we are to host a beer and pizza kind of night at our house. With age comes a change in taste and appeal for our casual weeknight get togethers with friends. More often, people have turned to wine and charcuterie boards than they are pizza and wings. While we do love football Sunday parties with junk food, having a good cheese platter with a bottle of wine really gets us all excited and giddy. Maybe it's because we all ate Lunchables as kids, but we can't turn away a good charcuterie board anymore. 
The hardest part about the charcuterie is trying to pair everything together. Sure, we can throw meats and cheeses on a plate and grab a bottle of wine at the liquor store, but we want it to pair well and pair nicely. So, how do we know what goes with what? We all have our favorites, but do our favorite wines match up with our favorite cheeses? And, how do we really know? 
The best red wines to pair with cheeses comes down to flavor profiles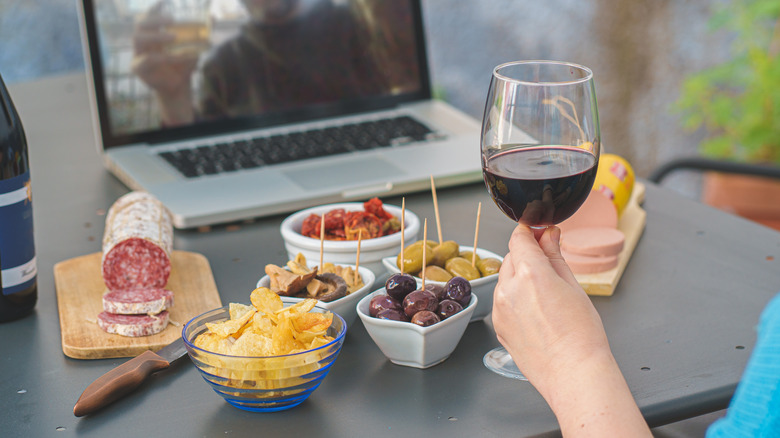 Everyone has a favorite red wine they absolutely love to drink and bring to parties. Of course, it's essential to know which cheeses pair up best with your favorite wines. If you're a pinot noir lover, you may want to stop and grab a wheel of gruyere. Gruyere works best with pinot noir because the wine has berry undertones and gruyere is a bit more nutty. Like we all love berries and nuts mixed together, these two cheeses are a perfect pair (via Wine Folly). Another wine and cheese pairing that gives off the berries and nuts flavors are malbec and gouda. 
Cabernet sauvignon and aged cheddar are also great wine and cheese pairing for a dinner party or even a romantic night in. Cabernet sauvignon is a dryer wine, which is why it's great with aged cheddar — a fattier, more bodied cheese. The flavor of the cheddar works well to give the cabernet sauvignon a bit more umph. Tempranillo and idiazabal are both a Spanish wine and a Spanish cheese, which is a great way to open your tastes buds for texture and flair. 
Next time you go to your girlfriend's charcuterie party, impress them with one of these couples! 
Source: Read Full Article