Chris Santos' entire day revolves around food. And given that he's a judge on the popular Food Network show Chopped and the owner of multiple restaurants, it makes complete sense that Santos packed on more than 50 pounds of extra weight over the last decade by nibbling his way through the day.
But now, Santos is on a mission to drop all that excess weight. In fact, he's already down more than 30 pounds thanks to a rather radical idea for a chef: not eating everything in sight.
Santos' weight hasn't always been an issue. As a teen and a young man, he was able to keep the extra pounds at bay by counteracting his love of food—included tasty treats like Twinkies, Pizza, and burgers—with boxing.
"I took boxing incredibly seriously for a period of about 20 years from 1994 to 2009," Santos told MensHealth.com. "Quite frankly, if I discovered this sport a few years earlier, I think I might've gone that way."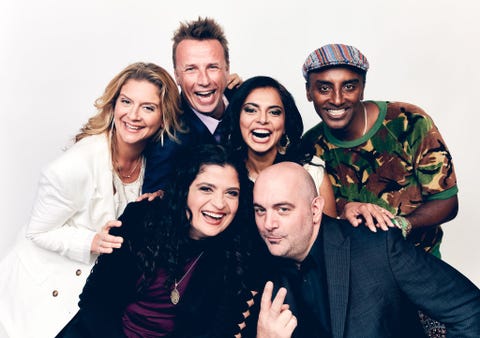 Santos with his fellow Chopped judges.

Getty ImagesRobby Klein
Thankfully for food lovers everywhere, Santos decided to stay in the restaurant game. He opened a number of restaurants, including Beauty and Essex locations in New York, Las Vegas, and Los Angeles. Santos dove head-first into ensuring his business was sound and his menu was perfection, which meant taking a break from his beloved sport.
"I thought I'd give my body a little break and focus on the restaurants," he said, noting that he planned to get back into the gym as soon as everything was running smoothly. But life smacked him in the face instead.
Soon after his second restaurant location opened, Santos got divorced. The rigors of running a restaurant and shouldering the responsibility of hundreds of employees came, too. That meant stress, late-night eating, and putting his own health last. A week away from the gym turned into months, which turned into years. From 2010 until now, Santos stayed away, watching his weight creep up by 50 pounds.
View this post on Instagram
I'm about to run my first 5K so with that in mind let's call this "before and after part 1". I started this journey to a much healthier me on June 20, and so far I'm down 30 pounds! Look for "before and after part 2" when I've lost another 15 to 20! Thanks to everyone who have been supporting me and keeping me on track, especially my inspiration @nataliemakenna ! 🏃🏼‍♂️🥊🤗
A post shared by Chris Santos (@santoscooks) on
"It sounds like a lot of weight—it is a lot of weight—but it works out to less than a half a pound a month," he said. "It just kind of crept on because all the things I had been doing all my life."
Santos had his "aha moment" this year, while spending more and more time in Los Angeles as he opened up his latest restaurant. He started seeing how Angelinos ate and lived, and began to adopt that same plant-based lifestyle. After he saw a few pounds leave his body, he decided to enter the boxing ring again.
View this post on Instagram
This is my #morningcoffee Thank you @chrissmithtraining and @nataliemakenna for making sure I didn't miss it today! 🥊
A post shared by Chris Santos (@santoscooks) on
For Santos, going back to Gleason's gym in his home base of Brooklyn, New York, was akin to a homecoming. (Want to start your own boxing routine? Here are six boxing workouts to try right now.)
"Everybody knows me there because I was there for so many years," he said, adding that the sense of camaraderie made it easier to get back into his workouts. At 48, he's even considering doing a professional fight soon.
"I'm thinking might be nice to have a fight right around my 50th birthday," he said.
View this post on Instagram
This mornings breakfast. @gleasonsgym #boxing
A post shared by Chris Santos (@santoscooks) on
To help get into fighting shape, Santos cut back on all his eating.
"I had tried a bunch of different things that didn't work, but … what I found is that first of all, I'm not going to change my diet," he said. "At least for me, it's a recipe for disaster, but what I can do is I can eat less of those things."
So he adopted an intermittent fasting schedule, eating in eight-hour blocks throughout the day and fasts for the remaining 16.
"Instead of eating four slices of pizza at 1:30 in the morning and then going to bed, I'm having two slices at 4:00 PM when I still have a lot of activity in front of me for the day," he explained. He still indulges in one full cheat day a week, and to keep his cravings at bay, Santos keeps protein-rich foods and shakes at the ready.
View this post on Instagram
Just completed my first ever LA Hike! What took me so long?!? #fitnesscanbefun 😎👊
A post shared by Chris Santos (@santoscooks) on
The new eating and workout plans are certainly working for Santos, and he thinks they can help other people lose weight, too.
"I'm going to be rich and famous one day because I'm going to write the most logical diet book that ever existed," he said. "It's gonna be four words long: Eat less and move more."
All kidding aside, Santos knows everyone has to have their own "aha moment," and it starts by taking a look at all the habits that may be negatively affecting your life.
"At a certain point, I think, whoever you are, whatever you do, you have to realize that sometimes the habits that you are growing accustomed to are just not sustainable and healthy place," he said. "I think that the confidence and the peace of mind that comes with feeling good about the way you look makes everything else that you do in your life easier."
Source: Read Full Article