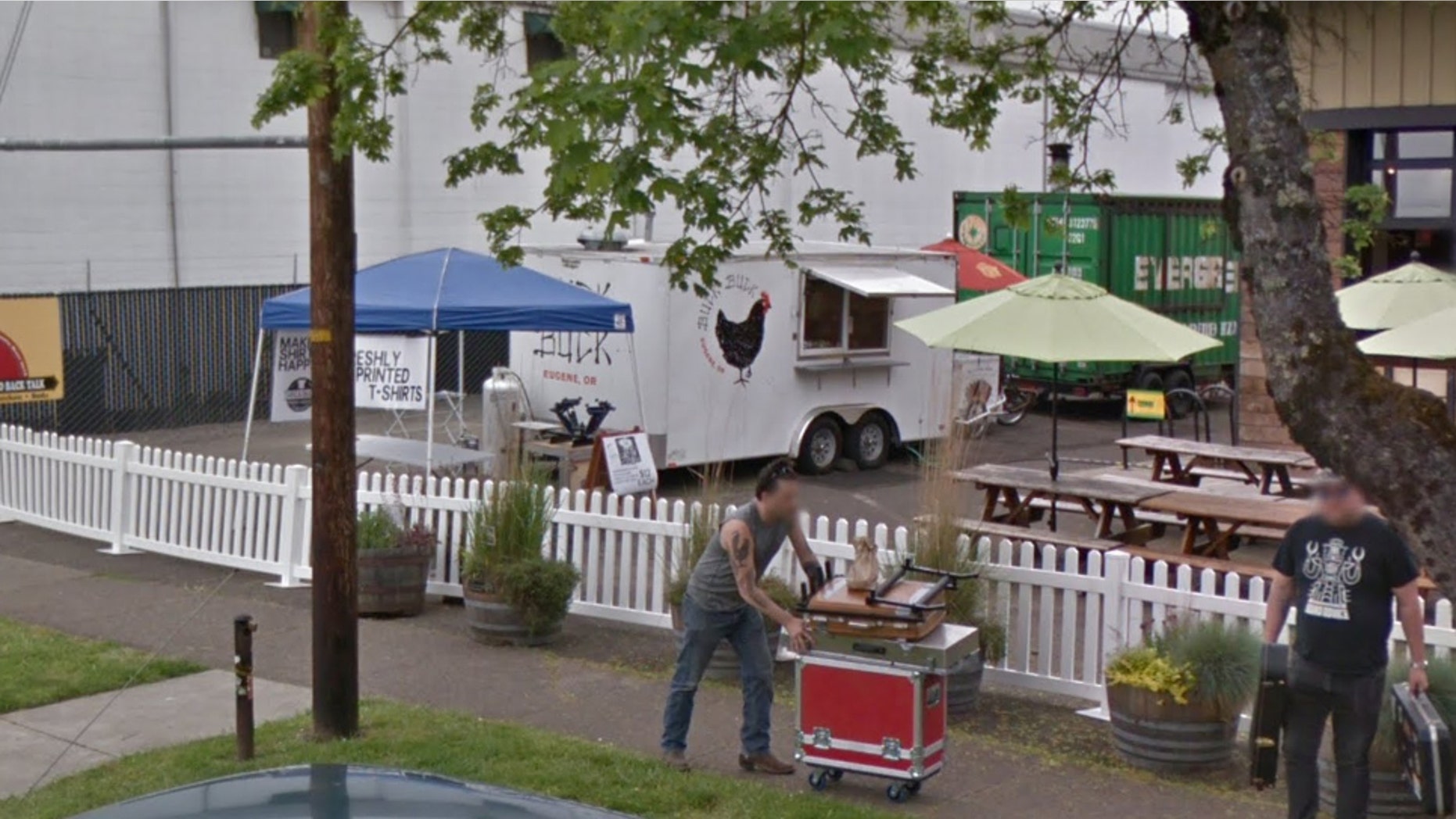 Surveillance footage from a nearby business captured the entire explosion on camera.
(Google)
The owner of a food cart in Eugene, Ore., says he's thankful no one was injured when it exploded on Sunday morning.
The food cart, which specialized in fried chicken and other Southern-inspired dishes, blew up shortly before 8 a.m. and a nearby surveillance camera captured the entire explosion on video.
BBQ RESTAURANT SLAMMED FOR 'ROBERT KRAFT' SANDWICH
The neighboring Oakshire Brewing Public House also sustained damage during the blast, KEZI reported. The door of the taproom blew off and the force of the explosion also caused beer to dispense – or "spew" – from the taps, according to the outlet.
Local firefighters say a faulty gas line is likely to blame for the incident.
Residents of the neighborhood reported hearing the "huge boom" caused by the explosion early on Sunday. Owner Mikey Lawrence, who also lives nearby, told the Register-Guard he rushed to the scene after receiving the news via text.
"And I said, 'Holy moly.' Well, it wasn't as nice as 'Holy moly,' but it was quite a shock," Lawrence stated.
VIRGINIA BREWERY RELEASING CEREAL INSPIRED BY POPULAR CEREAL
On the official Facebook page of the food cart, Buck Buck's operators also expressed their relief that no one was injured during the explosion.
"First and foremost, no one was hurt," reads a message posted Sunday. "Things be can replaced, people cannot.
"We're all still in shock and we'll keep people updated with information as it comes in to us."
The Buck Buck Food Cart also thanked fans and customers for their "love and support" during this time.
CLICK HERE TO GET THE FOX NEWS APP
Buck Buck was not immediately available to comment for Fox News.
Source: Read Full Article