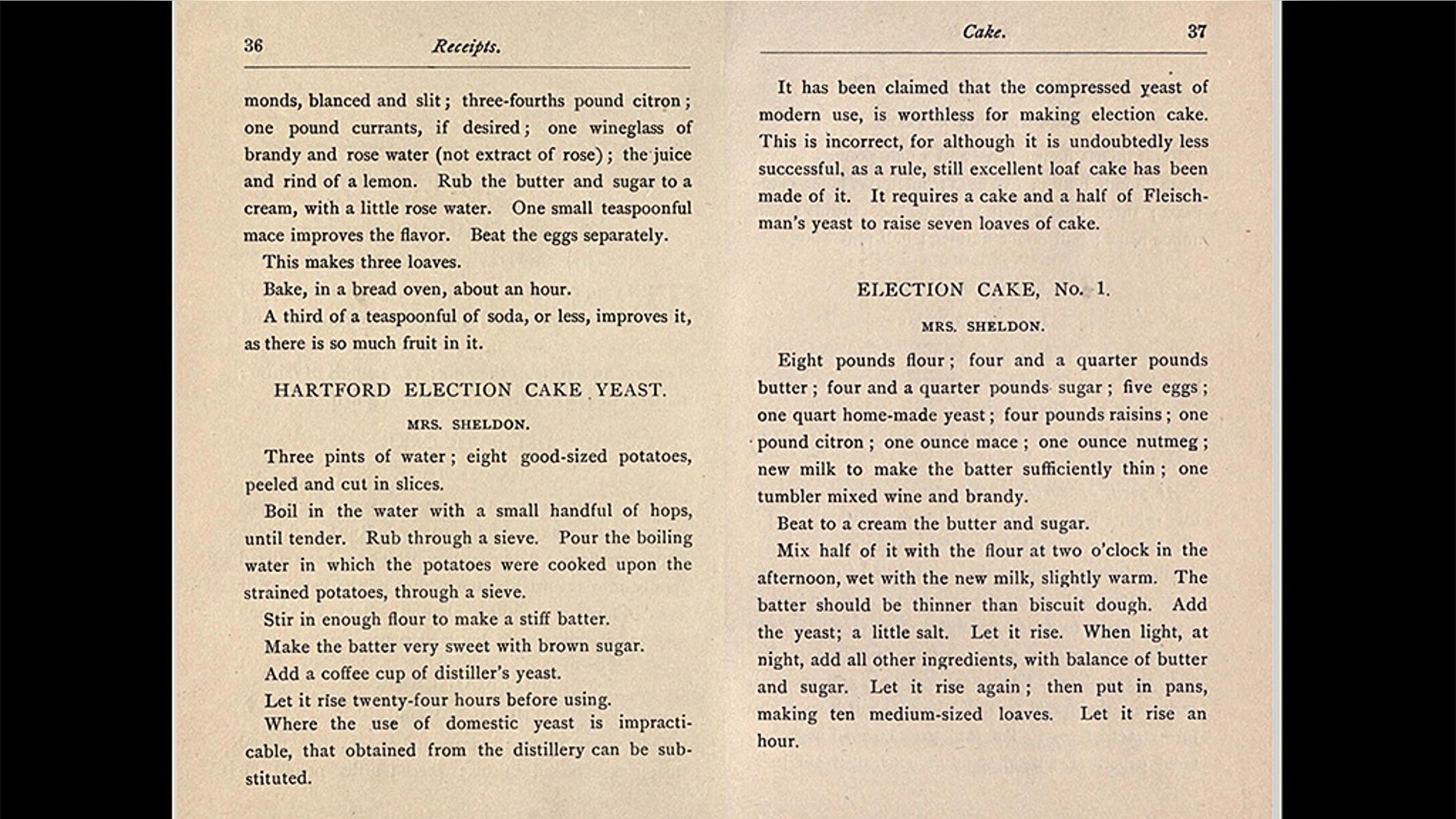 Election Cake used to be a big thing in this country.
(Archive.org)
If you're having a hard time deciding how to treat yourself after waiting in long lines at the voting polls – perhaps Election Cake should be in your future.
Election Cake used to be a tradition as American as, well, voting.
Originally, the unique leavened cake, which typically calls for sourdough starter, was called "muster cake" and was created by colonial women to feed to incoming troops of men who were ordered for military training by the British.
THE GRAVY TRICK THAT WILL CHANGE THANKSGIVING
The dense bundt cake was given to militia men – and onlookers who flooded villages to watch the military drills.
However, after the American Revolution, the boozy fruit-and-spice cake used to serve British military became known as Election Cake, and women would bring the baked good to polling places for the white men, who were allowed to vote at the time, to eat.
According to Bon Appetit, the first recorded recipe for the patriotic confection was written in 1796 by Amelia Simmons in her second edition book, "American Cookery." The recipe required 30 quarts of flour, 10 pounds of butter, 14 pounds of sugar and three dozen eggs, among spices, alcohol and 12 pounds of raisins. Several different recipes for Election Cake have since been logged, calling for different ingredients, though all seemingly have the same yeast-base.
Women – who were not allowed to vote before 1920 – allegedly sometimes used the cakes as a way to sway the men to vote in line with their interests.
DOG ABANDONED ON BEACH FINDS FOREVER HOME WITH MASSACHUSETTS FAMILY
Though beyond a political ploy, the cake was used as a celebration for the democratic process. At the time, Election Day was a holiday reportedly as large and important as Christmas is today.
Election Cake has declined in popularity since the early 20th century. Some speculate the waning interest is due to a dissatisfaction with politics as years went on. The cake never really spread beyond the New England states.
But in the past few years, especially during the 2016 election, the special Election Cake made a resurgence with bakeries vowing to "Make America Cake Again."
Susannah Gebhart, baker and owner of Ashville, N.C., outpost Old World Levain Bakery, coined the phrase and was joined by San Francisco café Craftsman + Wolves' owner William Werner, as well as other bakers, in the cause of bringing Election Cake back.
FOLLOW US ON FACEBOOK FOR MORE FOX LIFESTYLE NEWS
"[Election cakes] were intended to be served to the masses, to people who were celebrating the democratic process and the election," Gebhart said in an interview to NPR.
According to social media, Gebhart's cakes seem to be a hit with customers who stopped by after voting to reward themselves.
"Did my part, then stopped by @oldworldlevain for a slice of their Election Cake," one commented on Instagram.
The Election Cake may be the next forgotten American tradition to make a comeback – but if you're not keen on the cake, check out these other places for a post-vote treat.
Source: Read Full Article